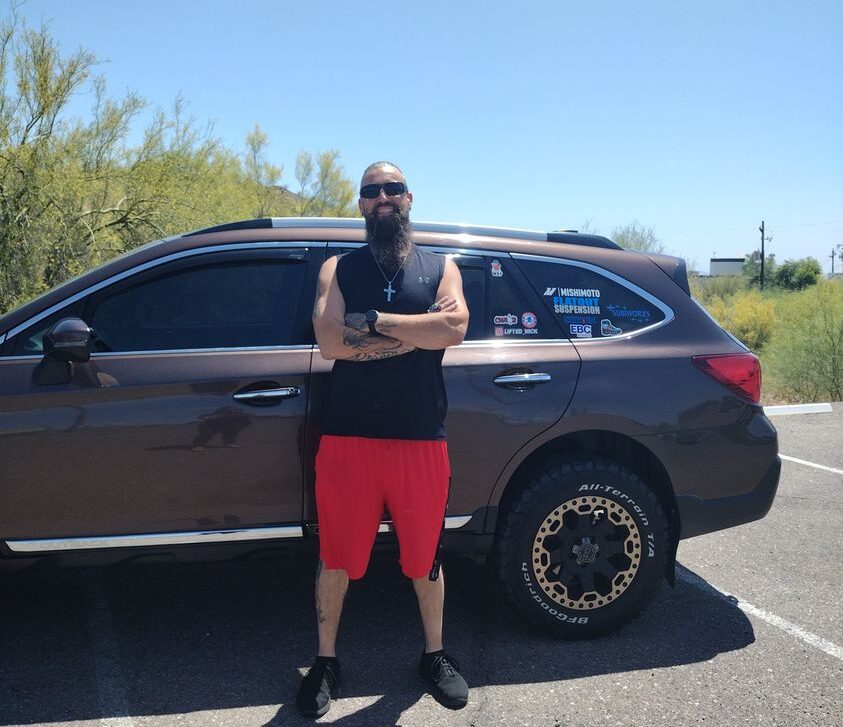 Lifted 2019 Subaru Outback 3.6R: Three Inch Lift Kit Installed For Off-Road Adventures!
Check out how Ryan transformed his Outback into an adventure machine without sacrificing drivability.
The Subaru Outback has long been one of the go-to options for avid outdoors people. Skiers, hikers, photographers and a whole host of other enthusiasts have relied on the Outback to get them around in more remote areas while still being fuel efficient. However, the Outback in base model form has always lacked in the power department, leaving folks wishing their car had a little more pep. But in 2009, Subaru unveiled the EZ36 engine that was the powerplant for certain Outback trims. This motor boasts similar horsepower numbers to stock WRX's but in a naturally aspirated configuration. With 256hp from the factory, we think it's the perfect option for anyone looking to take their Subaru off-road. Unfortunately, in 2019 Subaru chose to begin using a smaller turbocharged engine instead of the 3.6 platform leaving some enthusiasts scrambling to grab one before they were no longer available.
Our friend Ryan owns a 2019 Outback 3.6R in the luxurious Touring trim. Not only did Ryan lift his Outback, but he has set it up to be the perfect daily drivable off-road vehicle. He was kind enough to sit down with us to discuss his mods and the overall process he went through to lifting his Subaru. We hope you enjoy this build feature of Ryan's car, affectionately known as "Mick" or "Lifted Mick" (for those of you who remember Paul Hogan in the 90's.) Without further ado, let's jump in!
2019 Subaru Outback 3.6R Build List:
Custom half inch front subframe spacers

Weathertech window visors
Lift kit installation performed by Chris with Subiworks in Murrieta, CA.
Listen to our full conversation:
This article was adapted from a sit-down conversation one of our writers had with Ryan about his Outback. We highly recommend checking it out! It's a great listen and it gives extra context to the process of lifting his Subie.
Stock beginnings before the lift kit
Ryan purchased his Outback in 2020 with only 35k miles on it with no intentions of modifying it. The Touring trim level is fully outfitted with every available option and a gorgeous leather interior only available in this trim. Most folks would typically refrain from modifying such a highly optioned vehicle. However, Ryan and his wife quickly caught the off-road mod fever after finding themselves stuck in a mere 6 inches of mud while on a short trip into the desert. In fact, Ryan explained that he would have selected a 2.5i or Premium trim if he knew that the Subaru was going to end up heavily modified. But he didn't let that stop him.
"One Tire Was Stuck In 6 Inches Of Mud...Mind You It's Christmas Eve And I'm Kind of effed."
Sometimes we find ourselves in situations that we look back on as "lessons learned." During our conversation, Ryan recounted the day when he and his wife found themselves discovering the limitations of an Outback on stock suspension and tires. One of their wheels sank in just enough mud to cause the frame to bottom out. With all-season tires and very little suspension travel, they found themselves completely stuck until someone else came along and was able to help them get out.
After this, Ryan says "I told my wife, I'm not going off-road until I get tires and a lift on this thing. It's just not happening. And that's when the research started." Every time I find myself in a tough situation on the trails, it helps me learn a new lesson or technique that I can add to my bag of tricks. In Ryan's case, he took it as his queue to jump down the rabbit hole of modifying Subarus for off-road capability. After months of scouring the internet for knowledge, he began to put his plan into motion.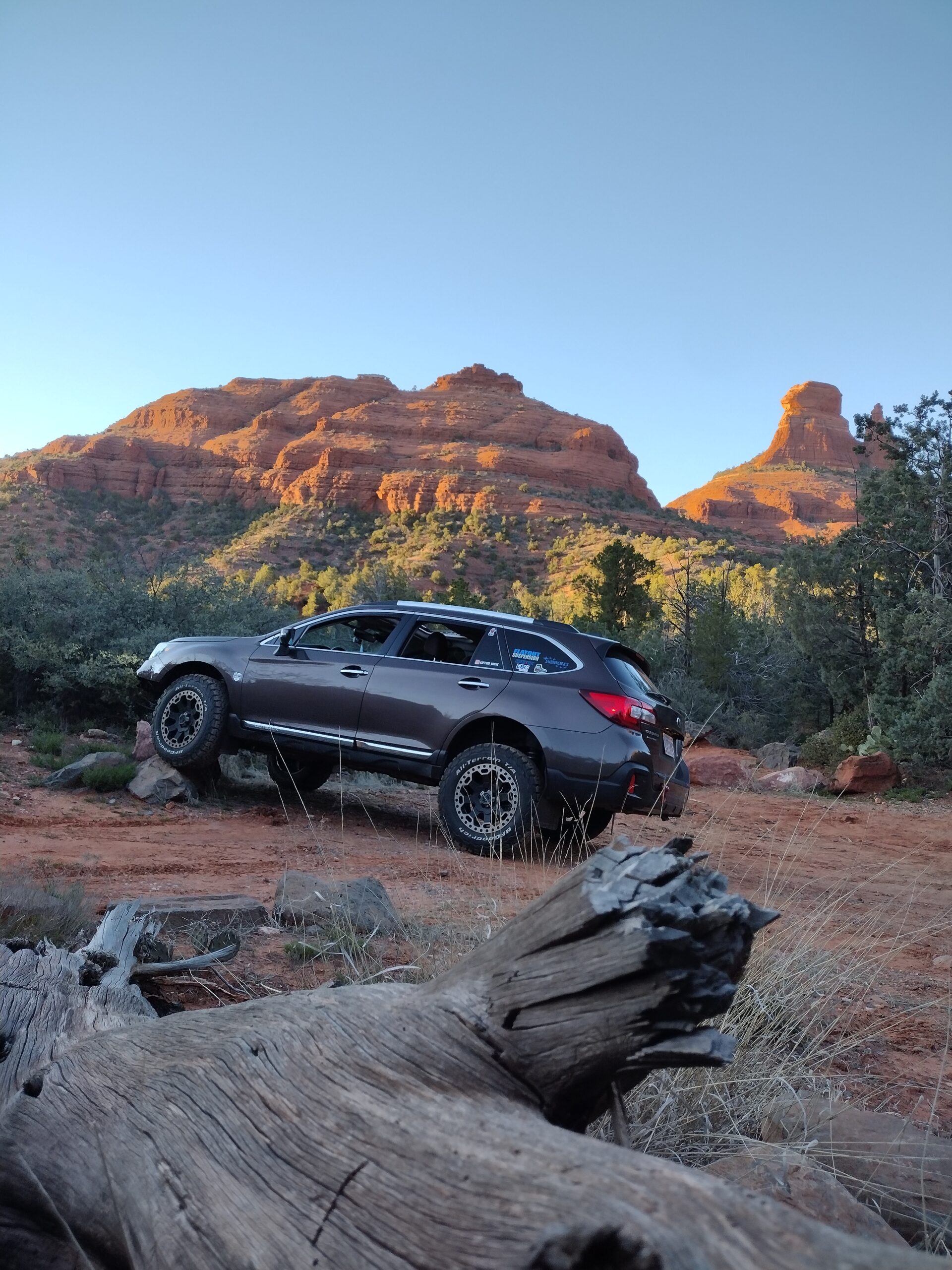 Finding an installer for a 3 inch lift kit on the Outback was almost impossible
As Ryan and I talked about the beginning stages of his build, I found that he had run into the same issue as I have. Because of the unorthodox nature of modifying Subarus in an off-road manner, most shops opt not to perform this kind of work on them. They are much different than a traditional 4×4 and there's not as much aftermarket support for lifting them. The fact that a shop may not want to deal with the liability of performing these kinds of mods is absolutely understandable but makes it hard for those of us who want a bigger lift. However, Ryan accidentally stumbled into a mechanic that was knowledgeable and willing to lift his Outback all the way up to 3 inches. The only catch…he had to drive a full state away to have the work done. 
After mistakenly phoning a Subaru repair shop all the way in Murrieta California, Ryan found someone that was familiar with pushing Subarus to their limits. They loaded up the Outback for the 7 hour journey and headed out. Instead of running into any issues once in the shop, Ryan says "he had the lift kit in there in a couple of hours. Like it was butter. He calls me and tells me the lift is finished and I said 'what?? I haven't even finished breakfast yet!'"
If you don't have the space and tools to perform a lift kit installation or don't feel comfortable doing it, finding a good installer might be hard but it's vital to ensure that the job is done correctly. Calling around to a few different shops, even if they're a long drive away, may prove to be invaluable.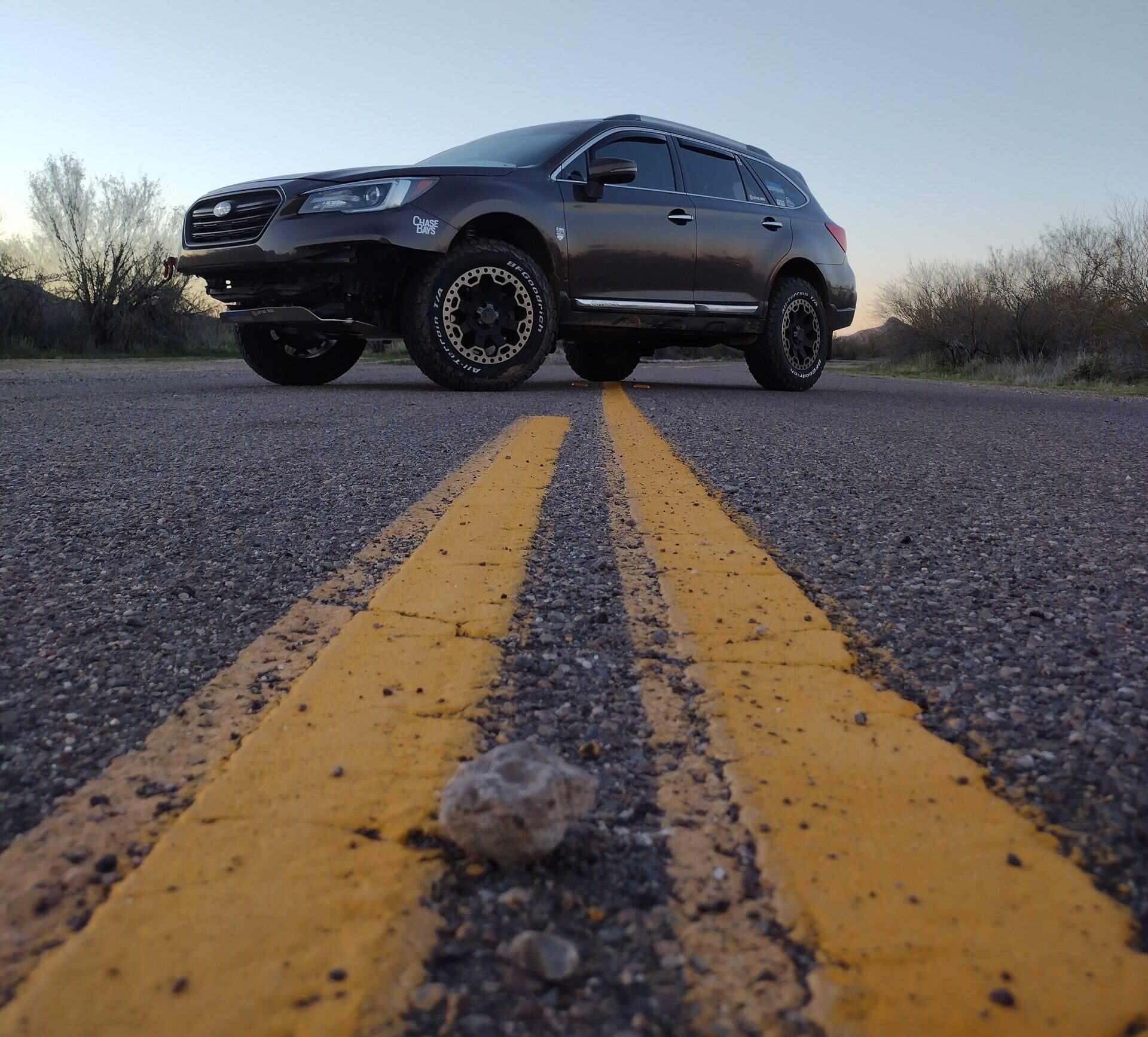 Long travel coilover suspension on a Subaru: one of the best ways to get maximum off-road performance
Up until recently a long travel coilover system didn't make much sense for most Subaru owners. With the few options available starting at around $2500 and not being very reliable, it typically was out of reach for most people. But why would someone want LTC's in the first place? Many lift kits simply space the stock suspension away from the body of the vehicle. This works great for most applications. But a true suspension lift gives longer suspension travel for improved trail driving.
With the release of the Flatout Suspension GR Lite, almost anyone can afford to jump into a full coilover setup. At under $1800 for a fully serviceable and rebuildable suspension, these are a great option for someone wanting the most out of their Outback. They're especially good to look into if your vehicle already needs to have the shocks replaced. This is a situation where we highly recommend considering this kit.
We'd also like to point out that Flatout took extra care of Ryan throughout the process of fine tuning his build. They replied to him on a weekend and even sent him important parts free of charge. Customer service can make or break a company and we appreciate hearing that Flatout values their supporters.
Can you put a 3 inch lift on a Subaru? Yes, but here's how much extra it will cost...
Many people would install  a 2 inch lift and call it a day. But Ryan simply wanted a taller Outback that would turn heads and be downright capable. "It was a product of my go big or go home mentality. I wanted the baddest Subaru on the planet. After I got stuck, I initially didn't know anything and wanted a 4-6 inch lift since I see them on Toyotas and trucks all the time. But then I discovered it was not going to be easy and was going to cost a lot of money. I would've had to drop the engine and transmission about three inches. God knows what that would've done to the wife's daily driver."
Ryan's long travel coilovers alone cost about $2485 currently. But then adding in any other odds and ends that you might need, lifting an Outback 3 inches using a long travel coilover system will start at around $2500. I asked why that extra lift was so important and he explained "It might have just been ignorance and stubbornness. But I wanted to lift it the way I wanted, the first time." We like your style, Ryan.
Wheel and tire selection for the lifted Outback. Are 30 inch KO2's too big for an Outback?
One of my personal favorite wheel looks are mean aggressive beadlocks that you may see on a straight axle swapped 4Runner. Something about it just looks absolutely cool. For us mere mortals not running 42 inch tires, beadlocks aren't necessary and usually aren't even street legal. However, the Black Rhino Warlord wheel looks fantastic and it looks perfect on Lifted Mick. The machined black face with the bronze-ish tint looks perfect against the cinnamon brown pearl factory paint on the Outback.
Ryan chose the BFG KO2 245/70R17 tires to accompany his new wheels. The KO2 has been a staple in the off-road community for years now. With an aggressive look and a valid reputation for being able to withstand serious abuse without sacrificing too much driveability, we think this tire was the right choice. The fact that Ryan's family uses this vehicle to get kids to and from school means in needs to have good on-road manners and optimal performance. The KO2 seems to be checking all the boxes for Ryan's build.
We asked Ryan if he would ever choose a different tire and he told us "If I could find a tire that looked that good and gave me as much peace of mind on the trail that was lighter and better on gas mileage, I would go that route. In the future I MIGHT try something new just to see how it affects my gas mileage. But as long as I can swing it, I'm probably going to keep the KO2's on there." He also talks about the overall diameter being on the cusp of what the Outback can handle. "I maybe wish I went a little smaller after realizing how much harder they are to turn and climb hills. But I don't think I can go down now that I've seen those tires on the Subaru."
"I really don't think they're that loud. On the highway you notice it if you're listening for it.
It's important to note that a CVT cooler was installed specifically to combat any additional heat created from running oversized tires. We recommend that everyone consider installing a transmission cooler with larger tires – especially for off-road use.
Road noise with KO2's: "I really don't think they're that loud. On the highway you notice it if you're listening for it. It's usually wide tires that create the most road noise. It's not the 8 and 9 inch wide tires." I agree with Ryan on this. I have mud terrains on an older Subaru with poor sound dampening technology and it really isn't bad. A person who is particularly sensitive to noise or who is accustomed to driving luxury vehicles may not care for it. However, we really don't feel that it's a deal breaker.
How to fit 245/70R17 off-road tires on the Outback
This is probably the most asked question by far. In fact, you may have landed on this article strictly to figure out how to put a big tire on your Subaru. I want to lay out some simple bullet points that Ryan shared with me during our chat. It is possible to fit a 245/75R17 on the BS chassis Outbacks. But it will take some modification. Here's is a list of the 4 things Ryan did to fit them on the car:
Mud flaps must be modified or removed (follow local laws regarding mud flaps)
Front bumper will have to be cut in order to accommodate a larger tire
Pinch welds in the rear need to be hammered back to avoid tire destruction
Splash guards need to be trimmed and/or massaged out of the way using a heat gun
Using these tactics, Ryan was able to fit a 30 inch tire under his Outback. If making modifications seems daunting, a 29 inch off-road tire may be the best option.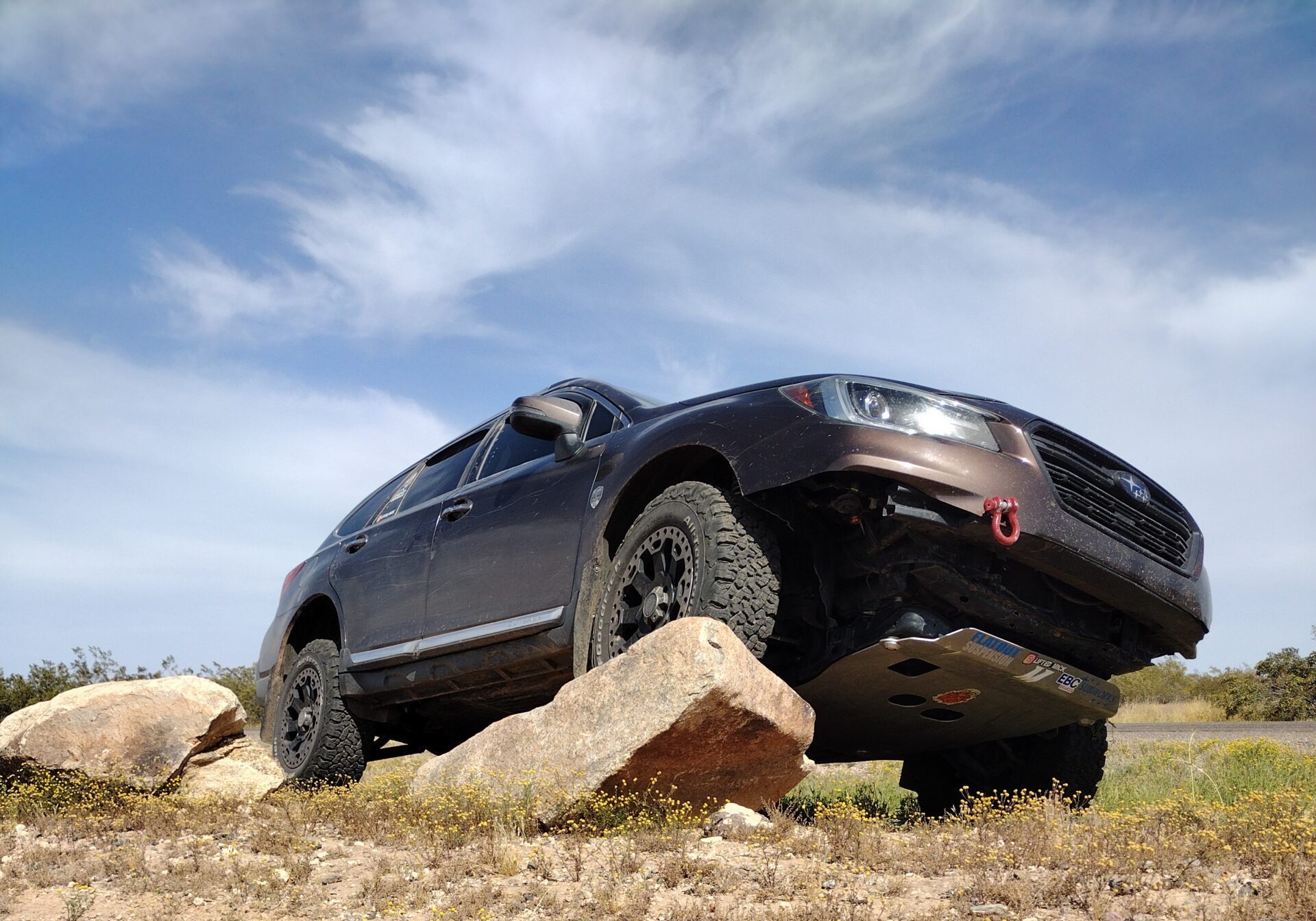 Undercarriage protection: avoid catastrophic damage with skid plates.
When talking about his LP Aventure skid plate, Ryan describes why he selected that option by saying "Mine is one solid plate that covers all of that (engine and CVT) and that's actually why I chose that one. Also, it's way thicker." With many people opting for the cheaper 1/8″ skid plates available, his LPA skid is 3/16″ and was purchased with oil drain holes and rally washers. The rally washers feel expensive, but they protect the mounting hardware from being damaged beyond repair and making removal of the plate very difficult.
Check out this photo from LP Aventure that shows how the plate sits on an Outback and goes all the way back past the CVT: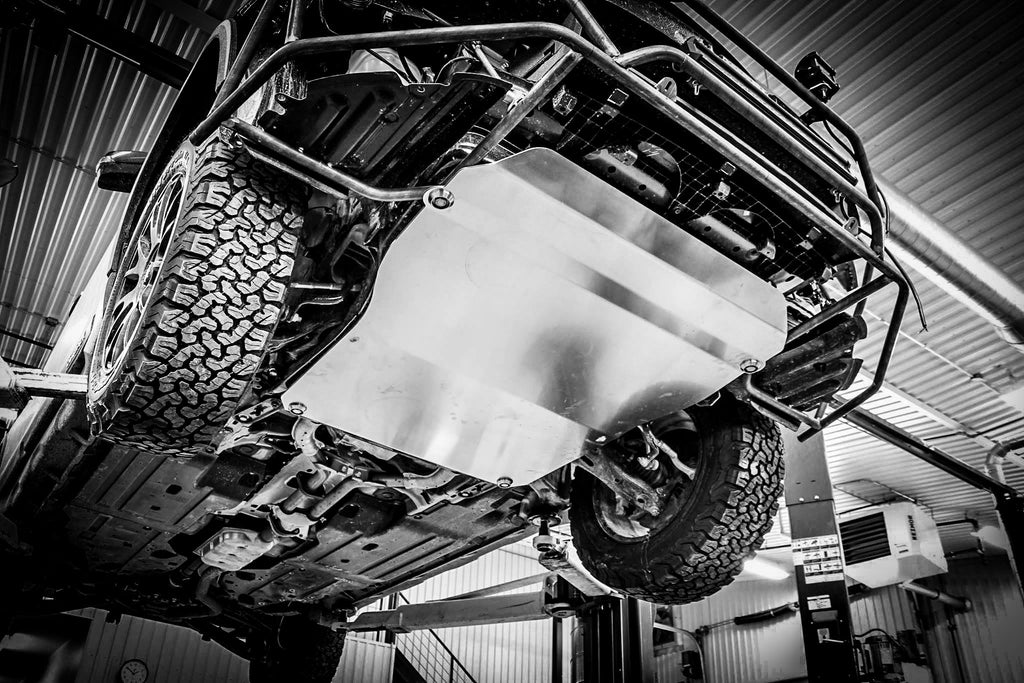 Practical benefits of lifting an Outback
Some of us are just fans of lifted vehicles because we enjoy the lifestyle. But there are some very convincing benefits even for the average enthusiast. I'd like to share some of the high points of driving a lifted Outback like Ryan's. When we first considered lifting a Subaru, we were new to the whole concept and hearing some of these benefits would have helped a lot.
Improved Ground Clearance: One of the primary advantages of a lifted Subaru is increased ground clearance. This is particularly useful when driving off-road or in areas with rough terrain, as it allows the vehicle to navigate obstacles without getting stuck or damaged. Ryan's first experience off-road in his Outback illustrates how important this is. Getting stuck in the wilderness can be not only inconvenient and expensive, but dangerous as well.
Better Off-Road Capability: With a lifted suspension and larger tires, a Subaru can tackle more challenging terrain and handle rough conditions with greater ease. The lift allows for the larger tires which are less prone to puncture and give even more ground clearance.
Increased Visibility: By sitting higher off the ground, a lifted Subaru provides better visibility on the road or trail. This can be particularly useful in crowded areas or when navigating through dense forests or other environments with poor visibility. Considering this Outback is used to transport Ryan's wife, children, and dogs, this is a vital feature.
Aggressive Style: A lifted Subaru also provides appearance benefits, and many people find the mean, rugged look of a lifted Subaru to be appealing. While it may not be everyone's cup of tea, it can be a great way to customize your vehicle and make it stand out from the crowd. We typically advocate for function over form, there's nothing wrong with appreciating the aesthetic effects of modifications.
Fun to Drive: Finally, many people find that a lifted Subaru is simply more fun to drive. The increased suspension travel and off-road capability can make for a more engaging driving experience, whether you're tackling a challenging trail or simply cruising around town. When paired with the more powerful EZ36 engine in the 3.6R, this Outback can go just about anywhere while offering a great spirited driving experience.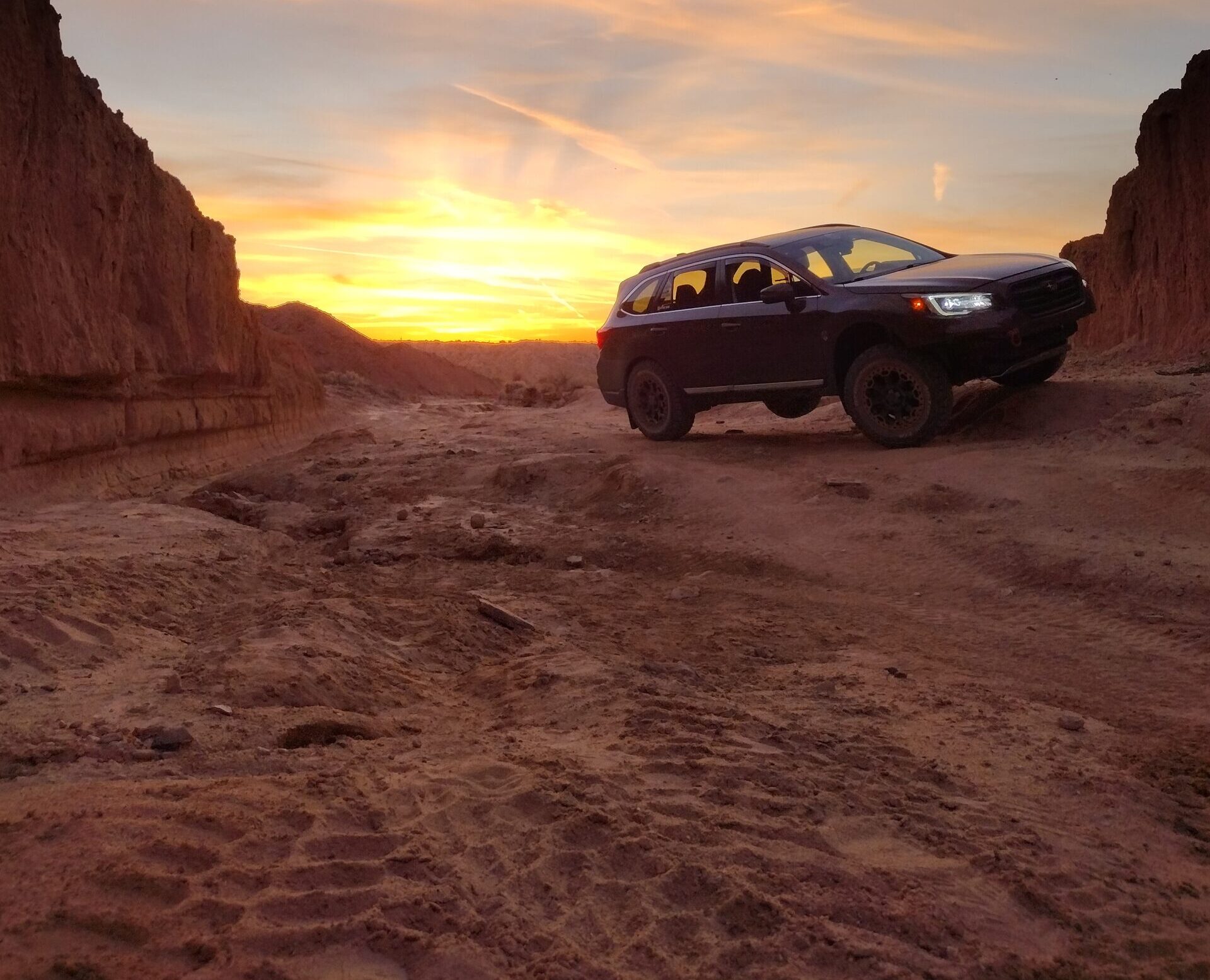 Things to consider before lifting your Outback
If you're considering lifting your Outback, there are a number of factors to consider. While a lift can provide improved off-road performance and a unique, rugged look, it can also come with potential drawbacks such as reduced fuel efficiency and handling changes on paved roads. After speaking with Ryan about his build, here's a small list of things that we'd suggest people remember before moving forward with a lift. By weighing these factors carefully, you can determine whether lifting your Outback is the right choice for your driving needs and preferences.
Reduced Fuel Efficiency: A lifted suspension with larger tires can increase the weight and drag of the vehicle, which may result in decreased fuel efficiency. Depending on rooftop accessories, front aerodynamic changes, and tire choice, this can create anywhere from a 3-10mpg change in fuel economy. This can vary severely based on driving style and traffic. Keep in mind that a larger tire will require calculating your odometer change. With a bigger tire, your odometer will read lower. With Ryan's setup, we think he's getting around 5mpg lower than before he modified the car. This is taking into account the speedometer change.
Altered On-Road Performance: While a lifted Outback may perform better off-road, it may handle much differently on paved roads than many folks are used to, particularly at higher speeds or in sharp turns. This is especially true if you remove sway bars and use a lift kit that doesn't provide a stiffer spring rate.
Added Cost: Lifting a vehicle can be expensive, especially if you opt for high-quality components or have the work done professionally. Additionally, ongoing maintenance costs may be higher due to the added wear and tear on the suspension and other components. Most 2 inch strut spacer lifts for Subarus average right around $500 and a long travel coilover setup like Ryan's can start at $1800 and reach close to $3000 in some cases for a premium option.
Potential Safety Issues: Lifting a vehicle can also affect its center of gravity, which may increase the risk of rollovers or other accidents, particularly if the lift is done improperly or the vehicle is driven recklessly. The higher center of gravity can be greatly combated by adding stiffer springs and a wheel with a slightly lower offset than stock.
Legal Restrictions: Depending on where you live, there may be legal restrictions on how high you can lift your vehicle, as well as requirements for certain safety features such as brake and steering modifications. It's important to check with local law enforcement to find out what type of guidelines you may want to adhere to. We typically haven't had any issues, but there are some states and countries with strict laws about modifications. Of course, we do encourage everyone to put safety as their top priority when selecting modifications. Don't cut corners or install something that is outside of your comfort zone.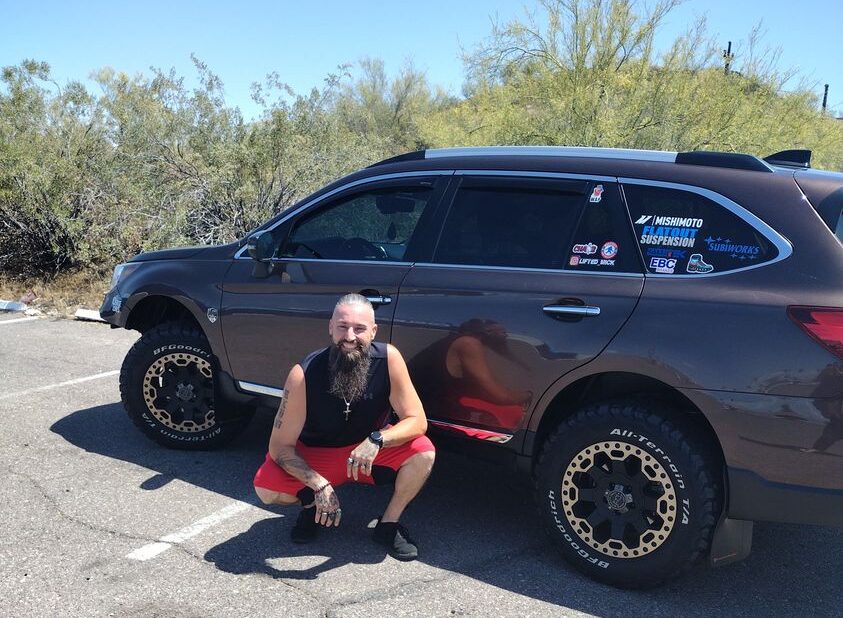 Biggest take away from Ryan's build: Do it right the first time.
Throughout the years I've grown to be much less stingy with money when considering quality products or services. The old saying "buy once, cry once" has proven itself to be correct time and time again. In most cases people, will end up purchases the premium products, but only after wasting time and money on lesser options. I think Ryan's Outback showcases this principle and provides inspiration to those who would prefer to build their Subaru correctly but may not quite have all of the resources just yet. Just hang on and do it right!
I'd like to thank Ryan for being willing to provide photos, information, and time to this build guide. He's spent a good 3 hours of his time on the phone chatting all in the spirit of helping others who want to lift their Subaru. Please head over to Instagram and find him by searching @lifted_mick to say hi. I'd also like to commend him for his quickness to heap praises upon various brands and businesses that have exhibited excellent customer service. If your brand has been mentioned by Ryan, take pride in what you're doing. We appreciate exceptional business practices in today's culture of making a quick buck.
We really hope this basic guide to lifting an Outback has been helpful and somewhat educational. Thanks for checking it out!