Install Fender Flares In Under 30 Minutes With No Drilling
My Install & Honest Review Of EZ-Flares
Once I installed a set of wheels with a lower offset on my Forester, I immediately began "enjoying" the overspray that found its way up on my window, all over the side of the car, and even inside the cabin if the windows were rolled down. Even though my Forester was purchased with the intention of getting hammered on the trails, I began finding pretty big rock chips and dings in the paint from having my tires stick out past the fender wells. Even though I enjoy the more aggressive look, I certainly didn't like the added hazard that flying debris could cause – I'd been hit in the face with small rocks while running trails in the summer.
I knew that eventually I'd like to get some flares put on the car, but it's a bit of a hassle. I'm not a body work guy at all, so I'd have to find a buddy that would be willing to trade a few beers (or orange juice and other family friendly beverages) for a couple hours of time. I also considered using some sort of garage door seal as a temporary fix, but I know that stuff falls off pretty easily. So I hadn't quite decided what I wanted to do yet.
Main Reasons You Might Want Fender Flares:
Less paint chips
Comply with local laws
Aggressive appearance
Keep rocks and mud out of cabin
Reduce the chance of sending rocks back at other drivers
Eventually, I happened to be on a Subaru forum and saw a member talking about some quick install fender flares. It was a brand called EZ-Flares and they actually looked really good on his car. For whatever reason, I didn't didn't buy them that day and then a couple months later they popped into my head but I couldn't remember what the name was. So I went back and combed through all the forum posts and scoured for about an hour until I finally found them. I jumped over to Amazon to check the reviews and people seemed to love them. For the price, I figured it was worth a shot. So I ordered a set and they showed up about 2 days later.
Are They Any Good? My First Impression Of The Ez-Flares:
To be honest, I thought they were going to be like a harder plastic material. But when they showed up, they felt more like a foam compound. So I was a little bummed because I thought that they would tear apart pretty easily. But that hasn't been the case. The foam-like material makes them super easy to install and also allows them to take hits from hard objects without cracking or anything.
I was also really impressed with the thickness of the adhesive on the back. It was really heavy duty and very sticky. Since they're universal, they have a 3M-style tape for sticking them to the inside of your fenders. You just peel and stick.
How Hard Were They To Install?
From start to finish, it probably took me 30-45 minutes. Anyone can install these on just about any car. I only needed 4 things to put them on:
Rubbing Alcohol
Paper Towels
Heat Gun (a hair dryer could also work but will take longer)
Razor Blade
Installing The EZ-Flares:
I didn't set out to do a perfect job on these. Truthfully, I expected to rip them off after one trip and didn't put much effort into making it look professional. But I would say they still turned out well and were super easy to do.
Here's what I did:
Clean the inner fender lip with alcohol
Dry and heat up the contact surface with heat gun
Heat up adhesive on EZ-Flares
Mock up the flares to find out how much you need
Slowly begin applying the flares taking care to keep them straight
Cute the ends with scissors
Trim off the excess on the back side with a razor (this is optional, but I wanted to make sure there was no way for dirt to contaminate the adhesive)
I have put about 400 miles of hard trail use on these so far. I expected to rip them off after one trip. But they're holding up really well and I've thrown mud, dirt, rain, and gravel at them. I even checked the adhesive on the inside of the fender and they are still stuck nice and tight to the edge.
Most impressively, I took the car up into the mountains for a snow run. We did 180 miles in cold temperatures with snow packing up into the fenders. I thought for sure this would make the flares brittle and cause them to fall off. But they're still in there and holding tight even after being down below freezing temperatures.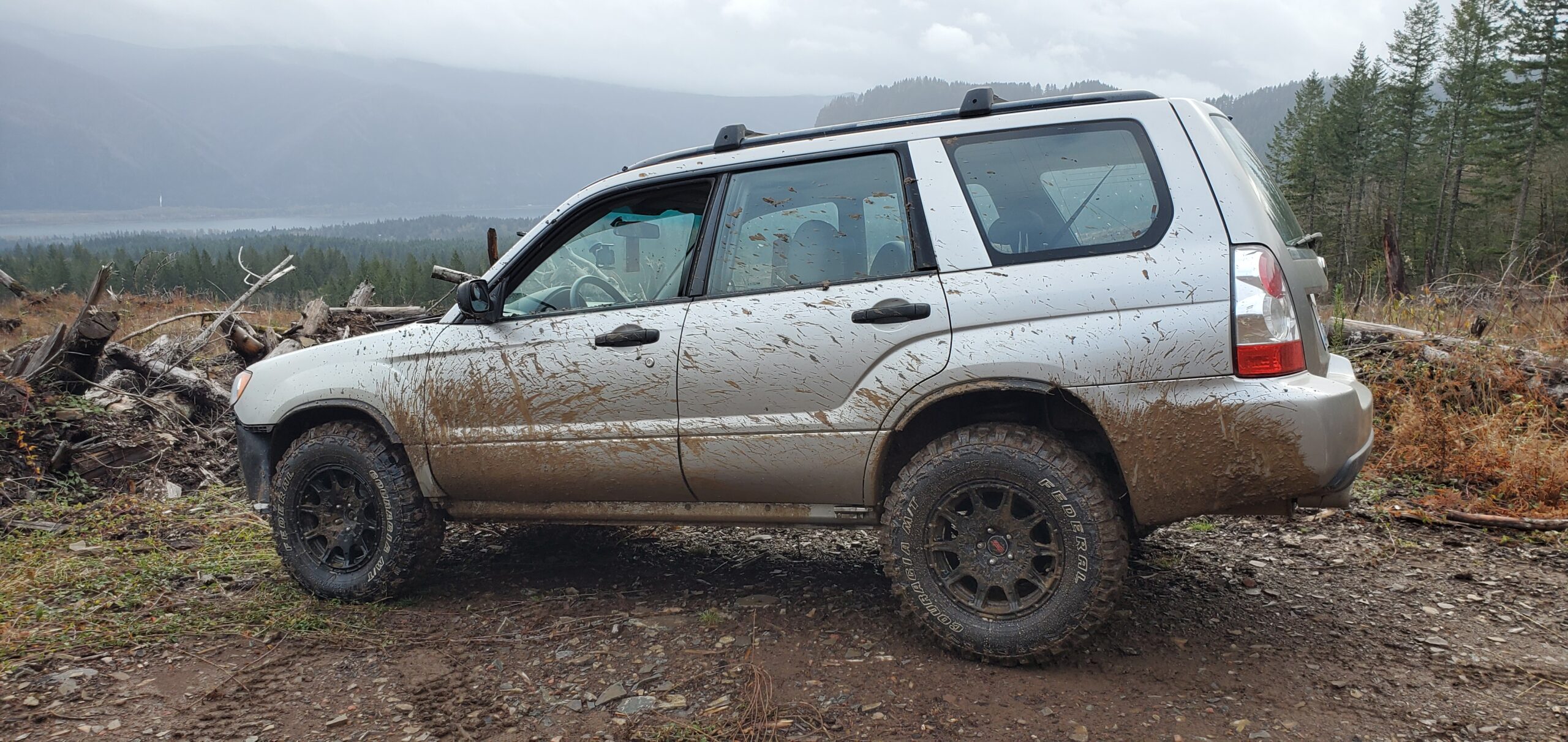 You can see that where I put the flares, the mud on the paint is heavily reduced. I still need to add more flare material to the rear bumper, but was most concerned with cutting down overspray from the front tires. I am also planning to have tube bumpers put on and will put more flares on the back at that point.
To give you an idea of how dirty the car should be, the trail leading to this viewpoint was a thick, muddy clay road with 1 foot ruts. The Nissan Xterra that was with us even had a hard time making it up because of how wet and muddy it was.
I spent only $40 dollars on the 1 inch flares and they turned out even better than I expected. On my car, the "two wheel" package actually was enough to do all four wheels. 10/10 would recommend these to friends all day.
If you want to reduce the chance of kicking debris up onto your paint, or back into cars behind you, I would take a look at these. Drilling into the fenders on your car can create issues if done improperly and will likely reduce the resale value of the vehicle. This is a great solution that was so easy to install.
These highlights stick out to me about the EZ-Flares:
Extremely affordable
Easy install
Factory appearance
Can be removed without damaging the vehicle
Doesn't lower resale value of your car
Shipped super quick
Again, I bought these with my own money. I don't do paid reviews. But I'd recommend checking these out.
Definitely. And I would recommend them to others as well.
What I Used For This Install:
As an Amazon affiliate, we may earn from purchases. Lifted Imports is not responsible for any actions taken by the user. Only professionals should perform modifications to vehicles.