One of the most popular compact SUV's right now is the Toyota RAV4. With a ton of different trim levels and aggressive styling, the RAV4 has found its way into millions of driveways across the country. In fact, there are roughly 400k RAV4's sold every year in North America making it one of the most demanded options on the market. Unsurprisingly it has exploded in popularity with those looking for adventure. As a result, we've been getting tons of emails about lifting RAV4's and how to do it properly. So we started looking for some clean examples to hopefully share with you.
We saw Leslie's 2022 RAV4 SE and were impressed by the fact that her car still has a very presentable and clean appearance. It's great to see the factory aerodynamics and styling intact while still being extremely capable on trails and challenging dirt roads. We wanted to get her input on what her experience has been like as she's built her car. It started off as a stock RAV4 but quickly received a lift kit installation and meatier tires along with other accessories.
One of the most appealing aspects of the RAV4 is the fact that it's roomy, capable, and comfortable without being a gas guzzler. In fact, many people talk about opting for a RAV4 over a 4Runner for the fuel savings while still being able to hit most mountain roads with ease. Leslie actually mentions that she was considering a 4Runner and shares why she ultimately went with a Rav.
Leslie's willingness to share with our readers is so appreciated. If you get the chance, please visit her Instagram and say thanks! You can find her build by searching @rav4baddie on IG. Without any further delay, let's jump in!
2022 Toyota RAV4 Hybrid SE
ReadyLift SST 2 inch lift kit

245/65R17 Toyo Open Country AT3 offroad tires

17×8 Black Rhino Overland wheels

upTOP roof rack system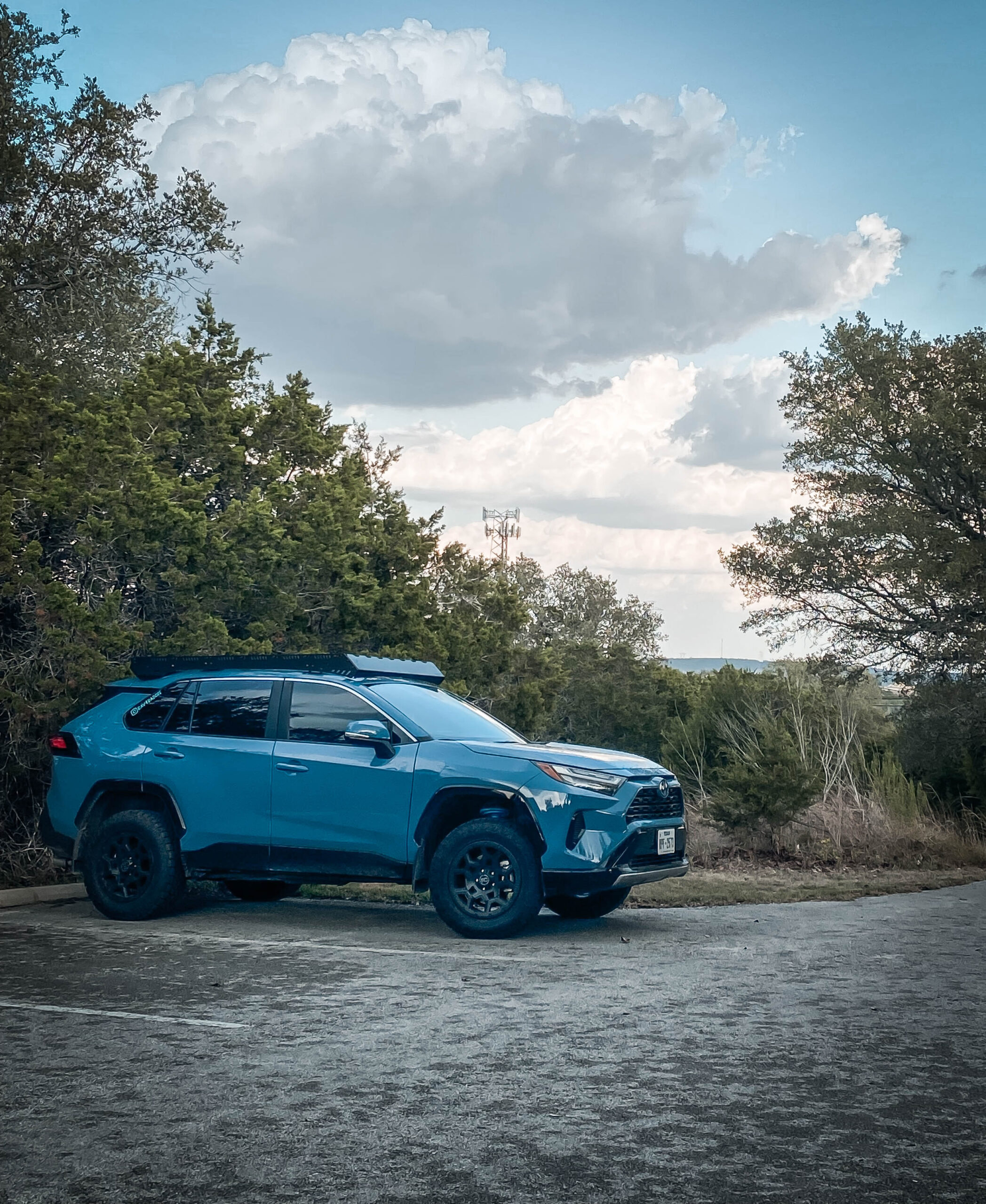 Choosing a Toyota RAV4 over other options
Honestly I'm a die hard Toyota fan and really couldn't see myself driving anything other than the Toyota brand. So ultimately I was looking at the RAV4 and 4runner. Being in nursing school finishing my degree I wanted something gas efficient but the SUV body style. So I went with the RAV4. It was a no brainer for me when I saw the color in person. My dealership was awesome in the aspect of parking a 4runner and Rav next to one another and I was shocked to see there wasn't much of a size difference.  
Lift kit installation on the RAV4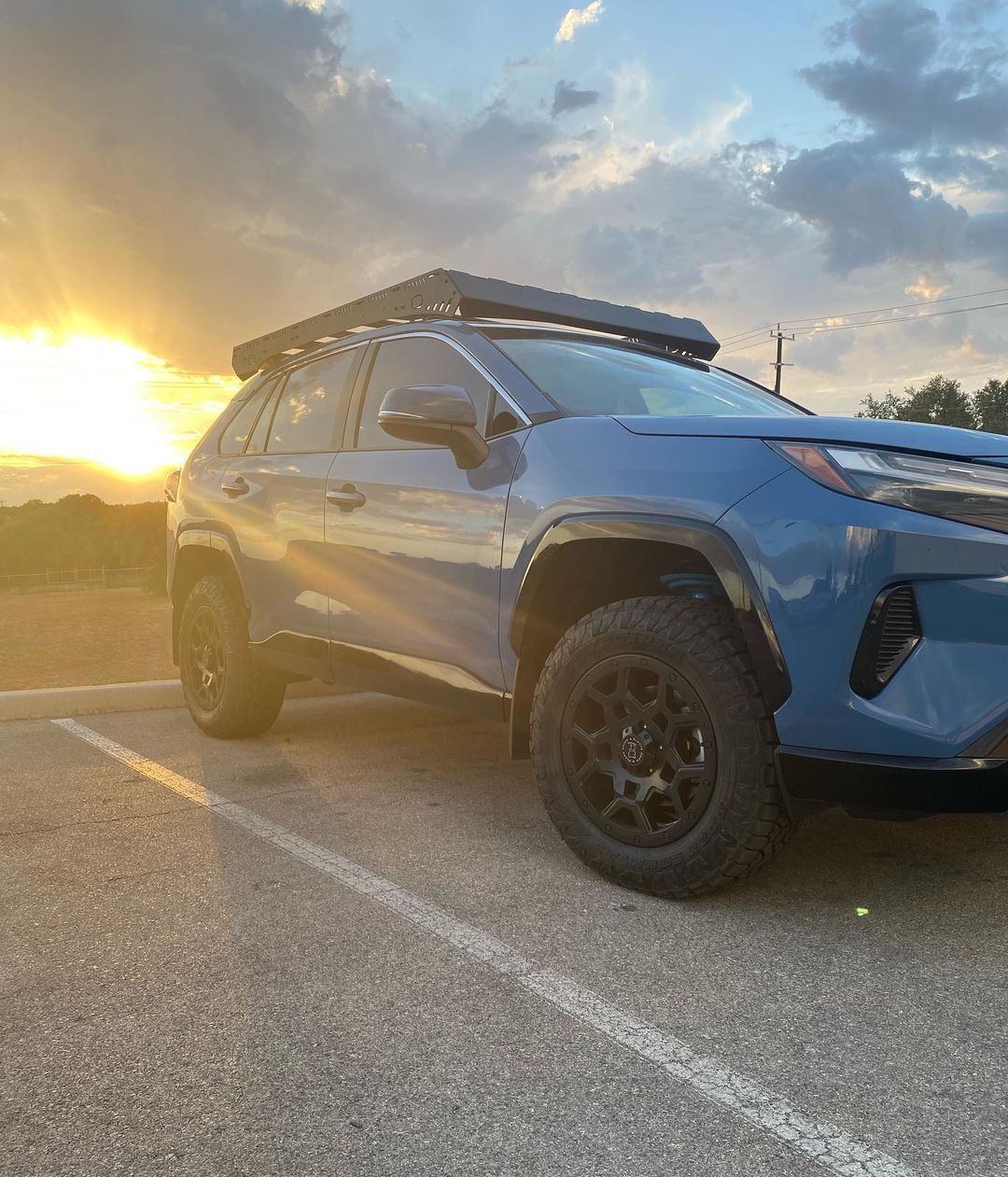 There weren't any difficulties during the lift kit installation and we didn't need any additional parts. The ReadyLift kit came with all the necessary pieces to get it done. The install went much faster with two people.
Putting 245/65R17 tires on the Toyota
Putting bigger tires on a vehicle is one of the easiest ways to dramatically improve performance. Most people are worried to size up their tires, but Leslie did it and has had no problems at all.
I love my Toyo tires and wouldn't pick any other ones honestly. I started looking on discount tire and fell in love with the look on other vehicles. Just the other day to get around a traffic stop I had to take a muddy dirt road to get to work just in time and the Toyo's know exactly what to do. They performed impeccably!
I also have zero rubbing issues with the current wheel and tire setup.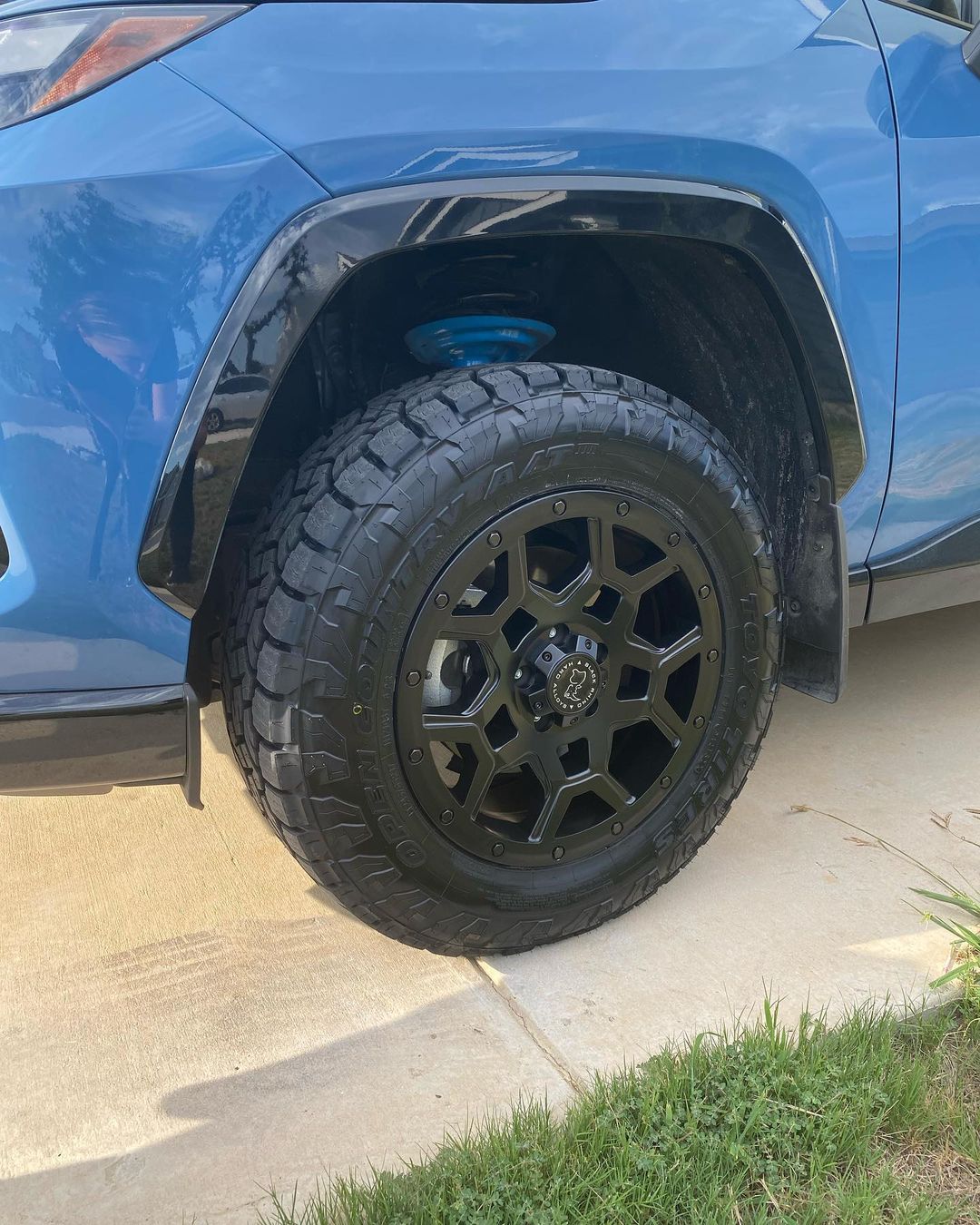 Off-road experience so far with the Toyota
So far I've taken it on pretty standard off-road trails and it's performed great! I know bystanders have been shocked to see a RAV4 off road let alone a hybrid once they hear my spaceship sounds. 
I haven't had a chance to take it out to camp in it traditionally yet. But during my recent move I did have it loaded with luggage, my two labs, and I still slept in the back seat with them.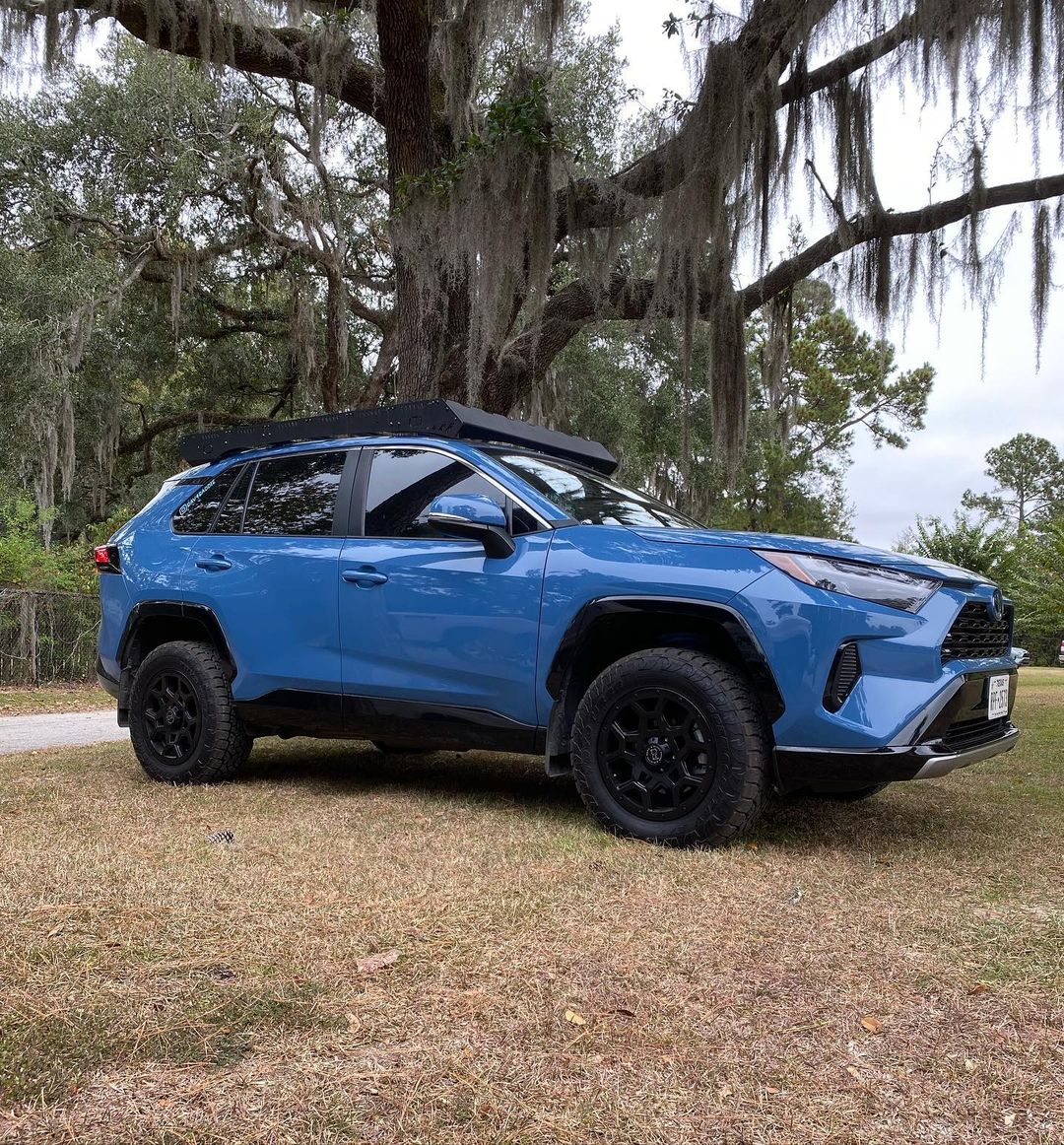 Benefits of daily driving a lifted car
I drive my Rav daily and one of the great things about having it lifted is I can take the backroads around traffic jams with no worries. Honestly the way I look at lifts is the fact that if I get rear ended, depending on the vehicle, there could be much less damage to the car. I also like the idea that if I have to quickly react to avoid an accident, I'm able to have comfort in going in the median if I had to. I love that I can actually see further ahead and know what to expect on the road ahead.
Since I do have a hybrid, in the summer at stock height it would sit at 39mpg (if I drove with a heavy foot) and 44mpg (monitoring the eco system). After I installed the lift and tires, in summer I'm sitting at 36-38. Adding the roof rack didn't cause a drop in my MPG's. When it's a little colder, I've noticed my MPG sitting at 32-35. 
Please note that the post-lift mpg numbers on this vehicle came straight from the dash on the RAV4. When calculated using the larger tire diameter, the mpg's are actually closer to 37.26mpg to 39.33mpg. That's really impressive!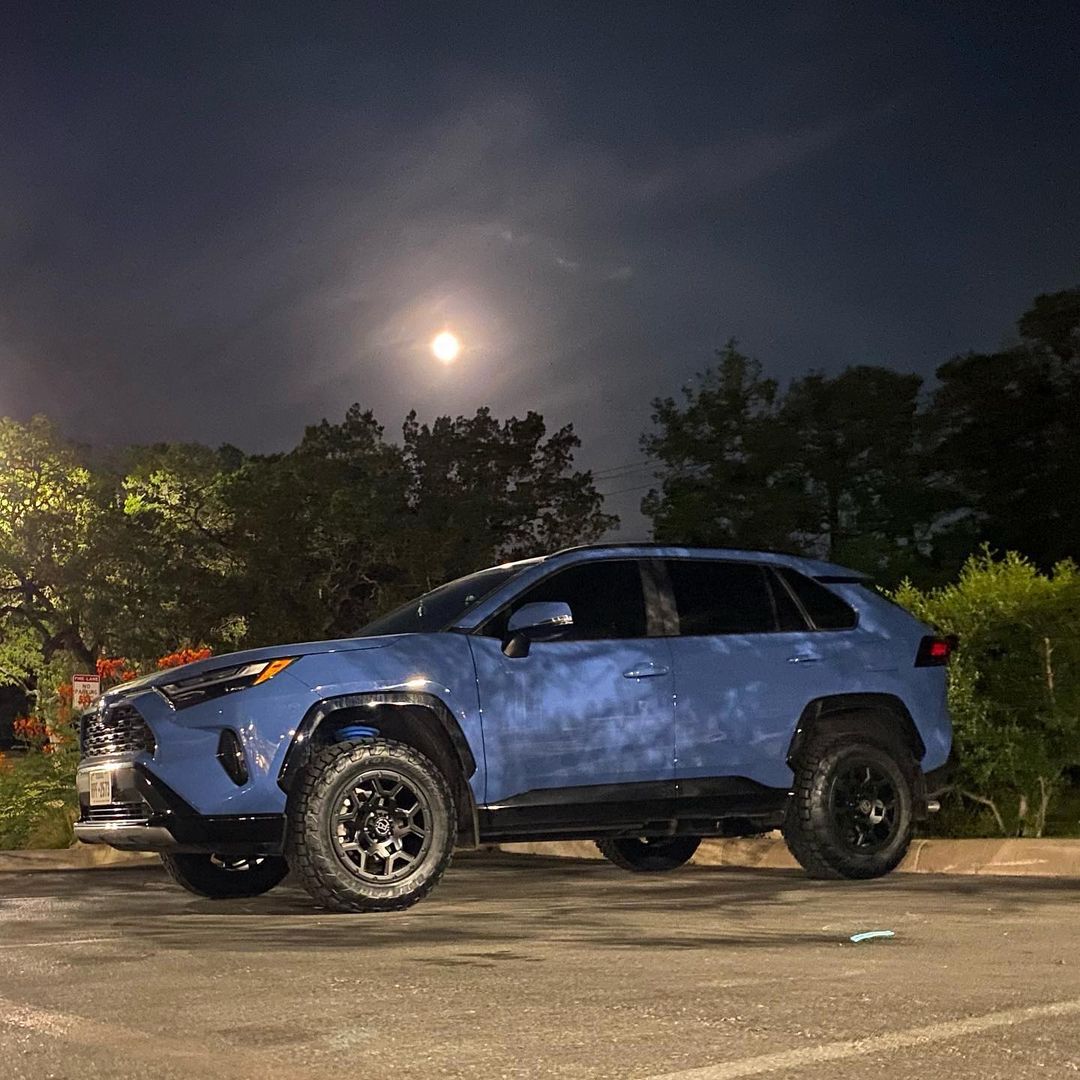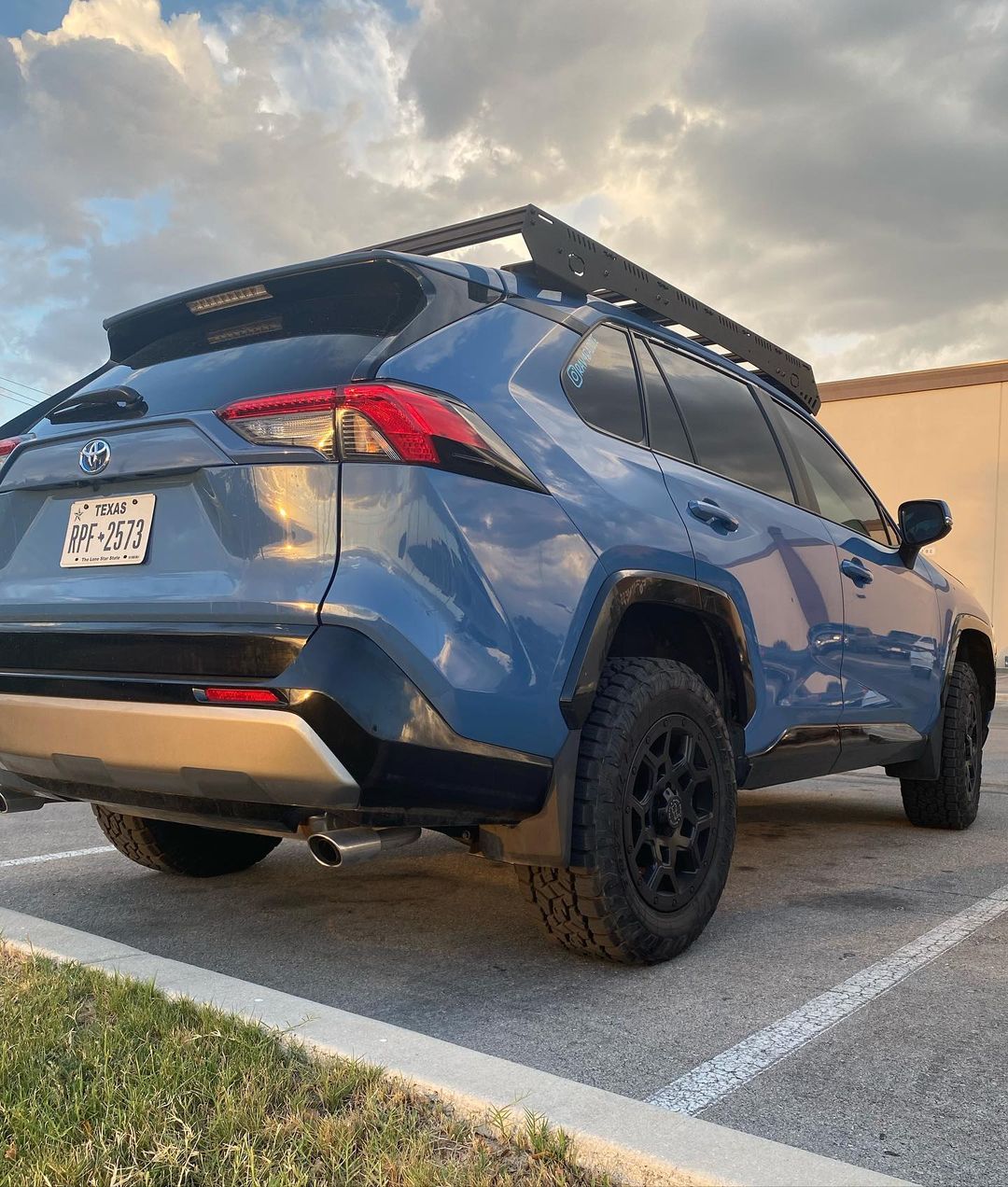 Favorite mods and future plans
My favorite mods have been lifting it with the wheels and tires since I love the lifted look! 
I wouldn't go back and change a thing honestly. It's adding my personal touch to a vehicle that makes me smile looking at it and driving it. 
I bounce around a lot of ideas like getting custom coil-overs, putting an air compressor where the spare tire is, adding a roof top tent, ladder on the back, spare tire mount, and a front bumper. So many crazy ideas pop into my head to do or I think about how I might configure it as I build it in the future. 
If you're looking around to get ideas for lifting your RAV4, I hope this has helped give you some inspiration and a visual example of how awesome these cars can look lifted. Again, if you enjoyed this article please jump over to IG and give a follow to @rav4baddie and say thanks!