Fellow lifted Subie enthusiasts, welcome to another Lifted Imports build feature from one of my favorite cars and owners. In this article, we'll explore the build process of "b0w53r," a 2015 Subaru WRX with a lift kit and a ton of other off-road mods. Nelson, the owner, was kind enough to sit down and give some insight on the entire process of building this car. He shares his experiences, modifications, and passion for building his car in a way that sets it apart from the rest.
Let's jump in and learn more about it!
The Start of the WRX Off-Road Build
Nelson's Subaru journey began with the original bugeye WRX that caught his eye years ago when the platform first landed in US dealerships. Much like myself, the allure of the bugeye WRX/STI is undeniable, and sparked a long-term affinity for the Subaru brand. But at the time in the early 2000's, financial constraints didn't allow for the purchase of one of the original USDM WRX's. But years later, Nelson was able to finally buy a new 2015 WRX! As Nelson explained, "I couldn't afford a new car at the time, so it took a back seat. Finally, in 2015, I was able to purchase my car. An off-road build was not in the plans at all." Little did he know, this decision would lead to exciting off-road adventures.
Nelson selected a base trim WRX that may lack a few creature comforts but is actually a great "driver's" car. Without a sunroof and other accessories, the car is roughly 200 lbs lighter than higher trim levels. I purchased a brand new 2018 WRX for myself back in 2017, and like Nelson, opted for this trim level as well. I loved how comfortable it was while still being as stripped down as possible.
Modifications List: Turning A WRX Into An Off-Roader
Let's jump into the modifications. Nelson's car has undergone a remarkable transformation from when it was first purchased. He shared a comprehensive build list, featuring both performance mods and off-road accessories.
Perrin AOS
Koyorad Radiator
Borla S-Type Exhaust
RalliTek Adventurer Package (Bilstein Shocks, RalliTek Lift Springs, Control Arms, Sub-Frame Spacers)
Custom Front Bumper and Skid Plates
Sparco Dakar 17′ Wheels
Falken Wildpeak AT Tires 215/60/17
Rhino Rack Crossbars
Rhino Rack Sunseeker Awning
Yakima Load Warrior Basket
Grimmspeed Engine Dress Up
This impressive list showcases Nelson's thoughtfulness in creating a capable but reliable off-roader – and he's not done with it. As he put it, "The mod list is not too extensive…yet." And what about that lift kit that initially turned his build down the off-road path? Let's take a closer look.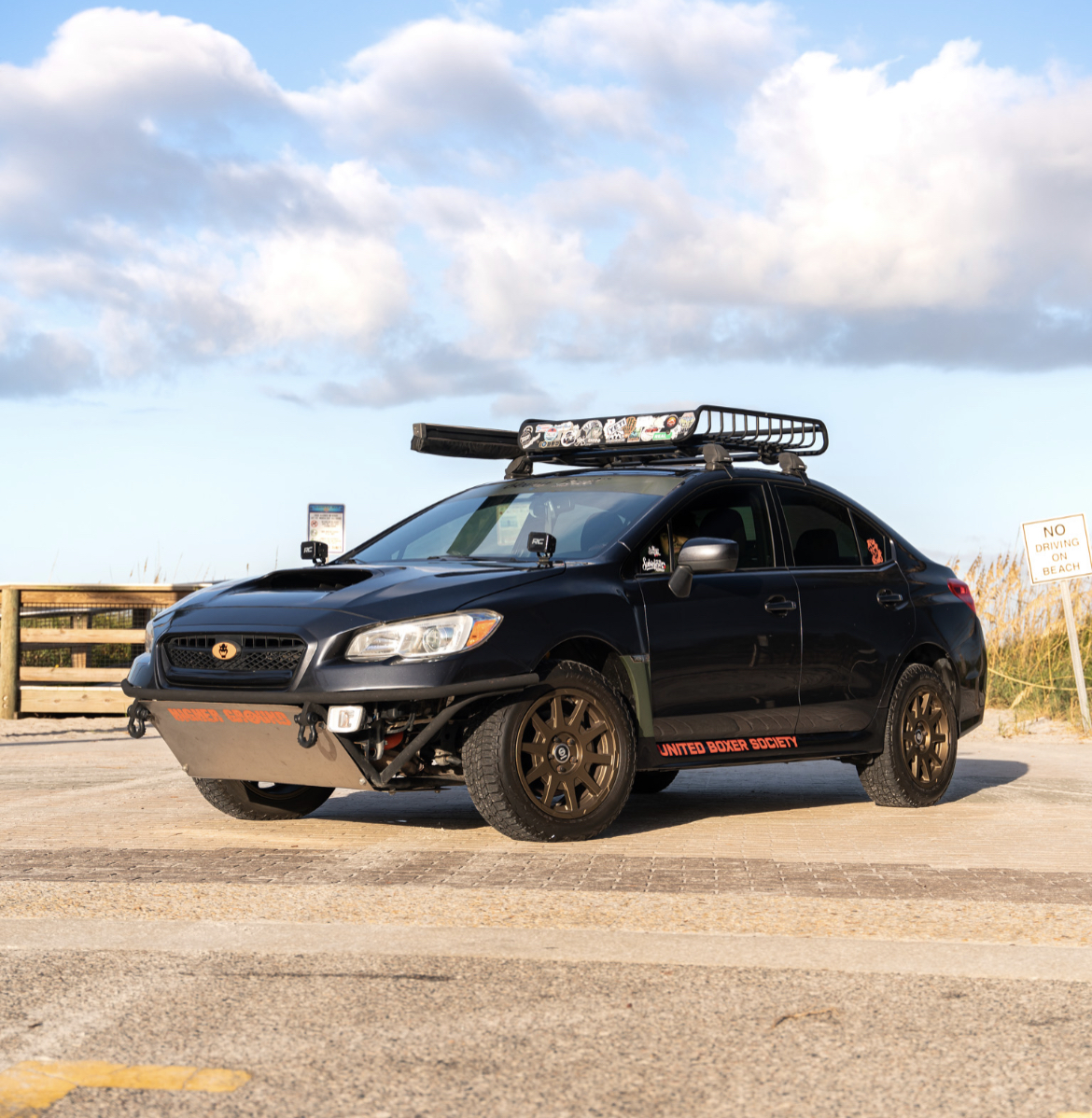 Lifting the Subaru: A Game-Changing Decision
Nelson's WRX wasn't initially intended for off-roading. He candidly recalls his initial plan which may seem sacrilegious to some of you: "I was thinking of slamming it like everyone else." However, his build took a u-turn in 2019 when a set of wheels and tires didn't fit as expected after being promised proper compatibility by the manufacturer. The solution? A lift kit consisting of 1.5″ strut spacers paired with meatier tires. The transformation was ultimately given the stamp of approval by his wife when she said "oh yeah, this is much better." Needless to say, the rest is history.
After driving on a basic 1.5 inch lift kit, Nelson decided he wanted an even more capable suspension lift. He worked with a local shop to begin looking for something that gave more ground clearance and an even better driving experience.
The lift process had its challenges, particularly with rear suspension fitment. But Nelson's friends and mechanics, Ken and Mattea, over at Higher Grounds Automotive reached out to RalliTek to help fine tune the lift. RalliTek then designed a custom lift kit for his car, ensuring a perfect match for the WRX chassis. The folks over at Higher Grounds Automotive knocked this one out of the park. Their collaboration with RalliTek paid off, resulting in a unique, one-of-a-kind 2.5 inch lift kit setup for the Subaru.
Fortunately, maintaining proper alignment hasn't been a concern. As he noted, "Thankfully, I haven't had any issues with alignment after the install."
Building A Custom Bumper For The WRX:
One of the most memorable features of Nelson's Subaru is the custom front bumper, complete with an integrated skid plate and recovery points. The story behind this addition to the car involves a visit to Higher Grounds Automotive in Longwood, Florida.They transformed a vision into reality, as Nelson recalled: "I saw a lifted WRX and sent them a picture of their front end and said to them, can you guys make this happen? They said, 'hell yeah.'"
The bumper not only adds a unique touch but also serves a practical purpose. "The custom skid plates by Higher Ground are not just an accessory. I plowed going up a hill into a thick stump, and the plates absorbed it like a champ," Nelson shared.
If you look closely, you'll notice that the factory turn signal light housings retained full function on the new bumper. I think this is an awesome detail that could be easily overlooked. Not only did Higher Grounds work to get an awesome lift kit created and installed on this car, but they fabricated the perfect bumper to tie the entire build together.
I've long been a proponent of installing custom bumpers on off-road built Subarus. The lack of good recovery points on most Subaru models creates a challenge when trying to perform recoveries or be recovered when off-road. I really like that Nelson focused on this accessory as he built the WRX.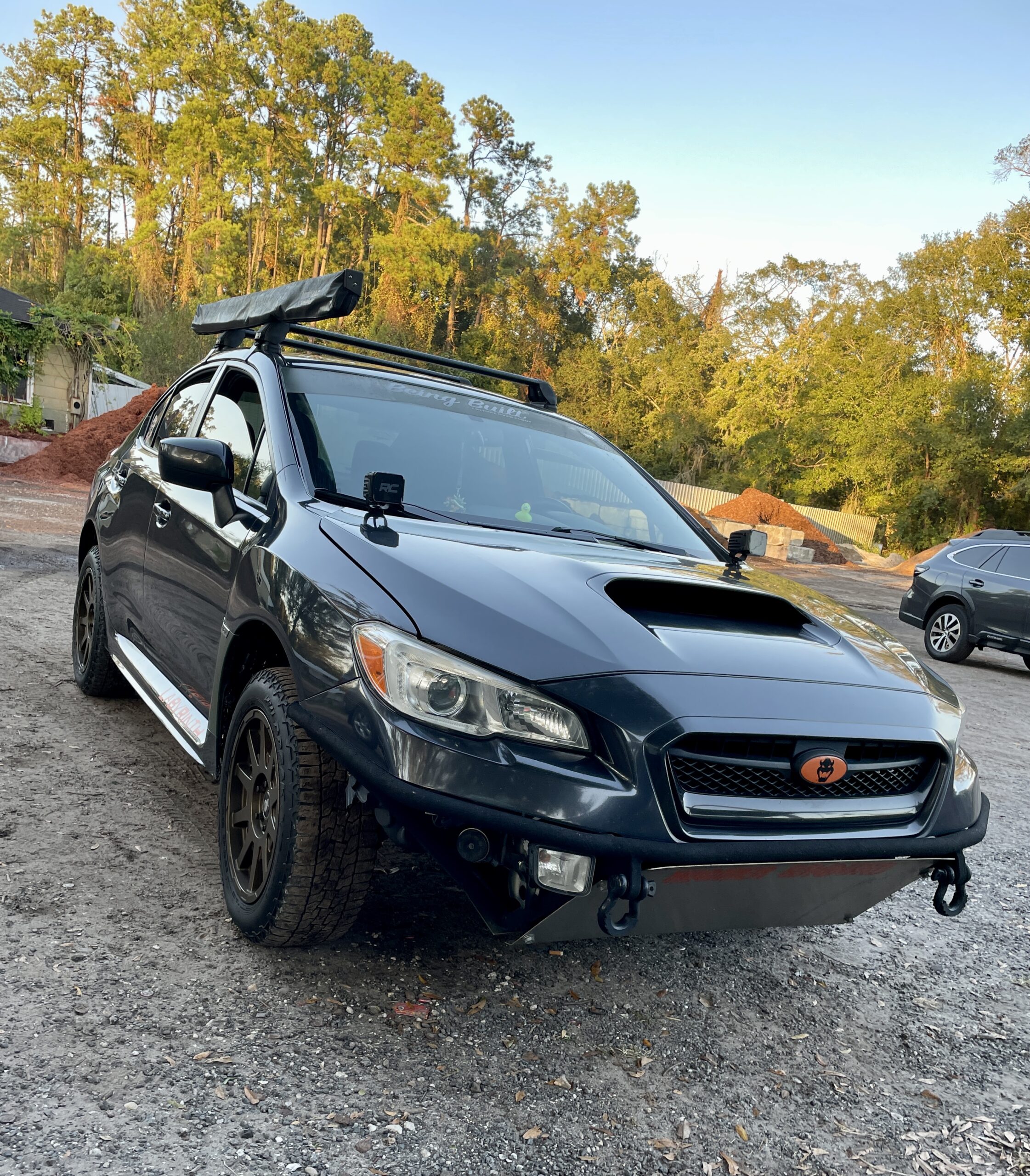 Vinyl Wraps And Future Aesthetic Mods:
When I first saw this car on Instagram, it had an army green wrap that Nelson says held up well to off-road use. However, over time, it began to show signs of wear. As a result, he decided to just started peeling it off, with only the trunk and a windshield banner remaining. He's already brainstorming new wrap designs and has exciting ideas for the future. I'll be keeping an eye out to see what he has in store.
I think vinyl wrapping off-road vehicles is a great idea as we begin to see more newer model Subarus getting taken out on the trails. When applied properly, a wrap can preserve the paint and add a unique appearance. After years of trails, my Subarus have all had pretty serious paint damage that would have likely been minimized vinyl wrap.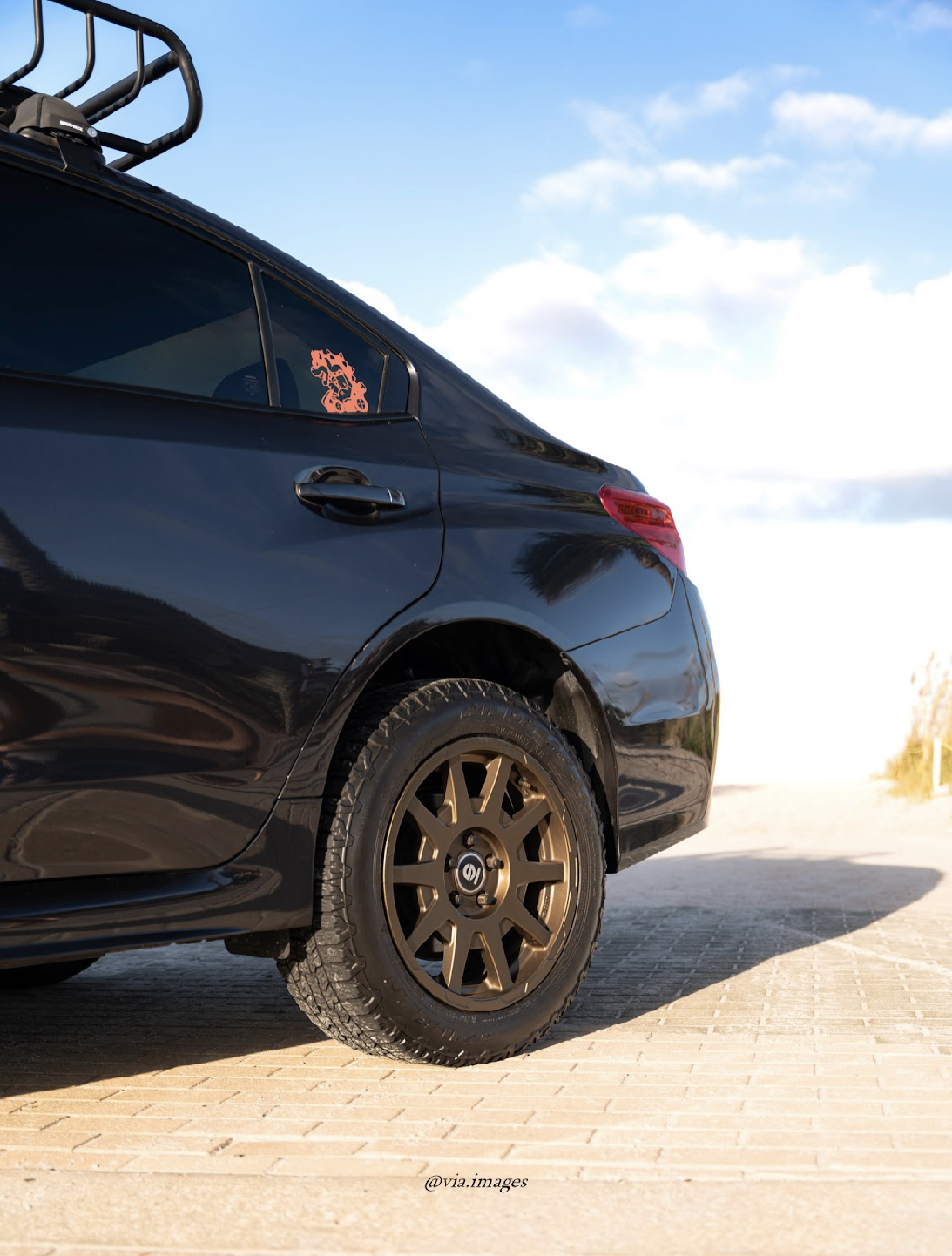 The Quest To Fit The Biggest Tire Possible:
One of the most common questions in the world of off-roading is about tire sizes. People always want to figure out what the biggest tire is that they can fit on their car. Nelson shared his thought process behind choosing the 215/60/17 tire size and highlighted its compatibility without any rubbing issues. When he installed them, he planned to avoid making permanent modifications to the WRX, but that has since changed. "At this point, however, I want more…lol. I will go back to the drawing board and have no problem cutting the fenders to get more room."
Exploring Different Terrains: Sand, Dirt, and Beyond
Nelson's Subaru isn't just a showpiece; it's meant for daily driving and weekend explorations. He recounted his adventures on sandy beaches, getting looks from bystanders as he passes them on the trails. "It does great on the sand. I love driving on the beach and looking at all the Jeeps and trucks watching me drive by, maybe they are impressed or maybe they are waiting for me to get stuck..lol. I just keep moving along, make it to my spot, pitch the awning and chill. I've taken it on dirt roads, muddy roads and someday wish to take it for a spin in the snow."
Maintenance and Efficiency
When it comes to off-roading, maintenance is a critical consideration. Nelson has been fortunate to experience no added maintenance costs from the lift. And as for the fuel efficiency concerns some may have, he humorously shared, "Who cares lol, just kidding, but seriously, I didn't buy it for the MPG; it's fun to drive." Most people experience a drop anywhere from 2-8 mpg in fuel economy with full off-road modifications. But if you're like some of us, it's more fun to not even look and just drive the car the way you built it to be driven.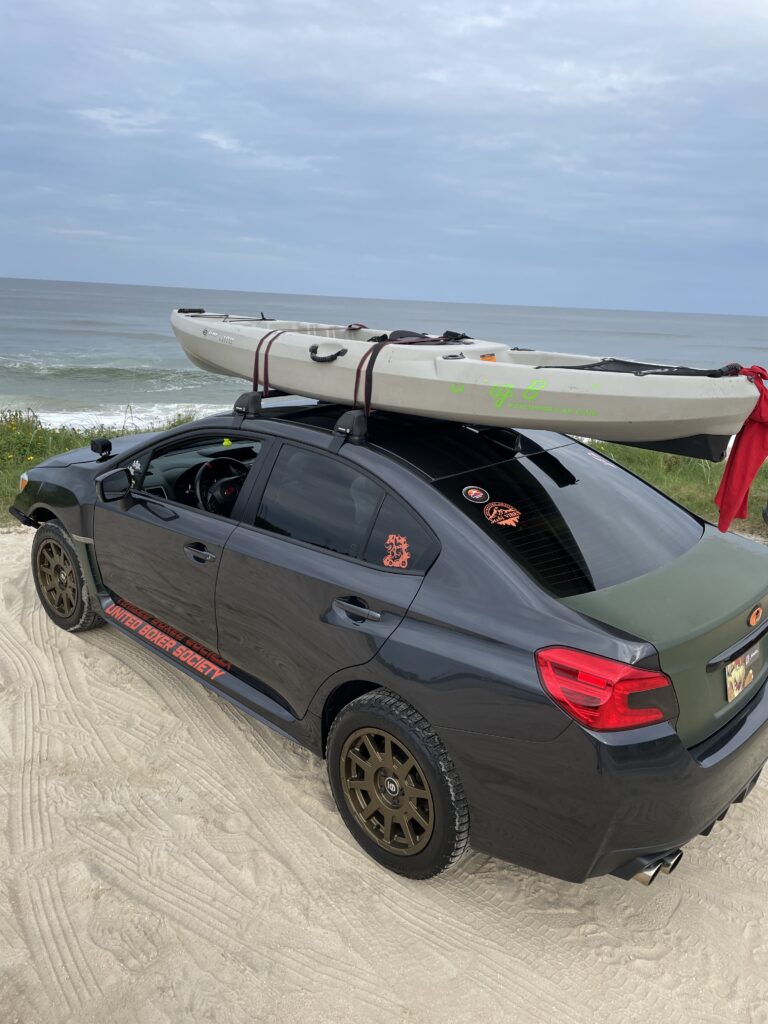 Favorite Mod: The Neck-Breaking Bumper
In the world of lifted Subarus, there's often a favorite modification that captures the essence of the entire project. For Nelson, it's the custom front bumper with an integrated skid plate, a conversation starter that never fails to attract attention. As he put it, "People always ask about it." 
When I asked this question, Nelson's answer didn't surprise me at all. As previously mentioned, I love everything about the way the bumper was designed and built. It's understandable why people gravitate towards it during conversations about the car.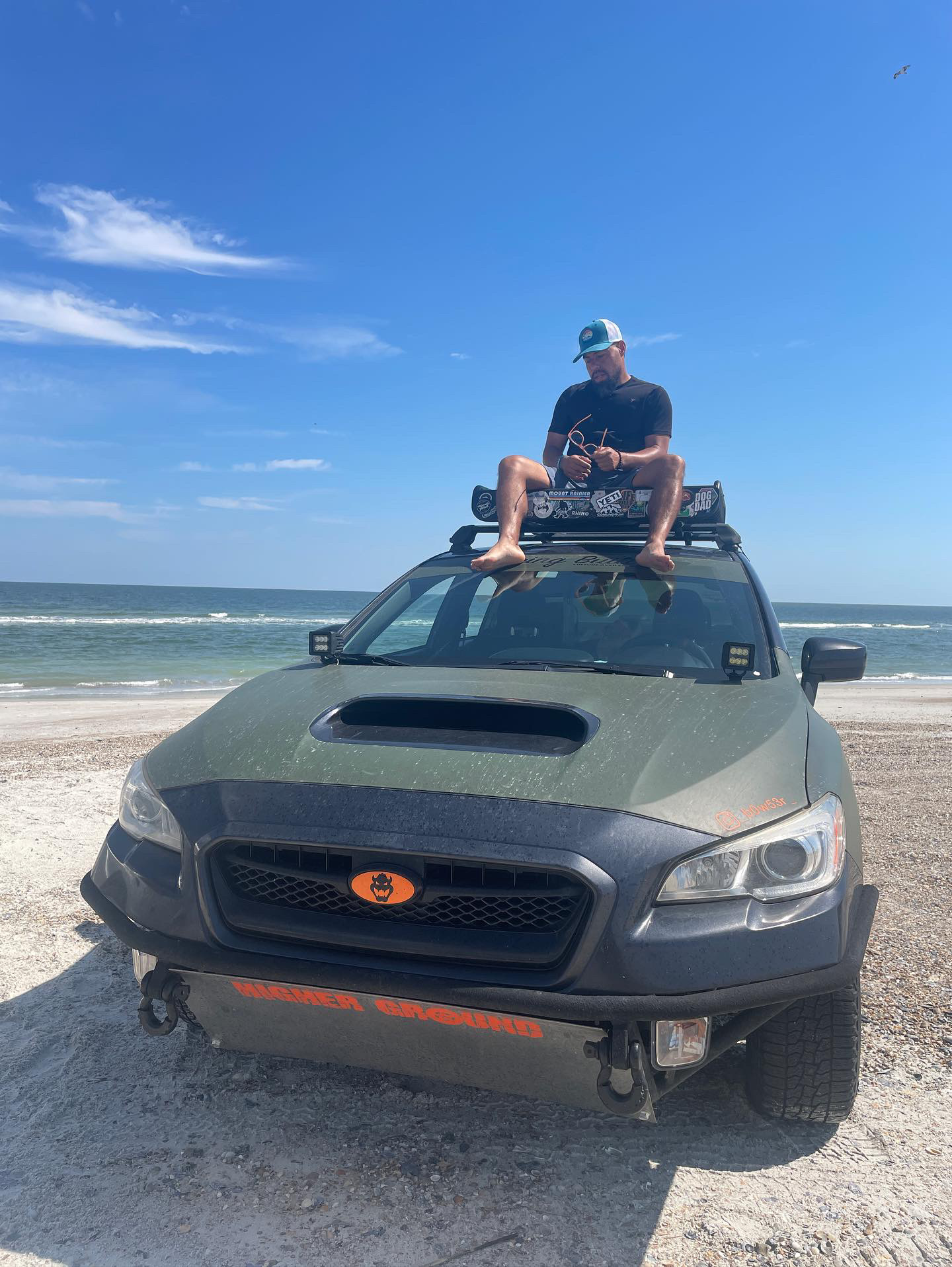 Naming The Car:
While not everyone chooses to name their car, it's a fun way to add character and make your car memorable. Nelson shared with me "I named my WRX b0w53r. When I saw everyone with a lowered car and beautiful clean rides and all the engine mods I said to myself, I am a go against the grain kind of guy so why not be the villain and be different. Dare to be different."
I would have never thought to name a Subaru after a Mario character. But after seeing it done, it fits this car perfectly! The WRX front end is aggressive by nature, and with the bumper cut and skid-plated bumper, it absolutely matches the look and feel of the car in every way.
What's Next for Nelson's Subaru?
The story of Nelson's Subaru build is far from over. As he aptly teased, "Stay tuned for what's coming next."  While he didn't share any specific plans, I have a suspicion that the next line of mods may be more performance related (mo powahhhh?) But whatever they are, this Subaru WRX turned rugged off-roading machine, is ready for more adventures and exciting mods.
I really appreciate Nelson taking time to share the details of his build. At Lifted Imports we're always striving to recognize the creativity and hard work of others in the community while providing inspiration to those who are in the early stages of off-road modification. I hope this article has been helpful and entertaining to all of you who've checked it out. Please head over and follow Nelson's Instagram (@_b0w53r_) and give him a shout out for being kind enough to work on this article with me.