4 Great Winch Options For Lifted Subarus
Plus We'll Explain Why You Need One, and How To Mount Them Properly to Your Subie
One of the easiest ways to burn yourself out on wheeling, overlanding, or adventuring in general, is to get your car stuck and have to wait hours for help to arrive. But what if you don't drive a truck? What if you own a lifted Subaru and want to install a winch on it? Despite what people may think, you can indeed mount a winch to a Subaru. In this article I'll help you understand why you need a winch, what winches are ideal for a lifted Subaru, and what modifications are necessary in order to mount a winch to your vehicle.
Why You Need a Winch Installed On Your Subaru:
While a lifted Subaru can be quite capable off-road, we're no stranger to the reality that they have their limitations. Having 4 wheel independent suspension, no locking differentials, and no low gear transfer case can cause your Subaru to get stuck in various types of terrain. Sometimes we may not realize that a trail is very challenging until we're halfway down and can't turn around. Having a winch can help you approach any outdoor trip with confidence. Even if you get stuck in deep snow, wet mud, or steep terrain, a properly mounted winch can turn a 45 minute recovery into a quick 3 minute task.
Here are the most common types of terrain where you'll need a winch:
Snow wheeling is such a blast. Exploring an area when it's covered in snow is so much fun and is easy on your vehicle's mechanical components. It's a great way to get out and push safely push your Subaru to its limits. But while snow wheeling is usually a bit softer, it comes with the risk of getting stuck in deep snow. Once your vehicle becomes high-centered, it's extremely hard to recover without being pulled. Adding a winch to your Subaru's bumper can help you enjoy the snow without worrying about getting stranded all day.
Sand is another type of terrain that is easy to get stuck in, but it's very deceptive. Folks usually have a hard time being able to read the sand and to know if their vehicle is capable of pushing through it. Some sand is very tightly packed and easy to drive on top of. Other times you may experience extremely loose sand. Your tires can easily sink into the sand as the tires begin to spin and dig your vehicle into a hole. If you have a winch installed, you can easily anchor to a nearby object or another vehicle and be able to enjoy the rest of your day.
While it's a ton of fun to spray mud up onto our paint and wear it like a badge of honor, choosing to drive through mud is a risky endeavor. Most people are more hesitant to get out of their car and "depth check" a muddy stretch of road or a deep mud hole. But mud is one of the most common places that off-roaders get stuck. Some forms of mud can appear to be solid and passable but are in fact 2 feet deep and very slippery. There's nothing worse than being on your hands and knees trying to dig a car out of a deep sink hole. In other cases you may find yourself in a situation where your vehicle is on an incline or next to a steep drop off and the ground may become soft or muddy and then begin to give way – leaving you in a very serious situation. In any of these cases, a winch will help you get unstuck, or even help you anchor your vehicle in a dangerous situation.
What You Should Look For In a Winch - Specifically For Subarus:
Buying a winch for a Subaru requires some specific consideration. While most Jeeps, trucks, and SUV's have sufficient bracing and room to mount recovery equipment of any size, it takes some strategy to install a winch on smaller CUV's and SUV's. The first part of the process is selecting the right winch to work around and there are three main things to consider: 
Weight & Physical Size

Power

Durability
Weight & Physical Size: When shopping for a winch that's going to be installed on a Subaru it's important to consider not only the performance and quality, but also the overall size of the unit. You'll want to look for smaller winches that can be mounted behind whatever bumper option you ultimately go with. While it would be nice to have a 12k model mounted to a Subaru, it's just simply too big to fit safely on the car. Not only will there not be enough room, but a heavier winch will cause a weight imbalance on the front end of the vehicle. Subarus tend to have longer front ends in general which is not ideal for off-roading. Adding that extra weight will be especially noticeable in a lifted Subaru.
Power: The general rule of thumb for knowing how big of a winch to get is to take the weight of your vehicle and double it. If your car weighs 5,000 lbs. you would want a 10,000 lb. winch. One of the reasons that hardcore off-roaders follow this advice is because they may get their car stuck so deep in something that they need a lot more than just the power to pull the weight of their rig. They need something that can pull a full size truck out of a deep mud pit, or out of a snow bank due to the added resistance.
With a Subaru you may be able to get away with running something slightly smaller. A Crosstrek weighs just over 3,000 lbs. which means you would want a 6k winch if you were following the typical strategy. But you may find that a 6,000 lb. winch is simply too big for your Subie. It will weigh down the front end like we talked about earlier, it may not fit in the bumper that you have, and if it does, it will block a large amount of air flow into your radiator causing overheating issues (I've seen this happen.) For most Subarus we recommend a 4,500 lb. winch. It's more than enough power to get the car out of most situations. If you're an avid wheeler and worried that you'll need more pulling power for hardcore trails, we suggest getting a snatch block to incorporate into your recovery kit. One snatch block can double your winches pulling power. Many folks will install a simple ATV 3k winch on their Subie and use a snatch block to double the power to 6k if needed.
Durability: This isn't specific to Subarus, but is extremely important nonetheless. It goes without saying that you need to be able to rely on your winch with no hesitation. So how do you make sure you're buying a winch that's going to be reliable? We suggest looking for a winch that's produced by a reputable company. You want to be able to see that a large number of people have used their winches with good success. Brands like Warn, Smittybilt, and SuperATV have a great track record when it comes to quality and customer support. If your winch has an issue, it's important to know that you'll have help from the manufacturer. You'll also want to select a winch that is water resistant so that you can enjoy water crossings and snow trips without any worries.
3 Ways To Mount A Winch To Your Subaru:
If you plan to install a winch on your car, you will need to install an aftermarket bumper beam. The beams that come from the factory are nowhere near strong enough to handle the amount of pulling force that a winch creates. If you attempt to mount a winch to the factory aluminum bumper beam, the winch will literally peel itself right out of the beam. This is extremely dangerous and can result in serious injury or death.
Three mounting options:
Aftermarket winch bumper
Custom winch bumper
Hitch mounted winch
The two best winch bumper options for Subarus:
Aftermarket brands (may be spendy and might not be available for all models)
Custom fabrication (more design options but will require some footwork)
There are a few companies that make some great bumpers specifically for Subarus that fit the cars really well. But you can also have a local fabricator build something that will work great. You will probably spend a little less having a custom bumper built, but the fit and finish might not look as clean as a premium pre-built option. You may also have to put in some time helping your fabricator understand exactly how you want it to look.
If you decide to have a bumper built for you, make sure the fabricator knows that you're planning to mount a winch to it. They'll need to plan the design around a sturdy winch plate that gives enough room for the unit to fit without coming into contact with the grill or obstructing the radiator.
Another option is to run a hitch mounted winch. If you have a trailer hitch receiver on the rear of your Subaru, you can mount a winch to it. The only downside is that you can only pull your vehicle backwards – which may actually be ideal in some situations.
Our Top 4 Picks For Best Subaru Winches: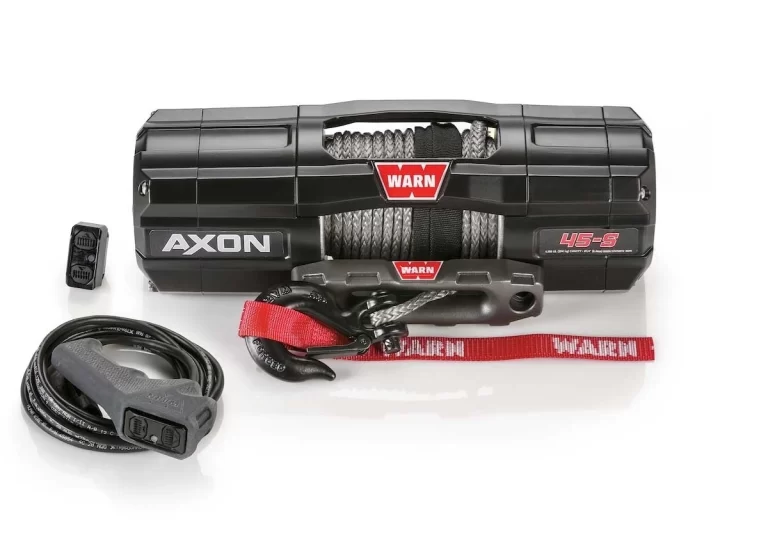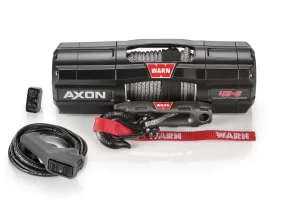 WARN products are, and have been for over 70 years, the gold standard in heavy duty off-road equipment. Initially born out of Washington State as a locking hub manufacturer, for military surplus jeeps, WARN has grown into THE top source for recovery products, mounting options, and industrial-grade winches. We have Arthur Warn to thank for the introduction of the electric winch. Prior to this, a vehicle's engine had to be running for a winch to be operational. 
The overall quality of WARN winches has been displayed over the years with multiple generations of 4WD enthusiasts putting their trust in their products. I've personally seen a 30 year old rusty WARN winch pull a Jeep YJ out of deep snow. I didn't expect it to even turn on – let alone pull a Jeep out of a snowy ditch.
With decades worth of improvement and R&D, we now have access to some of the most efficient, affordable, and durable WARN winches – and the Axon 45s is no exception.
Not only is the 45s a top performing winch, but it is the perfect fit for lifted Subarus. It's not oversized at all and can still pull your Subie out of some hairy situations. We really like that it comes with a lightweight synthetic rope option (remember, our main goal when building a Subaru is to reduce weight.) Synthetic ropes are also much safer as a matter of physics compared to steel cables since they do not store energy when under load. If a synthetic cable snaps during recovery, the rope will simply fall to the ground instead of slicing backwards and potentially killing a bystander.
WARN doesn't just produce the perfect winch for Subies. They also have a line of semi-hidden winch mount bumpers that can be installed on your current model Outback, Crosstrek, or Forester. These bumpers allow for simple winch installation and have rated recovery points as well. We highly recommend this option.
Key Highlights:
Synthetic winch line (lightweight and allows for safer recoveries)
IP68 waterproof rating
Durable powdercoated finish reduces possibility of rust and corrosion
Digital controller with convenient load and temperature readings (helps avoid burning up your winch during difficult recoveries)
Weighs 21 lbs. and fits perfectly on most Subaru models
Semi hidden winch mount bumpers are available specifically through WARN and fit Crosstrek, Forester, and Outback (best option for proper mounting.) This bumper also gives rated recovery points for safe pulling.
Check out this 2nd gen Crosstrek with the WARN winch mount bumper and Axon winch installed. With this setup, your Subaru will be ready to tackle anything.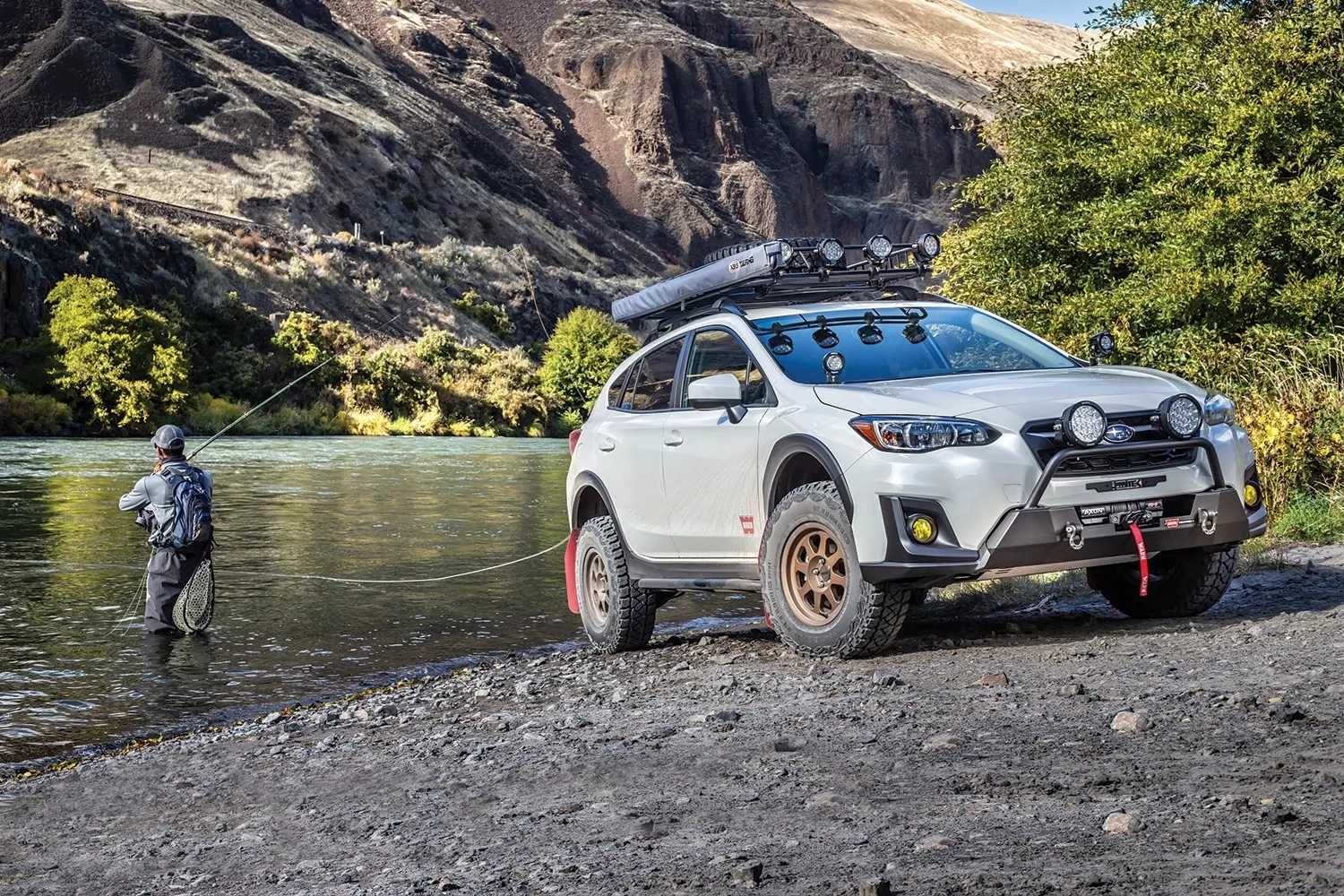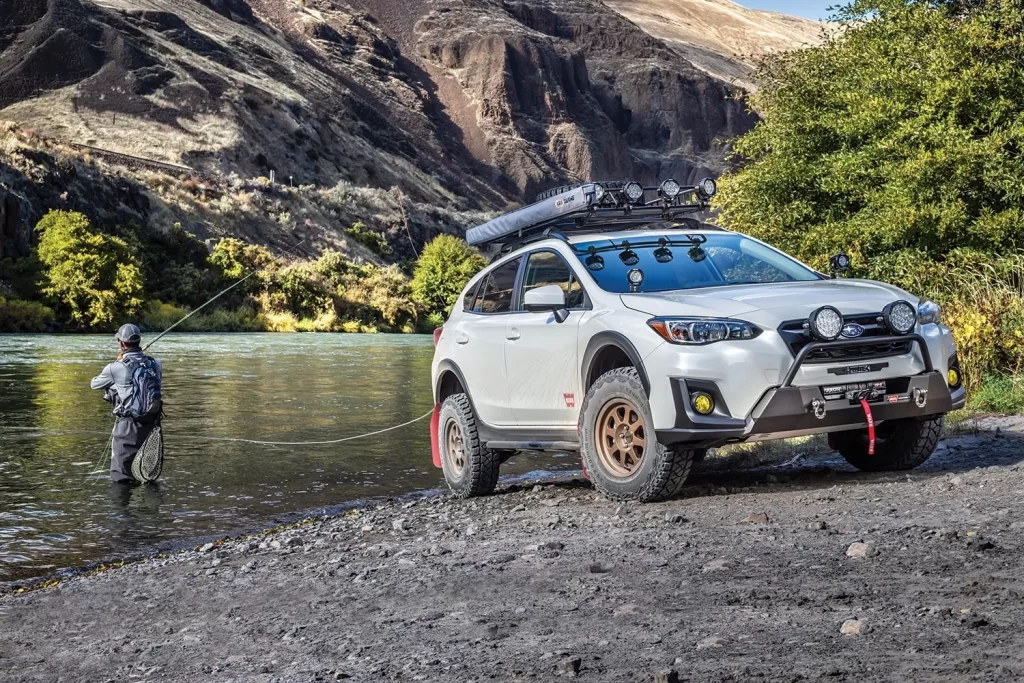 Photo: property of WARN Industries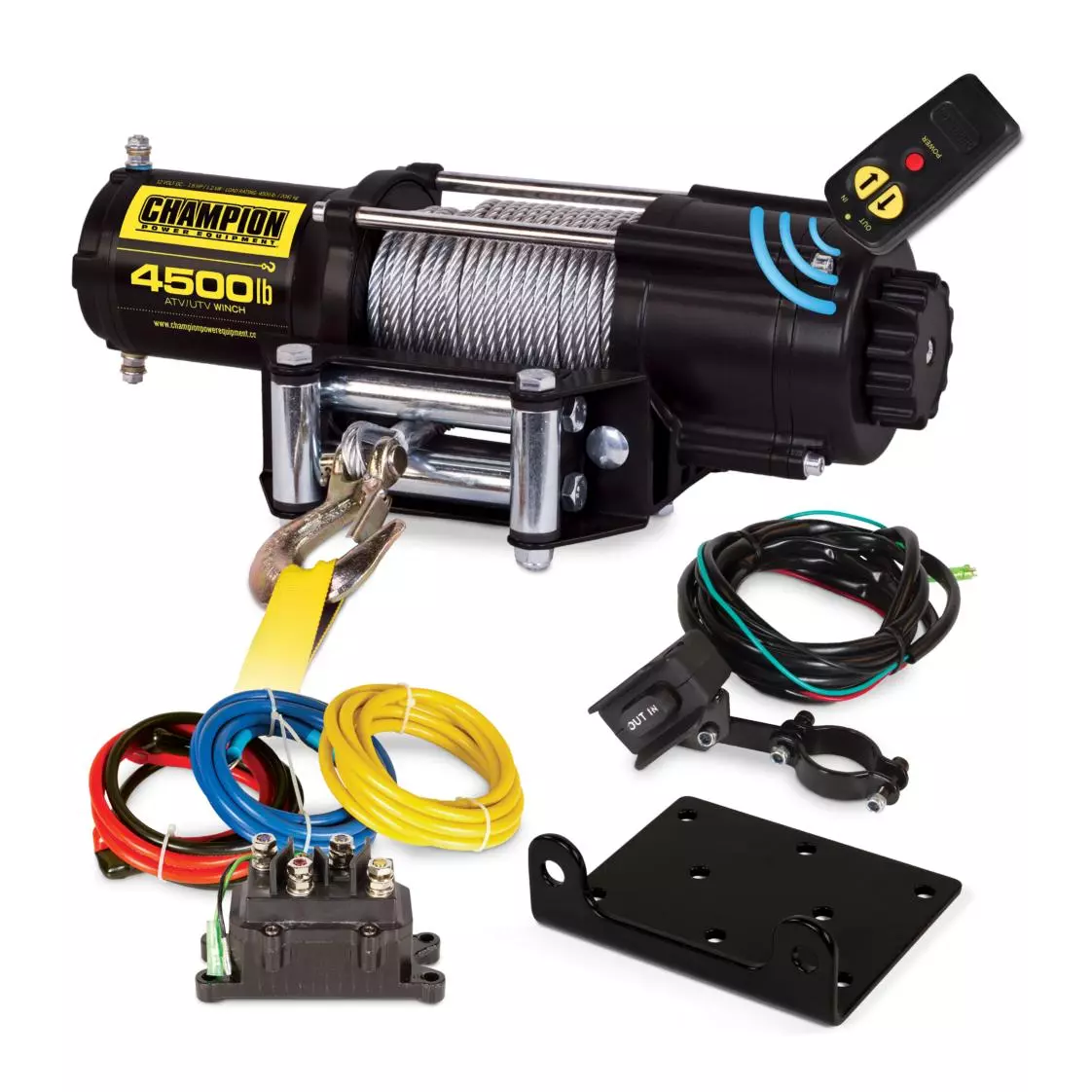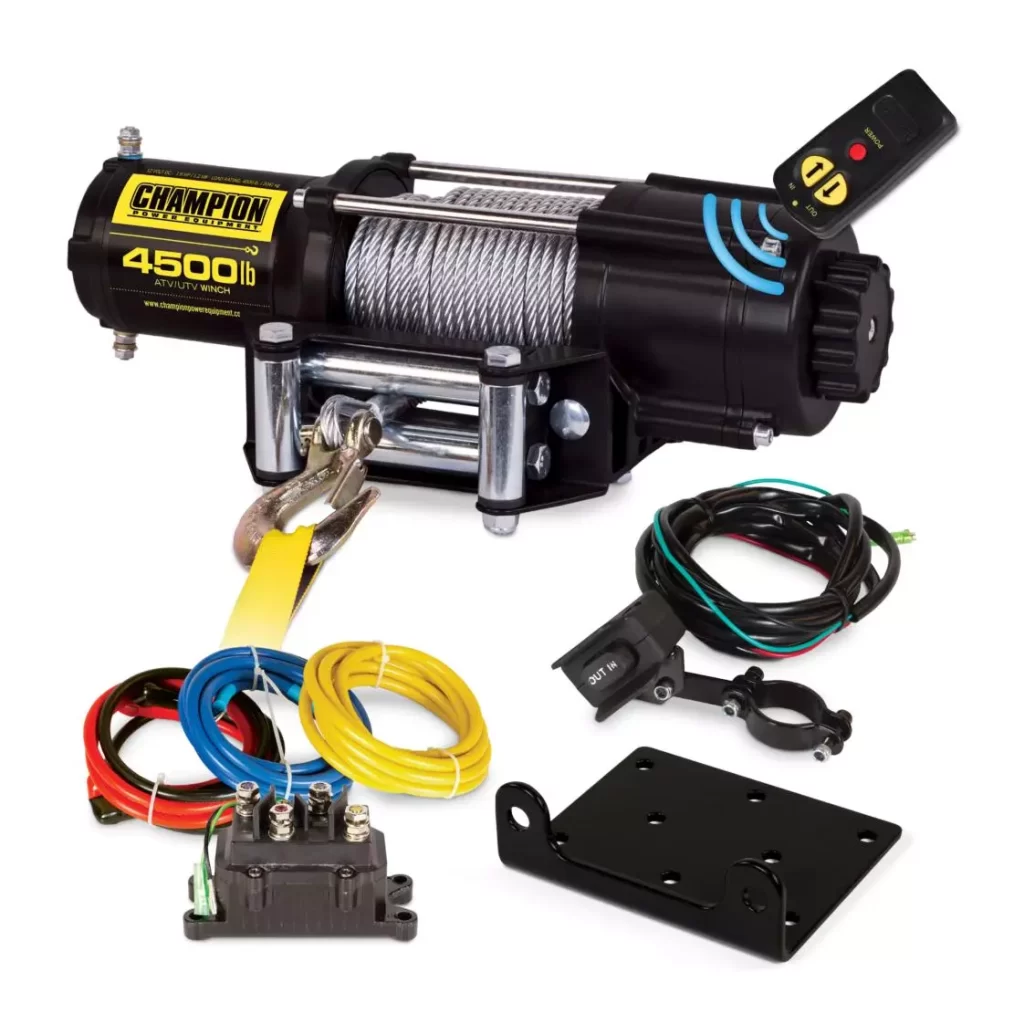 While there are some basic options out there for the budget conscious shopper, we think the Champion 4500 lb. winch is the very best option for under $200. The reputation is not going to be as popular as brands like WARN. But for anyone looking to get an affordable lightweight winch, this is a great choice. The Champion 4500 also won't weigh down your Subie. It weighs in at under 20 lbs. even with steel cable. 
What we really like about Champion is that they are headquartered and do their design in the USA. There are many other inexpensive winches on the market, but they are sold by Chinese-based companies that people will be unable to contact for support in the event of a machine failure. Champion is one of the best kept "secrets" in the off-road community. They make private label winches for other brands and have been in the game for quite some time.
The 4500 comes with everything you'll need to install it on your aftermarket bumper- wiring, switch, remote, controller box etc. Once you have your bumper built, this kit will be ready to go!
We would recommend using dielectric grease on the connections to keep it protected from moisture since it's not waterproof. It's water resistant, but should not be submerged. This is something to consider if you're planning to do trails that require deep water crossing. We think that it will still hold up well to the demands of most overlanders and softroaders.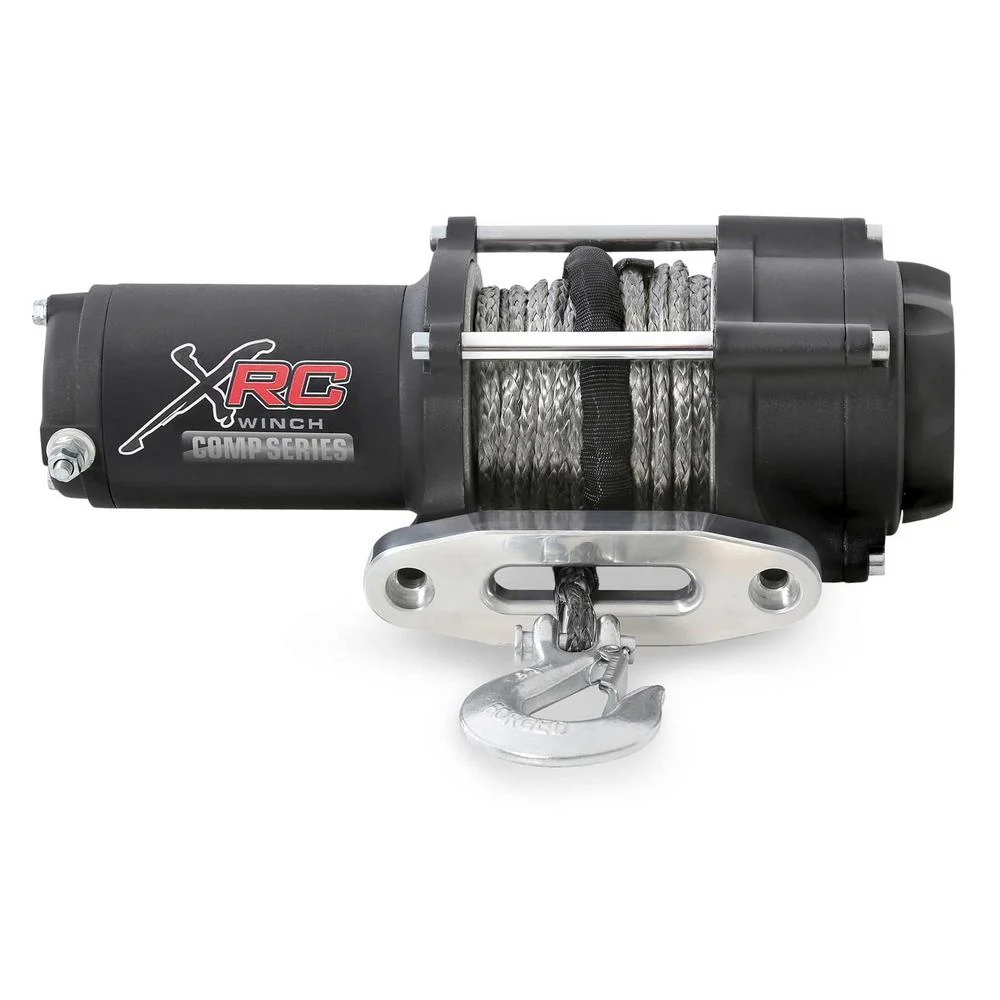 The Smittybilt XRC winches are awesome little winches for getting yourself out of minor situations. They're not waterproof so you'll want to avoid deep water crossings. But they have enough strength to tug a Subaru out of a small snow drift, or pull yourself up a tough incline. To remedy the issue of moisture exposure, we'd recommend using dielectric grease on all of the electrical connections during installation.
We really like the features, affordability and durability of the XRC winch. The synthetic rope version can be had for under $350 and only weighs 22 lbs. It has about 35 feet of winch line which is perfect for basic recoveries. Smittybilt has done a lot in recent years to build a good reputation for their winch products. While they may cost a few dollars more than some similar models, the Smittybilt winches have a better reliability track record. They also have good customer service in the off chance that you need to order a part. A friend of mine had a 10k winch from them and ended up damaging the remote input. They helped him find the part he needed and actually sent it to him free of charge which was very unexpected and much appreciated.
The XRC is a great option for someone who wants to fit a powerful winch into a tight space. It has a 4k line pull rating and 4.19hp for quick operation and longer working times.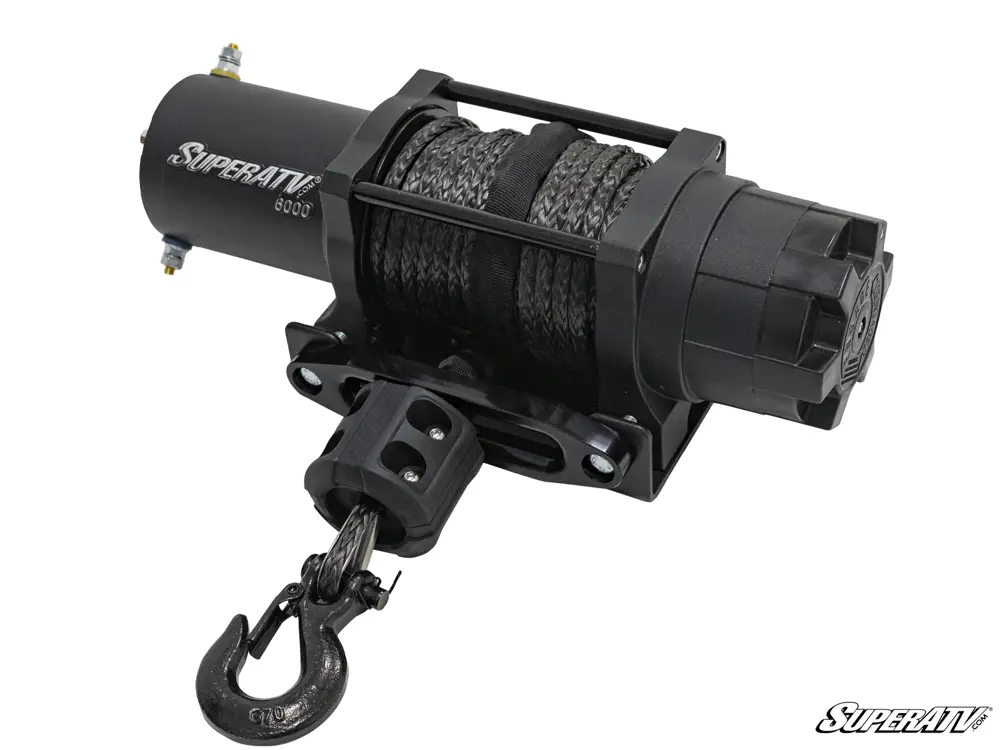 For those people out there who experience enjoyment from burying their Subaru in the mud or deep snow, going with a more powerful winch is a must. The SuperATV 6k winch is compact, affordable, and comes with a wide range of features to get you back on the trail as quick as possible.
This winch features synthetic winch line, a wireless remote, and waterproof electronics. The 1.9hp motor paired with 266:1 gearing allows it to pull your car out of even the deepest mud holes. The SuperATV winch is affordable and can usually be purchased for under $499. We've heard a lot of great things about the SuperATV customer support team. This is extremely important when purchasing recovery gear.
If you wheel your lifted Subie harder than the average person, this is the winch for you. We would also recommend it for Ascent owners that will need a little extra power.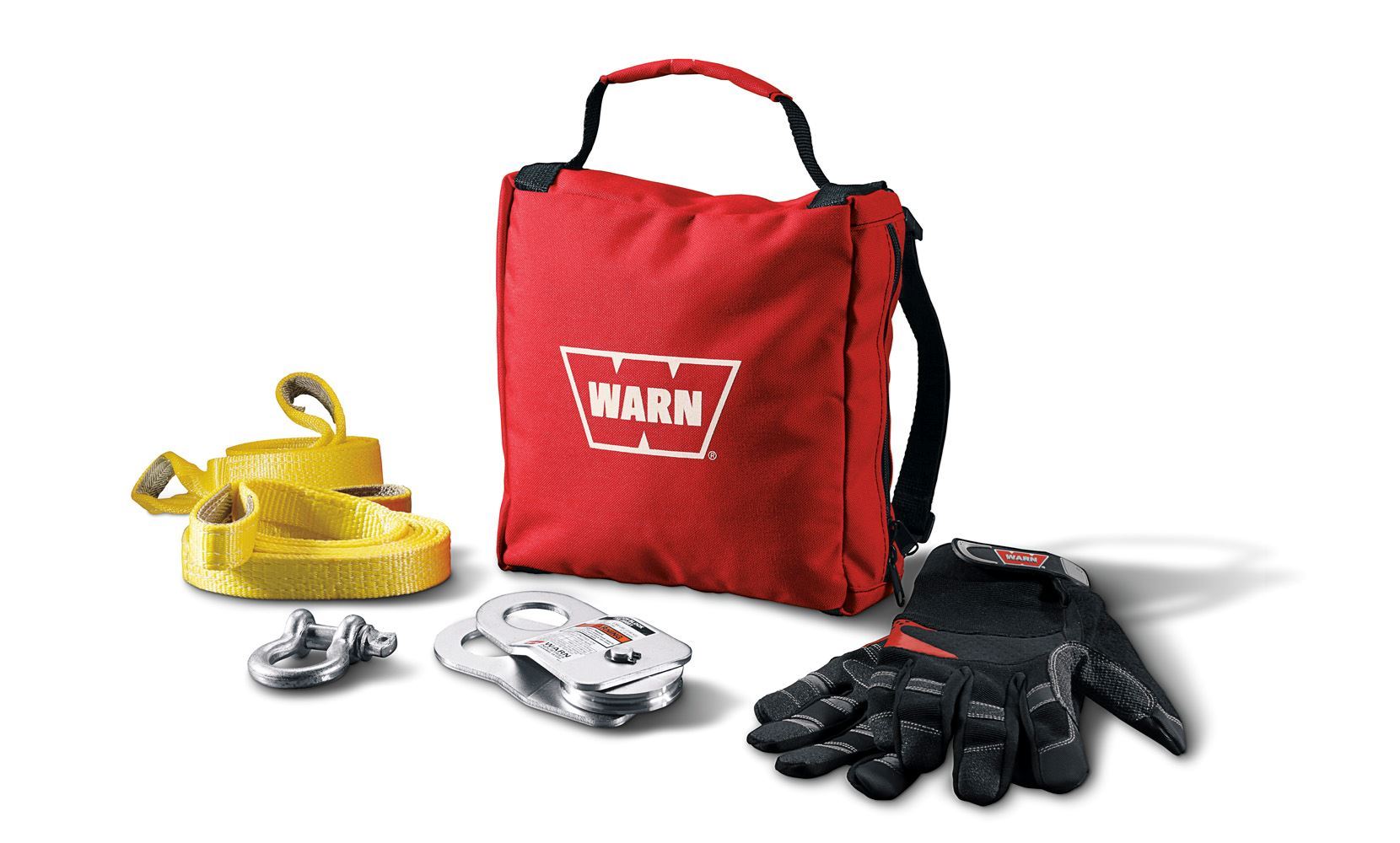 Before you head off into the woods to test out your winch, we highly recommend grabbing a few accessories to get the most out of it and to safely recover your vehicle.
Must-have accessories:
Other helpful accessories that we use:
Even though there may not be as much Subaru aftermarket support in the off-road industry as for Jeeps, Toyotas etc. you can definitely still install a winch on your car – and we highly recommend that you do. It's one of the most useful tools for self-recovery if you happen to be out exploring by yourself.