Federal Couragia MT Tire Review
Is this the best mud tire available in 235/75/15?
The options for finding a good mud tire in 235/75/15 are pretty slim. Most of the tires available in this size are re-treads, or sold by foreign companies and have very little known history. And since most mud tires end up on bigger trucks and SUV's, they're typically too heavy for a Subaru to handle well. So when we found a good deal on the Federal Couragia MT tires, we decided to give them a try. They happened to be having a promo on them and they came out to a little less than $400 for all four tires so we pulled the trigger on them.
Aggressive tread pattern performs great and looks good
Lighter than other similar mud tires
Tread wear has been minimal, even after 15k miles of hard driving
Open voids in between tread blocks allow for great mud clearing
Very strong shoulder pattern grips well in mud and snow
While not 3PMSF rated, they still do okay with occasional snow driving. *a dedicated snow tire is still recommended for regular commuting
Puncture resistant sidewalls
Rim protector to help save the edges of your wheels. Also adds a good look to the tire.
Strong compound – we've pushed these things hard and have yet to breach the inner sections of the tire
Heavier than most AT tires
Loud on pavement
Some people have said the tires get much louder as the tread gets low
If you're going to use this tire off-road for at least 75% of the time, we would highly recommend considering them – especially if you own a lifted Subaru or a smaller SUV and want the meanest looking tire possible.
Size: 235/75/15
Weight: 37lbs (Falken wildpeak AT3W's weigh in at 35lbs a piece)
Tread depth: 19/32″
Diameter: 29 inches
Average price for a set of 4: Usually under $450 if you shop around for the best price.
They looked pretty solid upon arrival with the blue film over the white lettering. We decided to run them with the white letters out.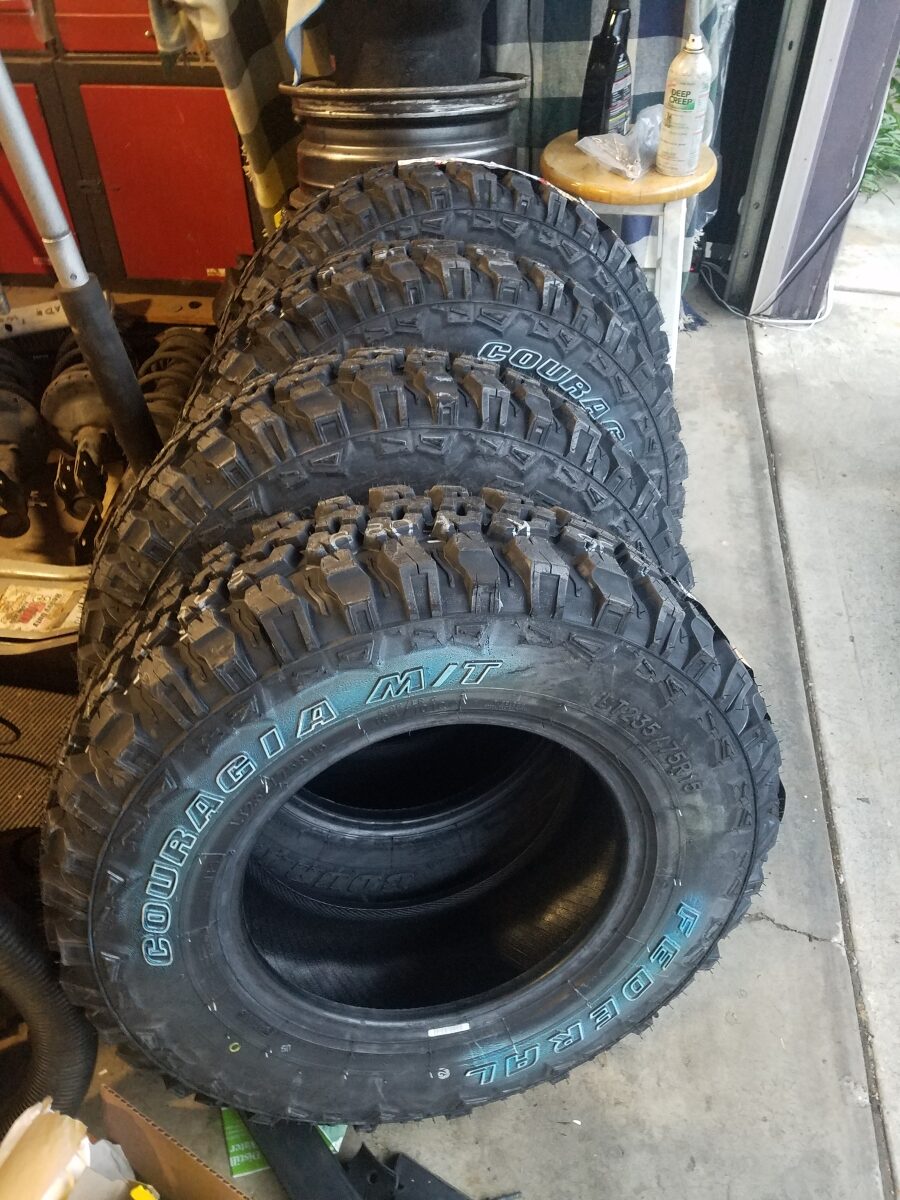 2000 Subaru Forester
2.5 inch lift kit with rolled fenders and "massaged" (lol) pinch welds in the wheel arch area.
*Note: You will need to be comfortable making small modifications to your car's wheel well area to fit these on a Subaru. We had to cut the fender liners in the front, remove the mudflaps, and bang the inner wheel well with a mini sledge to get them to fit without rubbing. If you own a newer Subaru, they might fit without any hammering. We've talked to folks with 2018+ Crosstreks that have fit this size without a problem.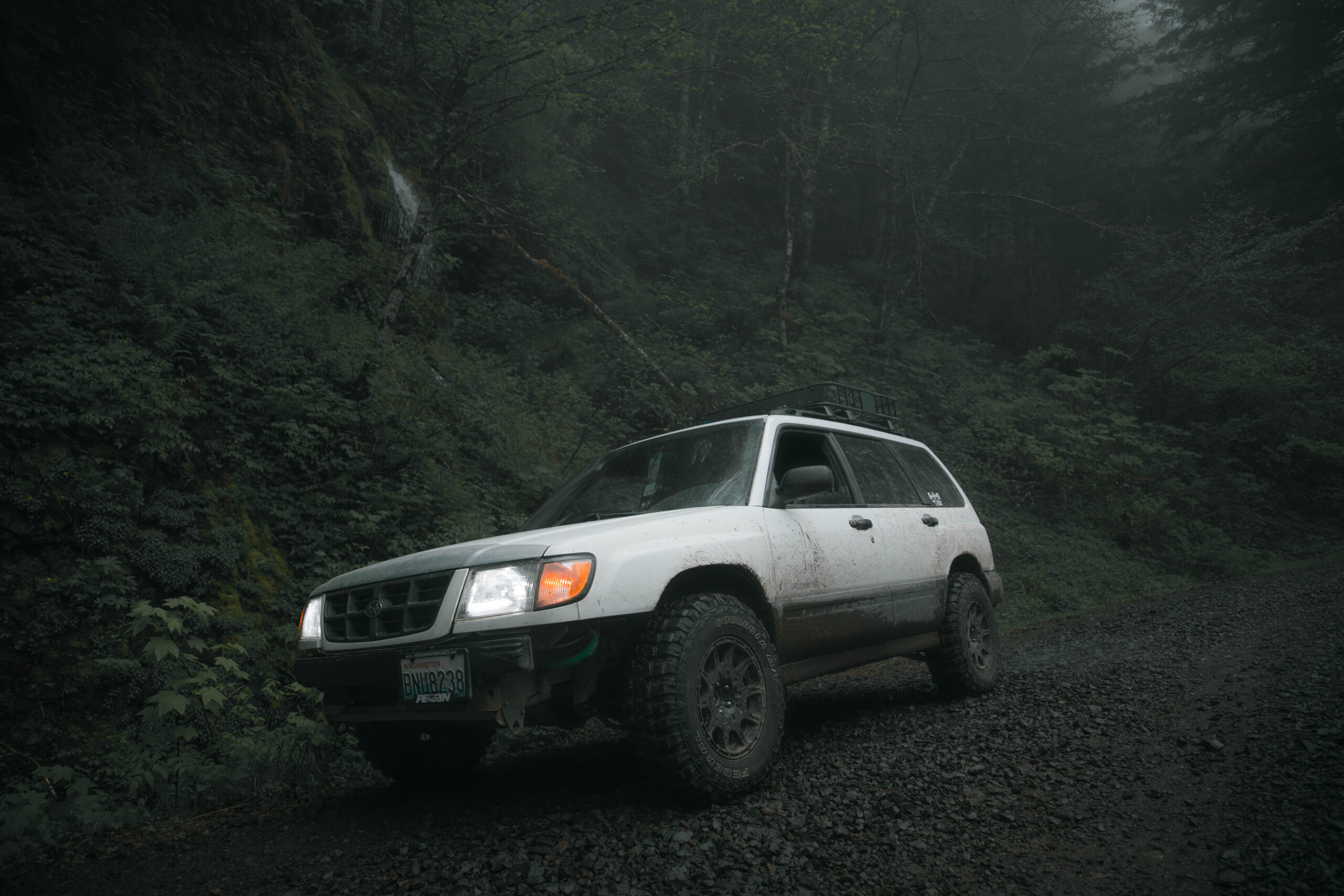 We drive this vehicle on a wide variety of surfaces, but these are what we have tested so far:
Gravel roads
Paved roads & highway driving
Mud
Snow (fresh and hard packed)
Dirt
Loose, sharp rock
How the Federal Couragia MT performed:
They grip really well on the loose gravel despite being an MT. However, they do retain a good number of rocks within the tread that will make your pavement driving noisy. These tag along rocks also pop out on the pavement and can ding the paint if you don't have a good mudflap.
For a mud terrain tire, the Couragia handles nicely. But it shouldn't be compared to a street tire or even an all-terrain in terms of cornering and agility. They are also pretty loud on the pavement – as are all MT's.
These things RIP in the mud. We've had the Forester bogged down to the header in deep rutted muddy trails and it pulled right through even when we thought the car was going to sink and get stuck. We've run trails with lifted 4Runners, Pathfinders, and Xterras and kept up with no issue.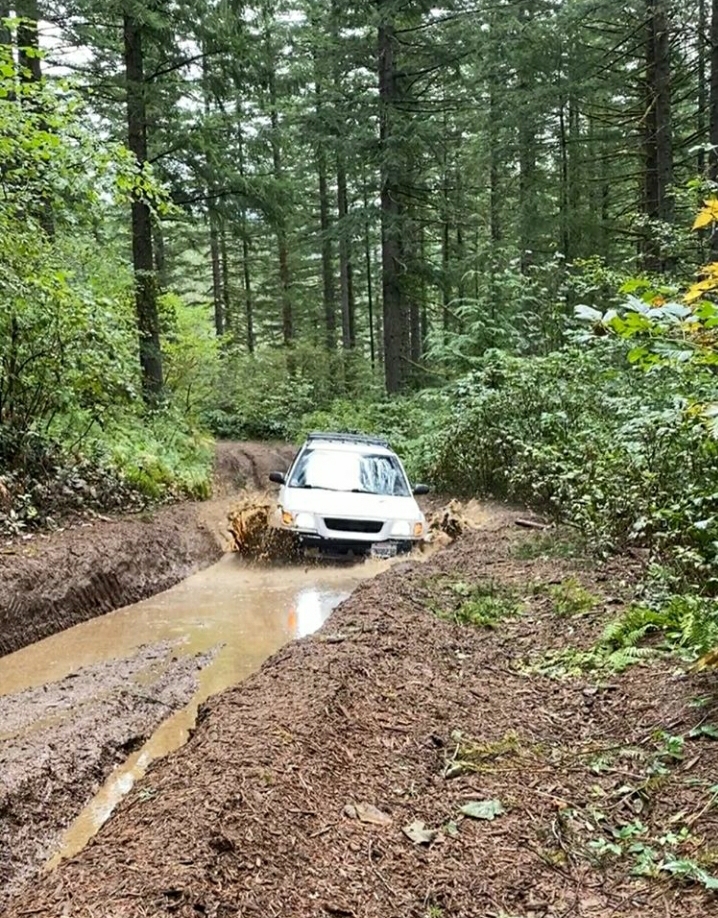 The Couragia's do a fantastic job of gripping heavy, soft snow and pulling the car right through it. The only thing I noticed was that they don't hold the car down really well at higher speeds in the snow. They require a firm grip on the steering wheel and a good amount of caution at cruising speeds. But if you want to chew through some older heavy snow, this is a good tire for the task.
One thing to note is that while they do great in slushy or old snow, they do not perform well in fresh, dry, hard packed snow. They do not grip well at all in those conditions. The compound is too hard and the tread blocks hold snow. This essentially turns them into slicks.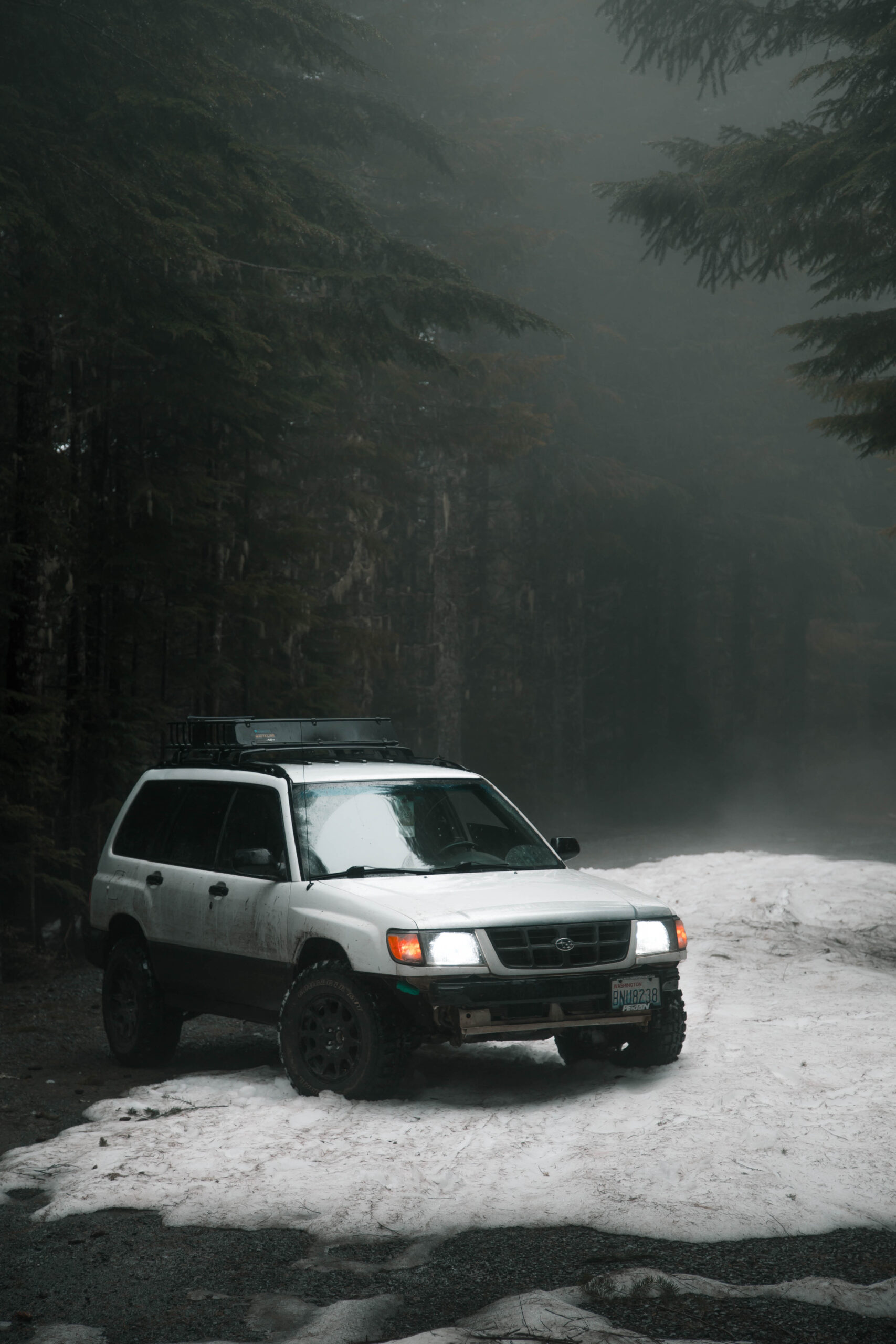 These tires do really well on dirt roads. We've had no problems yet. We usually air down on long trips through the forest for a smooth ride and they handle it very well.
I really like how well the tires evacuate mud and dirt from the treads.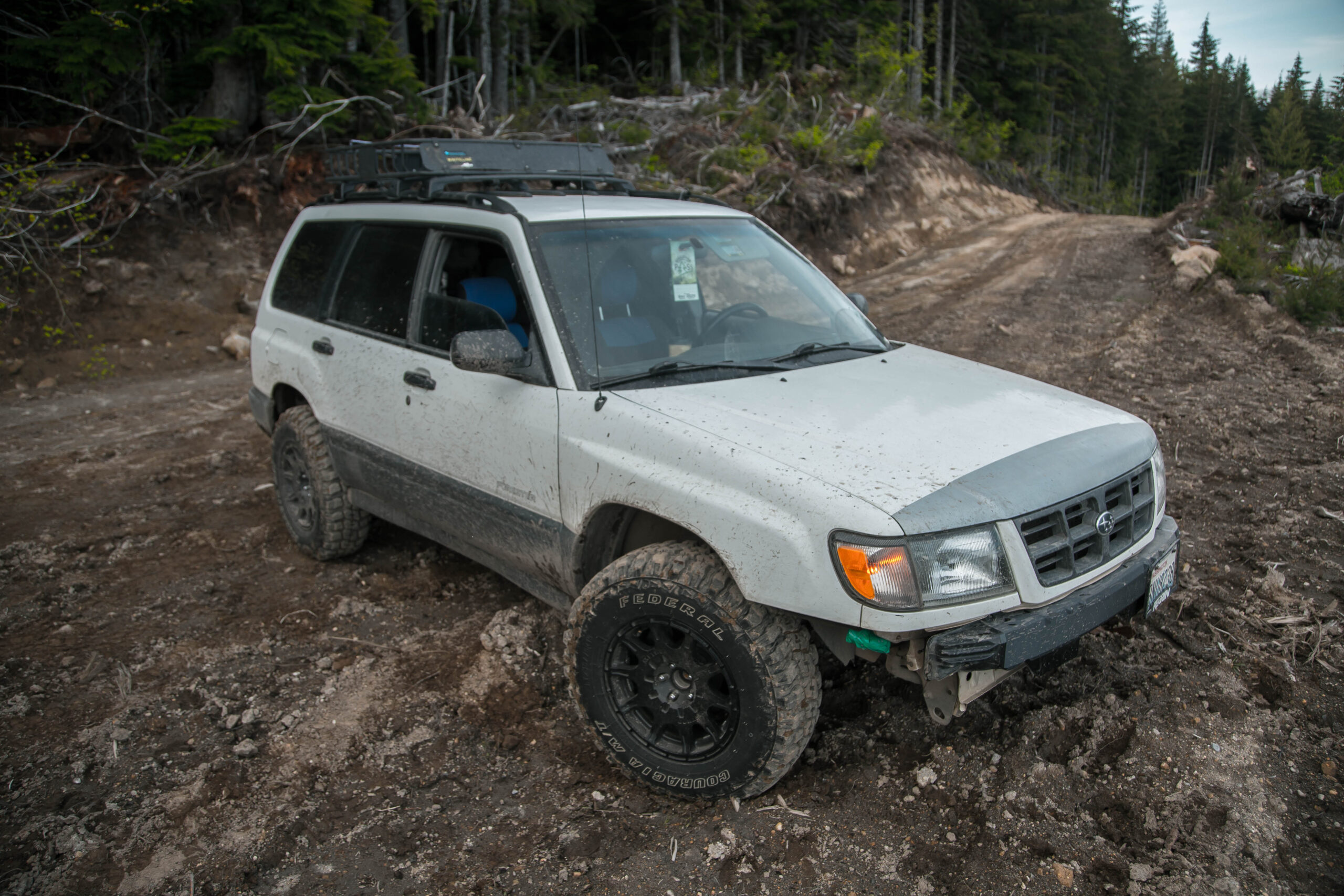 Surprisingly, the little Subaru is able to do really well in rocky areas on these tires; especially with a lower psi. We've been on some pretty rough trails and have yet to puncture a tire on sharp rocks or debris. The sidewall pattern is also very aggressive. This gives extra grip and protection against punctures and helps hold the car steady in slick situations.
We would definitely buy this tire again. For such an aggressive tread, you can't beat the weight of the Couragia MT. They're perfect for light SUV's that are used mainly on rugged terrain.
Who should not buy this tire: Anyone who mainly drives on the pavement but does occasional off-road driving should consider a more comfortable All-terrain tire instead of an MT like this one.
(Check out our article that will help you pick from the best all-terrain tires for lifted Subarus)
Who would enjoy the Federal Couragia: Those who have a daily driver and use their truck or SUV only on trail days. If you drive at least 75% off-road, this is a great tire for you.
Get A Set Of Federal Couragias: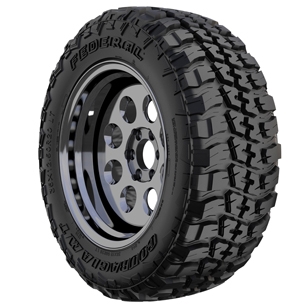 As an Amazon Associate, we may earn from qualifying purchases