Lifted 2000 Subaru Forester: Going Off-Road In A Family Car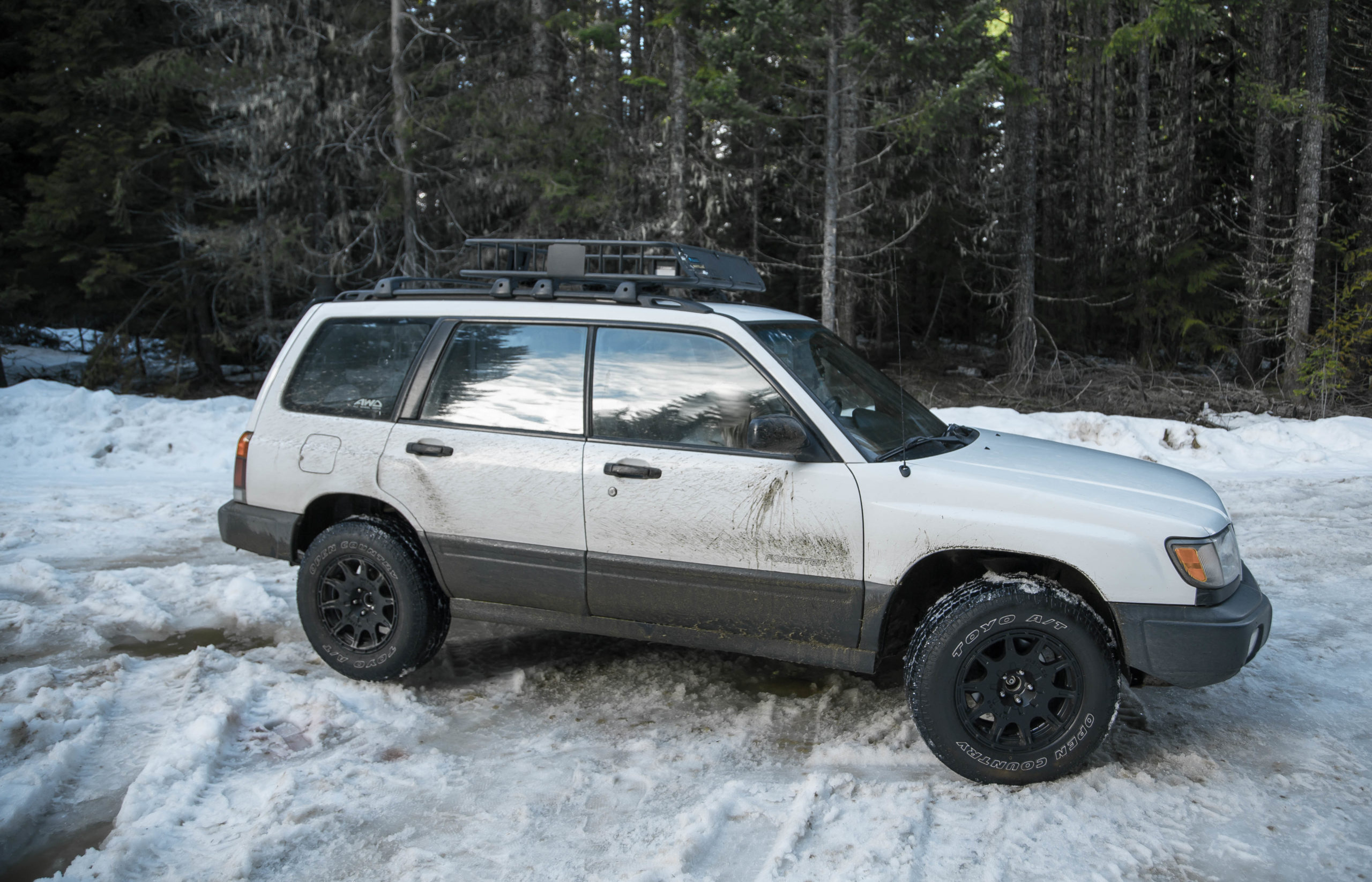 How The Forester Build Started:
"I purchased this white 2000 Fozzy already lifted with an Ebay kit on some crazy 30 inch tires that were too heavy for the drivetrain. I just wanted another cheap, fun little car to get me out in the woods for hiking. I also like to make people scratch their heads on the road. This is the 3rd lifted Subaru that I've owned and I love how well they perform in a wide range of conditions. Since I bought it, I have repaired a few things under the hood and made some changes to the set up."
We'll run through everything you'll need if you have an early model Forester and want to be able to confidently take it off road.
2000 Subaru Forester
5 Speed Manual Transmission
291k miles currently on the dash
Dents, dings, and ugly paint
Quick Rundown On Mods, Lift & Tires:
How much does it cost to lift a Forester?
Basic Lift: If you have a first generation Forester (1998-2002 US production years) you can install a cheap 40mm (roughly 1.5″ inches) lift kit your Subaru for under $140. 
2″ Inch & Above: A cheap two inch lift kit with trailing arms spacers will usually start at around $320 and go up. If you want to go higher, there are a lot of options, but you'll need some geometry correcting parts. It may be necessary to have a sub frame spacer kit if you're doing a big lift kit, that includes lift springs, strut spacers, and lower lift brackets. If you go above 2″ inches without sub frame spacers, you may wear your CV axels so often that you don't even enjoy driving the car anymore.
Is it hard to install the lift kit?
Although I didn't install the kit on this particular vehicle, I have done a couple others and it does require a little work. If you have a good set of tools, a clean workspace, and a little mechanical knowledge, you can do it in about a day. 
One thing to keep in mind is that you'll to remove the springs in order to install most spacers since they require extended studs being installed on the top hats. If you don't have one, a spring compressor can usually be rented at Autozone by simply paying a fully refundable deposit. Not all spacers require this, but if they are a solid piece of metal or polyurethane, they will need to be replace. Some kits have a design that allows for no removal of the top hats. The Tema4x4 kit below doesn't require extended studs as you can see they designed the spacers to have an open middle section.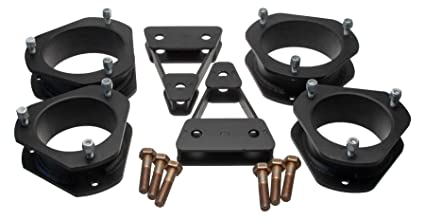 What else should I replace while I'm doing my lift kit install?
Struts: If you're going to be removing the springs, it's a great idea to check your struts and see if they need to be replaced. If the strut piston doesn't extend quickly or is easy to push down, you may want to bite the bullet and get a new set of KYB struts. They're what I run on my cars and they can be pretty affordable. The difference between a blown set of struts and a new set is almost night and day. It will make your car more fun to drive, increase your mpg, and most importantly, keep you safer as you maneuver the vehicle.
Springs: You might want to upgrade your springs to a good set of Primitive, RalliTek, King or Swift springs. They will have difference effects depending on what you select. But they can help offset the raised center of gravity and added cargo of most off-road builds. An upgraded spring can add a little more "bumpiness" to your ride, but will also improve the safety of your suspension.
Brakes: I always check my brakes when doing suspension work. You're already in that same area and most likely have good access to your brakes and rotors. It's the perfect time to jump in and swap out any old components.
Do I need an alignment after lifting a Subaru?
Yes, yes, and YES you should get an alignment after lifting your car. It's almost always completely necessary and can add thousands of miles of life to the new tires you are probably planning to install.
When you get an alignment, make sure you let your mechanic know that you are using aftermarket suspension parts and that you have a lift kit installed.
How many MPG does your Forester get?
This will depend on a wide variety of factors. There are rare occasions where I have gotten roughly 29 miles to the gallon on mostly freeway trips. But then that number drops when I am in the forest. However, I get an average of about 23mpg even with slightly bigger tires.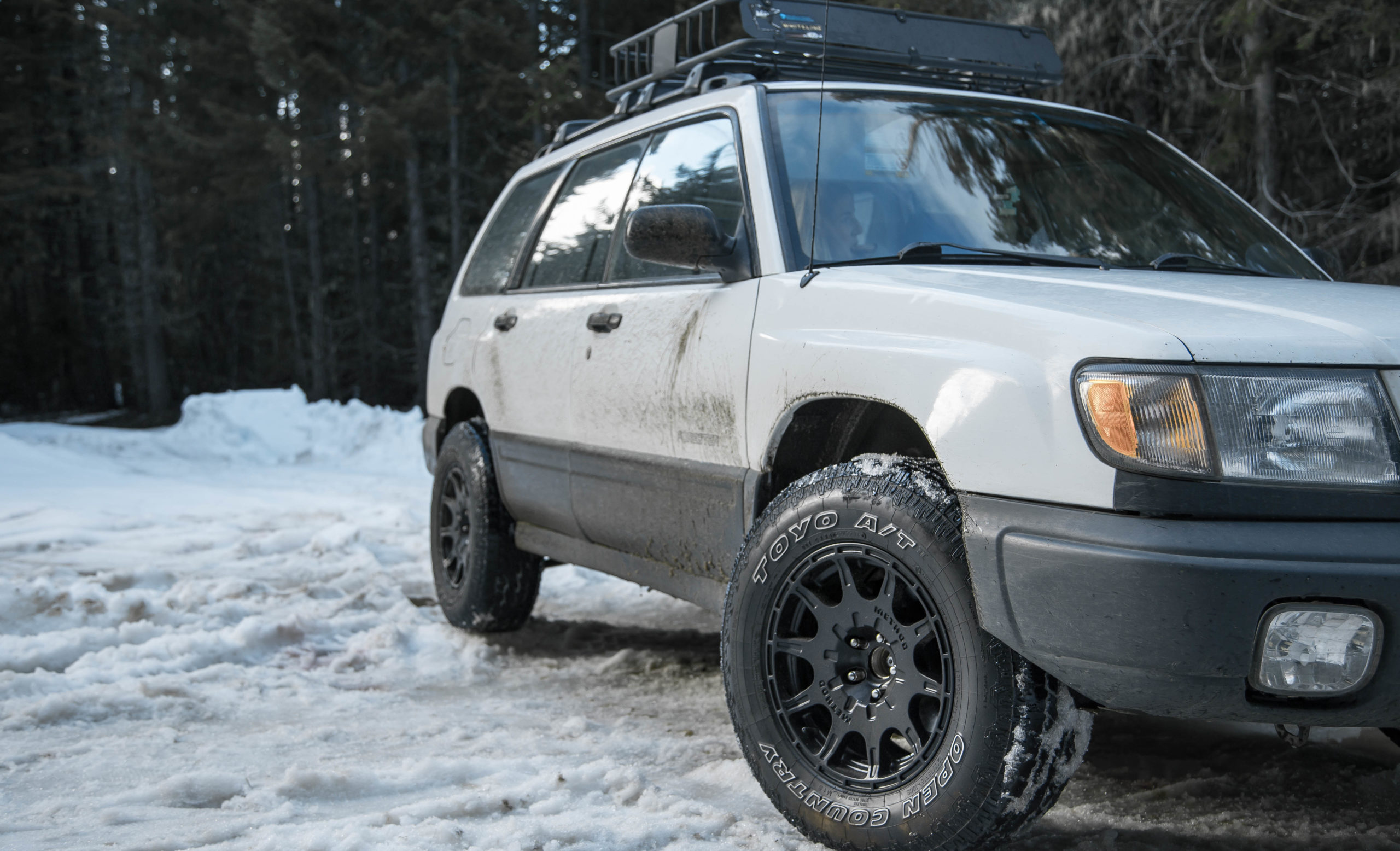 What's the biggest tire people can put on their lifted Forester?
I was initially running a 30″ inch tire on 16″ inch WRX wheels with 1.5 inch spacers. However, I'm currently running a 215/75/15 all terrain tire and it fits great on the Method MR502 wheels because of the aggressive offset.
There are a couple of modifications that were done to the Forester in order to fit the bigger tires. It is usually necessary to trim the bumpers, and to modify or remove the wheel well splash guards. Behind the splash guards in the front, there is a piece of metal (it looks like a pinch weld) that also needs to be flattened in order to avoid cutting into your tires at full lock. Most people beat it in with a small sledge hammer and that's usually all it takes.
The full extent of what you'll need to trim ultimately depends on the actual diameter of the tire, your lift, wheel offset, etc. Just be prepared to take a cutting wheel to your trim pieces!
It will have a LOT more body roll after being lifted. This Forester was purchased with no sway bars. The car has a little more off-road articulation without the bars, but it really causes the car to handle loosely. I will be looking for replacements soon to make it more fun to drive on-road.
You will need to be more mindful when entering sharp turns or if you need to make quick corrections. The car may want to react much more slowly. It's not a huge deal, but just something to be aware of.
Even with a lift, most Subarus handle fantastically due to the boxer engine design. It allows the motor to be lower in the engine bay, giving the car a much better center of gravity.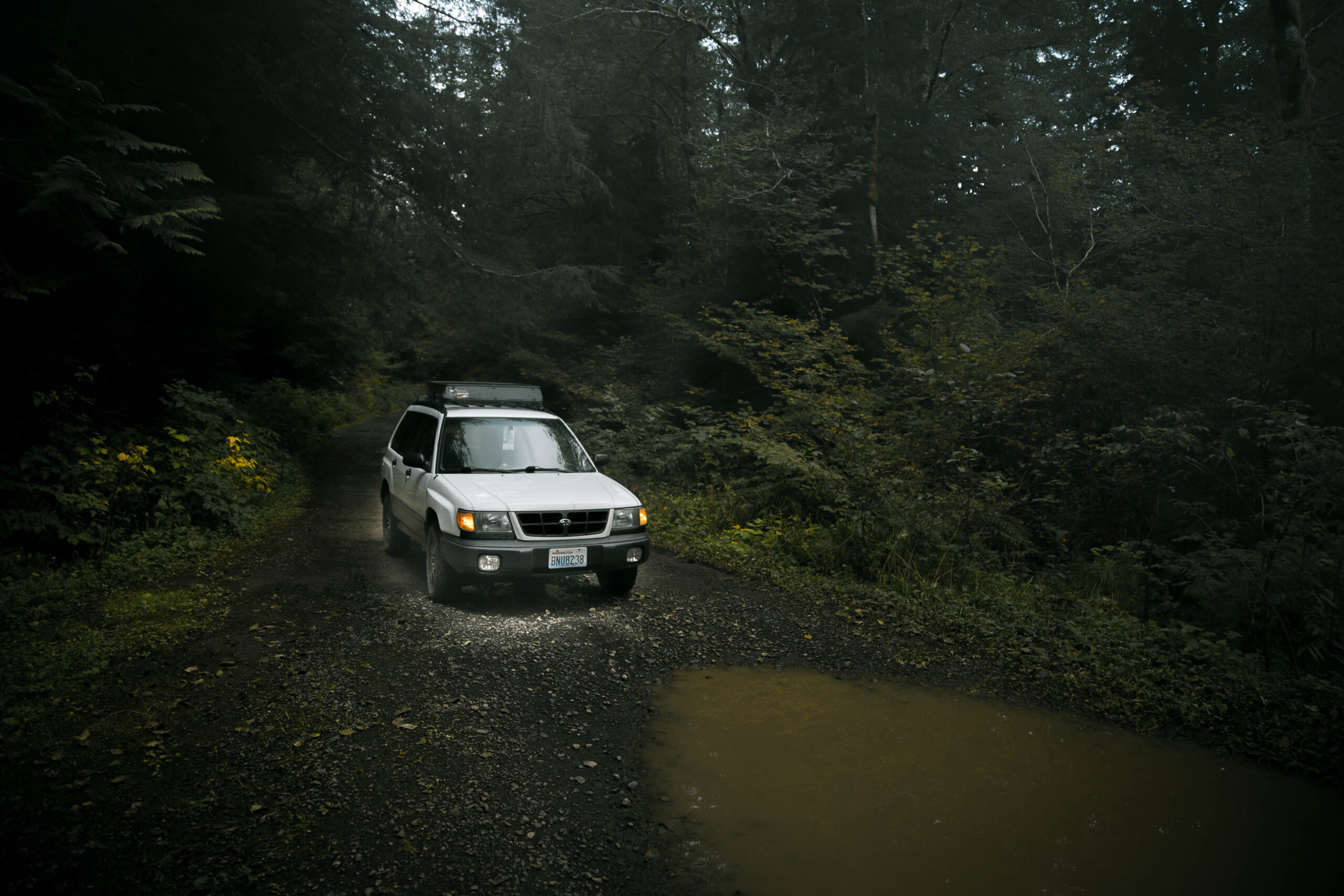 Benefits of lifting your Forester
Full access to the outdoors
Safety
Aggressive appearance
Easy entry/exit from the vehicle
Off-road performance with good fuel economy
Community of other enthusiasts
I really enjoy being able to get in the Subaru and know that there's really no place that's off limits to me. I can drive on the beach, I can get to the mountain regardless of how much it's snowing, I can handle almost any dirt road, I can cross small creeks, drive through mud, and still get 25mpg.
I also really enjoy the community of Subaru drivers in general. Lifted or not, Subaru owners are some of the coolest people I have met.
If you're considering the purchase of a Subaru, I would highly recommend it. And if you're considering lifting a Subaru, I would highly urge you to! Just make sure you weigh the pro's and con's before doing so, and work with a professional installer if you don't feel comfortable working on the suspension.
As an Amazon associate, we may earn from qualifying purchases