Lifted 2018 Subaru Crosstrek: Exploring The PNW In Style
We met Fred and his wife, Amanda via Instagram (find him @roaming_onward on IG) and noticed that their family uses the lifted Crosstrek for exactly what it was meant to do: going off road and exploring. Living on the coast in Oregon, they're always finding something amazing to get in to. If you've ever visited the PNW, you know that a person could spend their entire life exploring it and never see it in its entirety.
Something we really appreciate about this build is the fact that it was already lifted when it was purchased. Many folks think that they need mechanical knowledge and access to a shop in order to own a modified Subaru. Some even think it's looked down upon to drive a lifted car that you didn't do the work to. But the Subaru community is for everyone and we welcome new family members!
Without further ado, let's dive in!
How long have you owned your Crosstrek and is this your first Subaru?
"Yeah, this is my first Subaru. This February will make it one year since I bought it and I have enjoyed every minute of it. Especially coming from a lifted 2006 Tacoma, which I used the same way I do my Crosstrek.  I just had to down size the gear we carry."
What caused you to decide to lift your Subaru?
"I actually didn't lift my Crosstrek myself. I bought my Crosstrek lifted (I know shame on me), but I knew what I wanted to do to my Crosstrek and I had that in mind when shopping.  I wanted to be efficient and not waste money on a lift or take the time to install it when I could find a car already done.  Luckily, I found one with the exact lift I wanted at the time (LP Adventure 1.5 w/RA lift kit) and it was barely used with 4,000 miles.  The price was the best price in the area as well, so I couldn't pass it up.  The best part about this was that the Dodge dealership I bought it from didn't even know that there was lift kit in it; they said everything was stock! Then we added Rallitek .25 rear overload springs for that saggy butt."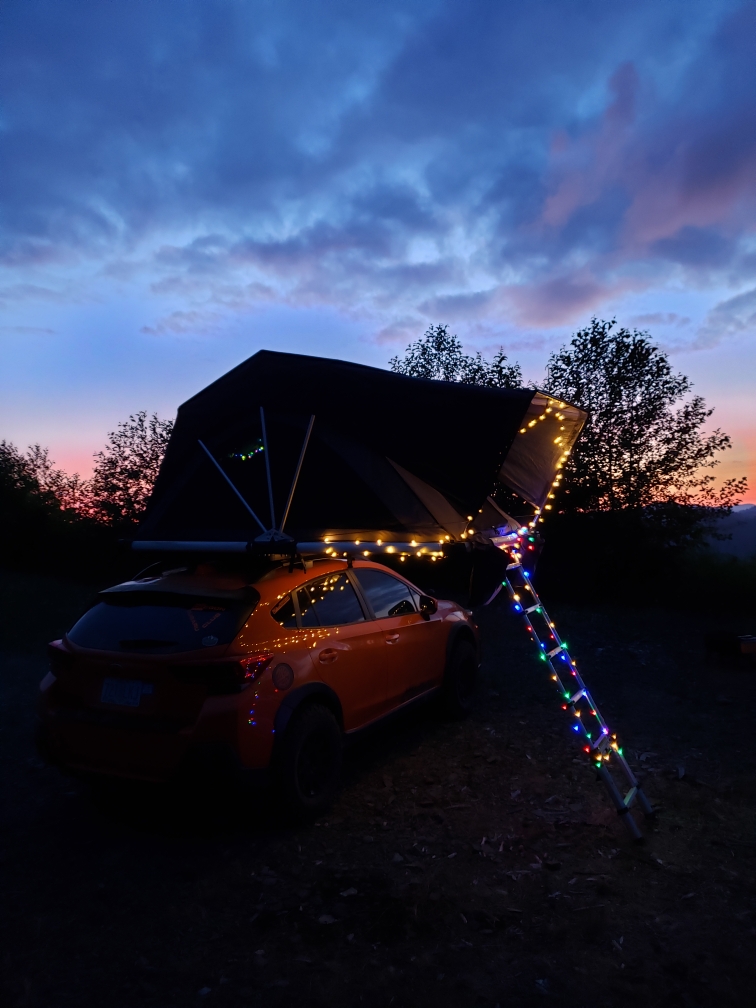 Can you tell us about your wheel/tire specs and any spacers or adapters that you needed to use?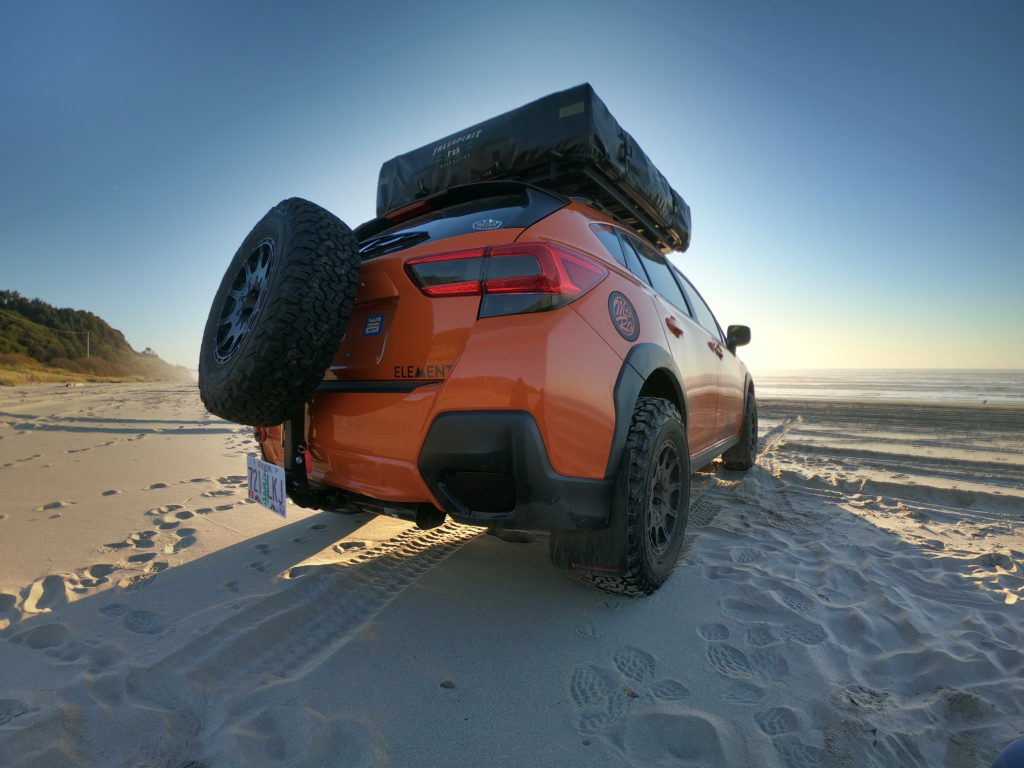 "My Wheel/tire size I run is BFG KO2 235/75/15 with Method Wheels 502 15×7.  There is a slight rub in the front at full lock in reverse but it's really minor so I don't mind. But other than that this setup has taken me everywhere I wanted to go and it has surprised me with how good they are."
What's some of the craziest/coolest things you've done in it so far?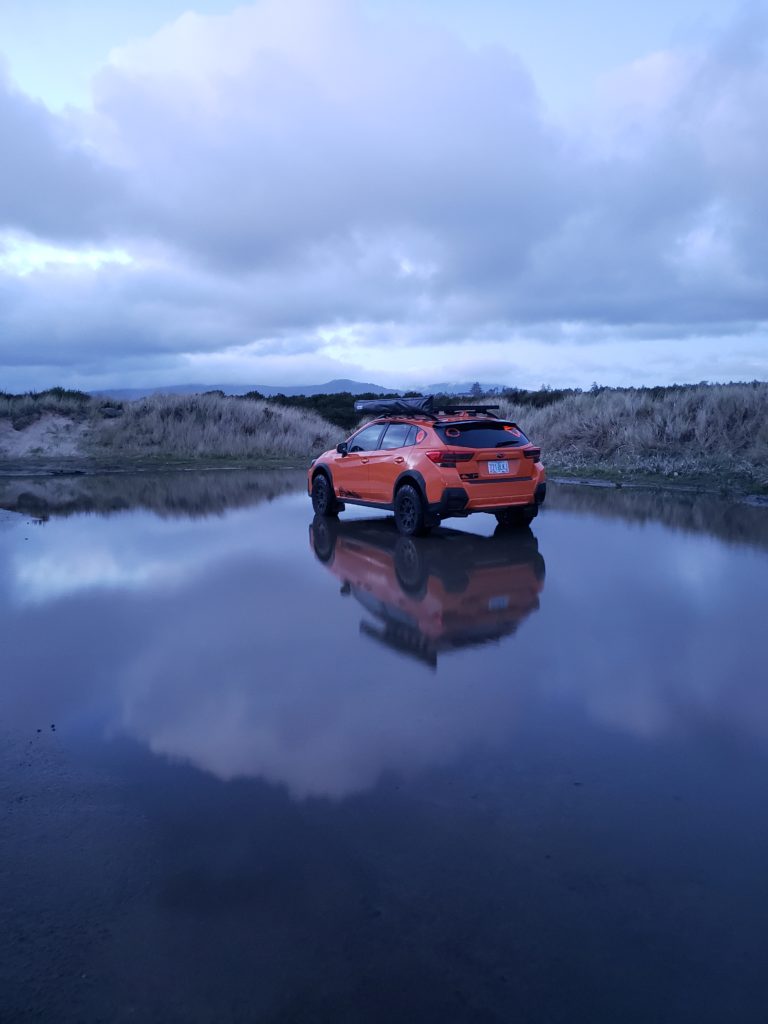 "I don't know about crazy, we are pretty chill people.  We mainly just like to explore places that offer sick camp spots with awesome views.  But the coolest thing we have done so far has to be meeting a lot of awesome people and building relationships with this community, whether it be IG, MtnRoo or at local Cars and Coffee meets; just being around the same like minded people that share the same passion to get out and see what the world has to offer and not be afraid to help each other out when needed."
It's pretty uncommon to meet people who come from full size SUV's or pickup trucks. What caused you to make the switch from a Tacoma down to a Crosstrek?
"We mainly switched to a smaller vehicle for the MPG. With the Tacoma, we spent so much money on gas and we didn't even go to half of the places we get to go to now.  Even with all the gear I carry on the Crosstrek, it still doubles the MPG's that my Tacoma got.  Picking the Crosstrek was also an inspiration from a co-worker that I had a few years ago.  He had a 2014 Trek with all of the off-road mods.  At first I was hesitant about it all, but then I saw it on the trail and I was really impressed. Thus making the decision to switch."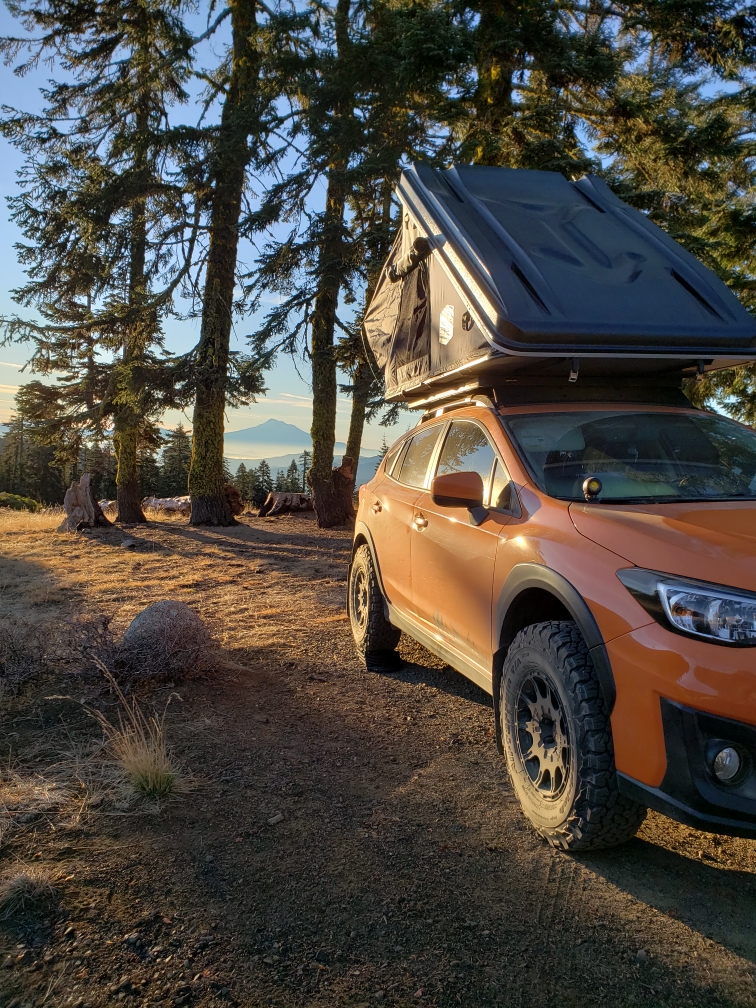 Are there any pro's and con's you could share with someone who's wondering about Truck vs. Lifted Crosstrek?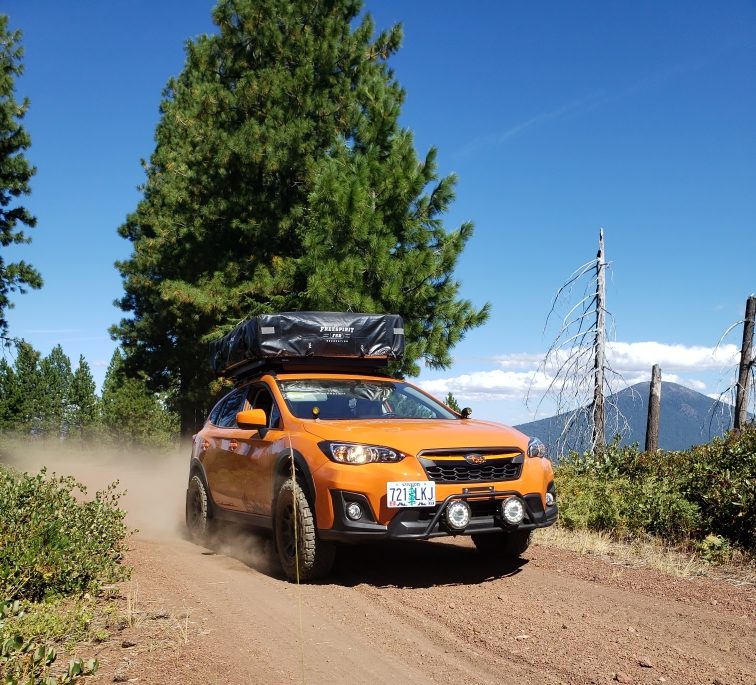 Pros:
"Some pros with switching is defiantly the MPG's; more gas means more adventures.  Also, the trek is smaller so it's easier to turn around on a trail without making an 18 point turn.  You can fit on smaller trails as well.  Also, having AWD is awesome and another huge reason why I chose a Subaru."
Cons:
"One con is the approach angle for sure.  I'm always worried about hitting my front bumper on those tricky trails; this makes you pick lines very carefully.  Other than that, I'm really happy with how the Crosstrek has performed and handled."
Do you have any future plans for the Crosstrek?
"Future plans? We definitely want to explore the Alvord desert and the Steen Mountains in eastern Oregon. Besides that, the wife and I have been contemplating about chopping the bumper to improve that approach angle. I am happy with how the Crosstrek has turned out, but learning how to downsize/ how to store all of our gear more efficiently has been a never ending battle."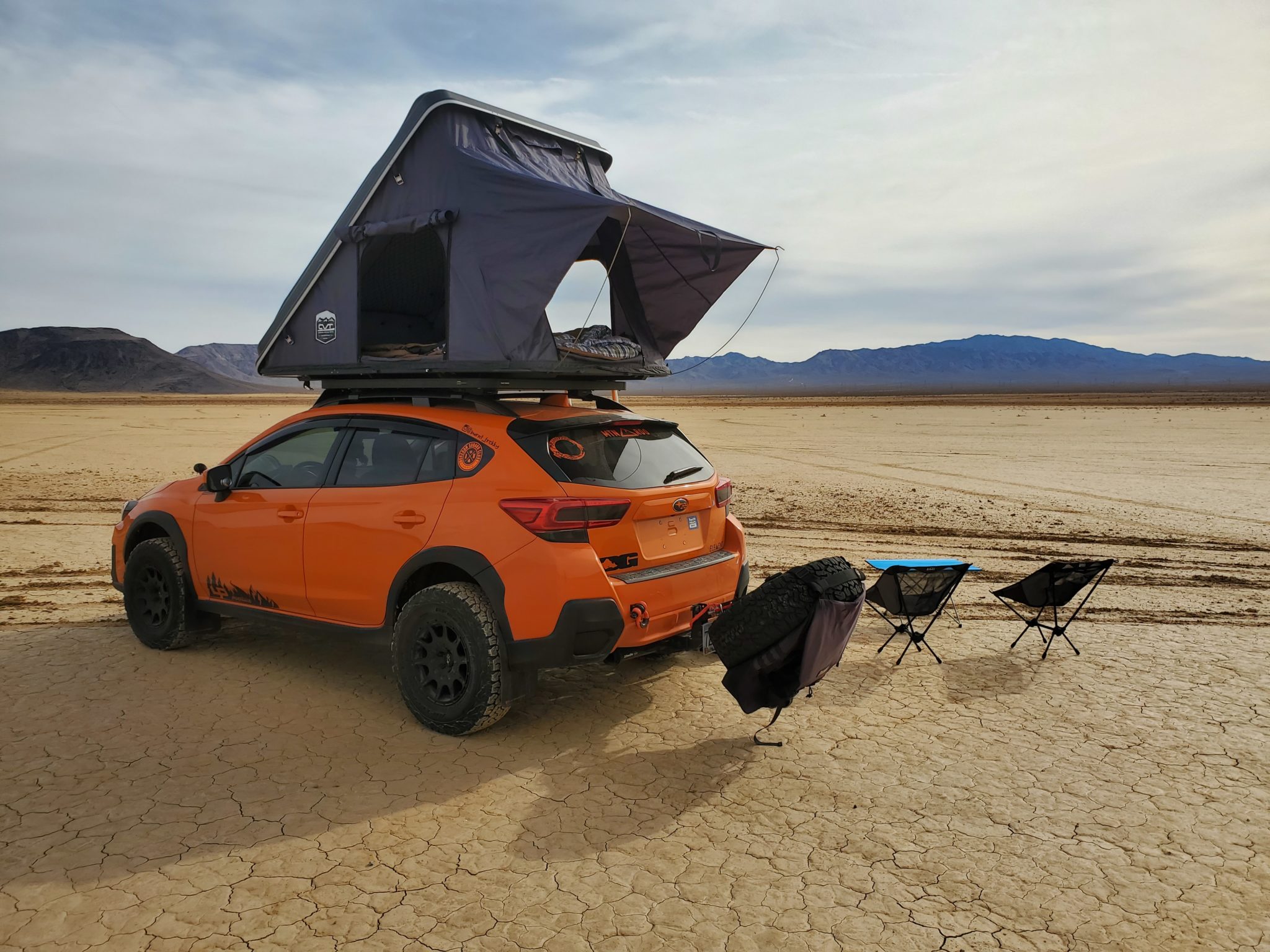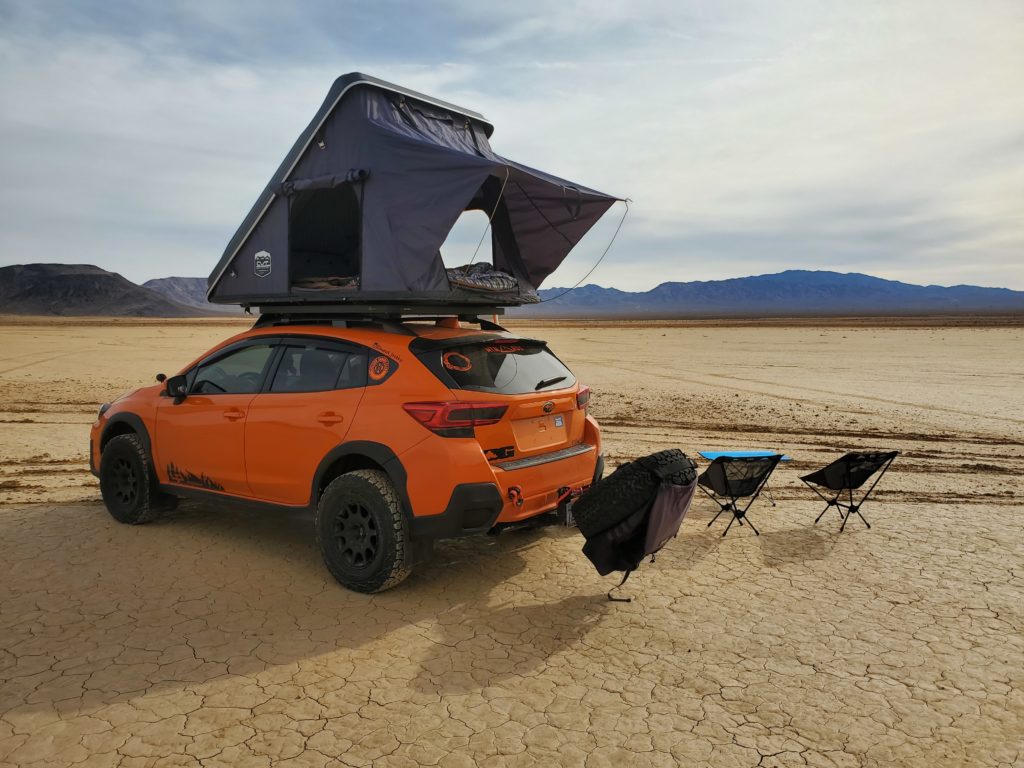 If you enjoyed this article or found it helpful, go check out @roaming_onward on Instagram. Give them a follow and say hello!
Check out these helpful articles for your Crosstrek: