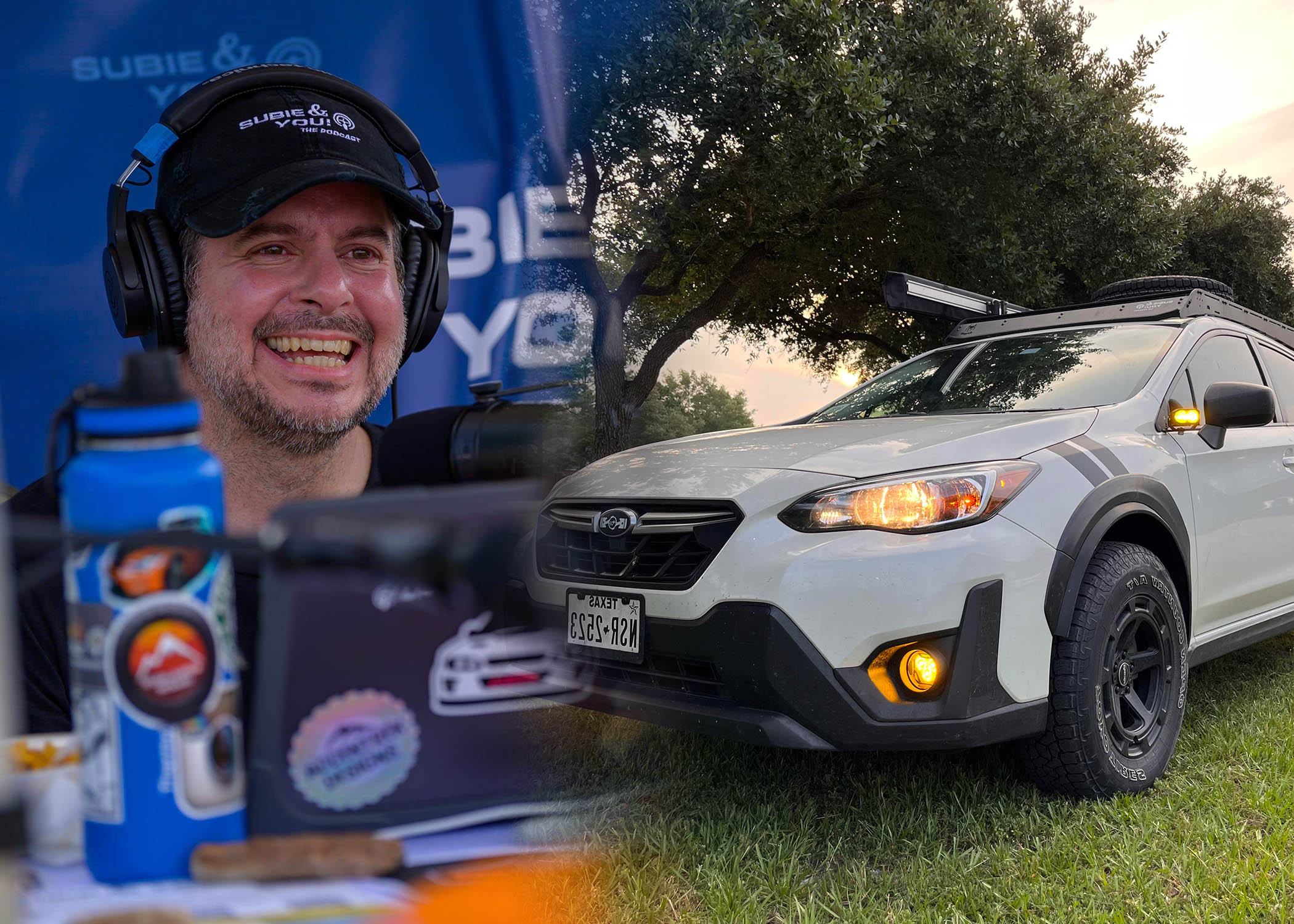 Can You Take a Non-Lifted Subaru Off-Road? Check Out Rafael Ruiz' Stock Height 2021 Crosstrek.
Unless you've been living under a rock for the last few years, you've no doubt at least heard of the Subie & You! Podcast. Within just a couple of short years it has skyrocketed to prominence by bringing on a wide range of guests to talk about one thing: Subarus. From industry giants Bucky Lasek and Blake Lind, to everyday Subaru owners like you and me, the S&Y Podcast has brought so many of us together and given newcomers an inside look on what the Subaru community is all about.
Naturally, I wanted to reach out to the show's creator, Rafael, and have him share the details of his Subaru. But I assumed that with a bunch of stuff on his plate that being on the Lifted Imports site would be one of the last things on his priority list. I was totally wrong. I reached out and shared some interview questions and within 2 hours he had answered everything and sent me almost 20 photos of his car, Pearl.
I wanted to give an opportunity to flip the focus around onto Raf and give him a chance to share his build process and to talk about the podcast a little bit. It is truly an honor to have him in the Lifted Imports Featured Builds section and to let him share some of his experiences with us. For some, this will be simply enjoyable, for others it will be helpful in the modification process. Regardless of where you're at in your Subaru journey, please head over to Spotify or wherever you consume podcasts and give it a listen. I guarantee you'll be hooked. But without further ado, let's jump in to the car info!
2021 base model Crosstrek with a 6 speed manual transmission (We are actually huge fans of the "save the manuals" movement. Just one more reason we love Mr. Ruiz' Crosstrek.)
EXTERIOR:
Morimoto fog lights

Morimoto ditch lights
Spider No Drill Roof Rack
Iron Man 4×4 Quick Release awning brackets
Yescom USA awning with LED light bar
ENGINE BAY:
INTERIOR:
Anarchy Motive custom shift knob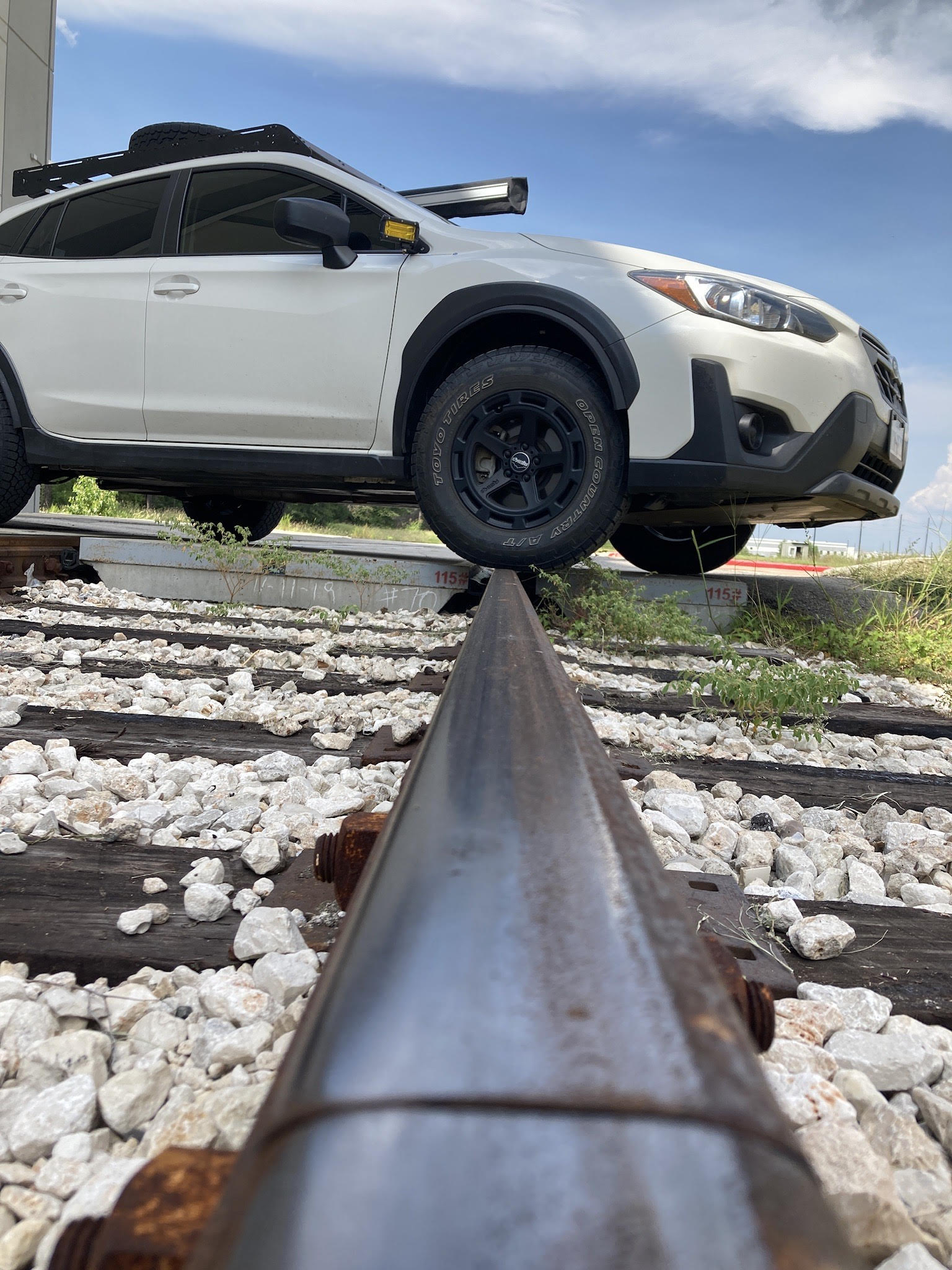 What inspired you to buy your Subaru? Were there other cars you were considering at the time of purchase?
"I saw an orange Crosstrek back in 2013 and absolutely loved it, although I didn't know what it was at the time.  Ever since then I was curious about them, and in 2016 I test drove a manual Crosstrek.  It was then that I decided that a Crosstrek was going to be my next car."
I'd love to hear about your background as a car person. Has it been a thing since childhood? Or is it a more recent interest?
" I really like a lot of different cars, but what's funny is I wouldn't necessarily consider myself a "car person."  So I would say that I more or less like cars, and that started when I was a teenager and started noticing cars more."
Want to hear our entire conversation? Check out this video of our sitdown!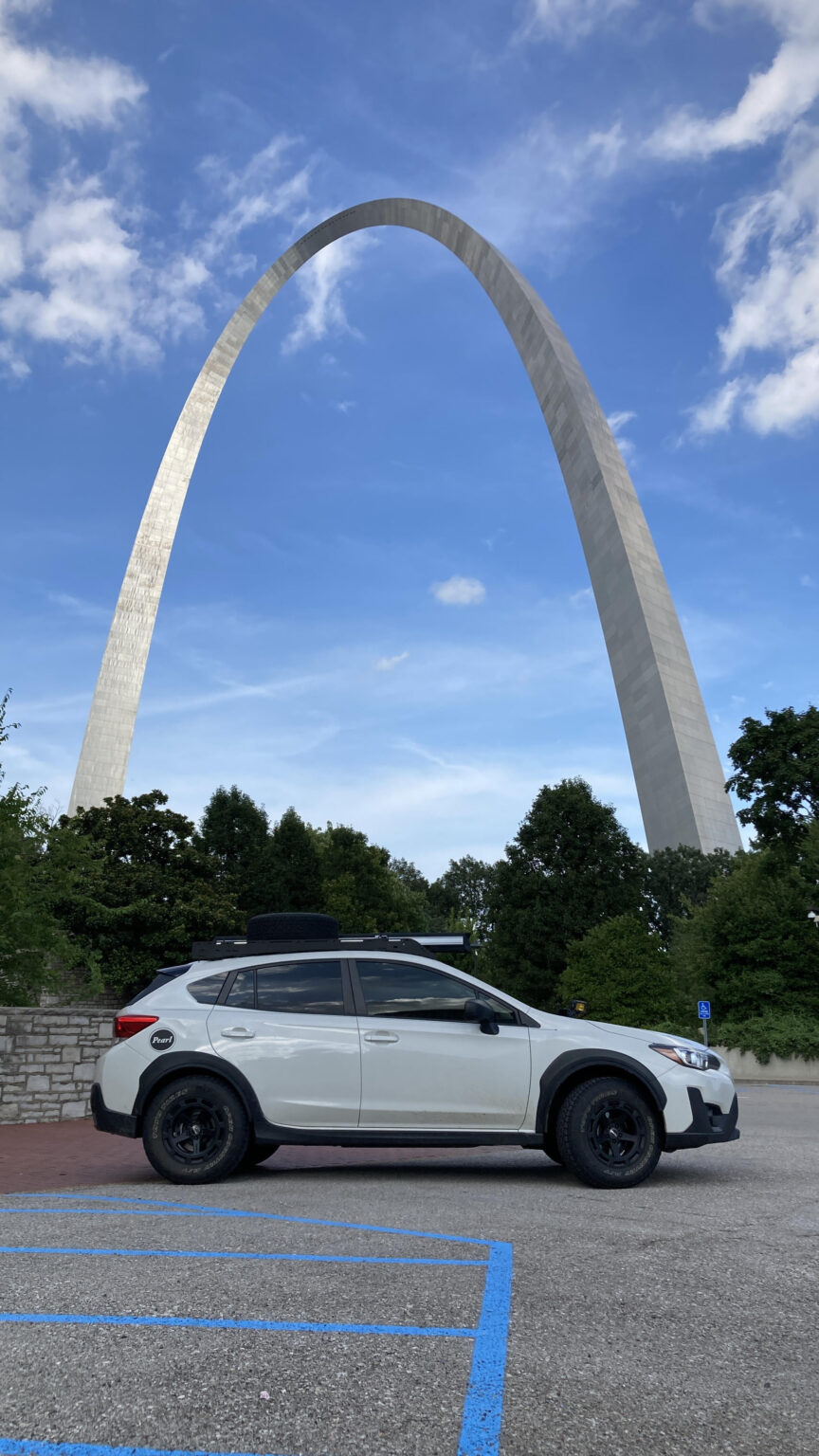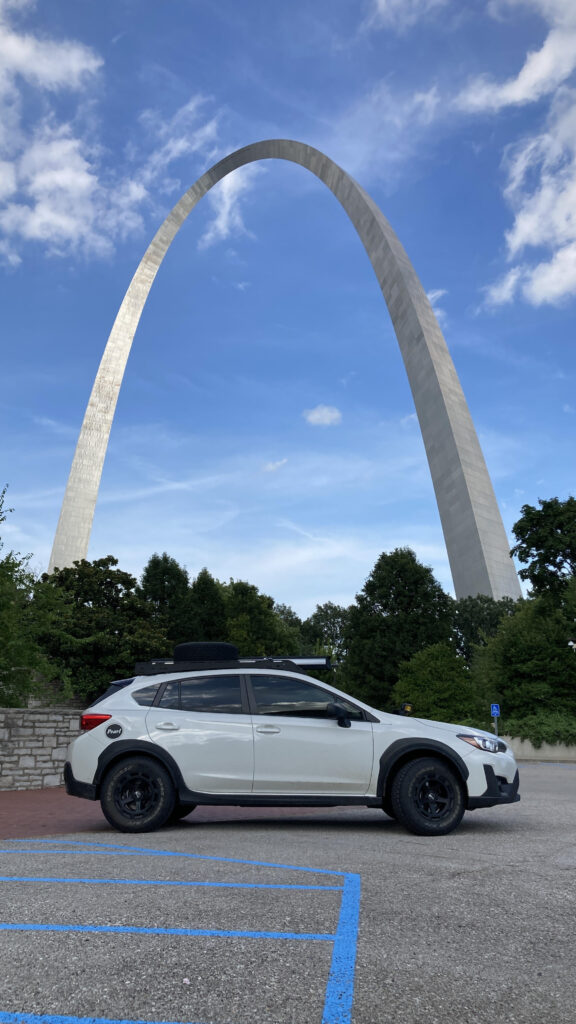 I'd love to know which mod is your favorite, and which single mod you think would give a beginner the most benefit as a first upgrade.
"My favorite mod is my REIKA VS wheels.  I had other aftermarket wheels on Pearl for over 6 months, then the REIKA VS Tetons went on and it took me a while to get used to them.  Now, I can't stop looking at them every time I go out to my car, and I love them more and more.  They seem to fit Pearl perfectly!
As far as first mods for people starting out, it all depends on what each person wants to do with their build.  If someone wants to start going off-road pretty quickly, at minimum an engine skid plate is good (depending on what kind of off-roading).  If you plan to hit some spots that are not going to be risky to your oil pan, then maybe a set of all terrain tires.  But then again, that depends on whether or not you plan to get new wheels, and what vehicle you have.  So a lot of it is dependent upon other factors.  But the thing that I say that ANYONE can do to personalize their Subie, is decals.  They can make a big difference in the appearance, and how you can express yourself with your Subaru.  They are also very minimal in cost compared to an actual 'mod.'"
Side Note: We fully agree with Rafael's opinion on skid plates. If you're planning to go off-road, a skid plate can literally save you thousands of dollars in towing and repair expenses. Here's an article that outlines some of our favorite options: BEST SUBARU SKID PLATES.
Could you talk about your wheel and tire setup specifically? Did you have to cut, trim, or hammer anything?
"My Crosstrek came with 17" stock wheels and all season tires.  I upgraded to 15″ wheels to get more sidewall in my tires for off-roading.  I didn't even realize that so much when I first switched, I just saw many other Crosstreks with 15″ wheels so I thought that's the direction that would be best.  I have 215/75/R15 Toyo all terrain tires.  I did not have to cut or modify anything with the 215s.  I have heard that you can go up to 225 with a little bit of rubbing with no lift, but only when at full lock when turning the wheels.  If you go up to 235s and no lift, I believe that is when you have to cut and trim, even with a lift possibly.  I still have to defer to others for more specific info that is outside what I know directly based on what my setup is.  I am not sure about offset as far as how much is safe to go out, but I do know that the REIKA wheels I have on Pearl have a +15 offset, and it pushes the tires outside of the wheel well just a bit, and man it looks great!!!
How have your mods affected the overall usability of your car? Do you feel like any of them have added to the amount of foreseen required maintenance, or changed the drivability?
"I don't feel like I have done anything to my Crosstrek to affect the driveability or added additional or foreseen required maintenance.  My all terrain tires are more noisy on the road, but they have lasted over 60,000 miles and still have a good amount of tread on them.  I think that is due to very little offroading (because it sucks here,) and from getting them rotated regularly.  Of course everything I have on my car has affected my gas mileage, but I'm still getting over 25 MPG.
Although my all terrain tires are noticeably more noisy than the OEM tires, I love the sound.  When I first got them on, it made me feel like I had a 'real' rig, and I really liked that feeling."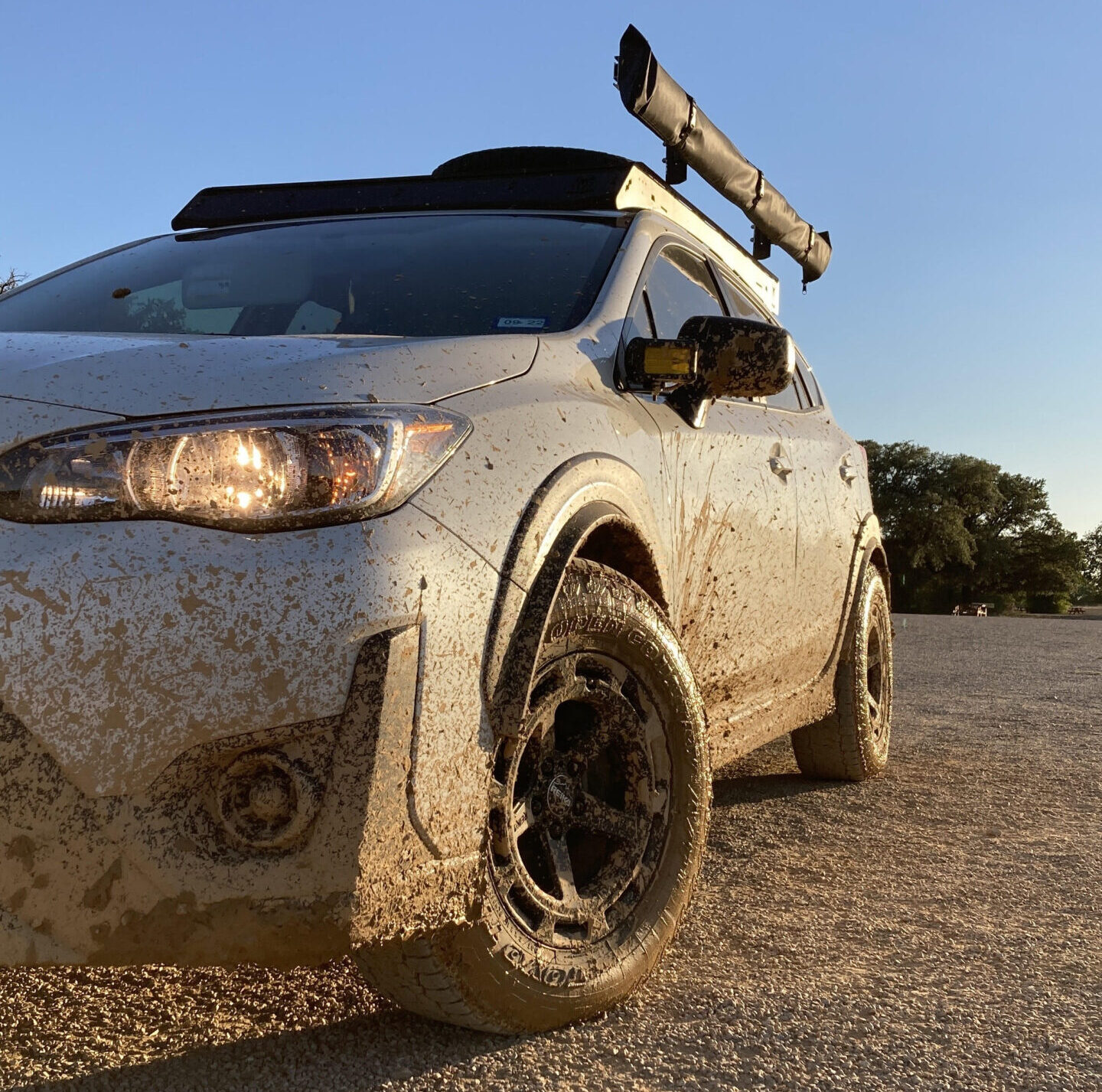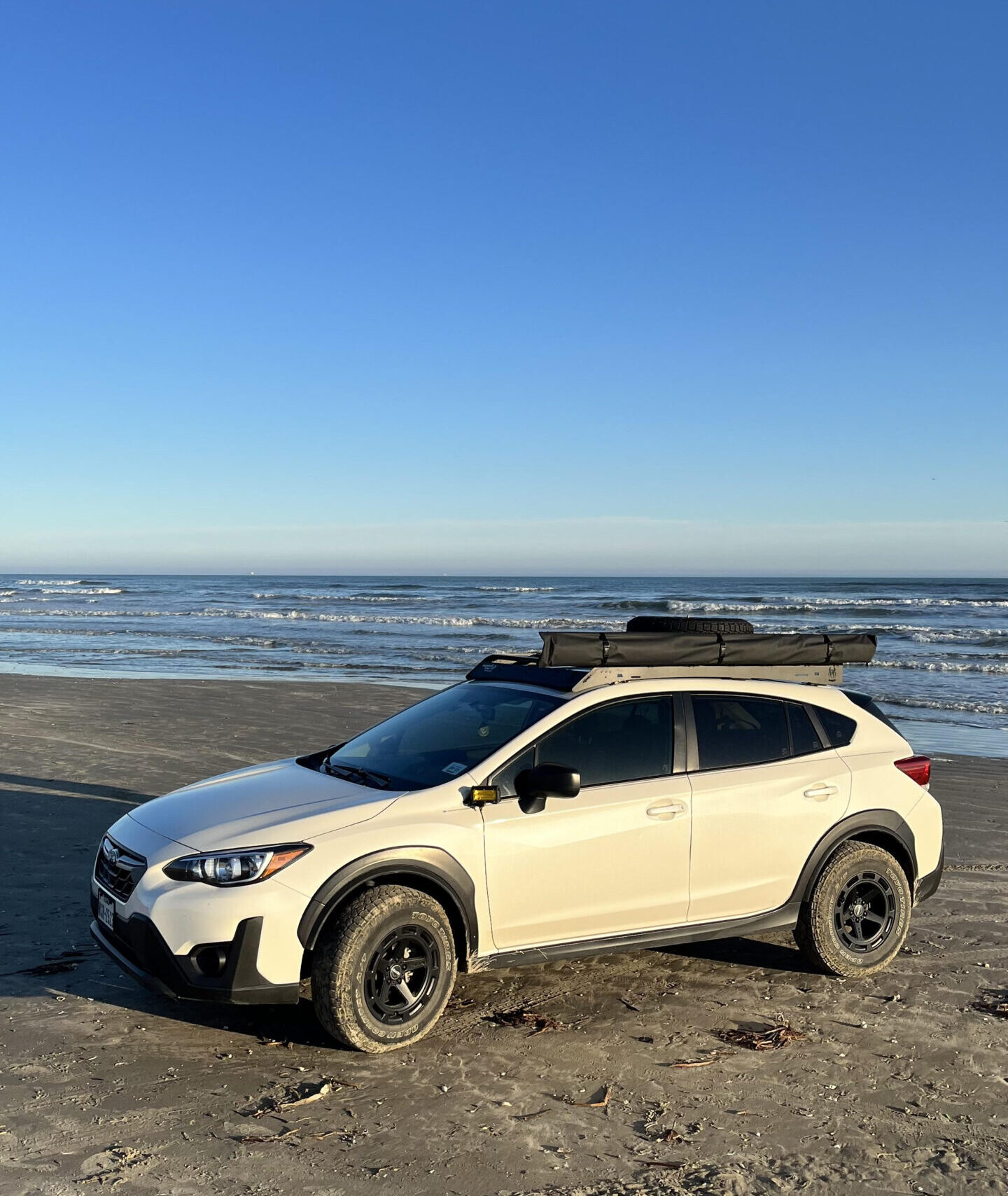 Although your car technically has more clearance due to larger tires, you haven't yet installed a lift kit. Can you explain why you haven't done that yet and if you plan on it in the future?
I was actually gifted a 2″ spacer lift a long time ago, but I never installed it because I don't have anyone here to help me install a lift (I can't afford to pay a shop to do it) and because I know I need a subframe drop kit to really do it correctly, and I wasn't able to afford the subframe kit.  So I never installed it.  I ended up putting it up as a giveaway at Subaru FL4FEST last year.  I do want to get a lift eventually, but because of where I live, and as little off-roading I am able to do, and as little as I actually do, I don't NEED a lift.  If I were able to afford a lift, I would want to get an Iron Man 4×4 lift or equivalent.  Again, I don't need a lift, but man do I love how Crosstreks look with a nice lift!  So for me, if I had the money to just blow on a lift, it would be more for the look.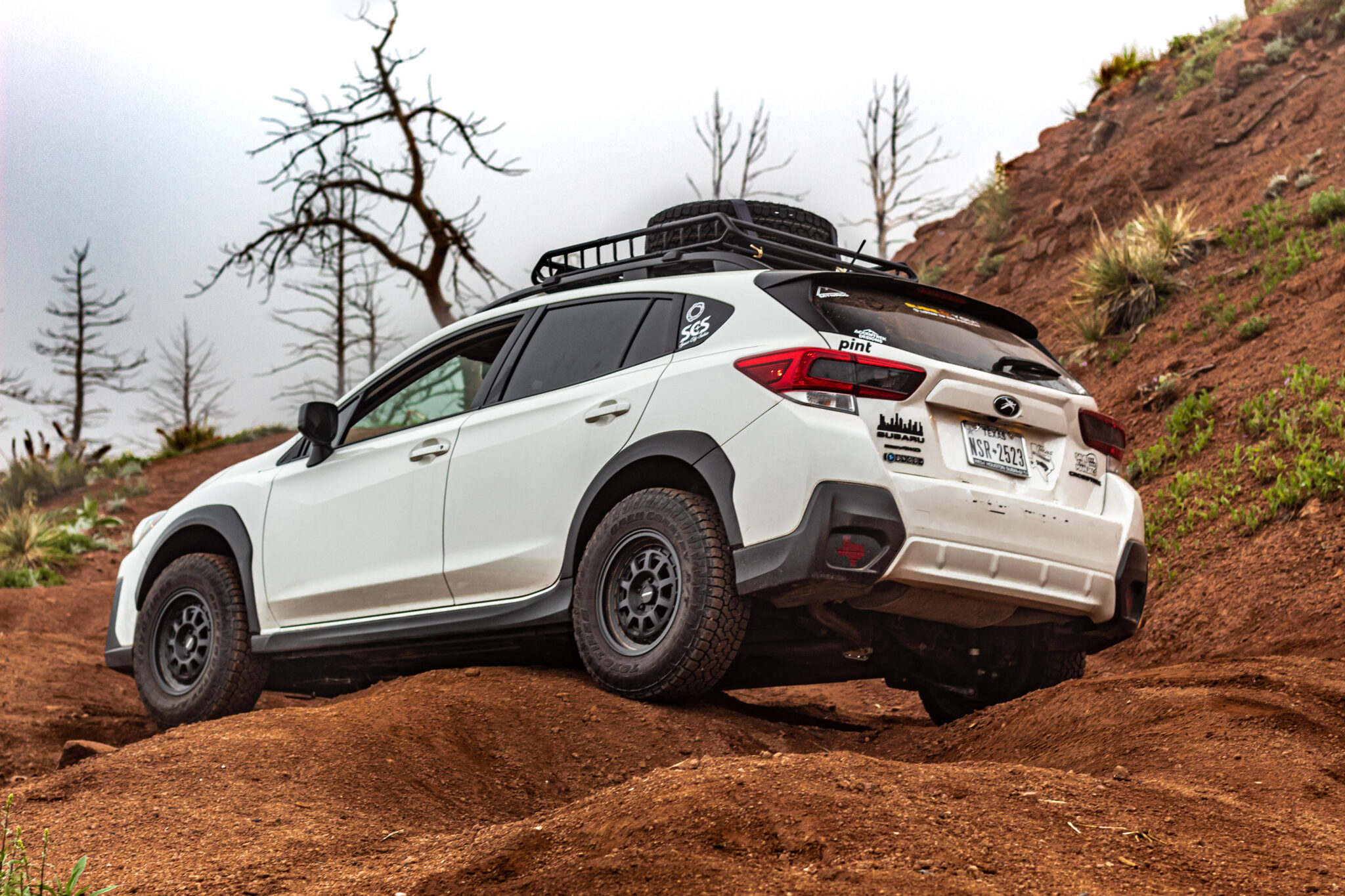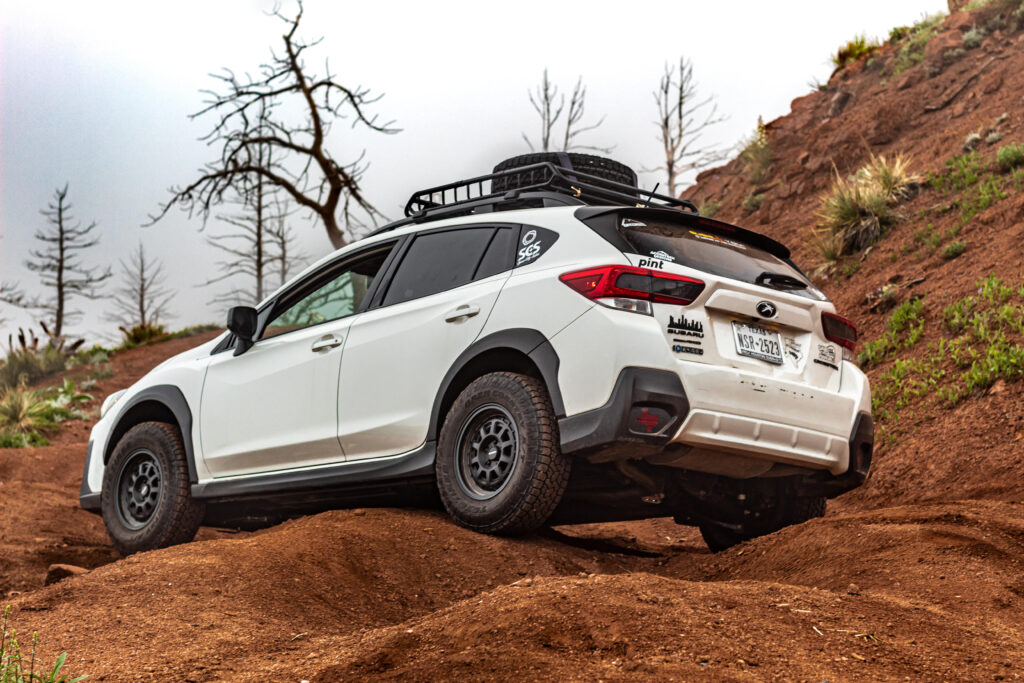 There's a lot of reasons why someone may not want to install a lift kit. I think it's cool for people to realize that their car can be a ton of fun without a lift kit. Do you feel like you've still been able to experience some awesome trails and scenery with it?
"Even though I don't have a lift, I have 1,000,000% totally enjoyed my Crosstrek hitting trails that I've been able to make it out to. It didn't stop me from having fun out in Colorado, Subaru FL4TFEST, Arkansas, and the Bastrop Trails.  Of course the views from up in the mountains of Colorado, those were the best!"
Did you encounter any challenges or obstacles during the modification process?

My first obstacle I faced was with my roof rack.  When I installed it, I thought I put enough sealant around the holes and spacers, I thought it was a lot.  But on my way home from Subaru FL4FEST last year, I discovered it was not a lot, it was not enough.  My roof rack started leaking in the front and rear and I was freaking out!!  I was eventually able to get it re-sealed and now all is fine, thank goodness!!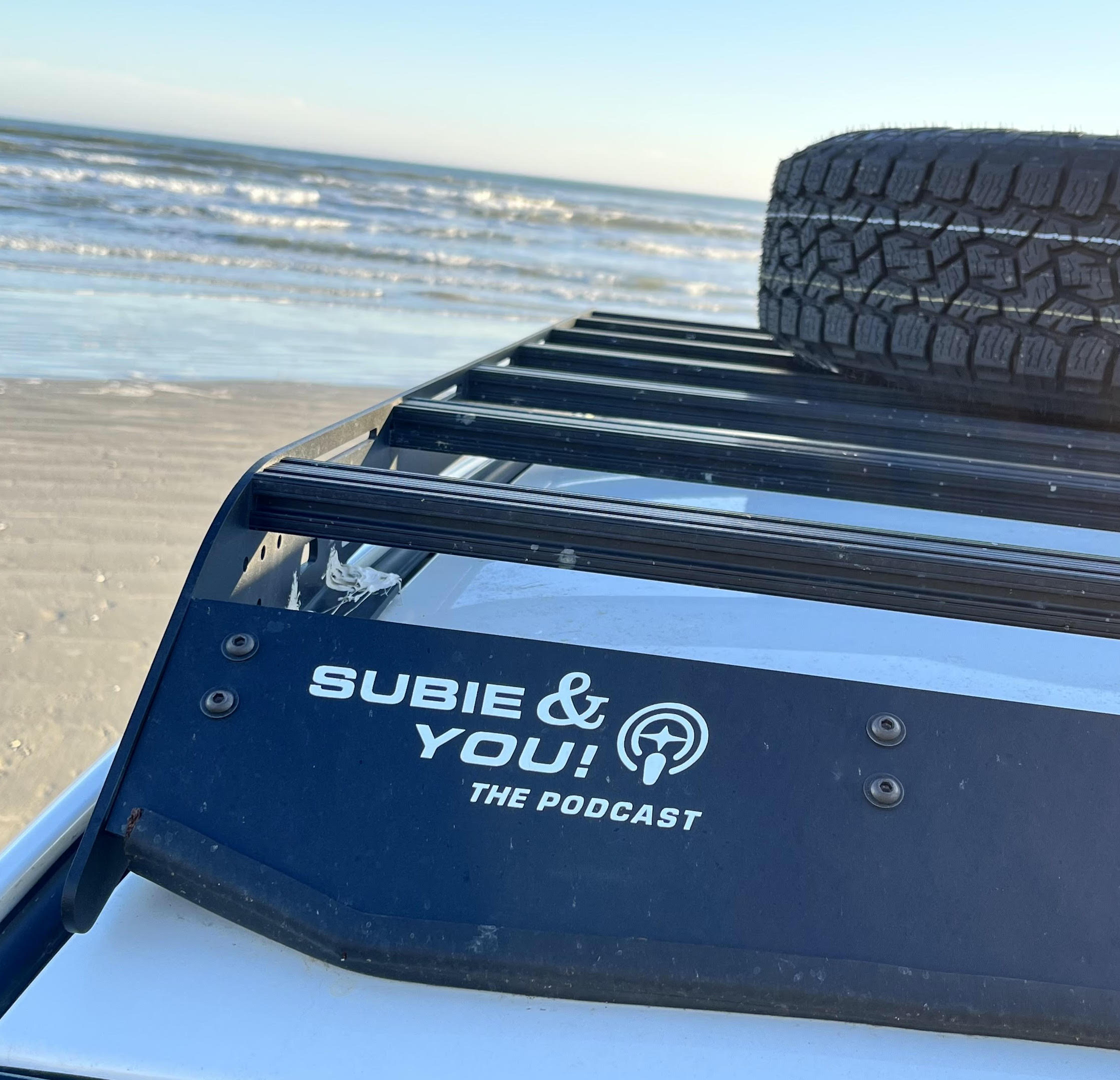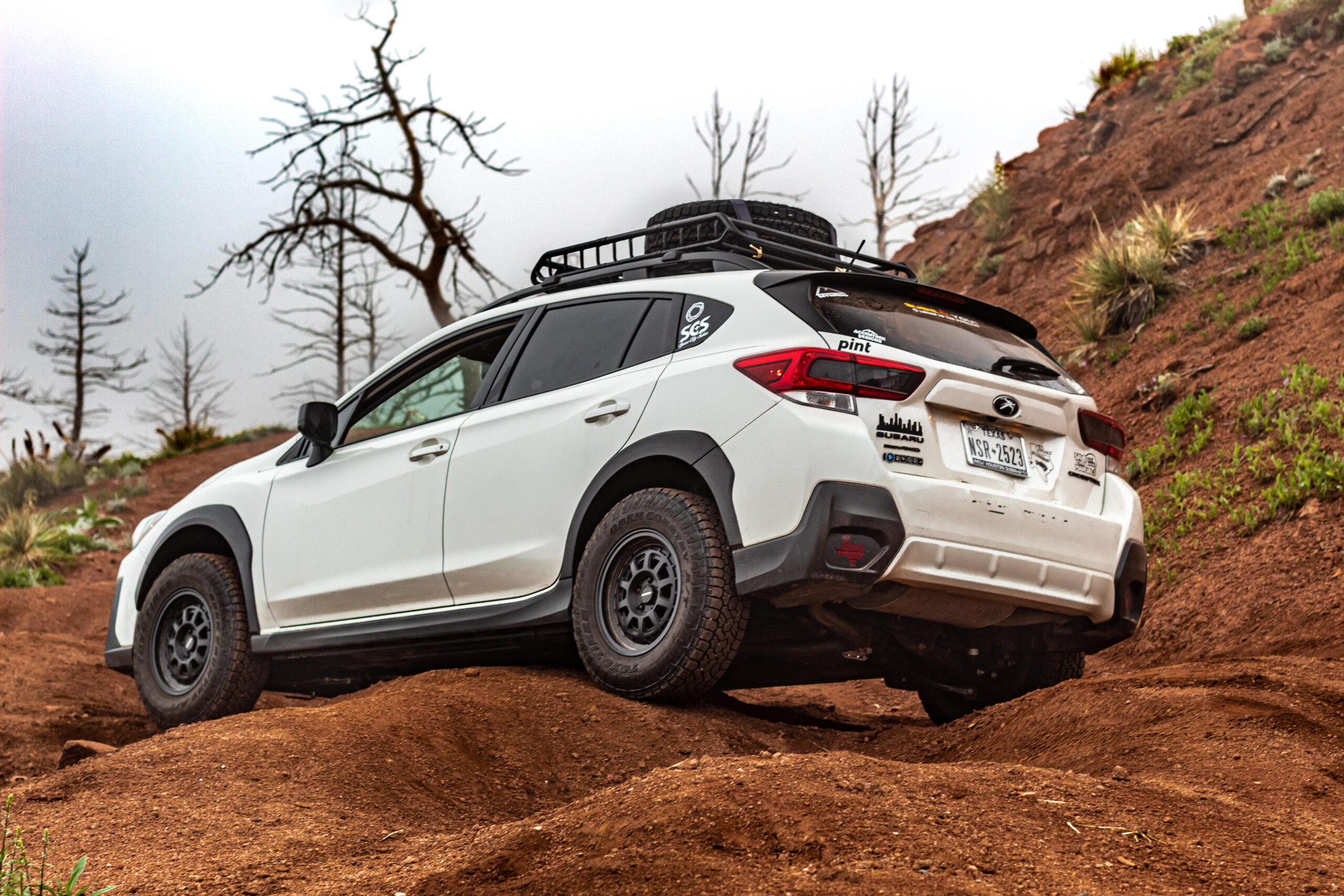 Can You Talk About The Significance Of Any Fuel Economy Changes That You've Experienced?
As I mentioned before, I noticed a change after I got the wheels and tires, which was the first big mod.  I was getting right at 30 MPG as an average, and now it's around 25.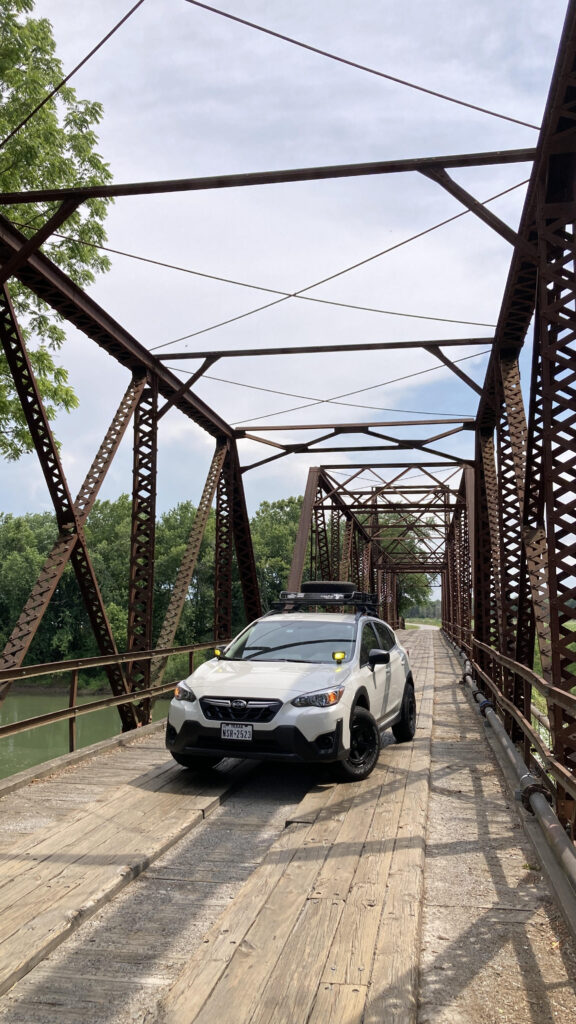 Are there any future modifications or improvements you plan to make to your Crosstrek? Aesthetic or performance wise.
I have considered a rear tire carrier at some point, but I am not crazy about adding a trailer hitch, because that can affect your departure angle.  So I think if I were to add a rear tire carrier, I would add one like Milton (Silver Bullet XV) has where the tire carrier is on top of the bumper.  But that would require me to cut my rear bumper, and I'm not sure I'm ready to do that, or would ever do that.  So my tire may have to stay on the roof.  I would like to get a rooftop storage box, or boxes to get some stuff out of my hatch.  I would also like a better jack than the crank jack that comes with the car.  I also want to get a light bar and after backing up into a dark driveway over the weekend, I think some sort of backup lights on my roof rack would be nice.  I have also considered a throttle controller.  Some new seats would be nice that have the star tek (I think it's called) material that is very durable.  Then of course, a lift at some point would be nice. 
Do you have any recommendations or advice for someone who is considering purchasing and/or modifying a Subaru?
That really goes back to what you intend to do with your Subaru.  Where you live and what you have access to really plays into that.  So considering where you live, where you want to go, and what you want to do should be the first step to considering what you want to do to your Subaru.  Once you figure that out, then you can start thinking about what you want to do, and what should come first.  Again, decals are always a great way to start to personalize your Subaru.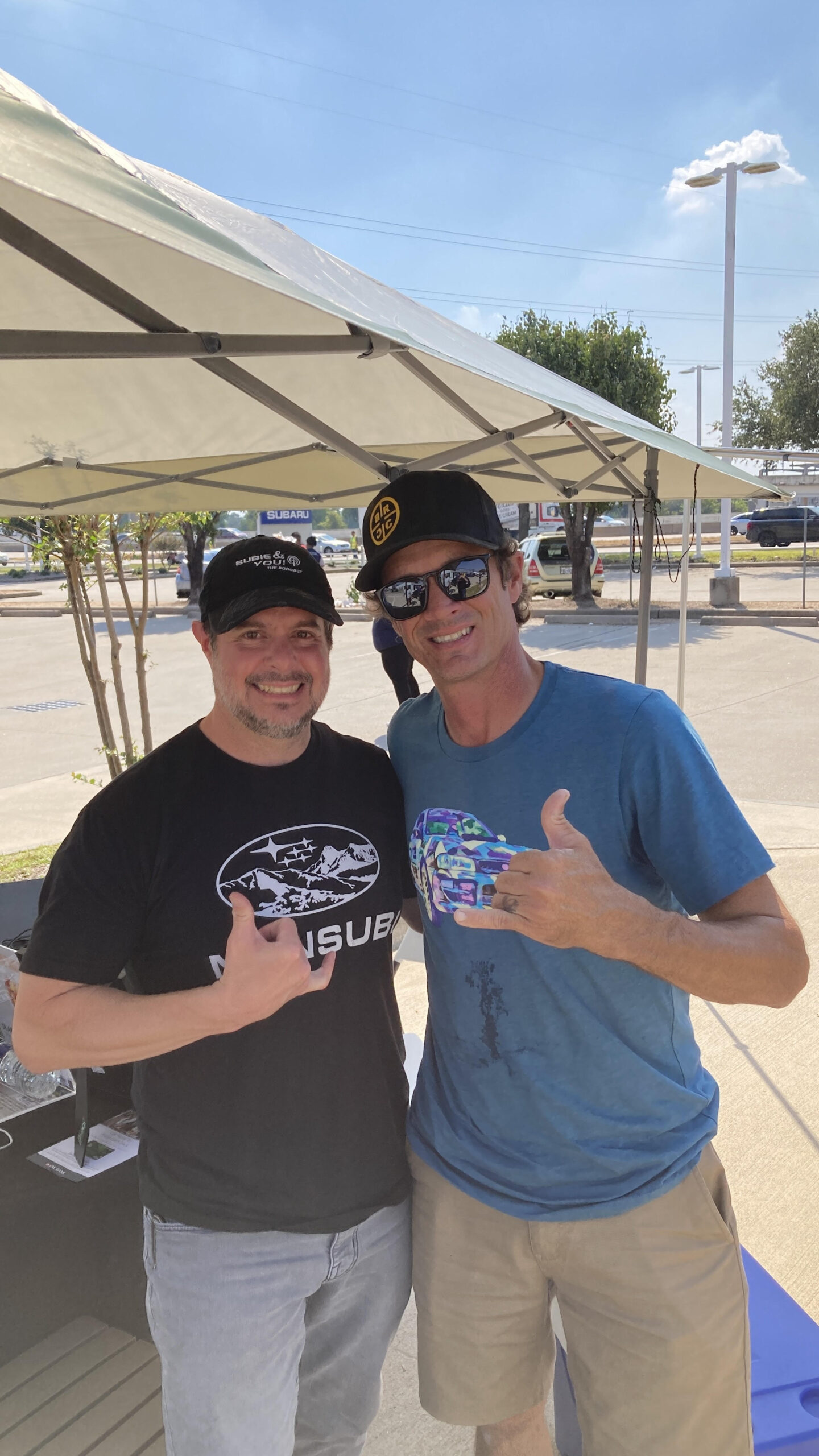 First, I want to commend you for your willingness to jump in and make the Subie & You! podcast happen. I'm curious if you could explain the origins of S&y and then give a few of your favorite episodes that people should check out. Also, what plans do you have for it in the future? I'm excited to see it continue growing!
"I was already following some people with my personal account before I bought my Crosstrek, but really had no idea there was a 'community' out there.  When I bought my Crosstrek, I think I started up an IG page about three days after I drove her home.  I started to see that people were very passionate about their Subarus.  
I saw people with a list of their mods, people were posting pics of places they were off-roading or camping, people they were getting out with, and I thought, 'These people are weird!  They have this thing called Tooshie Tuesday, and Wheel Wednesday, Front End Friday, and tagging people in their stories with challenges and such.'  Then I started to join in.  
So within about a week or so, I had the idea for the podcast and wondered if people would be interested in talking more in depth about their mods, their Subaru, places they like to go, etc.  Sort of an extension of what we were all limited by using Instagram to post mostly photos and say a few words.  
I started talking to Jenn from Accentrek Designs because I bought some of her decals.  We started becoming good friends very quickly and I asked her if she would be interested in being my first guest.  Once she agreed, I started lining up other guests with people I had been talking to.  So I wanted to create a place for people to talk about their Subarus and the things they like to do."
"My top three episodes, for me, would be episode 1 with Jenn, because she is what helped to start this whole thing.  Episode 40 with Mitch from MeLe Design Firm because I love what he is doing and how he transitioned out of his full time job to follow his passion and his dream.  The third would be with Ed (Dark Wraith, Episode 91) because it really shows that this podcast has become more than people talking about their cars.  It has become a place for guests to talk about how buying a Subaru and becoming a part of the Subaru community has changed and/or impacted their life.  
To answer your last question, it will be in two parts.  First off, there are a lot of things I would love to plan to do, but I feel like I am so limited on time.  So I guess I would have to say what I wish it could be, for now, or what my dream would be.  If the dream can become more of a reality, then that will be my plan.  My biggest dream is to podcast full time.  If I were able to podcast full time, my plan would be to get out to more events, support more Subaru Love Promise initiatives, sponsor more events, donate more, find ways to raise funds in partnership with other organizations, work with dealerships around the country for the Subaru Love Promise, and find a way to get my logo onto the Subaru Motorsports USA rally and rallycross cars. Kind of joking, but not. 
My other plan would be to start a YouTube channel where I could create more content for the community.  I don't know exactly what that would look like, or what it would be, but I think it would be a nice addition."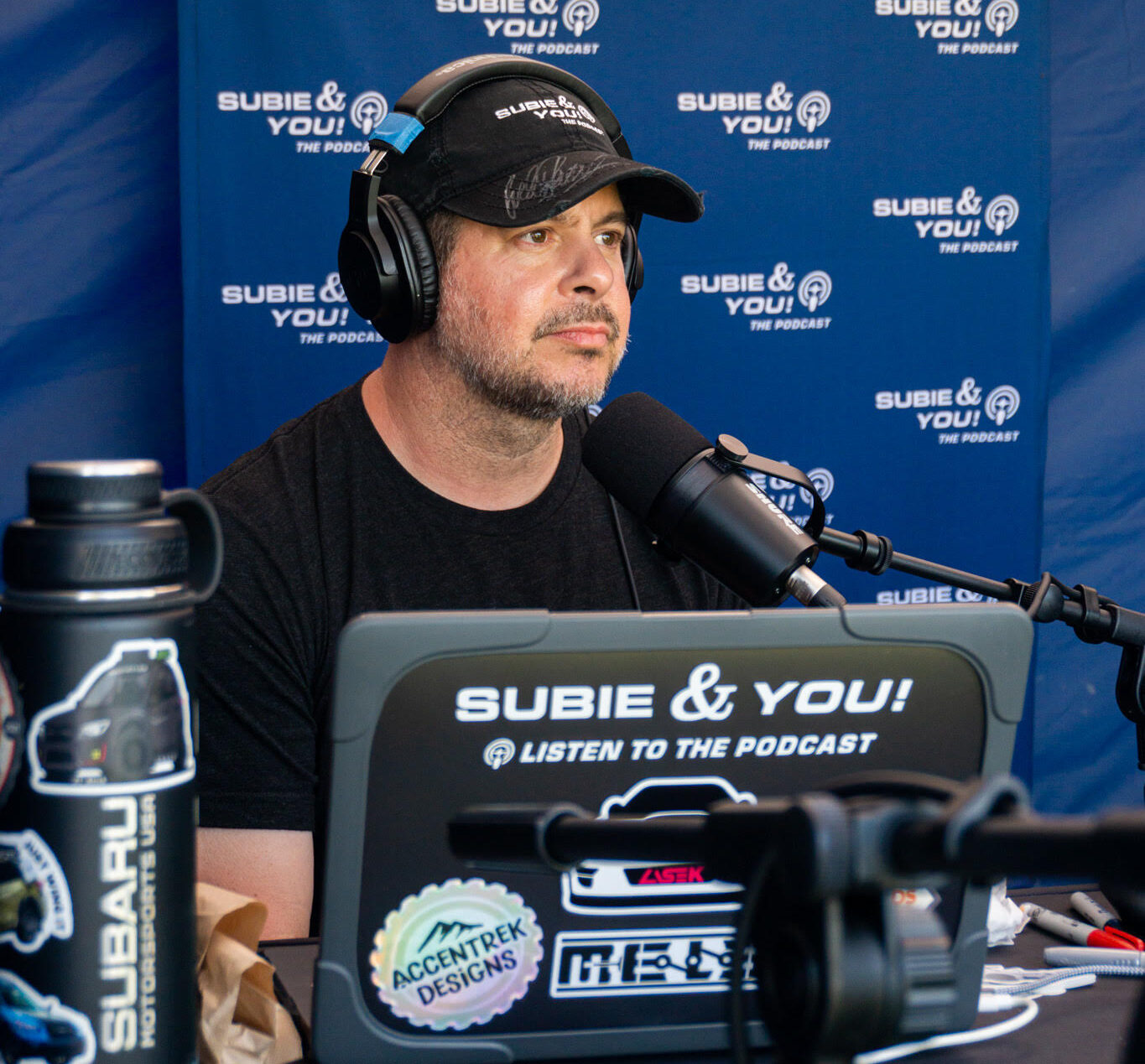 Rafael, is there anything you'd like to let people know about? Updates, words of wisdom, shoutouts, or things you want people to know about?
"I have had many people ask me to come out to events, Wicked Big Meet, Big Northwest, Subiefest California again, Boxerfest again, Subiefest Florida, Subaru FL4TFEST again, 48 Hours of Tristate, on camping excursions, Overland EXPO events, etc.  
The best way to help me get out to events to meet the community is to support the podcast via my Patreon.  As a Patron, you not only help to keep the podcast going and progressing, but you get access to our members only Discord server where we get to share so much information, have voice chats, and best of all we have gotten to know each other so much more.  You will also get behind the scenes access to upcoming guests, bonus content like additional questions I asked of Bucky Lasek, Lance Smith, and community guests.  You also will have a chance to ask a question and have it read on the podcast, and exclusive access to other content available only to Patrons.
My advice to all of you out there who are part of this community is to simply enjoy your Subaru.  Drive it often and be thankful to have such an amazing car and to be part of this incredible community.
Lastly, I have to give a huge shoutout to my sponsors and Patrons for all their support.  
Much Subie Love, 
Raf"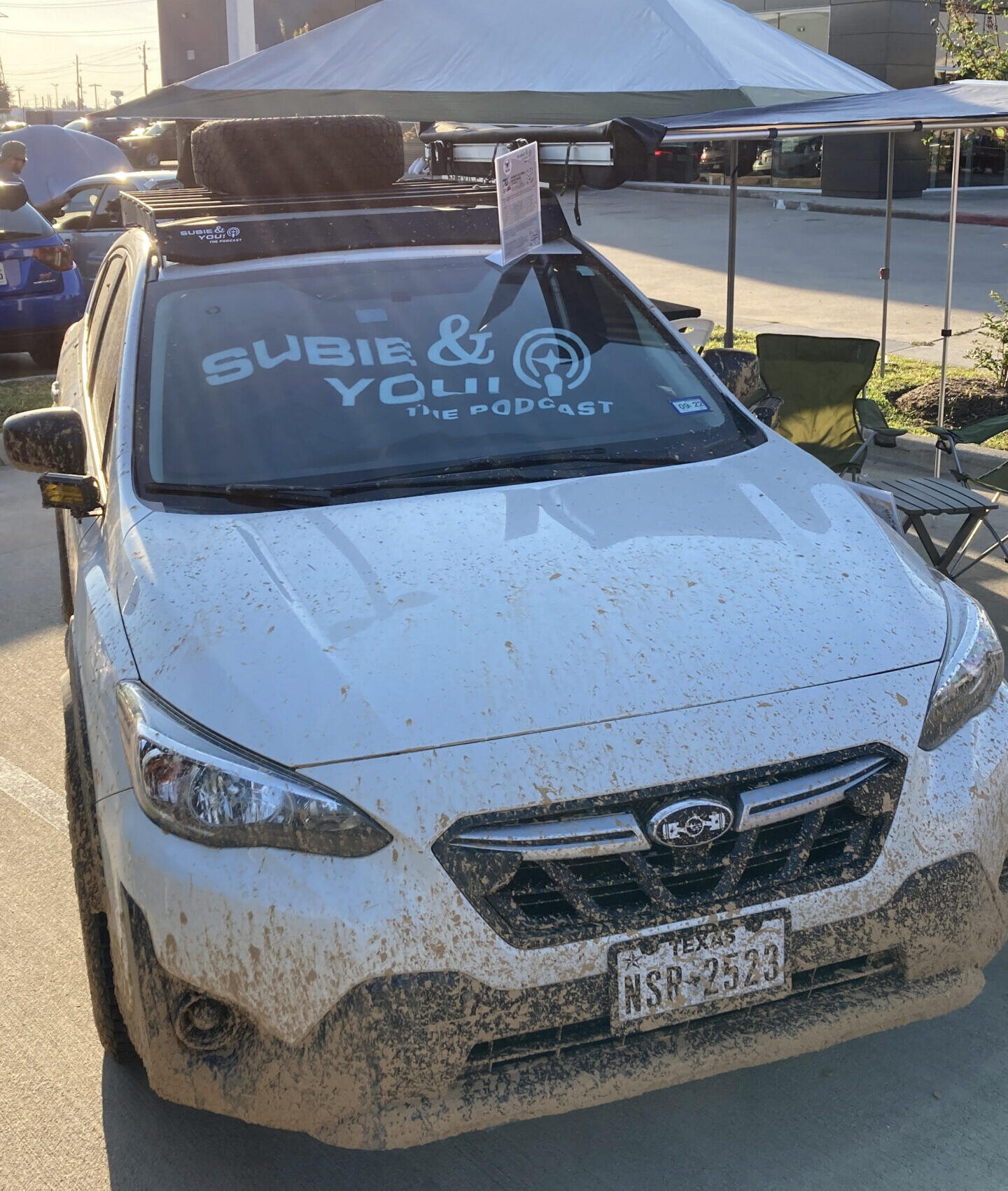 Click below to checkout and support everything Rafael is doing with the Subie & You Podcast!
I cannot express how grateful I am to have had Rafael sit down and share his Crosstrek build and his experience building the S&Y Podcast. If you're not already following along on social media, find him on IG at @subie.and.you.podcast and @pearl.the.crosstrek to follow along with the show and his Subaru build! Rafael, thank you! It's been an honor to have you on the site.