Convenient Spare Tire Storage - Best Rear Tire Carriers For Subaru
If you've been considering a rear tire carrier for your Subaru, it can offer a few benefits that you may want to take advantage of. It can allow you to carry an oversized spare, free up interior space, and even help prevent neck injuries.
Finding a tire carrier made specifically for a Subaru can be tough. Not many companies offer options for our cars yet. Fortunately, there are still some great rear tire carriers that can be easily installed on Crosstreks, Imprezas, Outbacks, Foresters, and Ascents.
These Are Our Top 3 Rear Tire Carrier Picks For Subaru:
In a hurry and just want the goods? Here's the links to each of our favorite tire carriers.
Why You Should Consider Getting A Rear Hitch Mounted Tire Carrier:
More interior space

Easy installation

Safer accessibility

Allows for tidy storage of larger aftermarket tires that don't fit in the spare tire area

Helps your vehicle retain a safe center of gravity

Creates an aggressive look that most off road enthusiasts enjoy

Many carriers have attachments that allow you to store extra accessories
If you are lifted and have oversized tires installed on your vehicle, you no doubt have noticed that your new spare no longer fits under the floor in the rear trunk area. You've probably resorted to storing it in your trunk or on your roof rack. Maybe you're even one of the daring individuals who doesn't have a spare on hand at all. Luckily, a hitch mounted tire carrier can solve these issues for you with almost no install time.
Rear Tire Carriers Provide More Safety
One of the main reasons we like rear mounted carriers is the natural center of gravity that it allows for. It's not uncommon for an all terrain tire to weigh between 30-50 pounds. When you add a 20-25lb wheel, you've got a lot of weight in one spare tire. If you strap this tire to your roof, it can add substantially to the body roll that many of us experience in lifted vehicles. It is probably unlikely, but that extra weight can increase your chances of a rollover in certain situations. This is especially true if you've removed your sway bars. A rear tire carrier can help alleviate some of this unwanted roll and makes your vehicle much safer to drive.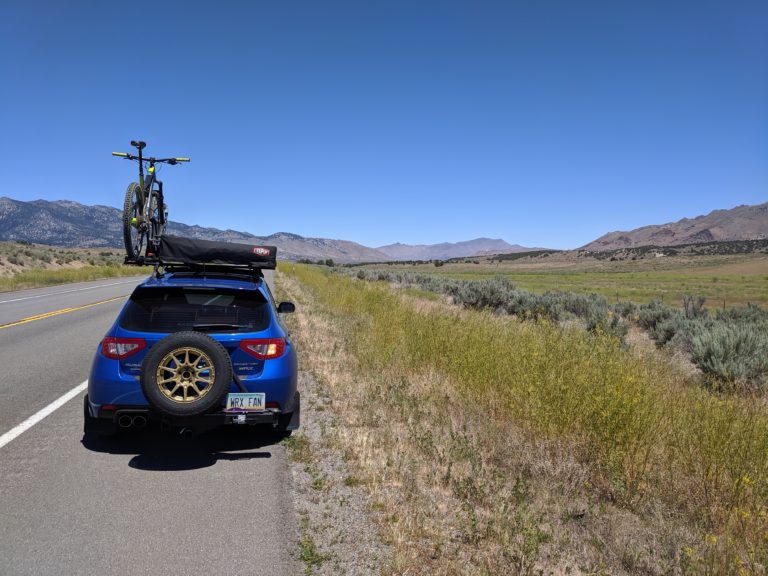 Less Risk Of Back & Neck Injuries
It's also important to think about how difficult it could be to retrieve a spare tire from the roof of your car in an adverse situation. For some of us that have experienced back pain, lifting something overhead like this can be dangerous and uncomfortable. Imagine pulling down a 65lb spare tire, installing it, and then having to lift the old one back up after you're done. This only gets worse if you're in the ice, mud, or snow. Not a fun time – especially if you're trying not to scratch your car's paint up (don't scuff the wife's Outback.)
It's also important to remember that securing your gear, whether inside or outside the car, may actually save your life in the event of a collision or rollover. Imagine your kids getting hit in the back of the head with an oversized all-terrain tire that's stored in the rear cargo area. Not a good thought at all.
So what should you buy? There are a few great options. It will most likely come down to price for most people. However, it is important to consider weight, craftsmanship, and fitment. Each of these carriers fit Subaru's pretty well and are built with quality in mind. But we suggest buying the nicest one you can afford.
If you want to install any rear tire carrier on your Subaru, the 
Before You Buy A Rear Tire Carrier
One of the first things to take care of before you even consider buying a carrier is installing a trailer hitch. Most rear tire carriers require a 2 inch hitch receiver in order to be installed. Receivers come in a wide range of types. Some can be installed on the bottom of your car right in your driveway with basic tools. Others are neatly concealed behind the bumper and look fantastic. But they may need to be installed by a professional. Either choice is good, but it's ultimately up to you as to how much work you want to do. (Check out our basic guide to getting a hitch for your Subaru.)
So what should you buy when it comes to tire carriers? There are a few great options, and it will most likely come down to price for most people. However, it is important to consider weight, craftsmanship, and fitment as you shop for something to hold your spare tire safely. Each of these carriers fit Subaru's pretty well and are built with quality in mind. But we suggest buying the nicest one you can afford.
Top 3 Rear Tire Carrier Picks For Subaru: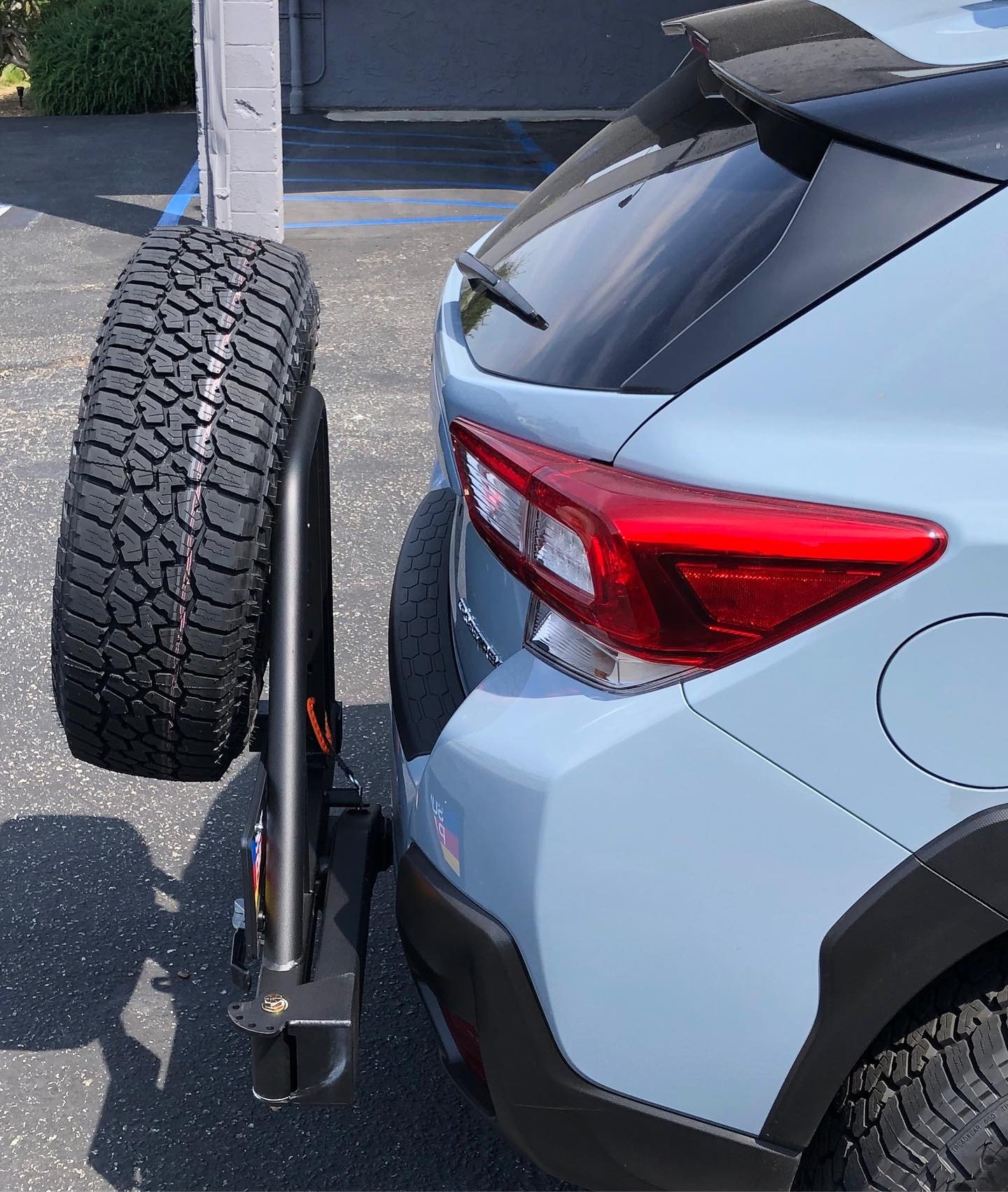 Best Heavy Duty Option For Extra Safety & Security
The Ultraswing is a beefy tire carrier that boasts RIGd's anti-wobble design and a lifetime warranty. While it is a little heavier than some carriers (around 70lbs) there is a good reason for it. The RIGd product line is comprised of extremely stout carriers that feature their anti-wobble design and are built right here in the USA.
The Ultraswing also provides an integrated license plate relocation mount, and is able to support 250 lbs of cargo. This carrier is perfect for anyone who's looking for a heavy duty option and isn't afraid to spend extra coin. If you have an extremely oversized tire setup, this may be the best carrier to choose.
If you want to see how this tire carrier looks on a Subaru, head over and check out this lifted WRX hatchback!
 Highlights:
Sturdy construction

Industry-leading engineering for ease of use and durability

UltraLatch handle makes opening your hatch easier than ever

Lifetime warranty

Designed and constructed in the USA
Price: Only $1399 for a trail-ready UltraSwing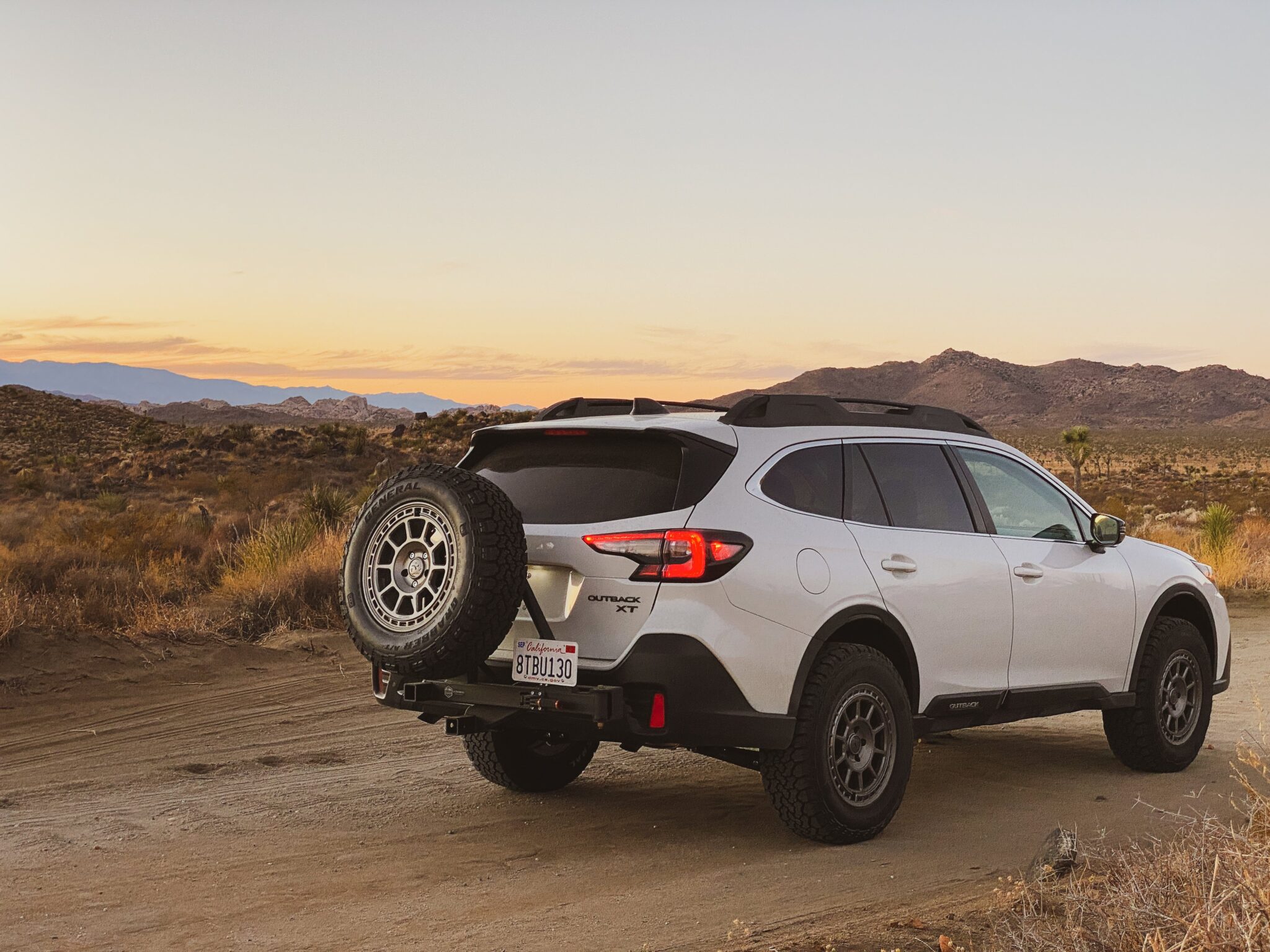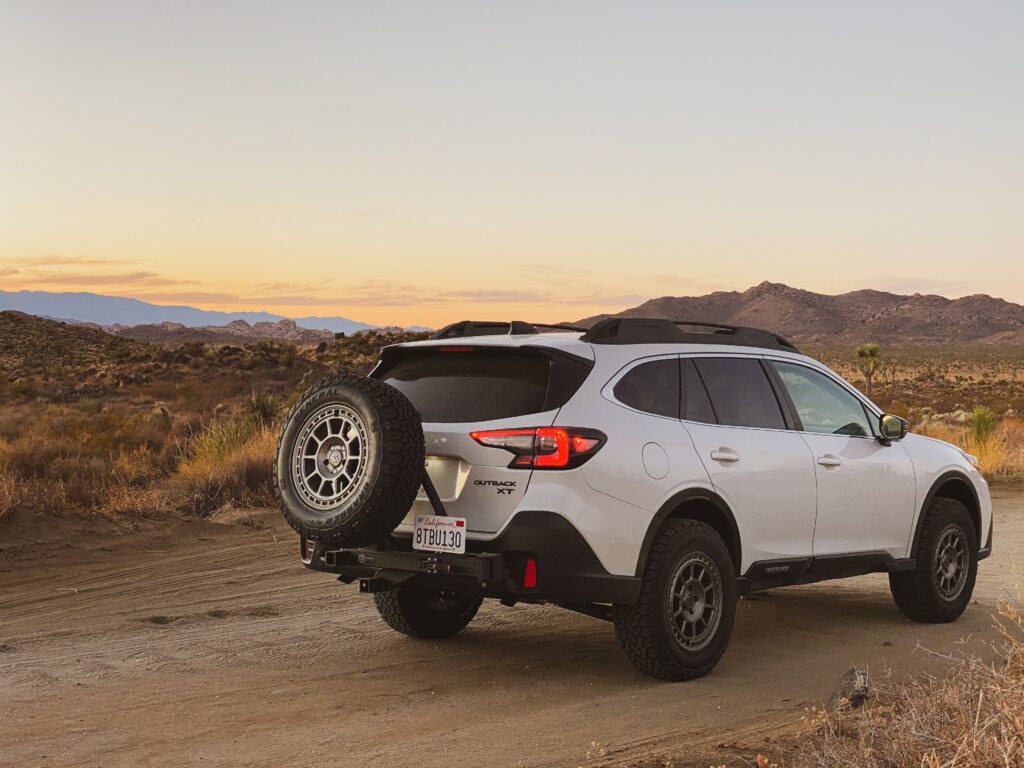 Check out this helpful video from Luke, the founder of RIGd Supply. He shows how the UltraSwing functions on a Subaru and gives a good overview of the features.
(Building your Subie on a budget? RIGd offers financing on their Ultraswing for budget conscious customers.)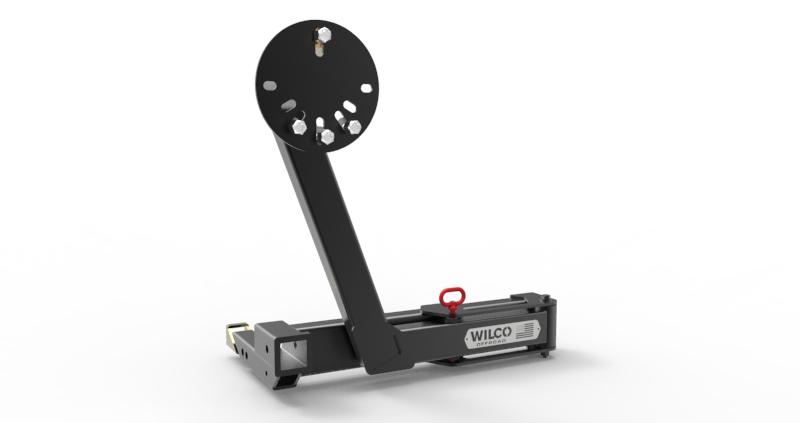 Great Overall Value & Lightweight Construction
The Wilco Hitchgate is an extremely lightweight, easily installed swinging rear tire carrier. Wilco has been making fantastic products for years and this carrier is no exception. At only 54lbs. The Hitchgate Hi Clearance is the perfect option for small SUV's and lifted sedans. For anyone looking to get the perfect blend of performance, price, and quality, this is the way to go.
Highlights:
Lightweight
Medium price range for a high quality swing-out carrier
Low profile
Straightforward construction with no unnecessary bulk
Price: Usually under $1100
Best Budget Option Without Sacrificing Quality
The Curt C31006 mount is simple, cheap, and very easy to install. If you want to get your spare tire mounted without spending a ton of money, the Curt mount will allow you to do that. It may be slightly harder to get a good fitment and it does not swing out of the way. However, at almost a tenth of the price of the other options, you may want to take a look at it.
We recommend this carrier for anyone who just likes to drive trails or forest roads with minimal gear. Since it prevents opening your hatch, it's not ideal for campers or drivers with a family or pets. 
Highlights:
Extremely affordable
Requires very little maintenance
Won't cost a lot to replace if you bang it into objects on the trail
Price: Typically available for under $200 but can occasionally be found for less on Amazon.
Hopefully this list has given you a good starting point. If you want the safety and convenience of having a rear tire carrier, pull the trigger on one today and get it mounted ASAP. Each of these options are very easy to install and will perform well.
As an Amazon Affiliate, we may earn from qualifying purchases