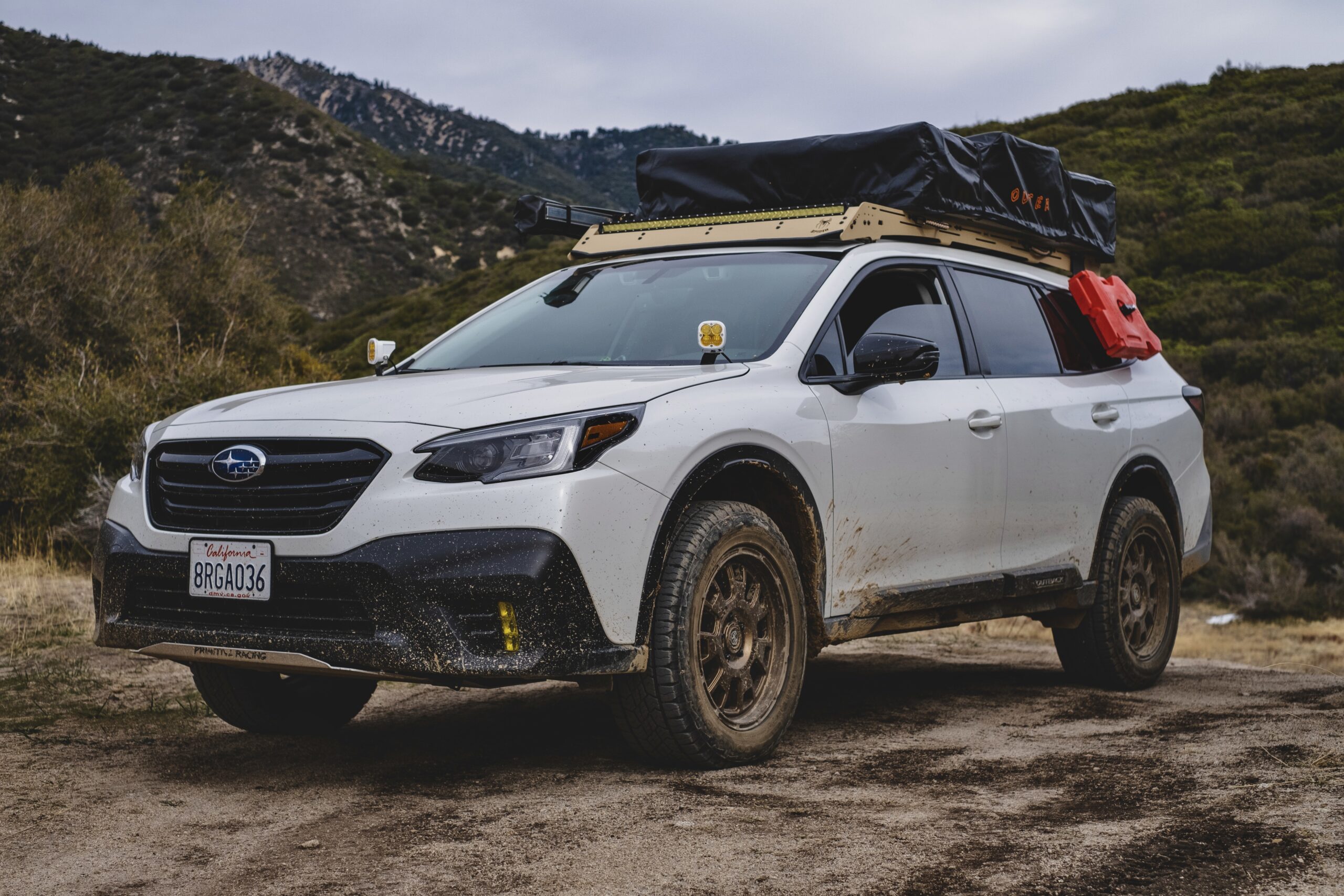 Our Favorite Subaru Outback Lift Kits
Whether you're trying to turn your Subaru into an off-road machine, or just want a couple extra inches to give you peace of mind on the trails, there's some really good options for you. In 2023 there's more lift kit options available for Subarus than ever before. In this article, let's take a look at what's out there and go over the features of them.
There are two common ways to lift an Outback: lift springs, and strut spacer kits. We'll explore what each option is and why each one might be right for you.
Lift springs are stiffer and taller than the stock springs that came on your vehicle. You'll have to swap out the factory springs with the new kit. They are really good for anyone who plans to load extra gear into the car. They also help stabilize the car's handling ability even with a higher center of gravity after lifting. The main complaint with a stiffer spring is that they can be a little more bumpy on harsh roads.
Strut spacer kits are usually less expensive and easier to install than a spring lift. You bolt them to the top of the strut towers and they push your entire shock absorber down to add lift. The main issue with using only a strut spacer is that they don't create additional suspension travel or offer a performance spring rate. So you may experience "butt sag" when loaded up with camping gear or off-road recovery gear. Here are some of the most important things to look for when selecting a good strut spacer kit: camber correction, multi-link/subframe spacers, customer service (reputation) and quality workmanship.
Some kits actually offer both springs and spacers. For example, Primitive Racing kits incorporate both forms of lift to provide correct suspension geometry and proper off-road capability. These kits allow for a taller lift that still has the benefits of a stiffer spring.
One more lift option we'd like to mention is long travel coilovers. There are now a growing number of them being offered for Subarus. These are a good option for a car that's used mainly for off-road because they're able to provide more tire contact on uneven surfaces. However, if you break a coilover and need a replacement or repair, you could be waiting weeks to get a new one. If you need your vehicle to get to and from work, this might be inconvenient. They are also substantially more expensive than any of the other options on this list. So they may be out of the realm of attainability for budget conscious consumers. But all things being considered, they do provide a superior off-road experience.
Here's our top 7 picks for the best Outback lift kits:
Located in Tigard Oregon, Primitive Racing has a long history of supplying parts for rally-inspired Subaru's. Primitive fields two rally cars that participate in various rally events. Primitive also hosts rally schools for those who want to improve their skills.
Who better to turn to for hardware than a company who's been doing it with the rest of us for so many years?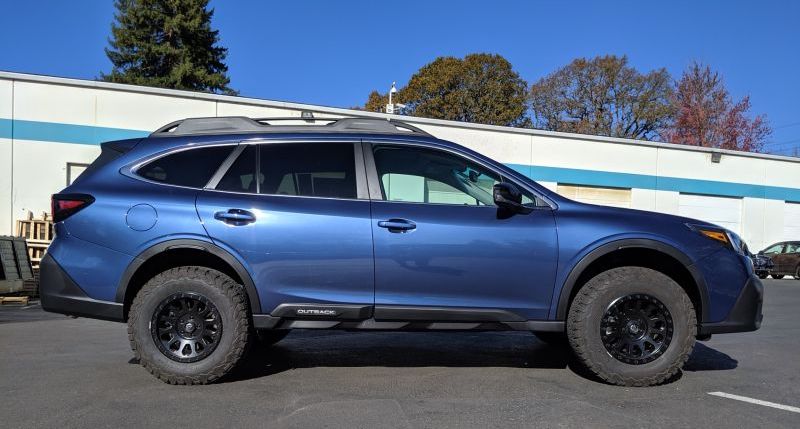 Primitive lift kits include everything you will need
Lift springs and spacers are included for the ultimate performance
Made in America
Primitive Racing's Rear Subframe Spacer kit
Rear Shock Extensions
Brake line bracket extensions
No drilling, welding, or cutting involved in the install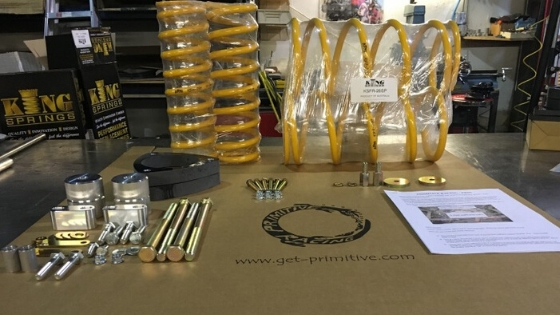 LP Aventure is a company out of Canada that has years of authority in the off-road and over-landing industry. They pride themselves on NHTSA and FMVSS126 motor vehicle safety standards, meaning that their kits allow your Outback to retain full factory safety features while providing extra all terrain capabilities.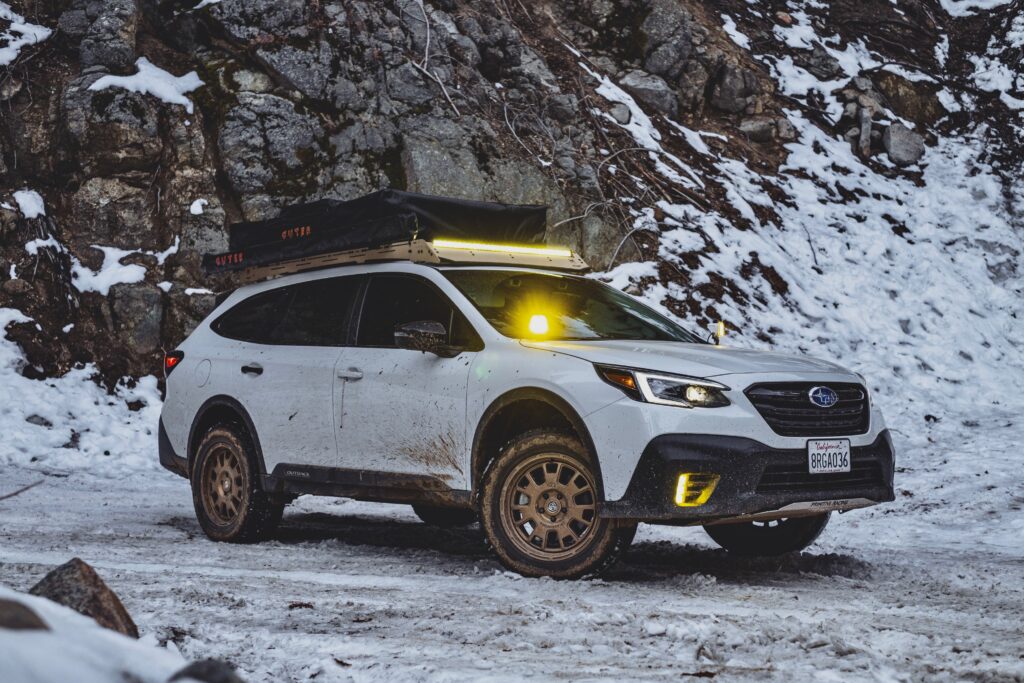 Kits arrive with everything needed to lift your Outback 2″ inches without changing ride quality

Kits available for Outbacks from 2010-2020

Spacers are designed with 304 stainless steel and are TIG welded. They are tough, durable and resistant to corrosion. (Make sure to spend a little extra on the powder coated kit)
Maintains original camber and caster specs
Lengthened brake lines spacers
Hand brake spacers
Installation instructions conveniently located on their site for DIY'ers.
The LP Aventure Outback lift kits are a little more expensive than some options, but they have a great reputation, are well designed, and contain a comprehensive parts list to make sure you have everything you need!
TIP: we found that tirerack.com occasionally has sale prices on LP Aventure kits. The shipping is also fast and free with Tire Rack. It saves between $40-60 depending on where you live.
ADF has been a pioneer in the off-road Subaru industry for years now. They have a reputation for designing and building some of the best lift kits in the market. When a new model is introduced, or a new need develops among off-road drivers, Anderson Design is usually the first to produce a solution. Their kits are known for being built with the best materials and excellent workmanship. Clean welds, great finish work, and helpful customer service really sets ADF apart.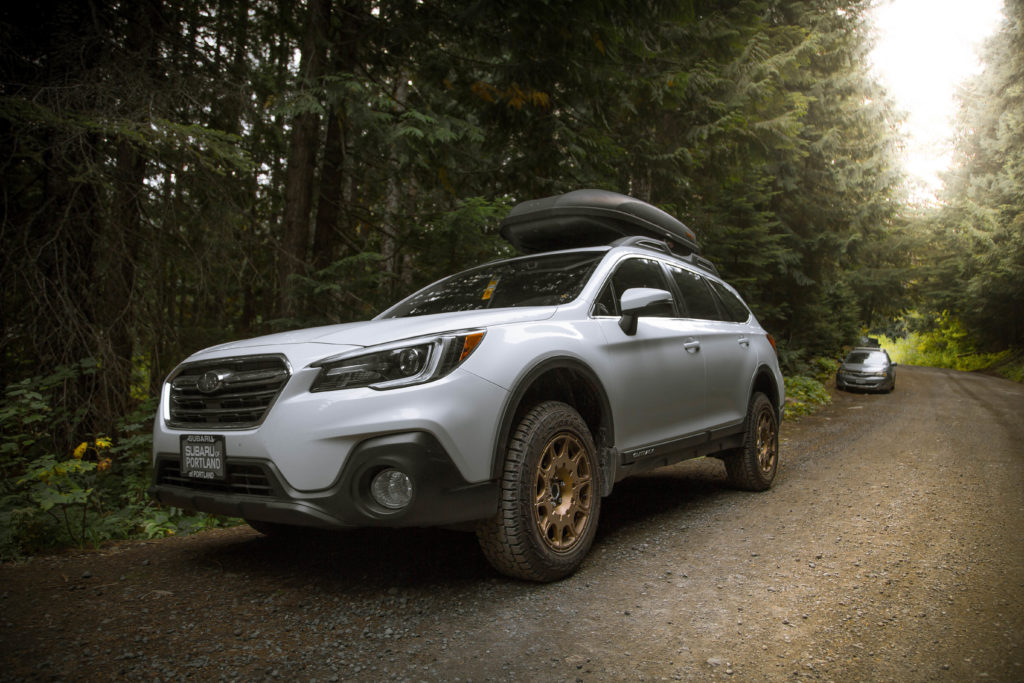 Kits available for Outbacks from 1995 to current years
Options ranging from basic 1″ inch kits, up to massive 4″ inch lift kits are available
Superior craftsmanship
Made in the USA
Years of tried and true experience in the off-road Subaru industry
Great customer support
Located in the beautiful State of Oregon, Anderson Design is at the center of a growing community of Subaru drivers who want more out of their car. ADF is always pushing the limits and listening to the needs of the community. If you're not 100% sure what you need or want, the crew of guys over there can answer any questions you may have about parts and fitment. I've called them on multiple occasions and been very impressed with their desire to help.
Reika VS Subaru Outback Lift Kit
Reika VS is probably the newest company in this article. But the brand is comprised of industry veterans that take quality, affordability, and customer service seriously. In our opinion, this is the best quality lift kit available for under $300. At the time that this article was published, their 2 inch lift kit came in at $249 including brake line spacers and the cradle drop spacers.
These kits come e-coated and powder coated to help ensure that they stay rust-free. They also have camber correction built in to the top hat spacers.
Hands down, if we wanted to lift an Outback on a conservative budget, this is the kit we would buy today.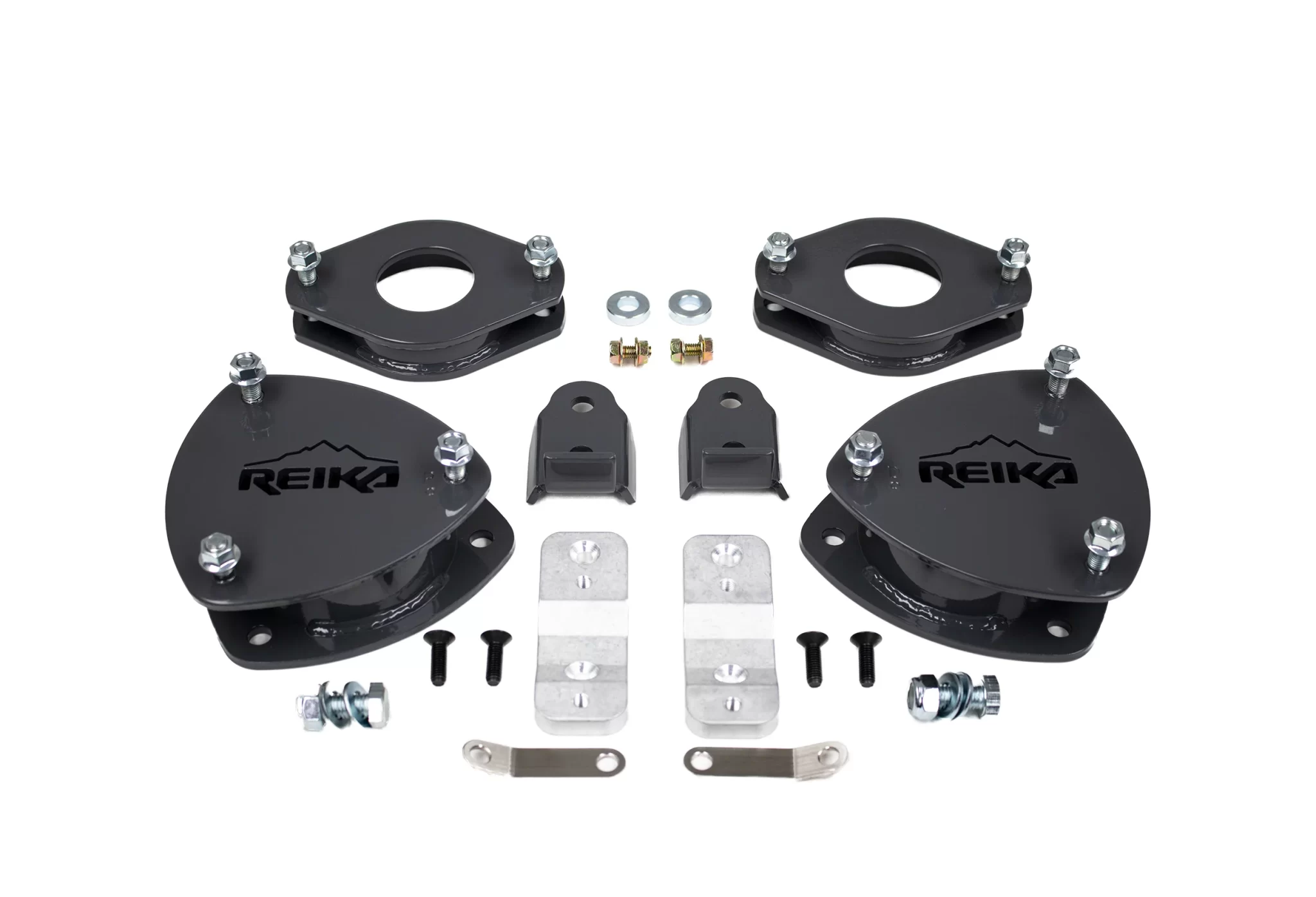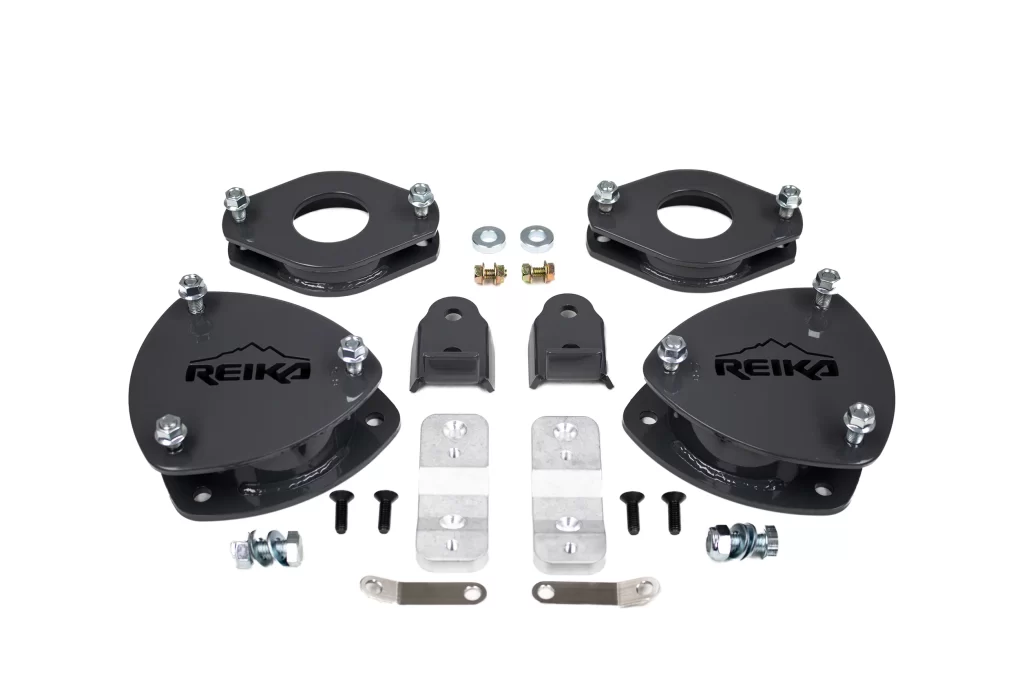 Kits available for Outbacks from 2015 to current year

Easily allows for a 245/65R17 tire to be installed

Good craftsmanship at a competitive price

Made in the USA
Years of tried and true experience in the off-road Subaru industry
Great customer support from a company of like-minded enthusiasts
If you are on a budget and are considering a "cheap" lift kit, please reach out to Reika VS before you buy something from a no name brand on Ebay. The price of this kit can't be beat. The guys that run the company are a great group of people and they've done a great job bringing not only affordable lift kits, but a great line of wheels and accessories for AWD off-roaders like us.
ReadyLift has been making lift kits for a very long time. Until recently, they focused mainly on trucks and Jeeps. However, they're now providing lift kits for a great price to the Subaru community.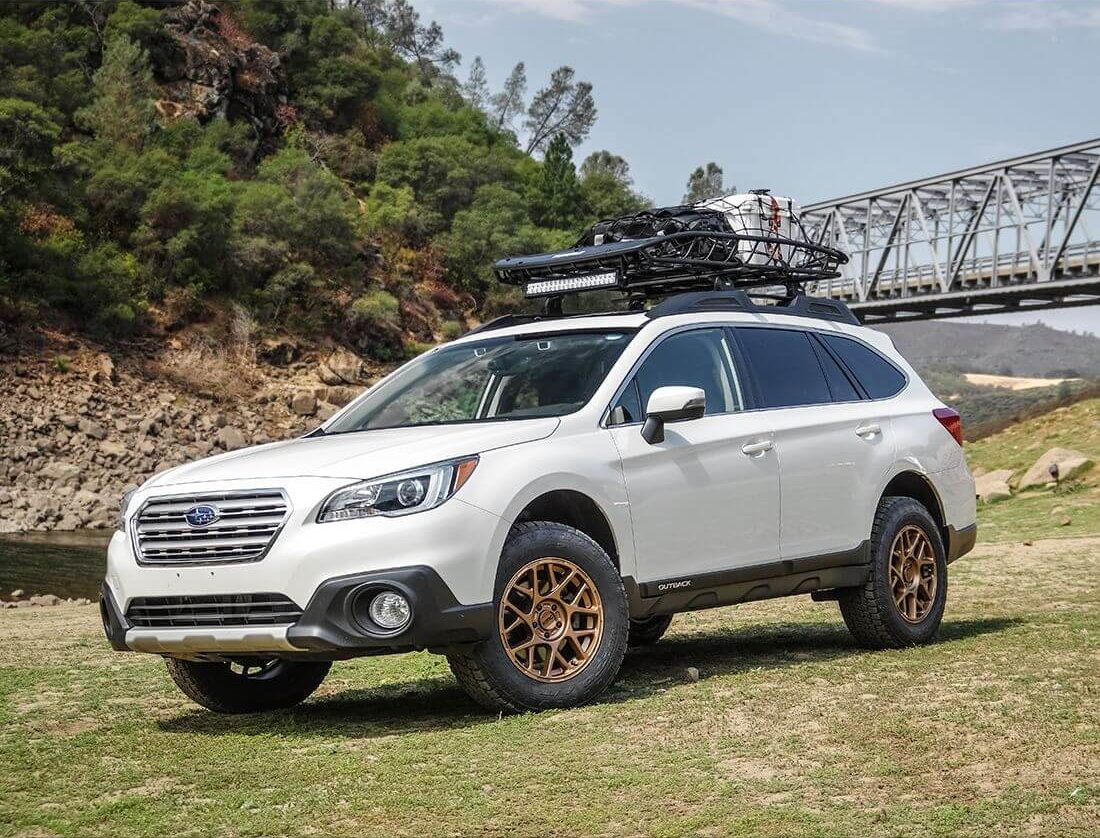 2″ Inches of additional lift

Allows for a 245/65-17 tire on a 17×8 wheel with +38 offset (Almost 30″ inches!)
Easy Installation that can be done at home in most situations
Made in the USA
No permanent modification needed (Perfect for leased vehicles)
Maintains original camber
Comes with sway bar brackets to relocate endlinks
For the time being, ReadyLift doesn't offer a kit for anything made before 2015. We hope to see additions to their catalogue for other years soon.
**Please note: If you select this kit, we do recommend purchasing a multi link spacer kit to help correct the rear tire geometry. Without these parts, your tires will be pushed forward in the rear wheel well.
Get A ReadyLift Kit Shipped Right To Your House:
(Make sure you enter your year/make/model to see accurate fitment)
TIP: at the time of writing this guide, we found that Tire Rack had the best prices on this kit. We find that you can typically get the best deals with them or on Amazon. Check both stores before making your final decision. Tire Rack has on-staff customer service that can help guide you and answer specific questions. We can't say enough good things about their level of service.
If you're looking for a fully adjustable suspension lift, but don't have the money to spend on a new coilover system, the Ironman ATS may be just what you need. This is a great option that comes with upgraded springs and fully assembled lift struts for around $1400.
We like how the Ironman kit offers an option for those who want to carry additional equipment. Things like a spare tire on a heavy rear bumper, or a trunk load of camping gear can really weigh down your Outback. The company's optional Spec-C feature will allow you to carry all of your necessities without getting bogged down in the rear. The Spec-C springs also help offset the extra body roll brought on by the altered center of gravity that comes with lifting a car.
Some companies have previously offered aftermarket lift struts that weren't  very durable. This has led us to be hesitant to recommend products that don't have a good history of durability. However, we've started to see a lot of positive feedback about the Ironman kits. We're confident that this lift kit is a good option for the price.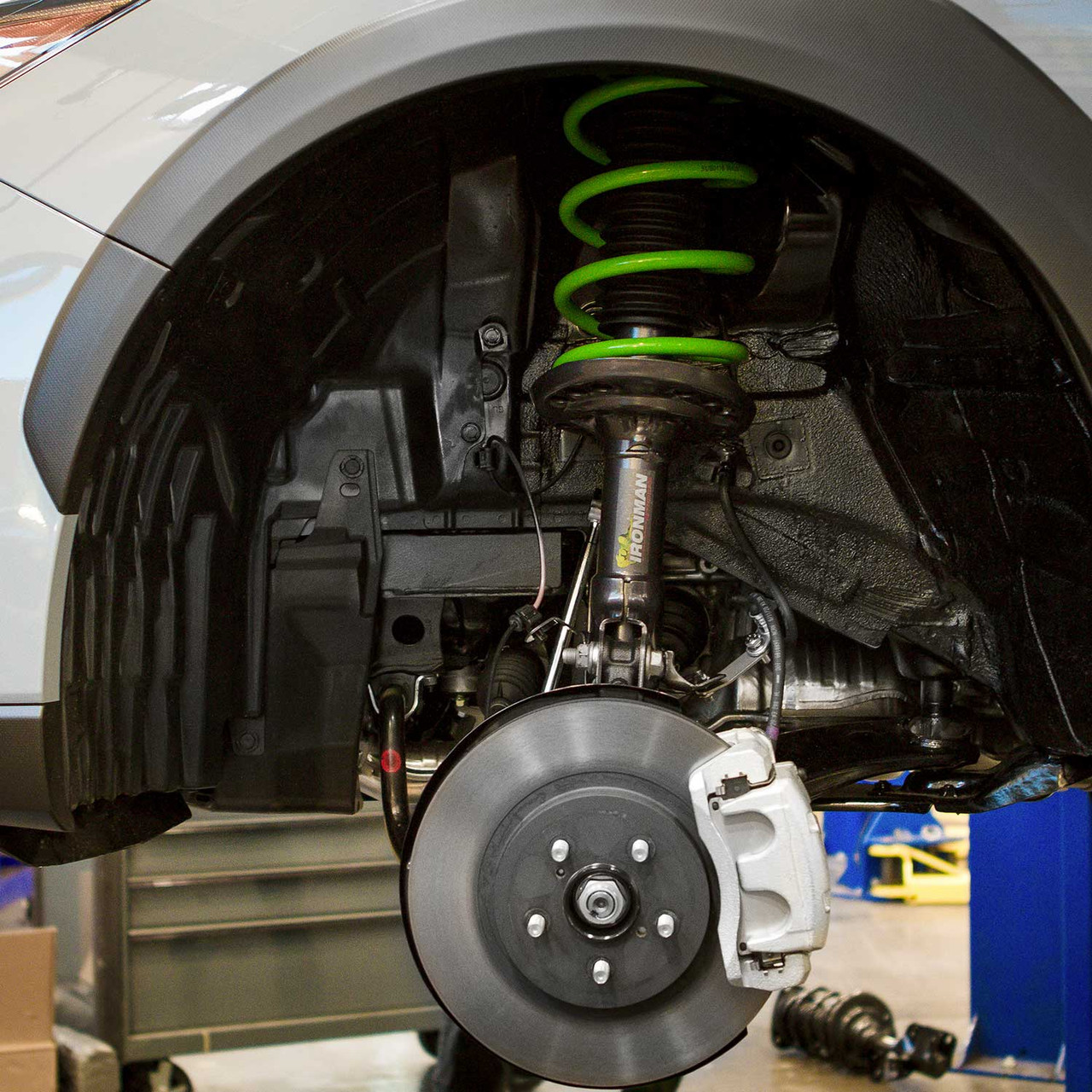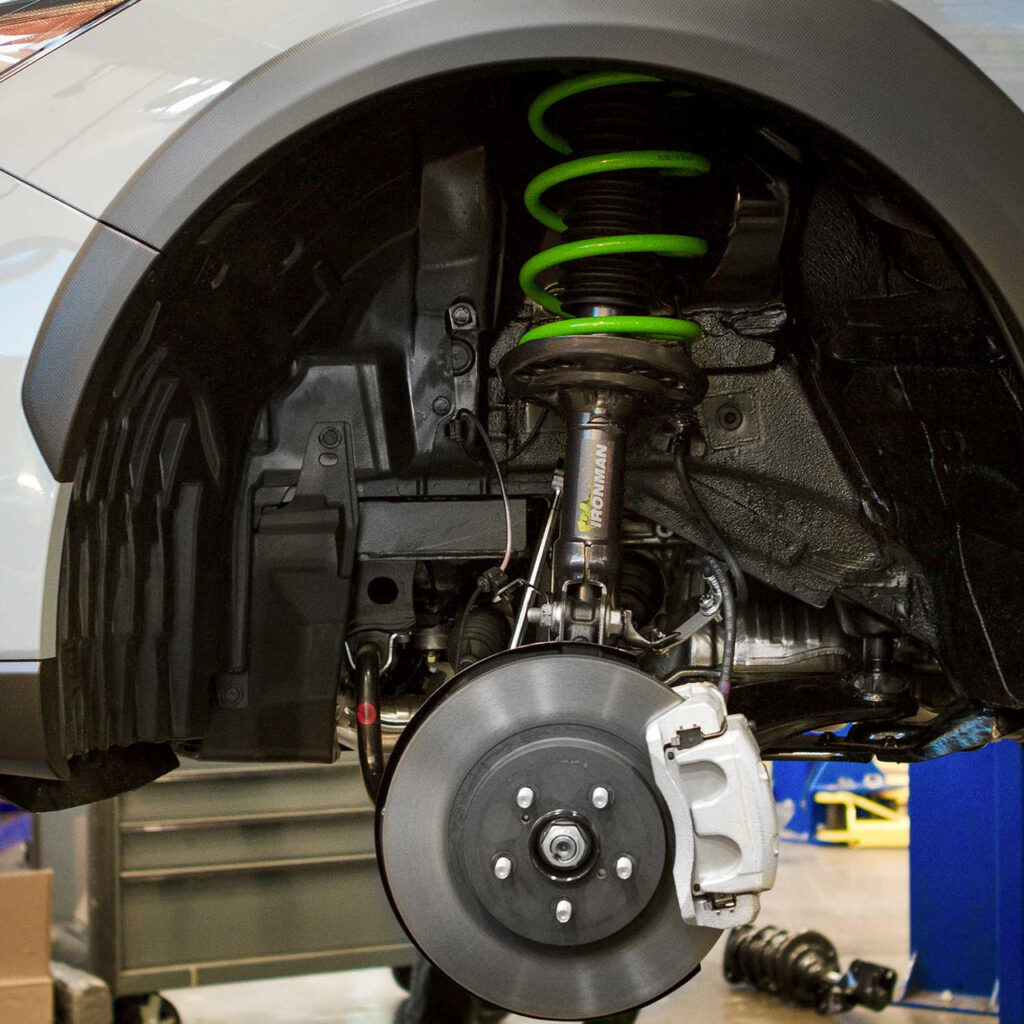 2 inches of lift
Extended travel twin-tube struts improve control and comfort
Subframe spacers are INCLUDED with this kit!
3 year warranty from Ironman
Estimated ground clearance after install: 10.7″
Available for 2015+ Subaru Outbacks
Works on all new model Outback trim levels including the Wilderness Edition
Raceworks Long Travel Coilovers
If you're looking to replace your Outback's suspension with a long travel coilover, you should consider the Raceworks Overland kit. This lift is the most reliable and cost-effective long travel coilover available in our opinion. Until recently, we didn't consider this type of lift for Subarus as viable. But with the recent addition of Subaru options added to the Raceworks catalogue, we think this is the best way to get an LTC for your Outback.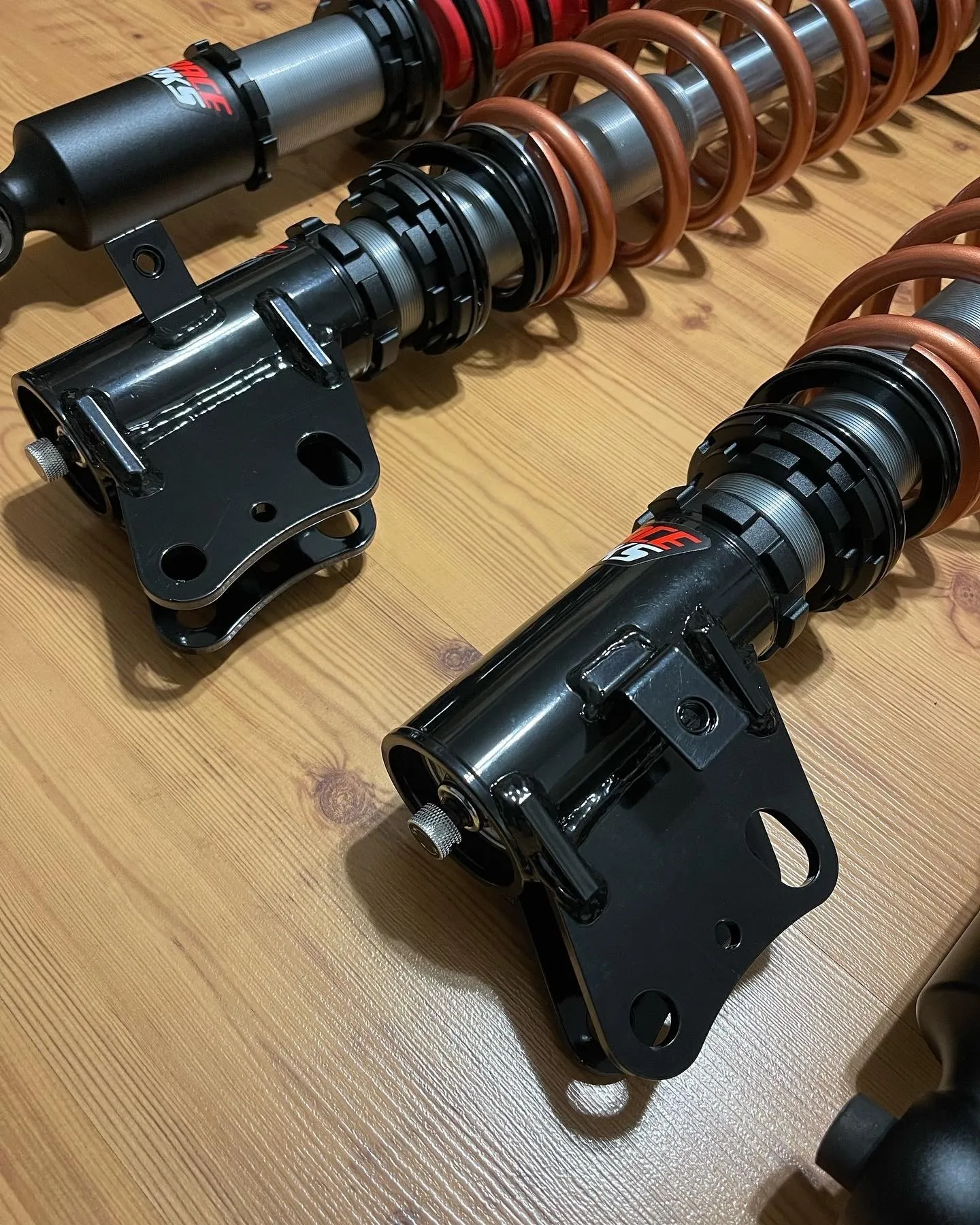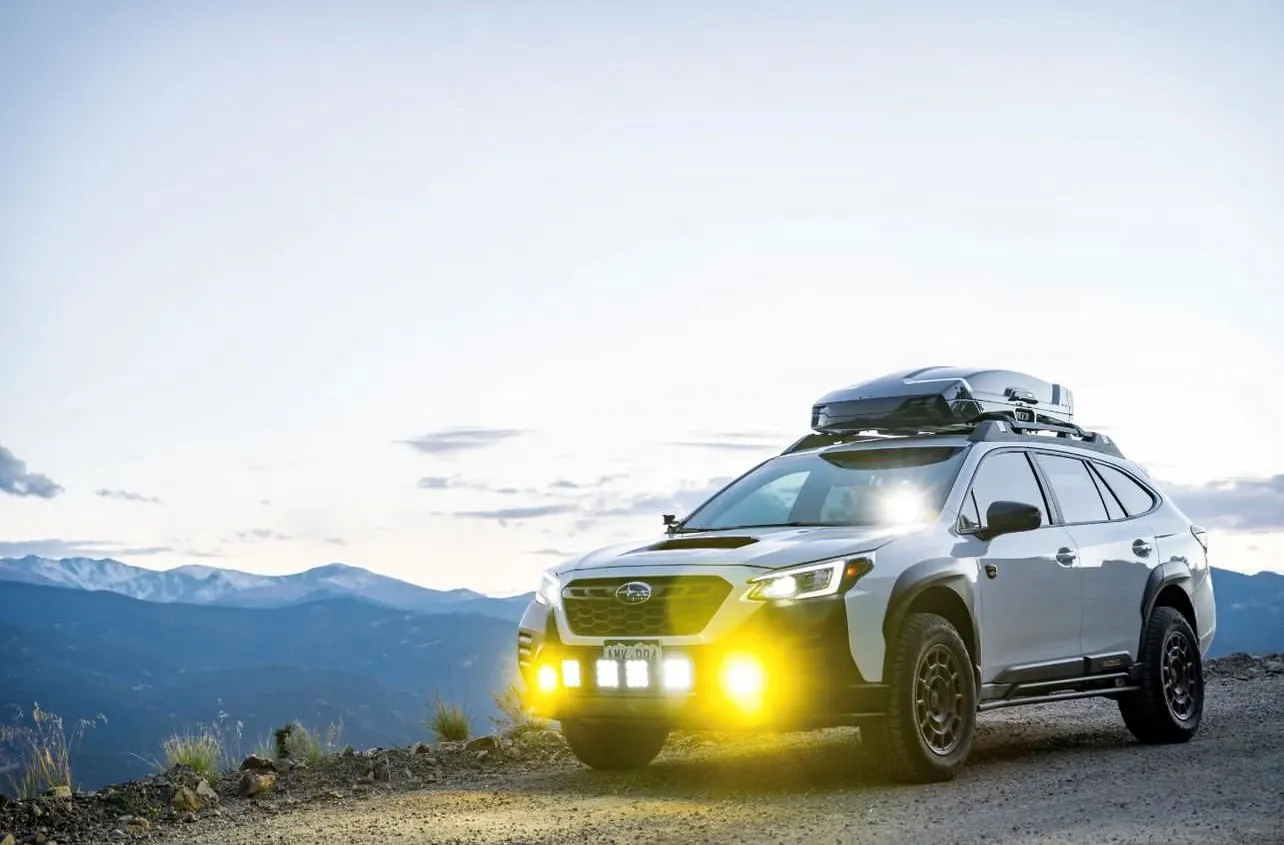 In the past, long-travel coilovers available for Subarus were built for rally cars. These coilovers were expensive and weren't built with longevity in mind. They were built for a few days of extremely harsh abuse on the track before being rebuilt. Due to the increasing popularity of Subarus, the company's engineers have delivered a more consumer-friendly long-travel coilover option for us.
The Raceworks' entry-level Overland coilovers for the Outback are designed to give your vehicle a 2 inch suspension lift. According to a representative at Raceworks: "The Overland is very consumer-friendly because it lifts up to 2" so there's not many complexities with the install. The C2 spec takes performance up a notch with inverted struts and long travel springs." I think it's important to realize that even though it is considered their "entry level" coilover, it's still far and above other options out there.  With the additional lift and suspension travel of their Overland kit, you'll be able to navigate uneven terrain and absorb harsh bumps much more easily. 
Raceworks suspensions are hand-built and can be customized however you like. We suggest the Swift Long Travel spring upgrade and a custom recommendation from Raceworks on spring rate. They are fully serviceable and have a 3 year warranty from the manufacturer.
Starting at under $1600 for the Overland, this is THE best option for anyone wanting to attack technical trails in their Outback without spending a ton of money. It's also the best option if your suspension already needs to be replaced. If you upgrade to a set of these, you'll be fixing your worn out struts and getting more ground clearance.
If you want to take your build to the next level with an even more aggressive and capable coilover lift kit, consider the upgraded Raceworks GZ coilover system. Taking your Outback to its limits is exactly what this kit is for. Raceworks told me that "The GZ adjusts from a 2" lift all the way to a 6" lift for those who want to get more advanced with their lift. It's a much larger and more advanced build." If turning your Outback into a true trail monster is your goal, this is the right coilover kit for that. Keep in mind that additional modifications will be needed if you plan to lift above 2 inches. Things like subframe spacers and steering extensions will be necessary. We recommend contact Raceworks directly if you choose to go this route. It's a rewarding process, but lifting your Subaru this much is a bit more involved than the other options on this list.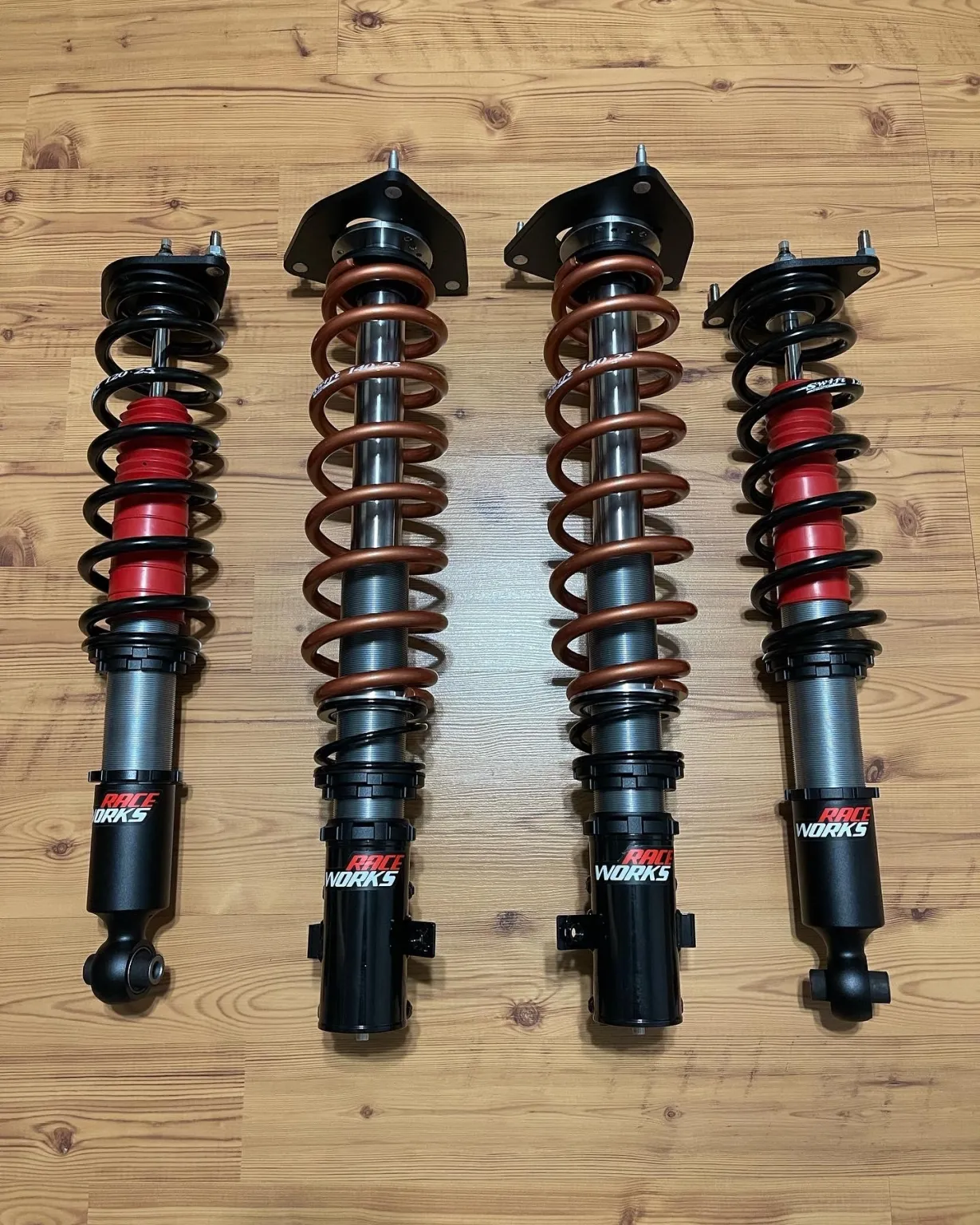 Overland Coilovers:
Monotube shock design
Custom tuned per order
52mm nickel-plated shocks
44mm high flow piston
Stainless steel shims
Synthetic shock oil
Height adjustment independent of spring preload
Damping adjustable (20-32 clicks depending on application)
3-year no hassle warranty against defects
Fully serviceable
Includes 4 assemblies to replace your entire stock suspension
GZ Coilovers:
Suspension travel: up to 10 inches.
Fully adjustable lift up to 6 inches.
Long travel SWIFT SPRINGS.
Barrel design allows for a much longer spring length without experiencing spring deflection. The long travel of these springs pairs perfectly with our long travel shocks. Swift springs are widely regarded as one of the best springs on the market due to their proven quality and performance at the professional level.
High quality helper springs to fine tune droop travel.
Specially designed mounting points are made with strength in mind.
Camber plate is made with steel and designed to be beefier and quieter compared to common camber plates used by many other brands.
MacPherson lower mounting bracket is made with steel and utilizes a rally-inspired design.
Reinforcement bracings are welded on for increased strength.
Wishbone lower mounts utilizes a unibody design which is lighter but also stronger than steel pieces welded together.
Chrome plated shock body prevents rust and corrosion. The shock body on the GZ is both thicker and longer than many other lift suspensions. This results in increased operating efficiency by holding a larger amount of shock oil.
Larger piston for a more compliant ride and more responsive dampening.
Seals are proven to last millions of cycles with no leaks.
Custom tuned for each user.
Every set will include a personal dyno sheet for that specific suspension.
Dampening adjustable from soft to stiff (20 to 40 clicks, depending on application).
Independent height adjustment without altering spring preload.
Camber adjustable.
Fully rebuildable.
Never miss a deal or an update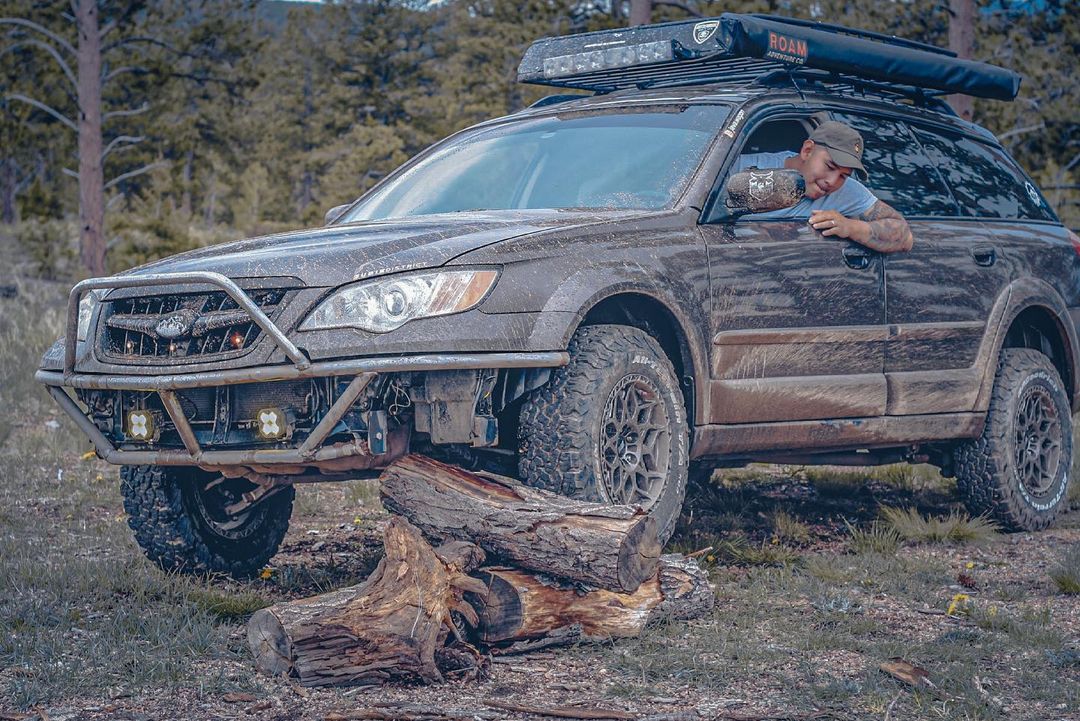 While there may be a lot more lift kits available for Outbacks, these are some really great ones that have been tested and have a good reputation. Hopefully this has helped give you a starting point for researching your lift kit purchase! We really appreciate you checking out our website.
Talk With A Professional Before Choosing A Lift Kit
If you aren't sure what you should purchase, speak with a professional who can help guide you in the best direction for your needs. Also remember to always use correct safety procedures and follow instructions with doing a self-install.
Some of us don't have the space, tools, or time to install a lift kit ourselves. If you need assistance, check out our growing list of recommended installers.
As an Amazon Associate we earn from qualifying purchases
Other Articles You May Find Helpful: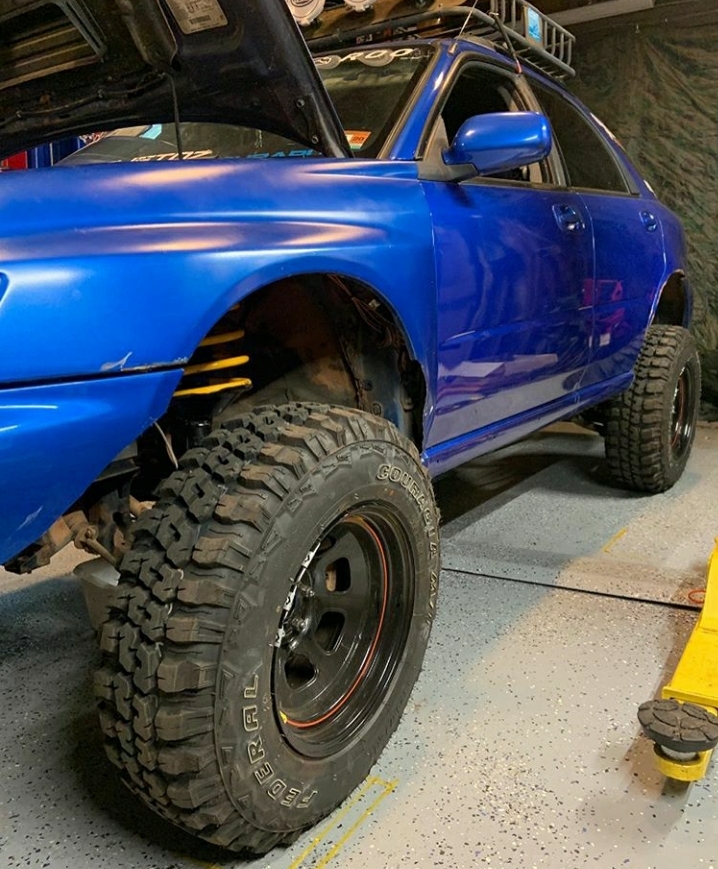 Wheels