The NOCO Genius5 is not just a charger; it's been a go-to tool in my garage. For nearly two years, it has proven its worth over and over again, and it's unfortunate that I waited to purchase one for so long. I'd like to share some detailed photos of the charger itself and share some of the things I've experienced that have made it worth every penny I spent on it.
In 2021 I spent $69.99 on it when I realized that I may need a new battery charger to keep my cars powered up in the cold weather. I had just moved to a new area with a totally different climate than I was used to living in. It routinely dips to -10 degrees where I live now during the winter and I own three different vehicles that don't always get driven. The Genius series chargers ticked every box I needed: easy to use, safe, compact, long lasting, effective charging abilities, and a good quality casing since I tend to drop my tools when working in the garage.
Let's jump in and check it out.
When the charger arrived, I was actually impressed by simple things like the packaging. Even the box felt sturdy and I could tell that they take shipping and overall presentation serious. The charger got to my doorstep without any damage or missing components. It didn't feel like they just quickly threw the whole thing together like I've seen with some lesser quality products.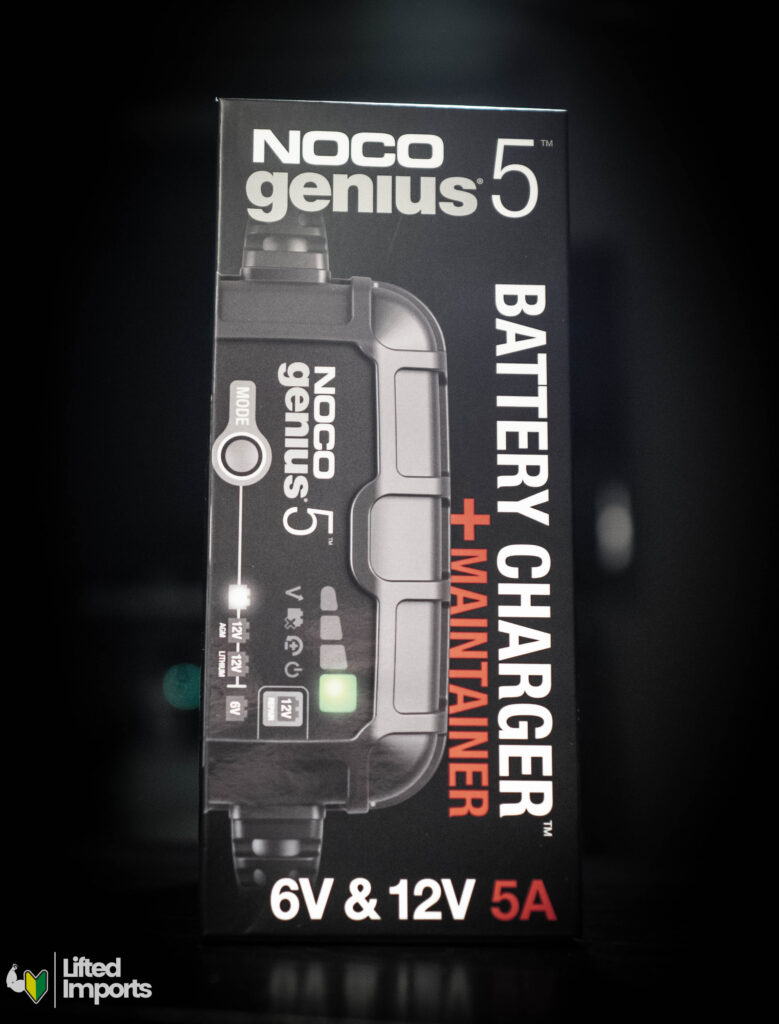 You've maybe held a product in your hand and just felt like it was well made – this is how NOCO products feel when I use them. We don't always want things to be heavy when they're not supposed to be, but sometimes you can feel when a tool is made using thick materials that won't break the first time you drop it or when it gets knocked off the shelf by accident. The casing is sturdy, the rubber feet on the bottom feel solid and the cables are flexible but tough. After two years the rubber feet are still firmly attached and help keep it in place when it's sitting in the engine bay or on a hood to charge a battery.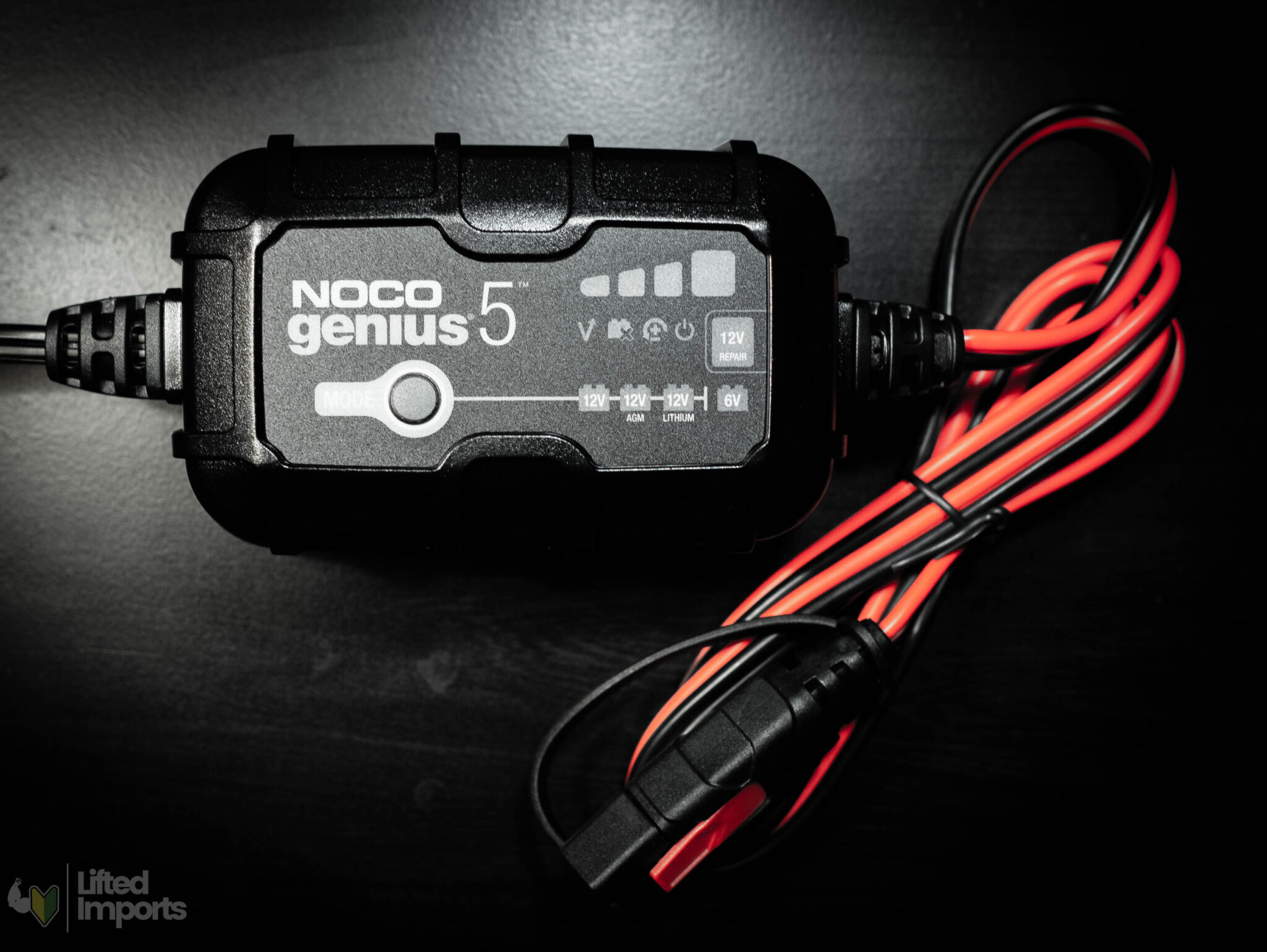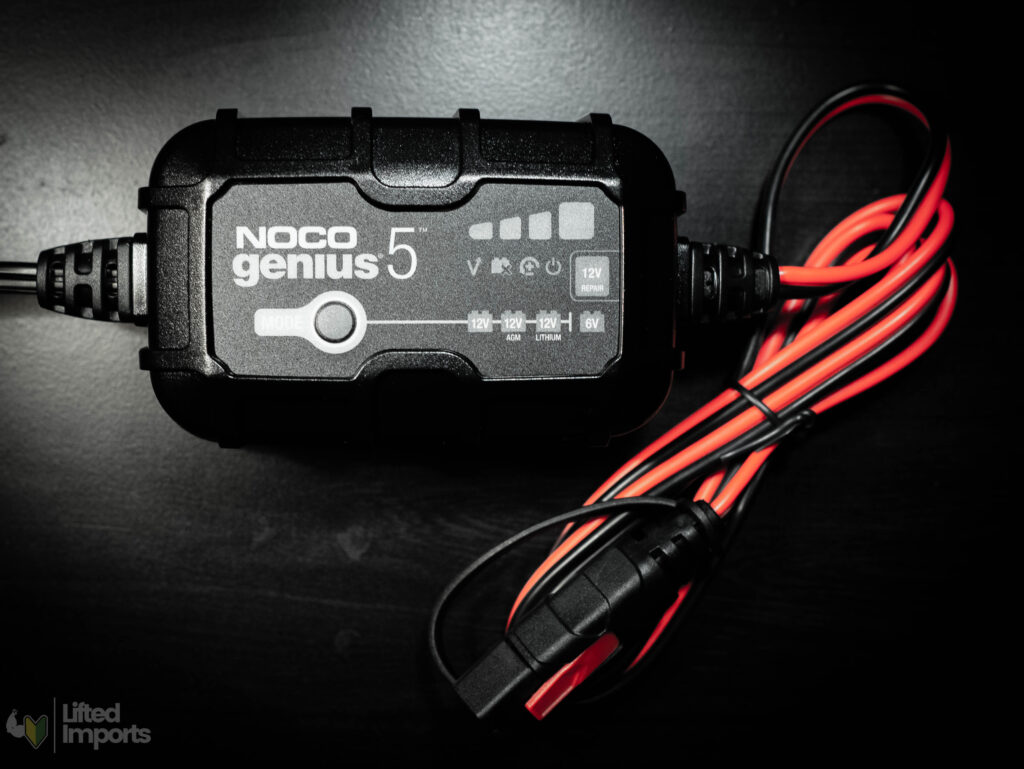 I also really like how there is a locking quick disconnect for the clamp side cables. It's easy to unlock but hold very tightly when in use. I love this for ease of storage. It's much easier to pack it into the tool box when I unclip the cable and tuck it all away. Then when I'm ready to use it again, the plug is a one-way shaped design that doesn't allow you to put it together in the wrong orientation.
I could tell immediately that the cables weren't going to crack or dry out within a few months. Two years later they're still flexible and well insulated with no sign of any cracks or damage.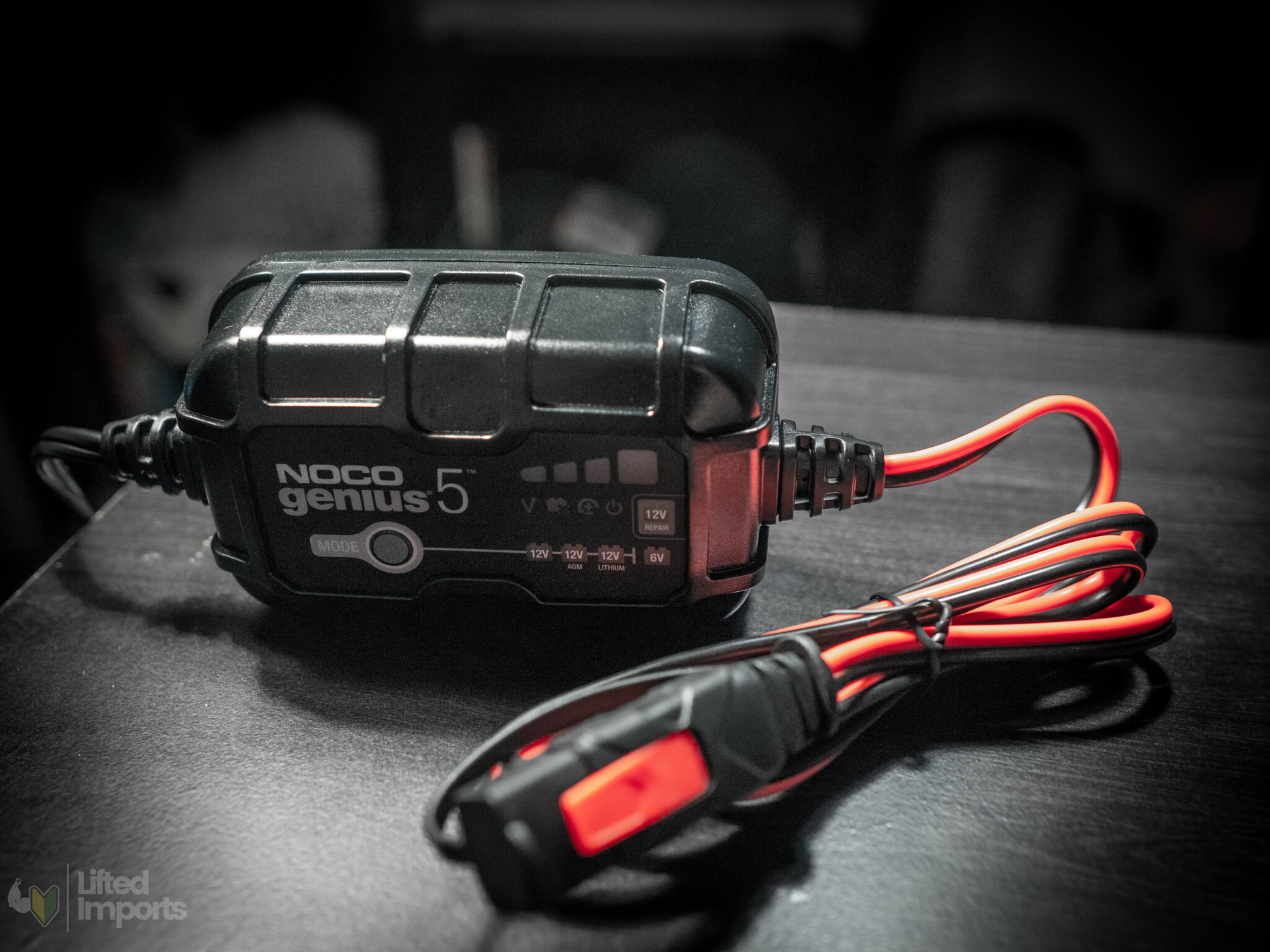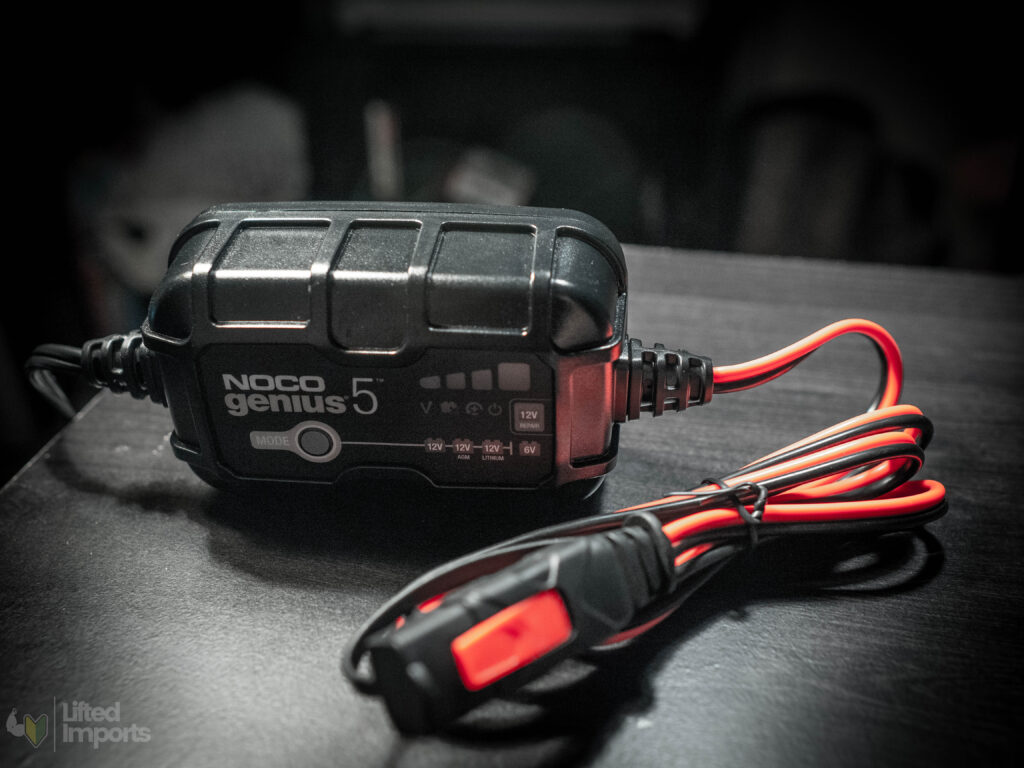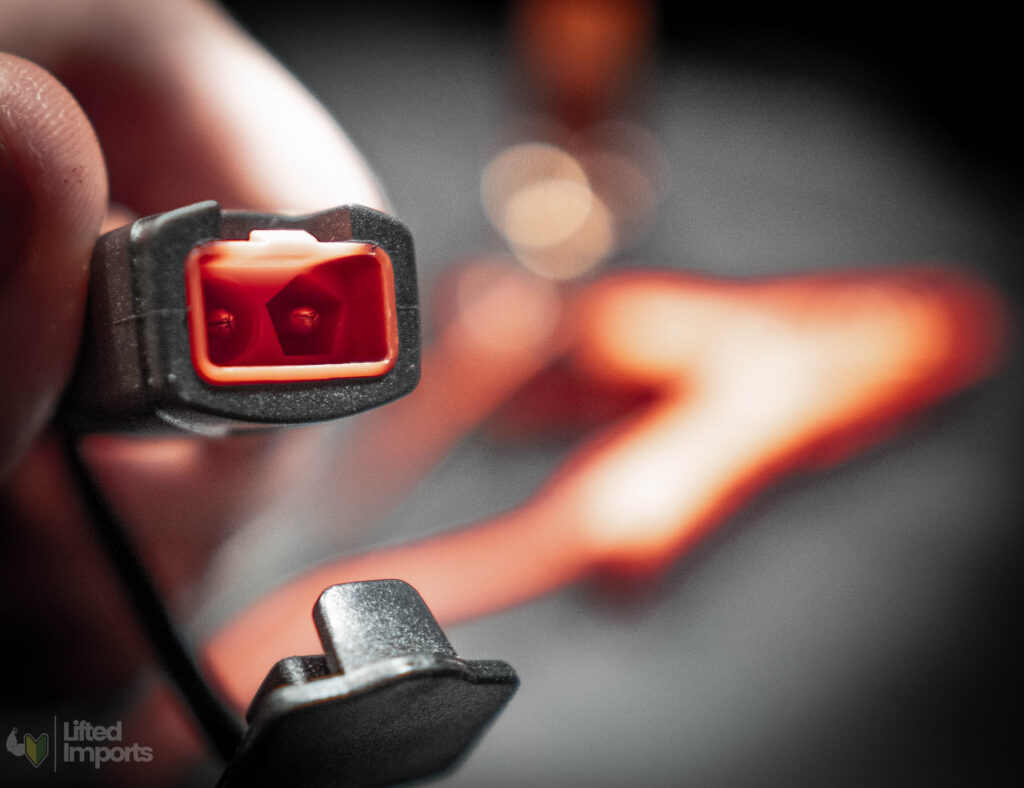 What sets the Genius5 apart from all the battery chargers I grew up using is its versatility. It's not just a charger; it's a vital part of my tool collection that helps me track down issues and keep my cars running well even when they go weeks or months without being driven. Whether it's breathing new life into an old battery, or keeping a weekend 4×4 wheeler ready for driving after sitting for weeks, this charger handles it all with ease. The added diagnostic capabilities are a bonus, providing essential information about a battery's health.
My roommate isn't much of a car guy and he kept having to use his battery jump starter in the morning to get to and from work. We work different schedules so I didn't realize he'd been having this issue for a fews days until he mentioned it. We tested his alternator and it was seemed okay. But the battery was corroded and slightly bulged on the sides indicating internal sulfation. So I suggested that we try running it through a repair cycle on the NOCO just to see if it helped.
We brought it up to a full charge and then put it through the repair process which took a few hours. The next day he had no issue starting the vehicle and he actually drove using that battery for another 6 months. It still worked fine when he finally decided to replace it with a new battery. The repair mode may not always have this outcome, but it's worth a shot if you're tight on cash and need to save up for a new battery.
Not only does the Genius5 have a wide range of features, but it's very easy to use. I had always been afraid to overcharge batteries when I was younger using my dad's bulky battery charger. Battery technology is so over my head that I just didn't want to deal with possibly messing anything up.
The NOCO chargers take care of everything for you. It's all automated via an onboard microchip that can tell exactly what kind of battery you're charging and exactly how much to charge it. There's even a thermal sensor that can adjust voltage up or down based on the air temperature to avoid cooking the battery. If it's hot outside, it will adjust to make sure the battery doesn't overheat and become damaged. In the cold, it can turn up the voltage to avoid undercharging.
There's also an inline fuse holder that is easily accessible in the event of a short circuit. Some battery chargers don't have an external fuse that can be service in 60 seconds which makes them much less convenient.
This charger is so easy and automated that I would feel comfortable handing it to someone with zero automotive knowledge and saying "here can you go charge my car battery for me?" All they have to be able to do is plug it in and match the positive and negative cables. The NOCO literally does the rest.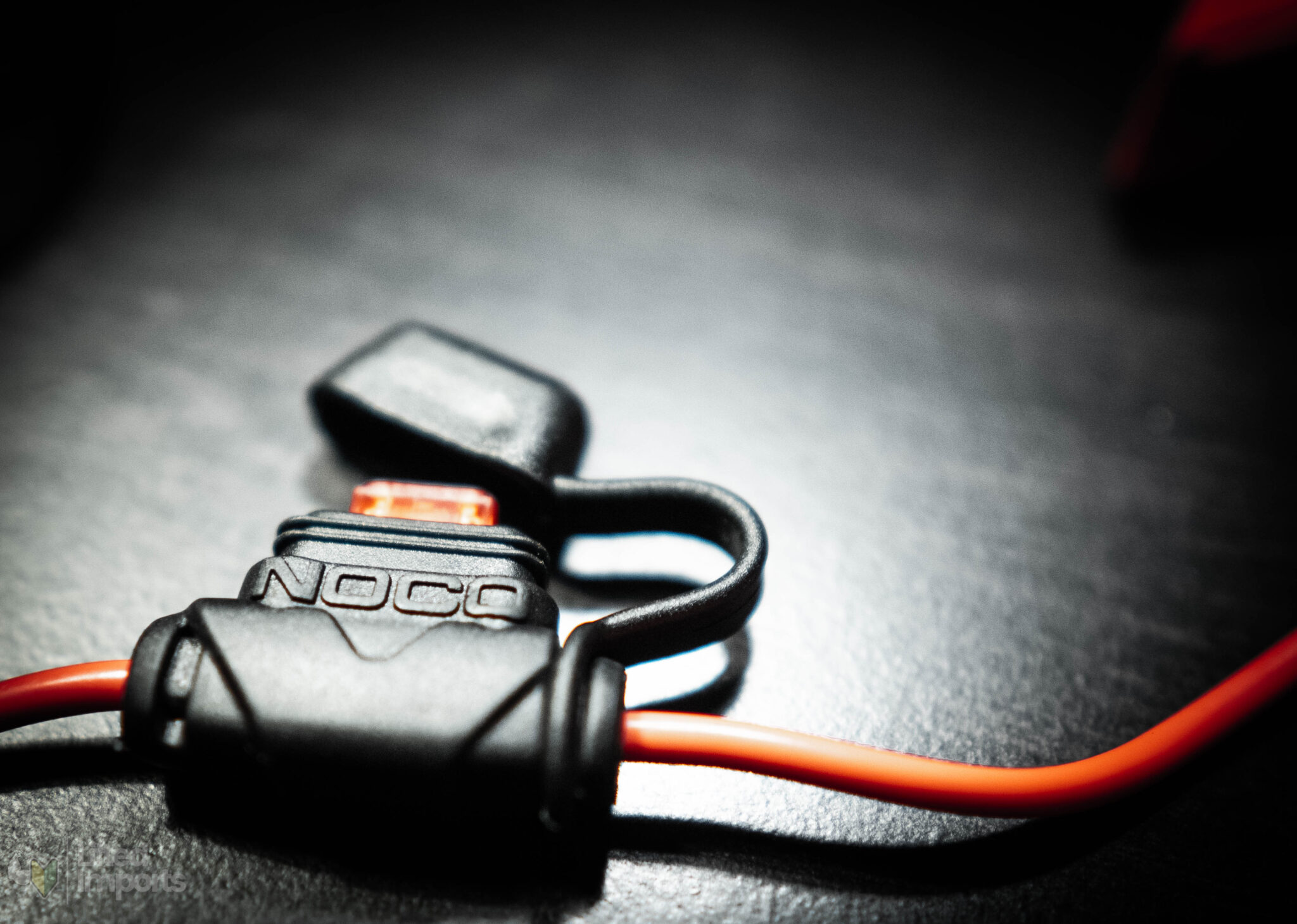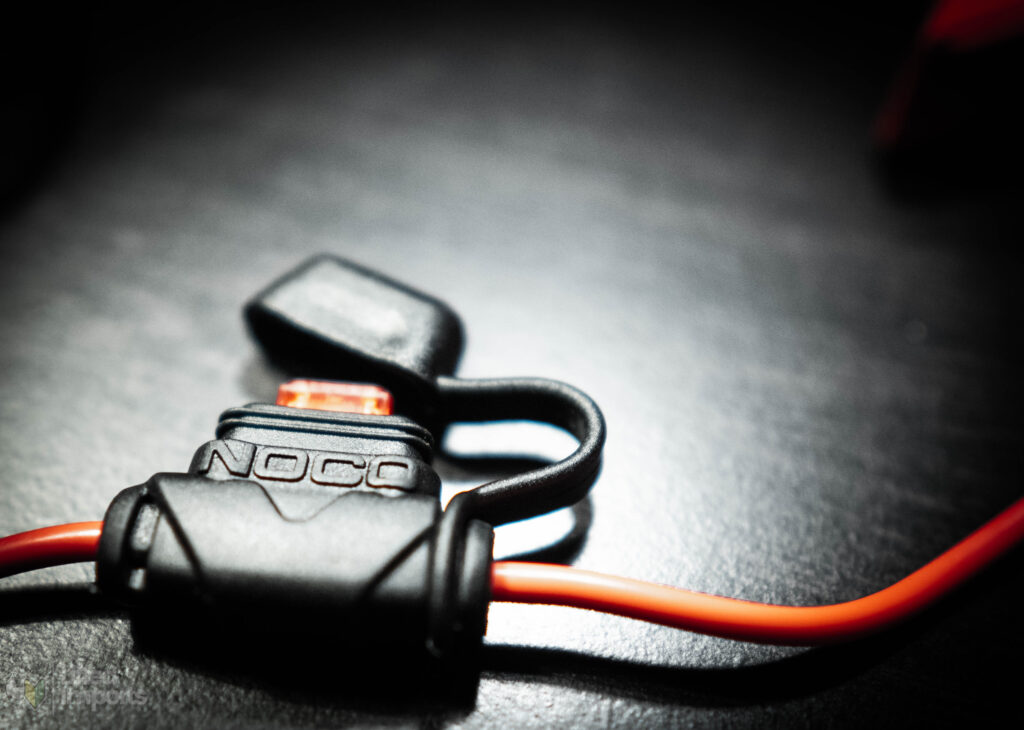 The Only Charger I'll Ever Need
Whenever I buy a new tool or accessory, it's important to me that it has the ability to remain relevant throughout different stages of vehicle modification. The Genius5 is perfect flooded wet-cell batteries, but can also work for those of us who have made the switch to AGM or lithium battery options. No matter what batteries you own in your different vehicles, you don't have to buy a bunch of different chargers for them.
When I purchased the NOCO I had two AGM batteries and one wet-cell battery. It was able to charge both types seamlessly with no issues. I've since upgraded all my batteries to AGM but I really appreciated that I can use it on any battery type including 12v, 6v, AGM, standard wet-cell flooded, lithium. It does everything.
You can buy this charger for your vehicle knowing that it will be able to keep up no matter what your next battery type is.
Is This The Right Charger For You?
Based on its performance, price and capability, the Genius5 is most likely the correct option for an overwhelming majority of drivers. At such a low cost and with such powerful charging abilities, it can do the job for almost anyone who is not driving a large truck.
The Genius5 is likely the right charger for anyone who has the following needs:
Need to charge a passenger car battery on occasion
Want a convenient, affordable charger for unforeseen battery emergencies
Live in a cold environment and just need to charge one car battery at a time
Own multiple vehicles that don't get driven on a daily basis and need a battery maintainer while they sit
However, if any of the following apply to you, you may consider spending a little more on the Genius10 or the the Genius2x2
Own a large pickup or a diesel truck (The Genius10 will be able to charge a 120AH battery twice as fast as the Genius5)
Own a shop or service that involves the need for charging multiple batteries simultaneously (The Genius2x4 can charge four batteries at 8 amps at the same time)
Live in a cold climate and need to maintain two vehicle batteries at a time (The Genius2x2 can supply 4 amps of charging current to two batteries simultaneously)
If you think you may want to upgrade vehicles or have different charger needs in the near future, the next levels up in the Genius series are still very affordable. Even the impressive top tier Genius2x4 is only $199 currently and would give most owners everything they would ever need. But whatever the case, it's hard to make a bad choice with the current NOCO products.
A passenger accidentally left the dome light on in my Subaru and it wouldn't start after it sat for a couple of days like that. I am running the Full Throttle FT410 in that vehicle and it got discharged to below about 40% before I realized it was dead (the battery was at roughly 12.1V when tested with a multimeter.) The Genius5 somehow brought my battery up to a full charge in 4.5 hours. The ability of this little charger to do what it does is impressive. I absolutely love it.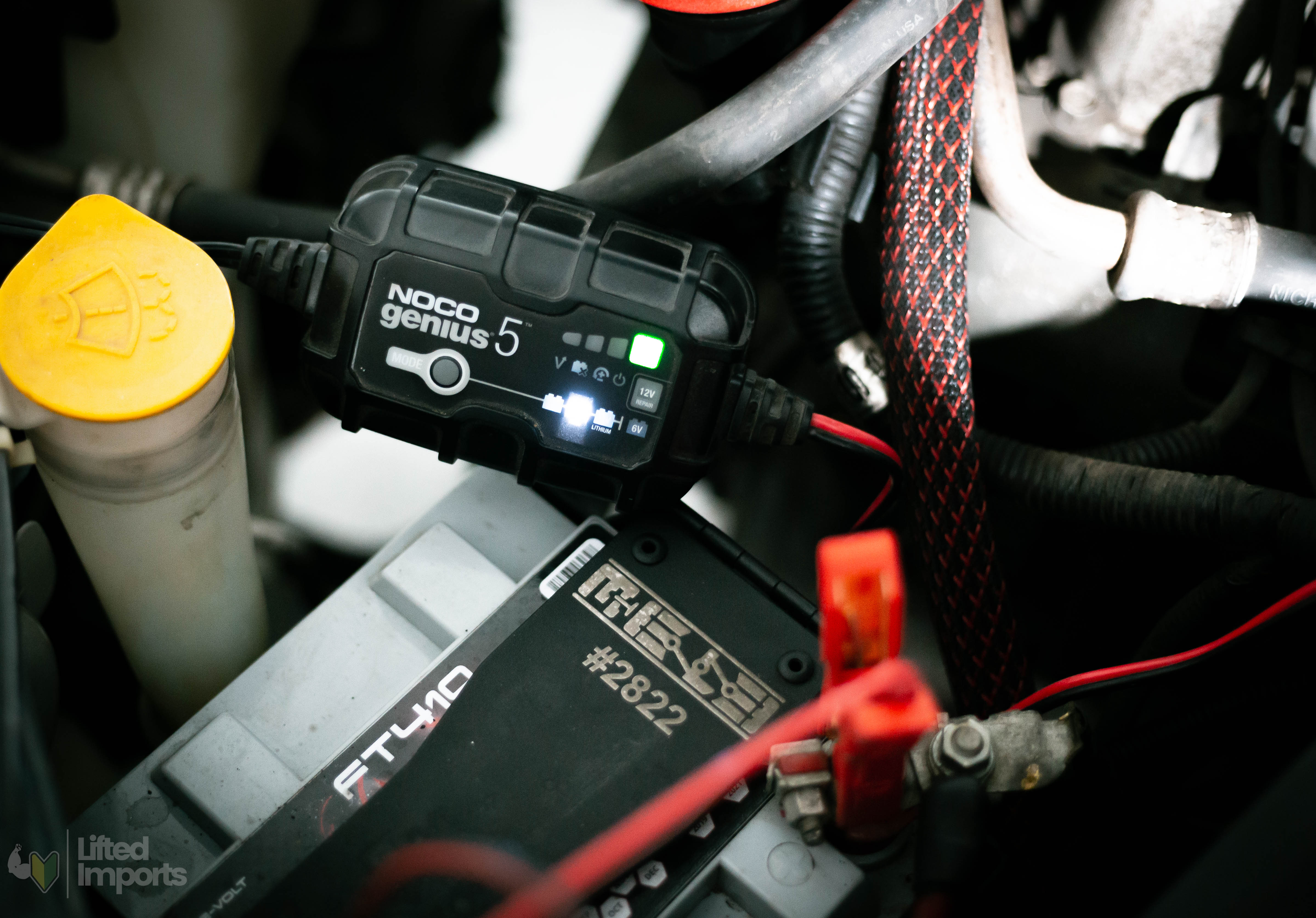 Compact & Portable Design
I bought this charger specifically to keep in my garage. But I have found myself taking it to friend's houses, loaning it out to someone trying to track down a battery problem. I also put it in the back of my vehicle for road trips. If we're staying in an Airbnb during colder months, I always keep it in the back of the car in the event that my battery needs to be topped off. At 1.5 lbs it barely weighs anything and fits in my tool bag easily.
This charger has been an absolute life-saver in many situations for me and my friends. 
Recharging Car Batteries After Heavy Duty Usage
There's been situations where I have to use my battery for more than just starting the car. I have a large winch on my Jeep that draws a lot of power when in use. Complicated recoveries with the winch in cold weather can put serious strain on the battery. Once I get the car home after a wheeling trip, I pull it up into the garage and plug it into the NOCO and forget about it.
The alternator in most cars can maintain and recharge battery power up to a point. But it can take a significant amount of time for the alternator alone to bring your battery up to optimal levels after being discharged from heavy accessory usage. In fact, Jeff Barron over at Interstate Batteries says "Your alternator is not a battery charger, there is no way your battery will get to 100 percent while you're driving." This makes total sense to me. Think of how much time it takes for a dedicated charger to bring a fully discharged battery up to 100%. It takes hours. When your alternator is busy powering all the electronics of your vehicle, it's going to have a very hard time charging the battery. This is why I always put my batteries on the NOCO after a hard day of winching or running off-road accessories in the forest. The fact that the Genius series chargers are completely automated makes this so easy for me to do.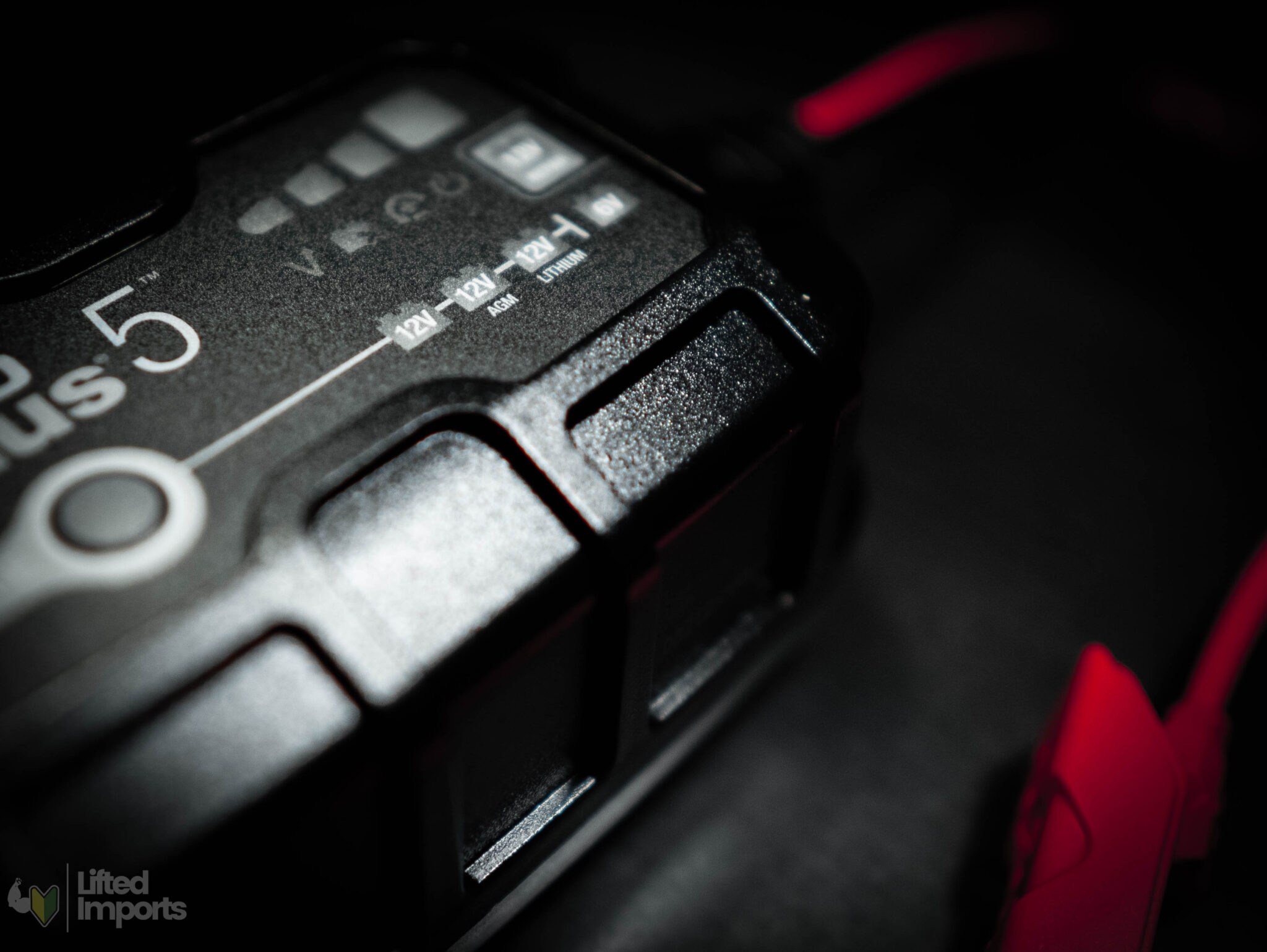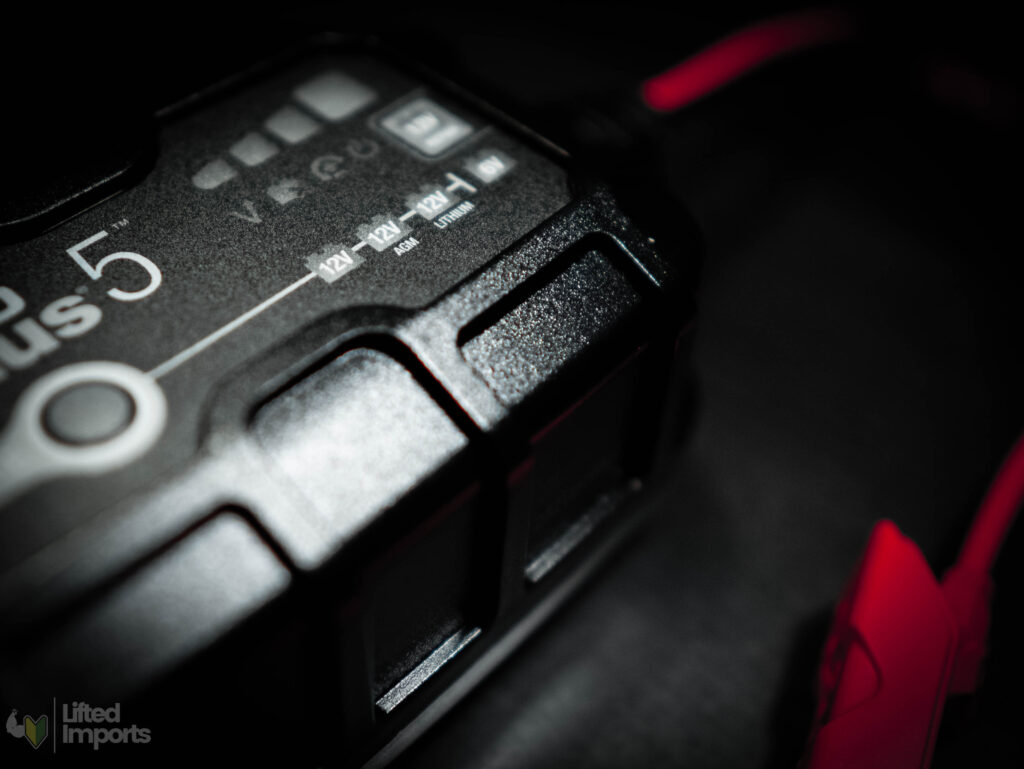 My Thoughts After 2 Years Of Ownership
Since purchasing the Genius5 two years ago I have never had an issue with it. I have dropped it a good five times by accidentally bumping it off of the car or a shelf onto the concrete with no problems. The casing has held up very well and the charger still functions the same as it did when it was brand new.
Is there anything I don't like about it? I've been trying to think of something I don't like but I simply can't. The charger interface is so easy to use. The LED indicators make it very simple. It works quickly and requires no special knowledge to operate. Even details like the ridges in the casing make it easy to grab and hold when wearing work gloves.
The only thing I could think to make this charger better would be to make the cables longer- and what do you know, they actually sell extensions for the cables if someone needs them to reach further. There have been one or two occasions where I've needed to charge up a car that was parked outside of the garage where the cables wouldn't reach by themselves. I just grabbed an extension cord and that worked great.
If I broke my NOCO I would buy this charger again on the spot, hands down. It's one of the few products currently out there that really seem to be made with quality materials by a company that takes pride in their work.
Whether a person is just looking for something to have on hand in case of an emergency, or plans to use their charger and maintainer regularly for motorsports applications, the Genius5 should be one of the first options to consider.