Tim Built His Crosstrek To Go Anywhere, Anytime
How To Lift Your 2021 Crosstrek The Right Way
I've known Tim for a long time. We worked for the same company years back and have stayed in touch over the years. Recently, he sent me photos of his brand new 2021 Subaru Crosstrek as he knew I've been a long time Subaru fanatic. Within weeks he'd had it lifted and fully outfitted with everything needed to take it off-road.
Tim has always been a person who takes whatever he does very seriously. So I knew he'd dig in and create a proper build.
I asked him to share some info about his build and a little about the process. I hope his build helps Crosstrek owners who are wanting to build their car into something even more fun.
ReadyLift 2″ Lift Kit 

RalliTek Sub Frame Spacers
Black Rhino Arches Wheels
Falken Wildpeak AT Trail Tires
NashFab Gate Ladder
Prinsu Roof Rack
Rigid Armor Rear Tire Carrier
Blacked Out Badging and Tail Lights
Diode Dynamics Fog Lights
Primitive Skid Plates All The Way From Front To Back
Warn Bumper Delete & Winch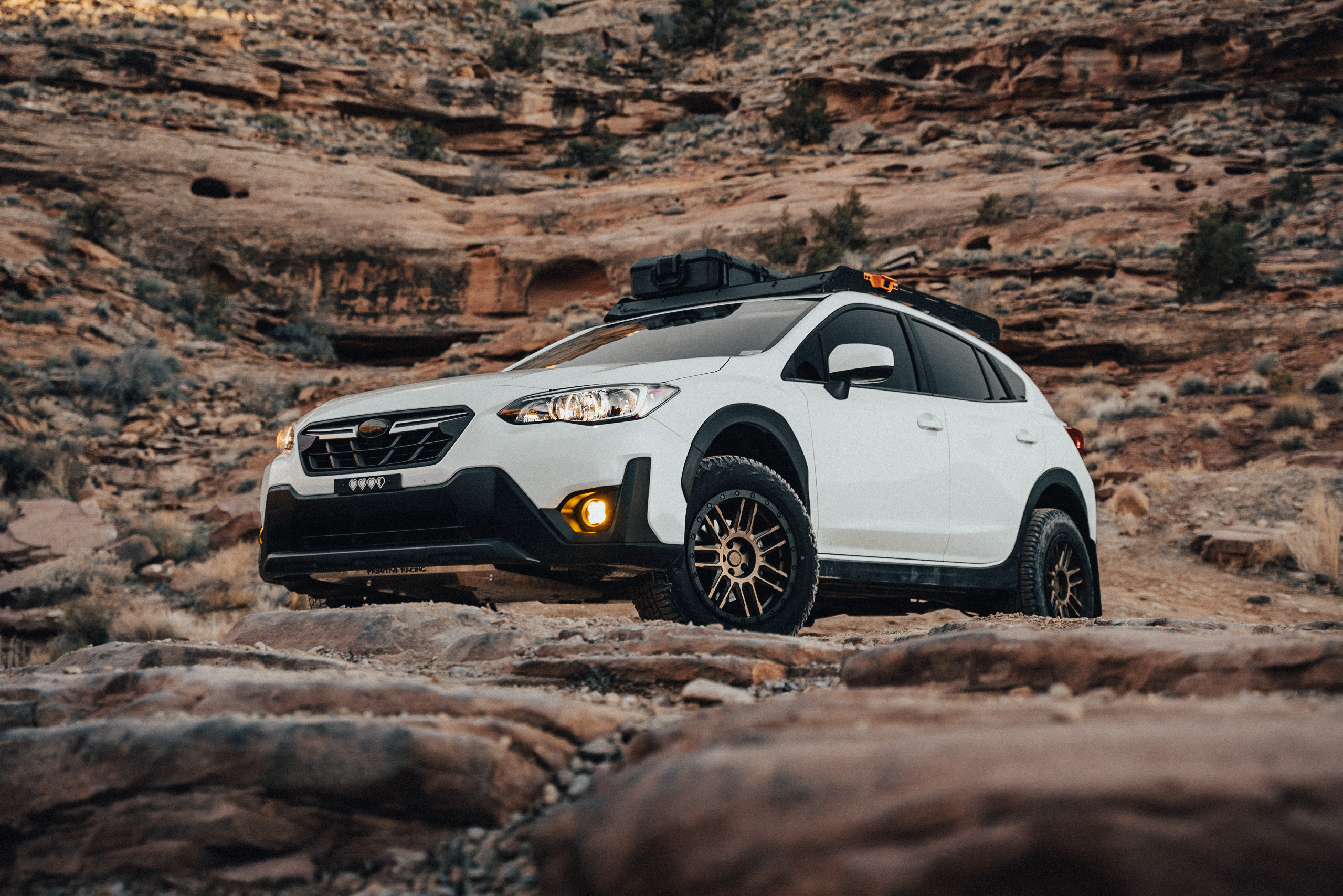 I know this is the first Subaru you've owned. What prompted you to buy one and lift it?
I had a 2018 Honda Civic and I needed more cabin space. One of my friends has a 4 wheel drive and another one has a Forester that I like a lot. I really liked the look of it – it's an awesome looking car. It also seemed like there's a lot of support in the community.
I wanted something a little rugged. I wanted to be able to actually go out and camp. I'm in the city so much for work. Just being able to hit the road and have something reliable was important to me.
And the price. They're really not that expensive. I looked at some old 4Runners but even with 250k miles on them they still go for a lot. It just seemed like the best move. It was my first brand new car. It had 5 miles on the odometer when I took delivery two months ago. Now it has 12,000 miles on it.
You've only had it a couple months but I know you've already taken it all over the place. Where all have you gone in it so far?
As soon as I got it, I drove it straight to California from Dallas for work the next day. We did it in a day and a half and it was still stock at that point. It's also been to Moab.
What gas mileage did you get in the Crosstrek while it was stock?
It was great. I think on that trip I got around 28-30mpg.
Once you added a lift kit and off road tires, how much did your gas mileage drop?
It didn't drop much with larger tires or the lift. The biggest drop in gas mileage actually came from the roof rack. Depending on what was on there, it made my mpg's drop a lot.
On my way to Moab, I loaded a huge container of gear and a cooler on the roof. There were strong crosswinds and I was averaging around 11mpg during that trip until I got to Albuquerque. When I got there I pulled into a Sportsmans Warehouse and bought a shorter Pelican case to put my gear in. I ditched the old Plano container and gave it to a group of bikers.
After pulling all that heavy gear off the roof, my gas mileage went from 11 to 24mpg.
But yeah, the gas mileage is great now. Even with the recovery boards, Rotopax, and the Pelican case and even in the city I average around 28mpg.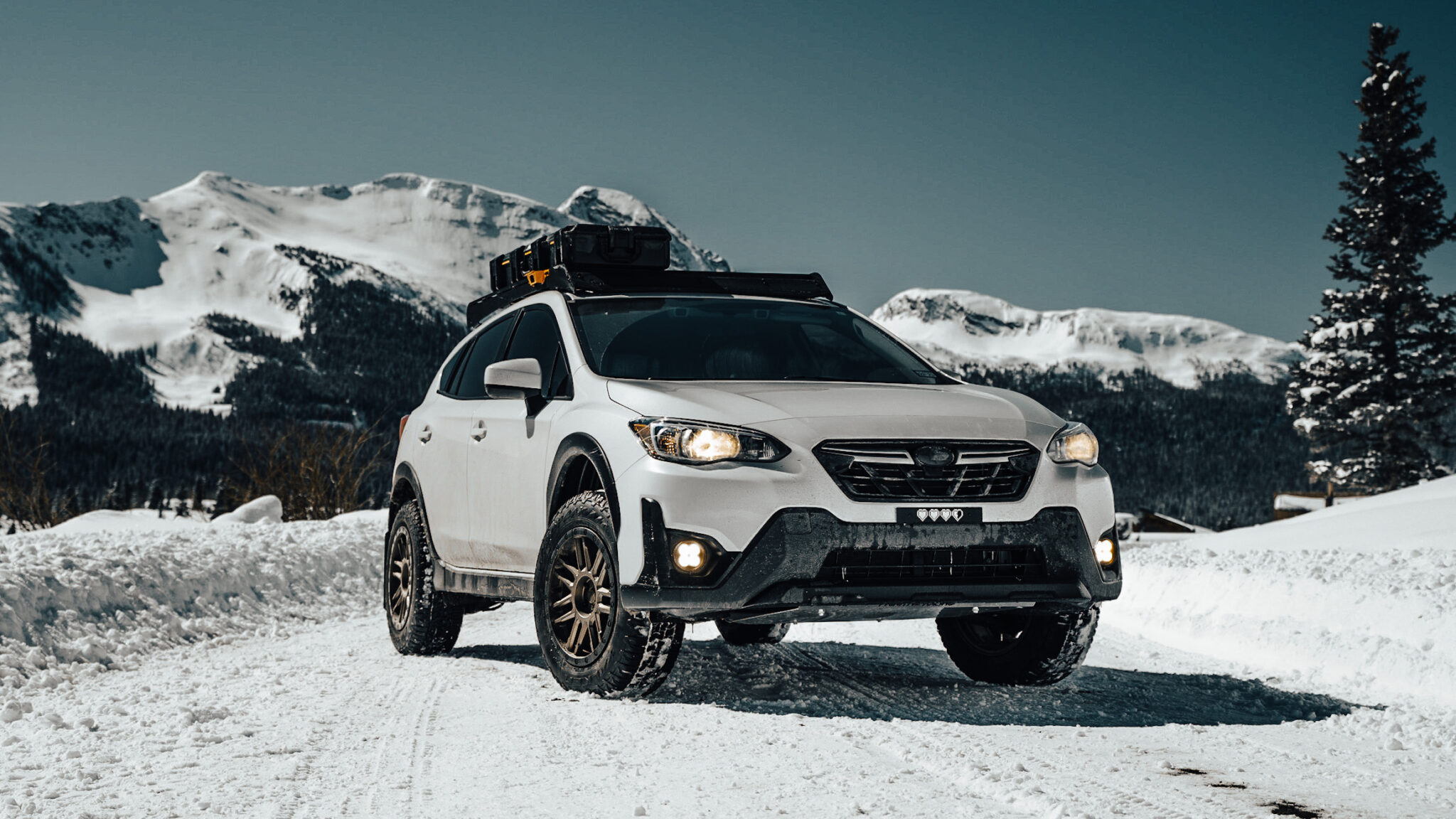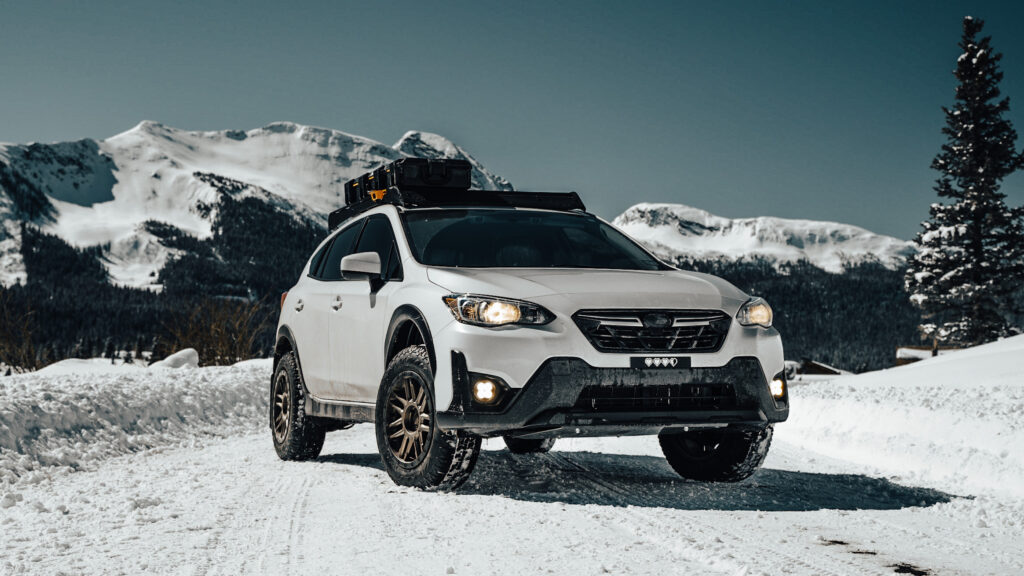 I know you were planning to get a rooftop tent. Did that change your mind?
I've actually been looking at some tents that are more aero – like the GFC Superlite roof tent.
I don't want to be sleeping on the ground. Campers have actually gotten attacked out here at night by wild animals. In 2020 around 1000 people reported being attacked in Colorado. I don't want to risk it.
Can you tell me about your mod list so far?
Yeah, so I've got the ReadyLift 2 inch spacer kit, Black Rhino Arches wheels, Falken AT Trail tires, Prinsu roof rack, rear spare tire mount, Nashfab roof ladder, RalliTek subframe spacers, blacked out badging and tail lights, molle panel with emergency supplies and a medical kit, Diode Dynamics fog lights, two Rigid 360 lights, Rigid 40 inch light bar, and 2 Rigid ditch lights.

And of course I have the full Primitive skid plate collection – the front skid, the CVT skid, and the rear diff protector.

I also still have the Warn bumper delete, and Warn winch to install.
Who did the install work for you? You gotta give them a shout out!
Complete Customs did all the work. They hooked it up and did whatever I needed. They're in McKinney Texas. This was their first Subaru build that I know of and it turned out great!
They've been really helpful with any issues or questions that come up.
Can you talk a little about the RalliTek subframe spacers?
After installing the ReadyLift spacer kit, Matt at Complete Customs recommended that I get something to correct the rear wheel alignment. It didn't sit perfectly centered in the wheel well. So I looked around and found the Rallitek subframe spacers and had them installed.

After installation, the alignment came out basically better than stock. Matt was shocked by how in-spec everything is now.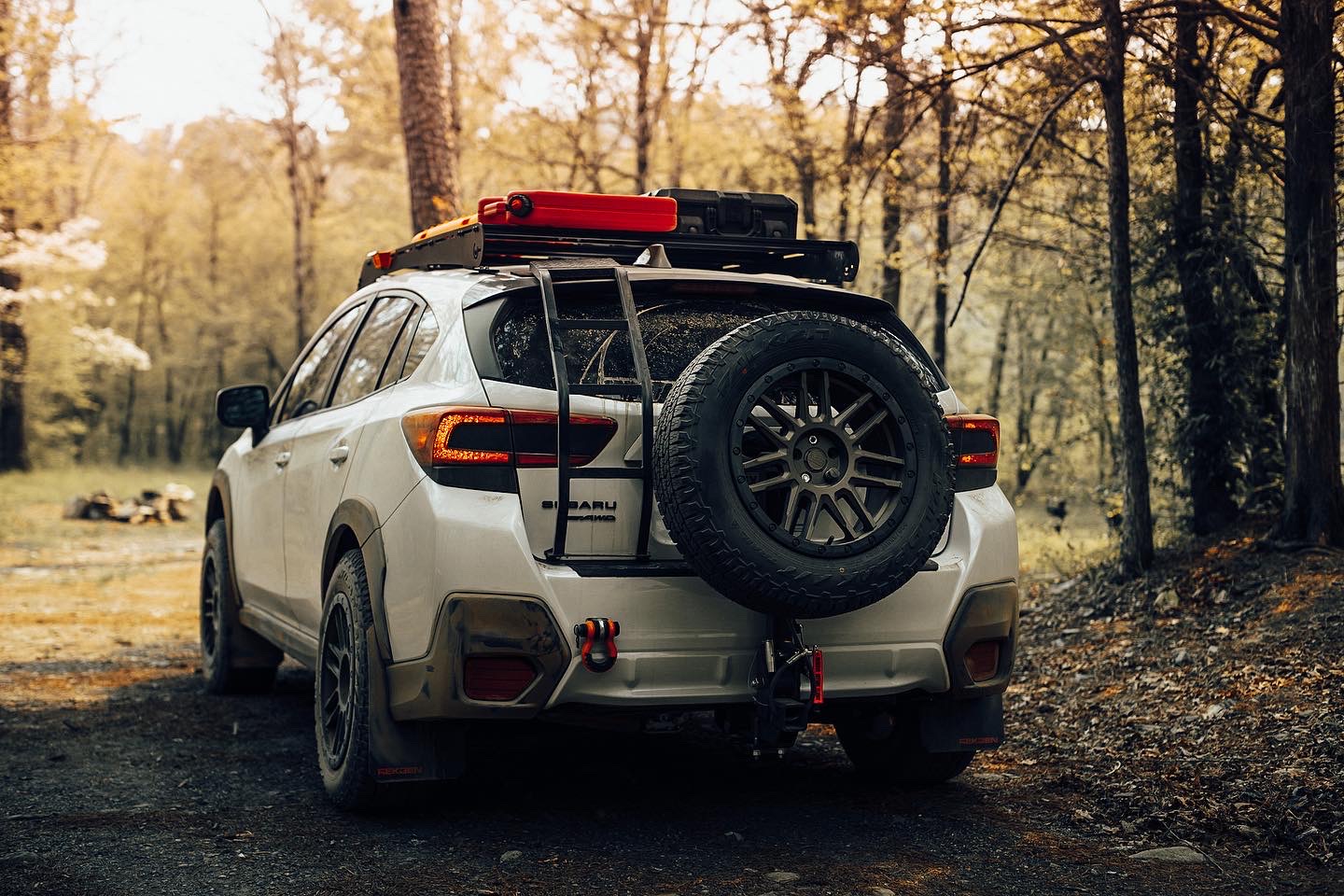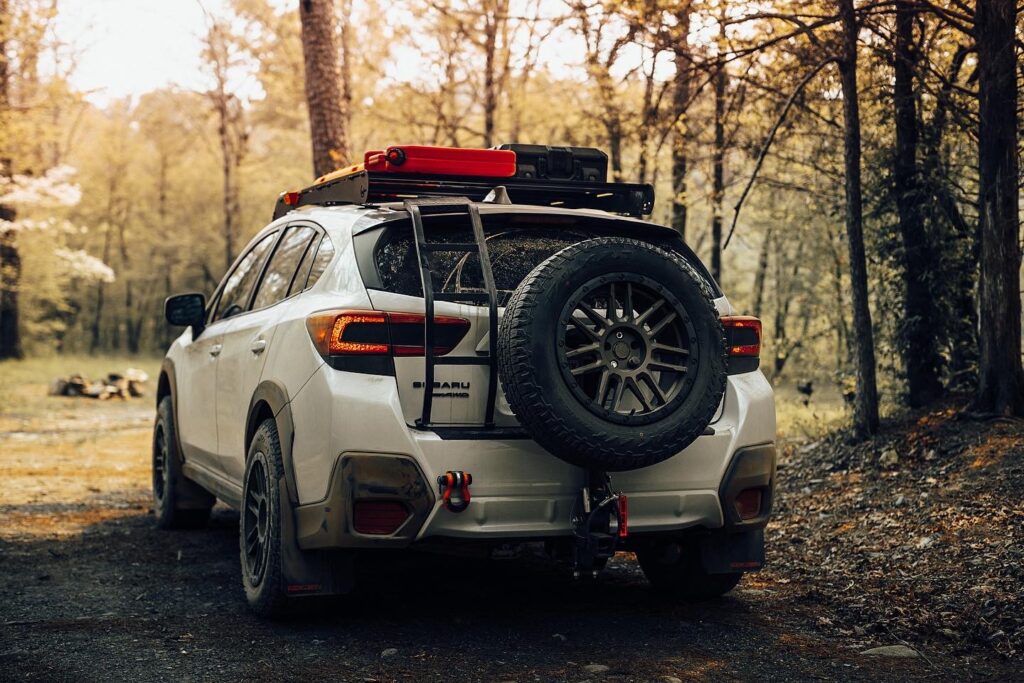 I really like the ladder that you have. I haven't seen a lot of people running something like that.
Nashfab made it for me. It requires no drilling and just uses clamps. It makes grabbing stuff off the roof rack way easier!
What about the spare tire carrier? Where did you get it?
It's made by a brand called Rigid Armor. They're out of California and they're really awesome people.
They make a swing out model that weighs 60lbs. But then they also make a hinged model that only weighs 30lbs that I went with. It only took 20 minutes to install into the 2 inch hitch receiver. It's strong and the welds look great.
What kind of clearance do you have from the rear hitch and rear diff?
I have 8.5 inches of clearance under the rear diff guard. Then I have 12 inches under the rear hitch that holds the tire carrier.
What made you decide to go with the ReadyLift strut spacers?
I had looked at some more comprehensive suspension lifts that included springs and Bilstein struts. But I would have been looking at around $1400 bucks vs the $300 ReadyLift kit. It's super affordable,
Have you found any limitations with the Crosstrek yet?
So on my first trip to Moab, I didn't have my Primitive skid plates or my subframe spacers installed yet. We were on Long Canyon Trail and it had just snowed. We ended up going the opposite direction on the trail than we had planned. We originally wanted to go down, but went up instead accidentally. There was one part that is usually pretty mellow, but because of the snow it had been rutted out. It's about 6-8 inches of sand leading up to a steep rock wall. I needed to be winched up. Without a locker, the Crosstrek just didn't want to climb it.
What was your experience with doing mods to a brand new car in regards to the warranty? Were you worried about it?
I talked to a service advisor at one dealership and was told "if you do anything to the car, your warranty will be void." But then I called around to other Subaru dealers and found one that was more understanding. In fact, one of the managers always compliments my Crosstrek every time it's in for oil changes. I know that certain claims involving my suspension wouldn't be covered. But it doesn't just void your warranty to lift your Subaru.

I also went with a tire setup that is pretty close to stock. So I'm not concerned about them denying warranty claims.
Do you have another car that you daily drive?
The Crosstrek is my daily and I commute to work in it. I do video and film production every day. Everything about this build is practical. It travels through the city and goes into the woods just fine. I just air down a little and I'm good to go.
I also went with a tire setup that is pretty close to stock. So I'm not concerned about them denying warranty claims.