Our top picks for the best lift kits to turn your crosstrek into An off-Road machine
Crosstreks are great cars, and you're either already enjoying yours or you are planning to purchase one in the future. However, you might want a little more off-road capability, and you are doing research on the best lift kits available. Whether you're searching for a 1st gen Crosstrek XV (2014-2017) or a 2nd gen (2018-2021) lift kit, there are some great options available for you. We think we've compiled a good list of the best lift kits for the Subaru Crosstrek.
6 Great Lift Kits for Your Subaru Crosstrek & Crosstrek XV:
What Does It Take To Lift A Subaru?
There are a few ways to get extra inches under your car. Some are simple, and some are a little more involved. But here's the 3 most common ways to do it:
Getting bigger all-terrain tires is one quick way to add an aggressive look and some additional clearance. However, you can only go so big without doing more work to your Crosstrek. You might also consider lift springs or lift spacers. This article focuses on strut spacers and springs. For more info on the different ways to lift your car, check out this guide to choosing the best option for your needs.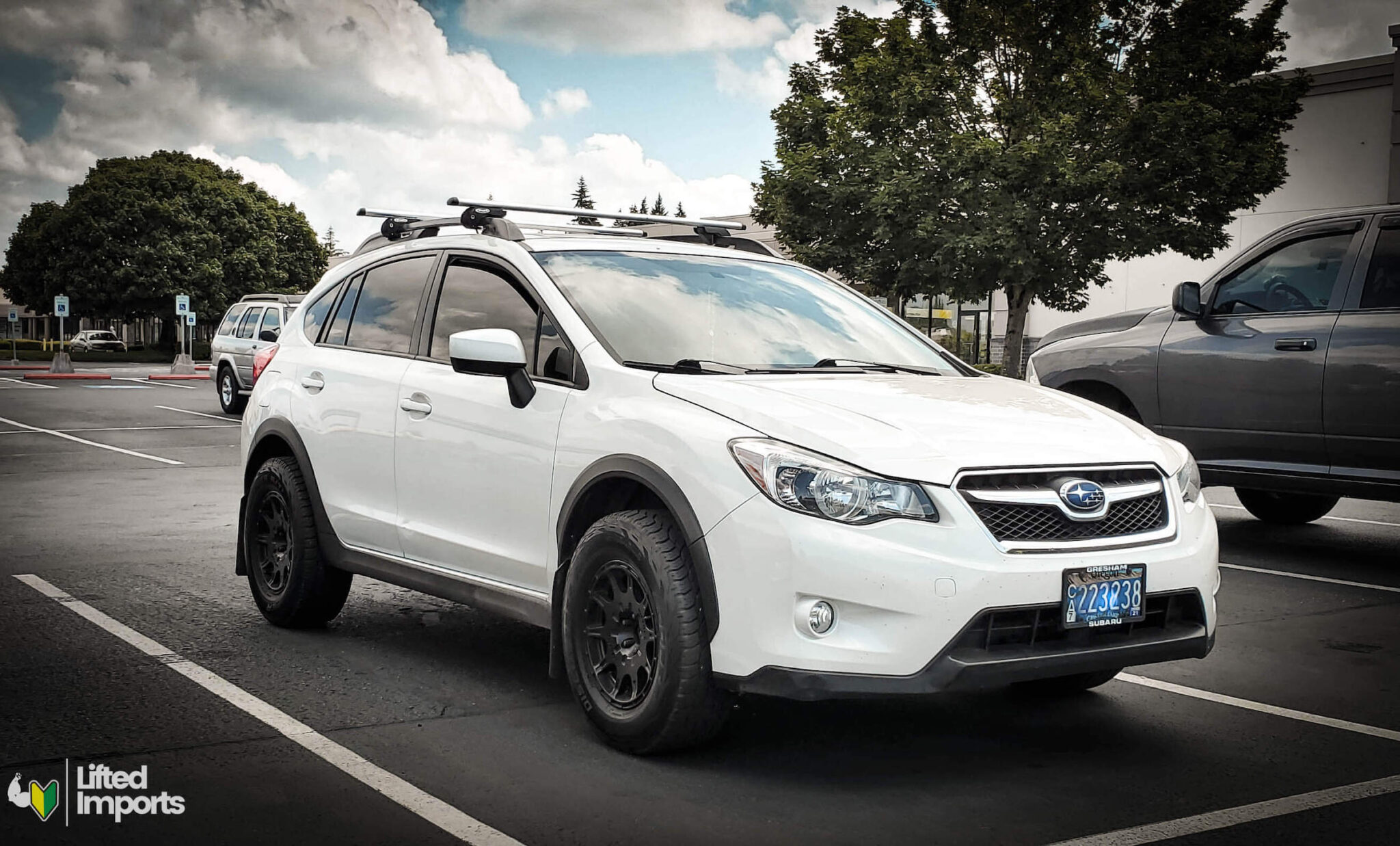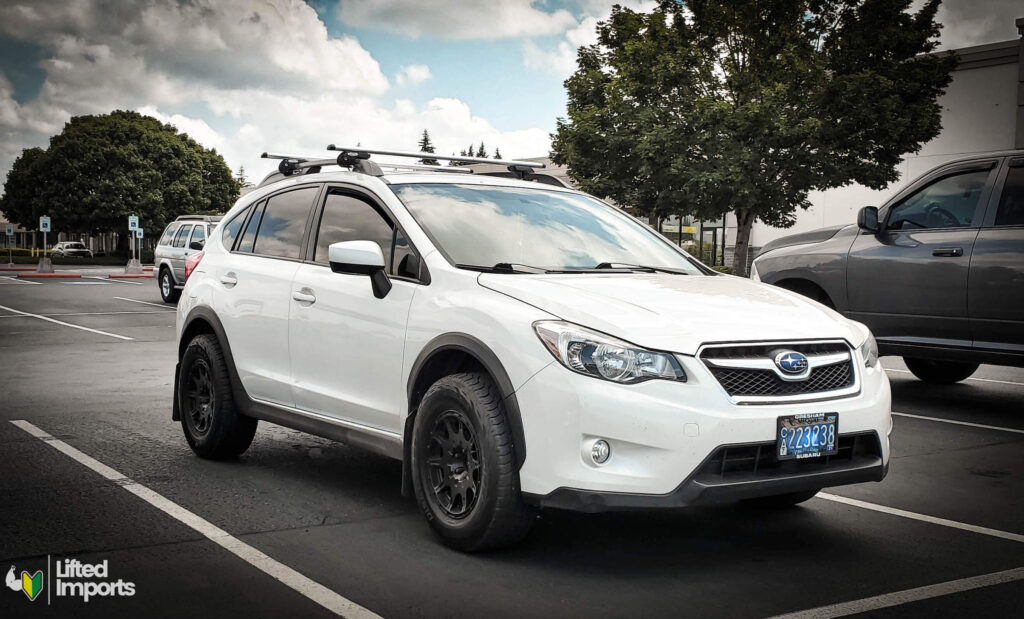 Looking Specifically For First Gen Crosstrek Lifts?
1. Primitive Racing (Best Kit For Camping & Hauling Gear)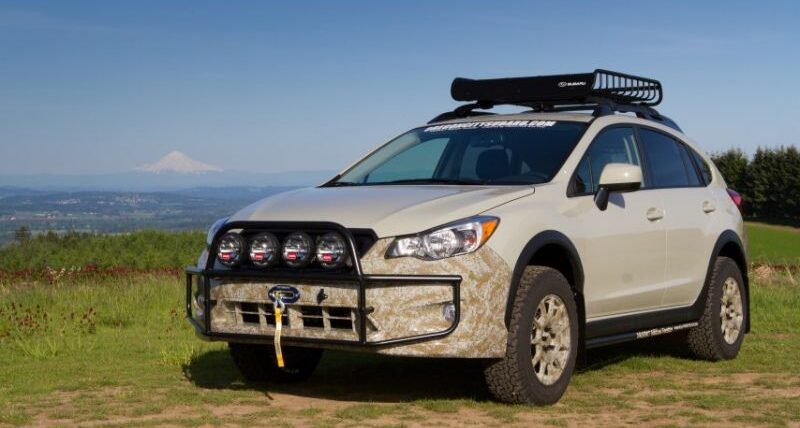 Primitive Racing kits has designed a fantastic lift kit for both 1st gen and 2nd gen Subaru Crosstreks. Rather than just a simple strut spacer, the crew over at Primitive has built one of the most functional collections of hardware for taking a Crosstrek off-road.
It's not uncommon for us to hear "I installed a lift kit but now the rear of my car sags when I load it with my camping gear" or even "I lifted my car, but now it handles horribly." The lift kits from Primitive Racing are designed to eliminate these issues and to set your Subaru up for the best possible performance.
They have multiple options available, but most will arrive with brake line extensions, subframe spacers, and even sway bar link spacers. Their kits are designed to help reduce the accelerated wear that comes with lifting Subarus.
Check out their site and begin building your kit today.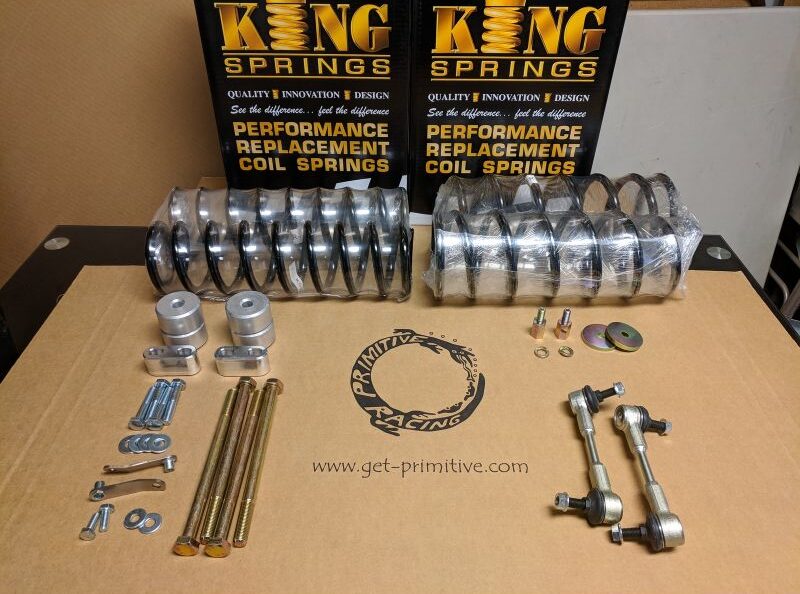 Get Primitive Racing lift kits here:
(We currently run Primitive skidplates from front to back. This should be one of your very first mods if you plan to off-road your Subaru.)
LP Aventure offers a great 1.5″ Strut spacer lift kit with multi link spacers. Available for both generations. Check out the LP Aventure Site to see each size option and additional info.
LP Aventure is a company out of Canada that has years of authority in the off-road and over-landing industry. They pride themselves on NHTSA and FMVSS126 motor vehicle safety standards, meaning that their kits allow your Crosstrek to retain full factory safety features while providing extra all terrain capabilities.
Their extensive R&D means your Crosstrek will handle as closely to stock as possible!
The LP Aventure kits are a little more expensive than some options, but have a great reputation, are well designed, and contain a comprehensive parts list.
TIP: at the time of writing this guide, we found that Tire Rack had the best prices on this kit. We find that you can typically get the best deals with them or on LP Aventure's website. Check both stores before making your final decision. Tire Rack also has on-staff customer service that can help guide you and answer specific questions. We also have an affiliate arrangement with them that allows us to earn a small commission any time you click one of our links and purchase an item. This allows us to keep the site running and bringing new content to you!
Never miss a deal or an update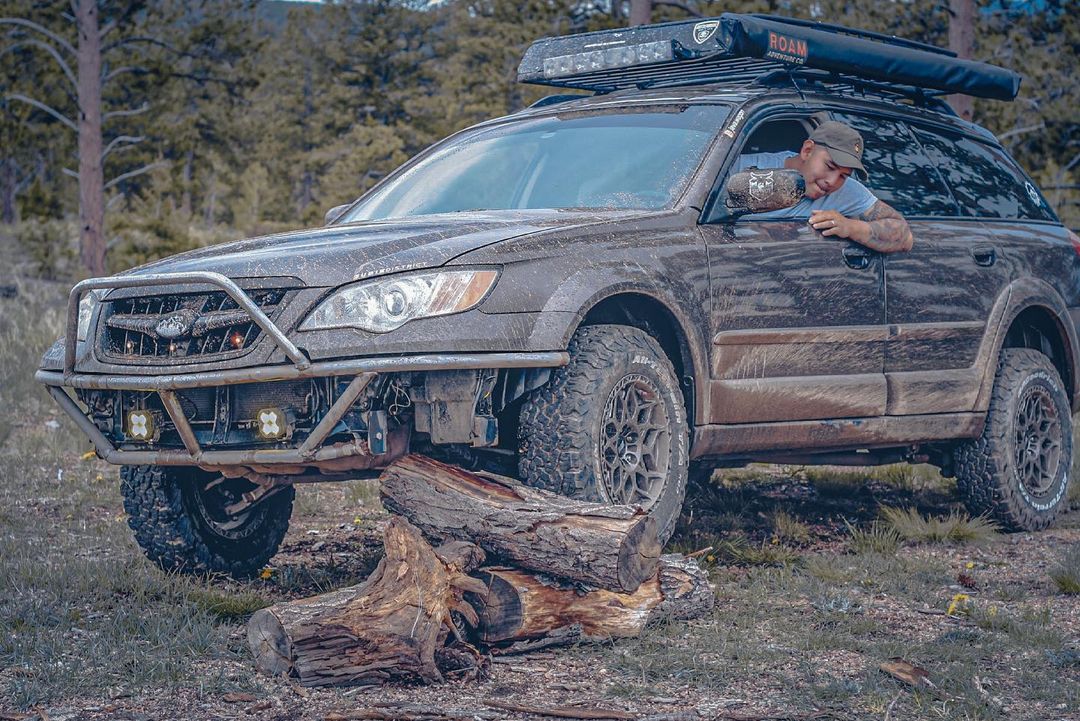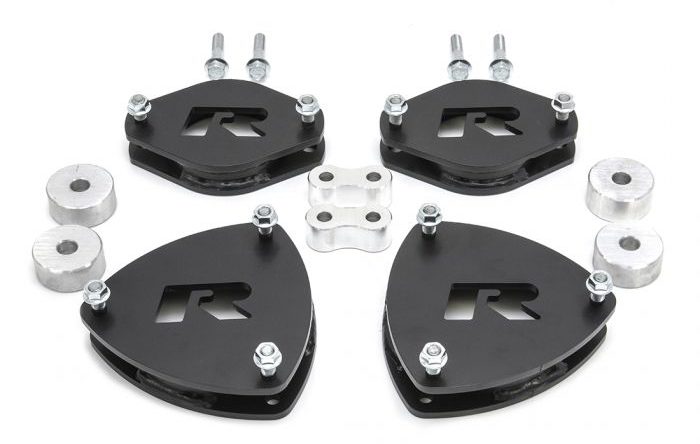 ReadyLift offers the 2″ SST 2018-2021 Crosstrek lift kit with offset spacers to help with camber/caster results. Check out Chad's Crosstrek lift build to see how it looks after installation.
According to the Ready Lift site, the 2 inch Crosstrek kit allows for 215/75/15 All-Terrain tires with zero rub, or 235/75/15 with slight plastic trimming. It also delivers 12 inches of ground clearance at the rocker panels.
Ready Lift has been making lift kits for trucks of all sorts for well over a decade, and now they are working to provide excellent options for SUV and crossover owners. Their kits are bolt-on and are extremely affordable for anyone looking to get that additional off-road capability without breaking the bank.
Ready Lift stands behind their products with a power train warranty; stating that any engine or transmission damage caused by lifting the vehicle is covered. This means you can rest easy with the peace of mind that your lift kit won't add unnecessary stress to the motor or drive line.
For the price, you can't go wrong with this easy lift kit. Just keep in mind that there are other pieces that you may want to purchase to help return your Crosstrek's suspension geometry to factory specs.
Tim's Crosstrek is lifted on a ReadyLift kit:
(Make sure you enter your year/make/model to see the current prices)
TIP: at the time of writing this guide, we found that Tire Rack had the best prices on this kit. We find that you can typically get the best deals with them or on Amazon. Check both stores before making your final decision. Tire Rack has on-staff customer service that can help guide you and answer specific questions. We can't say enough good things about their level of service.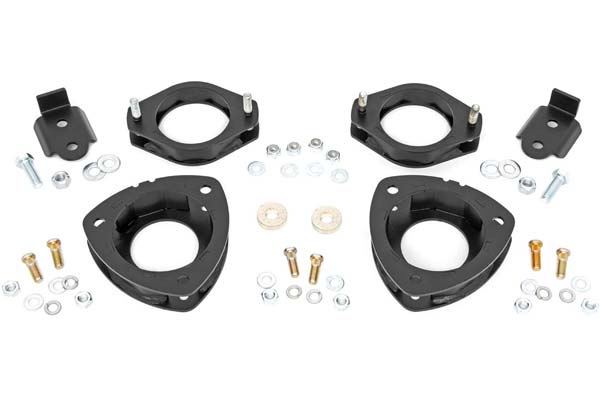 If you are on a tight budget and simply want to spend the least amount of money, the Rough Country kit might be the right way to go.
2 inches of lift for around $250 bucks? That's almost unheard of. It's perfect for anyone who wants to get a little extra clearance without spending a lot of money. But please keep in mind that your Crosstrek should be equipped with additional parts to help the suspension handle the way it was designed to.
Rough Country produces off-road accessories geared mainly towards trucks and Jeeps. However, lucky for us Crosstrek owners, they have developed kits for both the 1st generation and 2nd gen suspensions. People have raised concerns with their quality control on some items. But we've also seen positive feedback about their lifts. We highly recommend checking them out if you are looking to get an affordable lift kit.
Highlights:
Easy installation
Maintains close to factory ride quality
Available for both Crosstrek body styles
Lifetime warranty
Again, Rough Country produces a kit for both 1st and 2nd gen. So whether you have a 2014-2017, or a 2018-2021, you should check out the Rough Country kits for a very budget-friendly option.
TIP:
We found that the prices on Amazon are usually most competitive compared to everywhere else we looked. They do sell out quickly though. So if there is one in stock, grab it.
Check out this Rough Country lifted Subaru Crosstrek XV. It looks amazing even on stock wheels, and was installed right at home.

5. Anderson Design and Fabrication
(Top Quality & Great Customer Service)
Anderson Design offers a 1.5″ lift kit with multi link spacers. Available for both generation of Crosstrek. Click here to visit their site.
ADF is a leader in the off-road Subaru industry. They have a reputation for designing and building some of the best lift kits in the market. When a new model is introduced, or a new need develops among off-road drivers, Anderson Design is usually the first to produce a solution. Their kits are known for being built with the best materials and have excellent workmanship.
I have personally called ADF when I've had a question. Patrick, the owner, will likely answer and is always helpful. They truly love what they do, and love the Subaru community.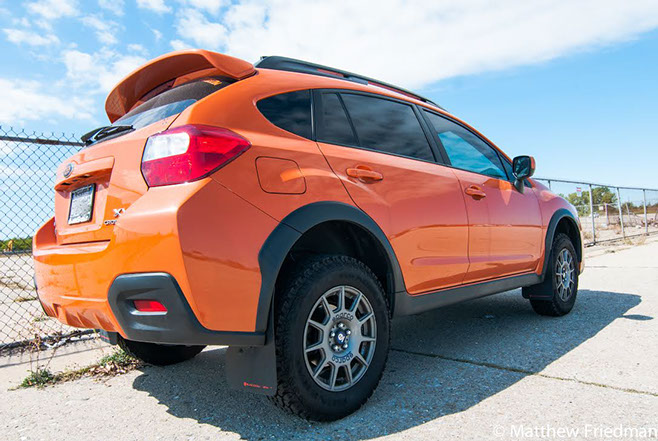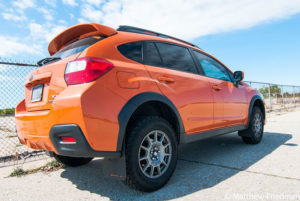 2018-2021 Economy Kits Are Available On Amazon HERE.
These are a great deal (they sell out quick, so if it's in stock grab one!)
You can also check out their kits directly on the ADF site:
6. Subtle Solutions Lift Kits:
Founded in 2008 by an engineer with a desire to bring clean, quality mods to the growing Subaru community, Subtle Solutions is a great option if you're looking for a top quality Crosstrek lift kit. Their products are made right here in the USA and they have kits for 1st gen and 2nd gen Crosstreks. They have choices of all types that include springs, spacers, or an entire kit with everything needed.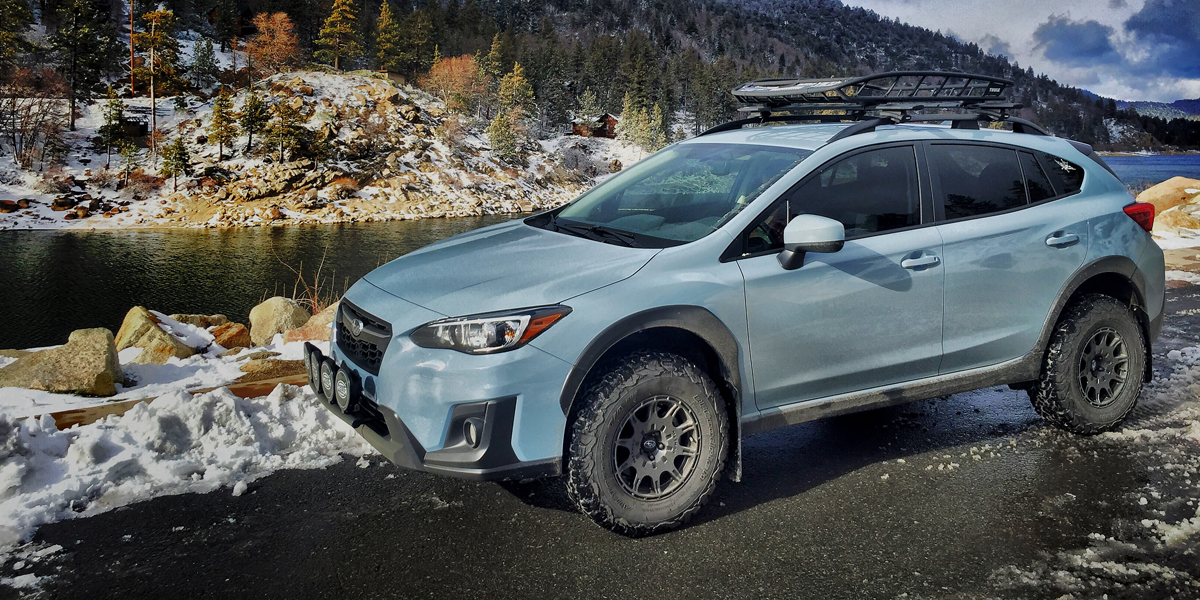 Cost To Lift A Subaru Crosstrek:
We called to multiple shops in various US cities and asked what they charge to install lift kits. We've also surveyed our friends who opted for professional installation. The average price that we found was $566 for labor. The cheapest price reported was $300 and the most expensive was right around $800.
There are a few things that will drastically affect the cost:
Lift kit type – simple strut top spacers with no additional parts to install will be much cheaper. A full kit with subframe spacers, brake line relocators, sway bar spacers, and springs will be a much more time-consuming installation.
Local economy – local cost of living will impact hourly shop rates heavily. A shop in rural Texas will likely cost much less than a mechanic in San Francisco.
Condition of your vehicle – if your Crosstrek has seen more than a couple harsh winters on salted roads, it may have excessive rust that will rack up more hours in the shop.
***Don't forget to factor in an alignment. After lifting, you'll need an alignment shop to get you back within spec. Alignments typically run about $100.
"Can I Get a 3 Inch Lift Kit For My Crosstrek?"
Lifting a Crosstrek past 2-2.5 inches can cause serious problems with the drive-ability and safety of the car. If you are looking for the most clearance possible, the best thing to do is to find a lift kit that fits your needs and then fit a larger tire on your Crosstrek. This will give you optimal clearance without causing possible damage to your Subaru.
Safety And Performance Are #1
As with any modifications, we highly recommend lengthy research and consulting with a trusted professional prior to installing a lift kit. Never cut corners or install something that you aren't comfortable with. Lifted Imports cannot be held liable for any negative outcomes that arise from modifying vehicles. The information on the site is strictly for educational purposes and not intended to take the place of advice from a professional.
Check Out A Couple Of Our Favorite Crosstrek Builds:
Get inspiration from real people as you build your Subaru
Need Help With Your Lift Kit Install?
Find a trusted mechanic near you that can help you with the heavy lifting.
As an Amazon Associate we earn from qualifying purchases
Other Crosstrek Related Articles: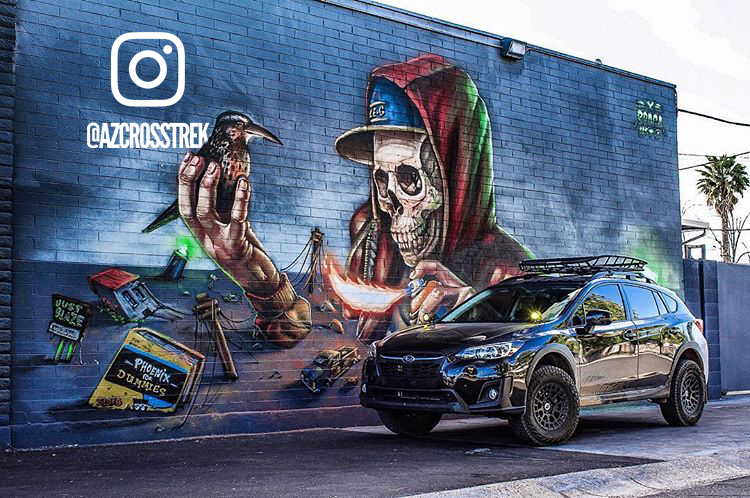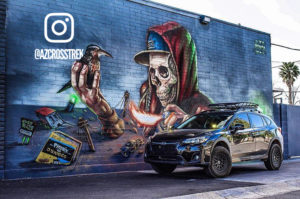 All-Terrain Tires On Your Subaru Here's The Biggest Tires You Can Fit On Your Subaru Crosstrek Many Crosstrek owners enjoy taking their car out into
Read More »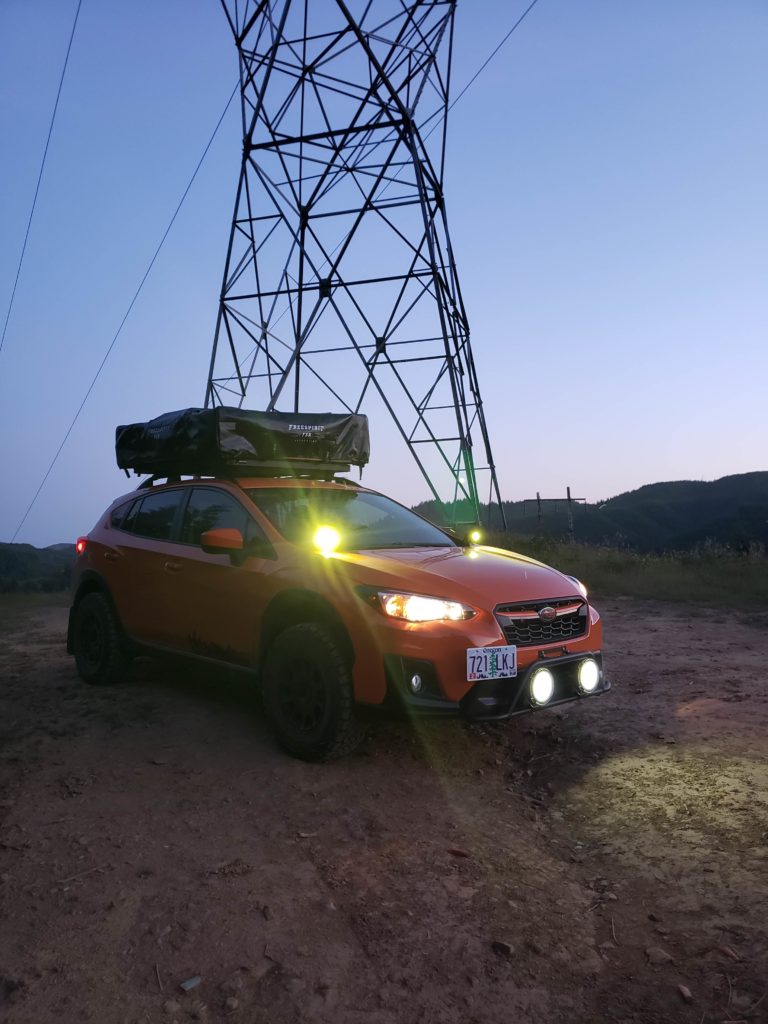 Exploring the pacific Northwest In An Off-road Crosstrek We met Fred and his wife, Amanda via Instagram (find him @burnt_trekky on IG) and noticed that
Read More »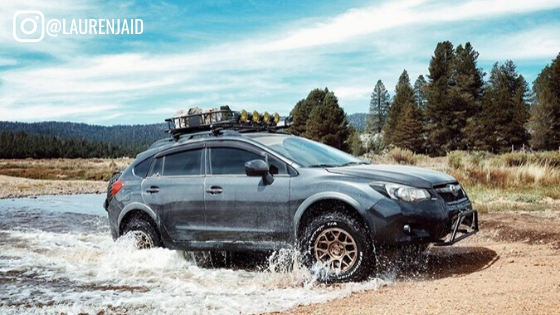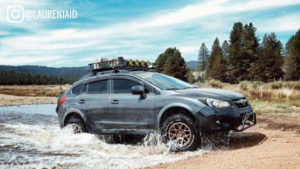 Give Your Crosstrek More Off-Road Capability With These Rally Inspired Wheels Top 4 Brands You Should Consider for 5×100 Off-Road Wheels That Will Fit Your
Read More »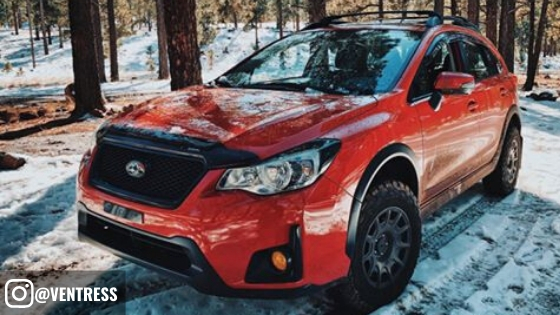 If you're interested in partnerships or advertising on this page or site, reach out to us and see if we might be a good fit for each other.