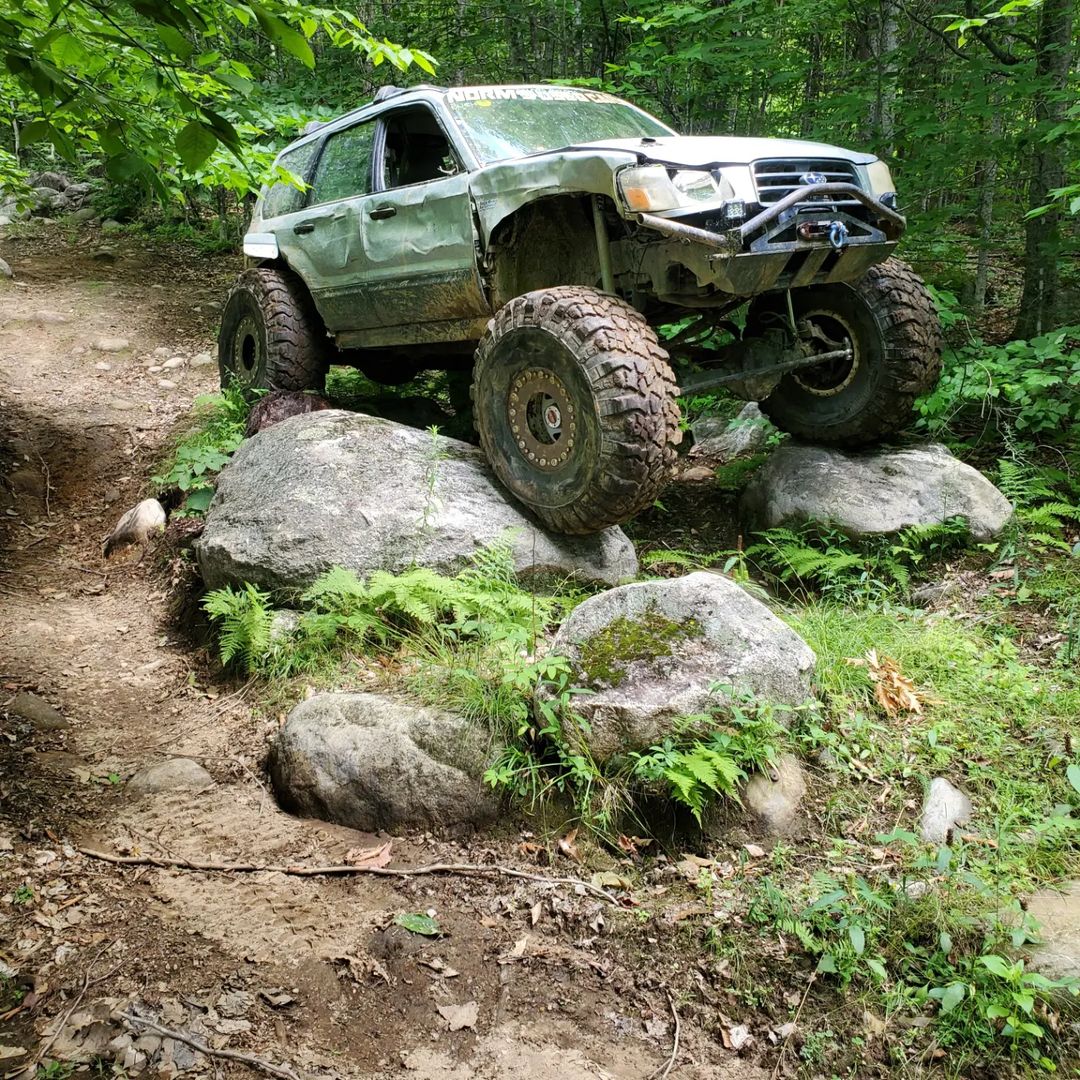 This Lifted Subaru Forester Looks Like a Monster Truck & Wheels Harder Than Jeeps
In the past, I've seen a few people drop Subarus onto Chevy Blazer frames. I've seen custom Subaru builds that involved fabricating full size truck axles and drivetrain to fit. Each of these builds were unique and awe inspiring. But when I saw Jake Gagnon's Forester build, it was the first time I had seen someone create something like this and then actually drive it like a true wheeler.
Jake's Forester has zero body panels left without trail damage. Each door, quarter panel, and headlight looks like scrap after he's put it through multiple HARD trail days. He's destroyed more than one window in the car and seems to have no hesitancy beating his hard work straight into the ground – and we love it.
The owner, Jake, was willing to go over the details of his build with us and as we read through the details, we're even more impressed. The level of custom fabrication and trial and error that's gone into this one of a kind, world-famous Subaru is truly impressive. I hope you enjoy this build as much as I do.
Choosing The Subaru Platform To Build A Huge Wheeler
Jake, can you tell us a little about your reasoning for selecting the Forester as the base for your build? Also, what kind of experience do you have with off-roading? Is it something you've been into for awhile, or is this a new hobby?
I've been wheeling my whole life. My dad has always been into it and I share a love for it too. 
I've built Toyotas and jeeps in the past. But I wanted to do something different that would catch people's eye more than just another wrangler or 4runner. I've been working at a Subaru junkyard for the past 9 years. I got familiar enough with them to get comfortable and maybe even a little confident. At least mid 2000s Subarus anyway. 
There was a little thought in choosing what Subaru to build. Over a year of thinking about how I was going to do it, I decided that I like the looks of the forester and it seemed to fit best. I wanted a 2003 because of the simplicity of the fly by cable throttle. There was probably 9-10 of them in the yard to choose from so I picked a 5 speed car (so it would have to right computer and pedals) that was most complete and still ran. It didn't have much suspension left under it but that didn't matter.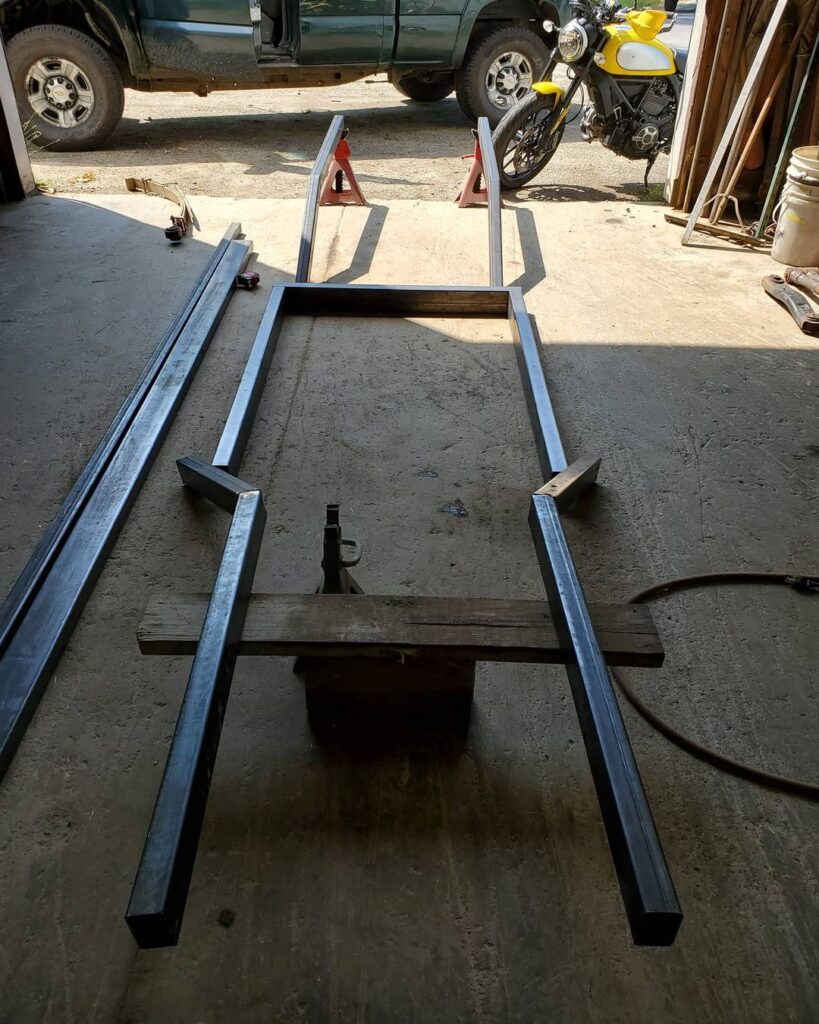 Beginning The Build Process:
Can you talk about the first steps involved in taking a Subaru from a small daily drivable car to what it is today? Did you have any issues working with the unibody construction of the Subaru platform?
I started stripping it down and cutting it up a bit. I built a subframe to replace the rear most unibody/bumper/strut tower section. After that was welded in, I hung leaf springs from it and bolted the axle in place. 
The front is stock unibody that's been reinforced. For the mid-unibody section, I cut the very bottom of the "frame rails" out and slid in 2″x4″ square stock. I welded that in and tied it all together with 2″x4″ rock sliders. Added a roll cage over the front seats and the body is really solid now.
Customizing Suspension and Steering Parts:
When I look at your build, I'm completely lost. There's so much custom work under it. Can you walk us through the suspension, the exhaust, and the steering? I imagine there was no way to get any part of the factory Subaru steering system to work on such a big set up.
Front suspension is 3 link with a panhard bar. It all fits in there TIGHT at full bump. I had to use a newer style oil pan to clear the front axle. I cut out the front strut towers and made a upper shock mount crossmember. The exhaust is coming out of the hood mostly out of necessity. The front suspension is so tight to the engine that there's no way to run it to the back of the car. I originally had it running out the wheel well but made a whole different setup with a turbo manifold. Now, It comes up over the back of the engine before turning up out the hood
Steering is a full hydraulic setup using a PSC ram. I tried to use a few different subaru pumps but none of them had the volume or pressure I needed. So I made a mount for a chevy power steering pump. And with the help of the local machine shop guy I made a pully that works with the setup
Drivetrain: Making A Subaru Turn 100 lb. Mud Tires
One of the biggest things that keeps Subarus from accommodating a larger tire is the gearing. How did you manage to overcome this? Were you able to keep any of the stock transmission components?
I tried hard to make the stock 5 speed work. I planned to weld the center diff and run the driveshaft to the transfer cases. But angles and length became a big issue so I abandoned the Subaru trans. 
I found a GM SM420 4-speed truck transmission on Facebook marketplace. Its less than a foot long, and has a 7.2:1 first gear! It's super heavy, but fit the bill pretty well so I made a custom steel bellhousing to bolt the boxer to it. Stock Subaru clutch parts at first other than a 9″ Massey Ferguson clutch disk. It all bolts to a custom cradle that bolts to the unibody of the car. 
The transfer cases are out of one of my previous Toyota builds. It's a Toyota reduction box bolted to a jeep dana 300 case using an advanced adapters kit. Total low range of 4.28:1 in just the transfer cases. I had to build a plate that bolts to the front of the Toyota box because it's originally supposed to be mated right to the transmission. But now the whole thing is a divorced unit.
The axles are from a 1988 f-350. Front is a dana 60 king pin high pinion, and rear is a sterling 10.25″ both have welded spider gears and stock 4:10 ring and pinion. Shafts are stock as well.
Interior: How Much Was Preserved?
It has stock seats out of a 05 Impreza. Dash pad is stock and gauge cluster. I pulled all the service light bulbs out because they're never going to go out again. There is no stock HVAC or radio because I had to gut that part of the dash to make room for the transmission shifter. I did put a universal heater in last winter. That helps keep the windshield defrosted (not so good for actually staying warm.)
Challenges With The Build:
Jake, I have to say I'm impressed with your ingenuity and hard work with the One Ton Subaru. But I'd be surprised if this kind of an undertaking didn't come with a number of challenges. Can you talk a bit about some of the problems you've had to overcome during the process?
Biggest challenge…the whole thing has been quite a challenge. I've broken 4 starters, had to rebuild a transfer case in the woods, broken axle shafts, and glass…lots of broken glass… but the clutch was probably the #1 problem. The original setup worked pretty well for almost a year. It started to slip a bunch so I bought an amazon "stage 4" kit and had to cut the Subaru splines out of the disk and bolt in the 10 spline hub for the 4 speed. It actually took a couple months to finally get it all together and working but it works awesome now. I definitely wanted the car to look cool, and get attention. But more importantly I wanted it to preform well. I'm certainly no professional. But I know what's important and how to accomplish what I want on a budget. My favorite wheeling is slow technical crawl type obstacles, and that's where the car thrives for sure. 
I definitely wish it had more power but I don't want to sacrifice the bit of reliability it has by throwing a turbo on it…at least not right now.
I can't express how happy I was to have Jake agree to share his build with us. This is one of the most impressive Subarus that we've seen in a long time and we really appreciate that it doesn't sit in a garage somewhere. In a world of pavement princesses, his willingness to absolutely destroy the body is refreshing.
If you'd like to follow Jake's build, he's on Instagram and you can find him at @jg4d2s. Please head over there and say thanks for his willingness to give such a thorough rundown of all his hard work. Thanks again, Jake.