Why I Chose To Buy A Set Of Toyo Open Country Tires:
I initially had a set of 10 ply 30 inch mud terrain tires on my Subaru Forester. The guy I bought it from had installed them and was really proud that they were 10 ply. But they weighed roughly 50 pounds each and felt like they were beating the gearbox to death. I quickly realized that it was time for a new set of tires better suited for my old 2000 Forester that I'd purchased to drive out into the woods, and up to Timberline Lodge on the weekends.
The new tire that I selected would need to have these 3 things:
a lighter weight
aggressive tread
able to handle snow on occasion
I had done some research and I really liked the Toyo Open Country AT2. It seemed to be readily available (great if you need to find a spare in a pinch), well respected, and met my 3 criteria. Oddly enough, I happened to find an almost brand new set on one of the local Subaru Facebook groups for a great deal. They were 215/75/15 and would fit really well on my car.
At the time, I was running a set of Bassett Racing steelies and had them mounted right away. They fit perfectly and didn't rub at full lock. I was excited to begin putting them to the test.
Click here to get a set of Toyo Open Country's: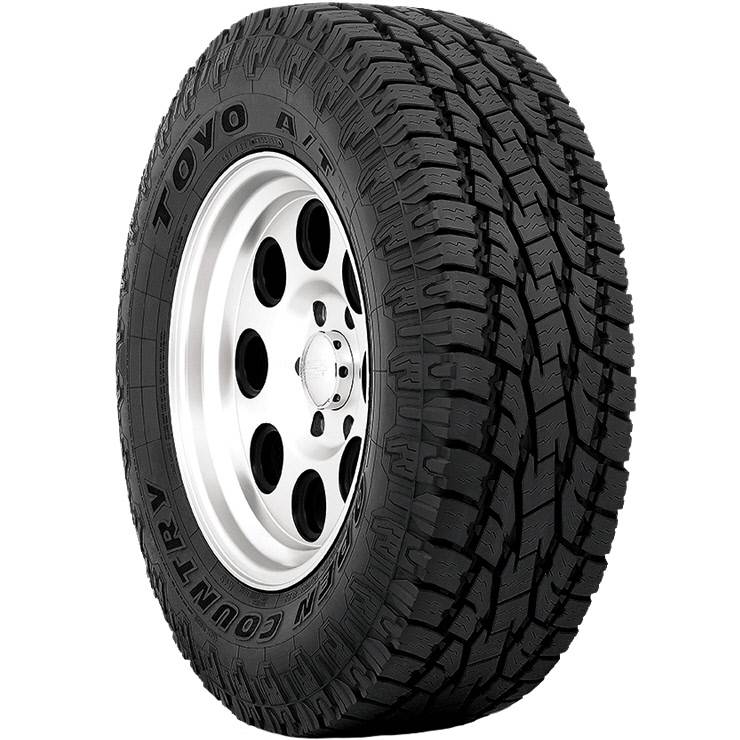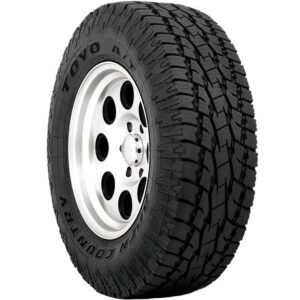 Quick Overview:
Things I don't Like:
I wish the sidewall pattern was just a LITTLE more aggressive – For looks and performance purposes. This would help with mud and snow traction.
The tread pattern doesn't seem to extend out quite as far as the BFG Ko2's do in the same size. I think this would help add even more street handling capabilities.
Not 3 Mountain Peak rated for snow like similar tires. It would add extra peace of mind during the winter.
Things I love, and reasons I would recommend these again:
Great price.
Easy to find in almost all tire shops.
Aesthetically pleasing design.
Low road noise makes long rides more enjoyable.
Fantastic warranty from Toyo – 50k mile warranty on LT sizes.
Come in a ton of sizes – literally over 100 different sizes available.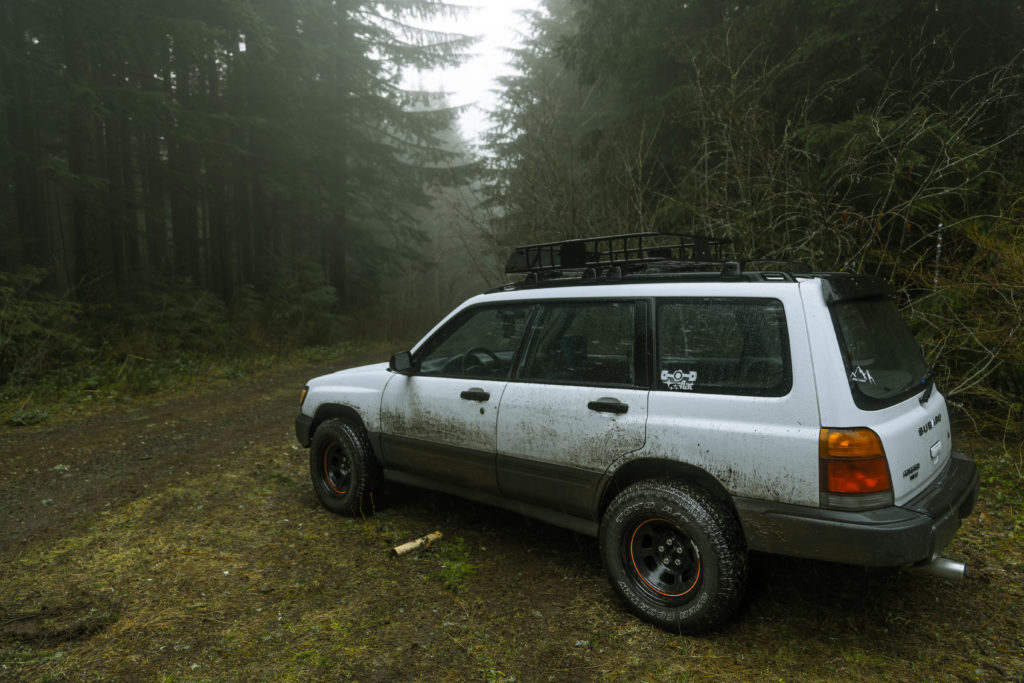 First Impressions:
One of the first things I noticed was that the Toyo's were surprisingly not much louder than the stock tires that came on these Foresters from the factory. Whether on the freeway or in the city, they maintained a great level of comfort and low cabin noise.
My Forester has had the sway bars removed, resulting in less than desirable cornering. However, I noticed that the Open Country's don't require you to sacrifice much on-road performance at all. They handle pretty good in the turns for being an all-terrain tire.
Finally, I noticed right away that they looked awesome and felt great compared to the 50 pound tires I had just replaced. I was super pleased by the sidewall pattern and how mean it made the Forester look.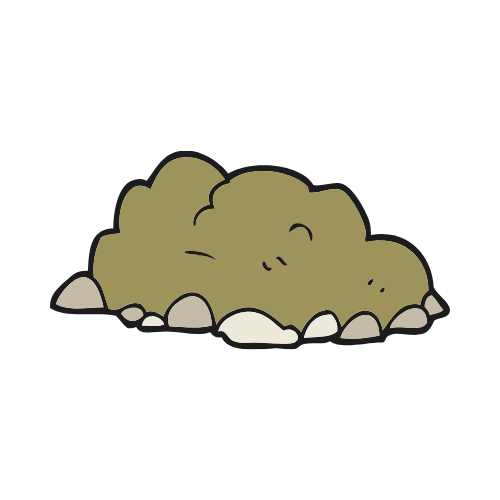 Dirt Performance:
Most of my time is spent in the Oregon/SW Washington area. There is a wide range of terrain and the climate can change drastically by simply driving 30 miles in any direction. Luckily for me, there is no shortage of old dirt logging roads, and forest service roads. The Open Country's seem to really love the dirt and hold to the road pretty well. Whether it's hard packed dirt, or more loose dirt, they've performed great. We also have a lot of logging roads here that have a lot of moss and grass overgrowth on them. These roads can be really tricky since the grass and moss creates an unstable driving surface. In the past, I've lost traction on them. But the Open Country makes them more manageable.
One thing to note: the average speed limit on most of these roads is around 35mph. So while I rarely open it up out in the woods, they still seem pretty solid.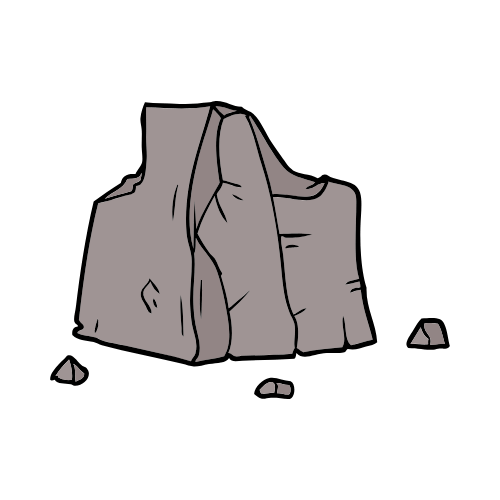 Gravel Handling and Performance:
There's not a single tire that I'm aware of that can really make gravel driving enjoyable. You always run the risk of sliding around in the turns and it's noisy. However, one thing that I really appreciate about the Toyo's is that the stone ejecting blocks in the tread pattern do a fantastic job of making sure your ride home isn't loud and chattery from having pebbles and stones stuck in your tires.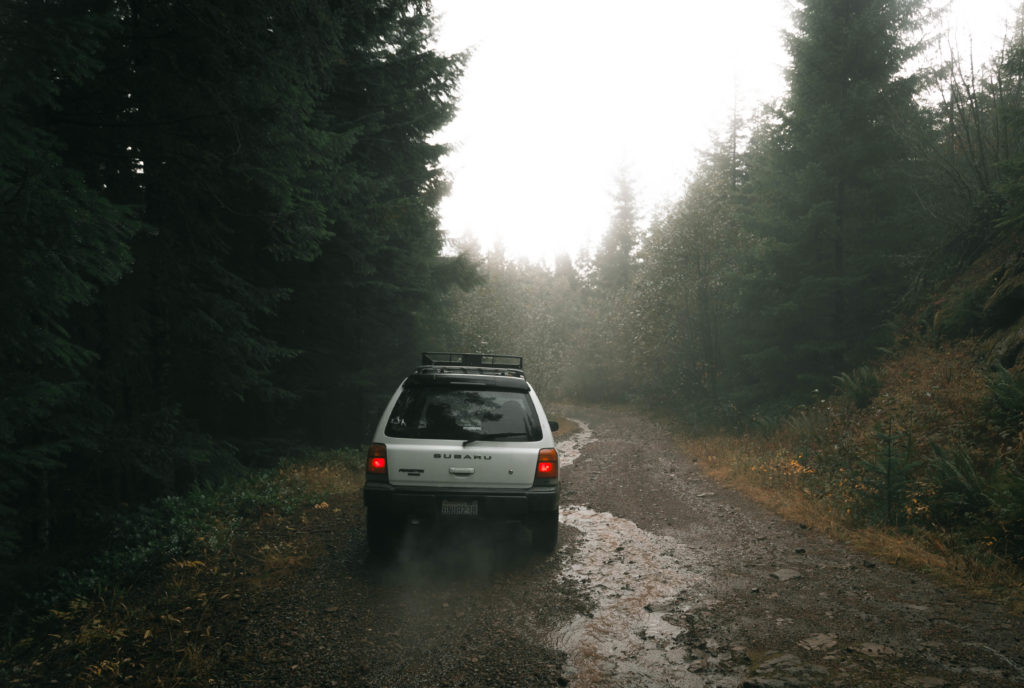 Another thing to note is that I've put these things through a good chunk of abuse on heavily graveled logging roads (if you're familiar with any of the logging roads in the NW, you know what I'm talking about.) Despite the tough conditions, I have yet to get a flat or to see any real damage to the tires. They've held up really well.

Mud Performance:
I'll be honest, I don't really put my car to the full test when it comes to mud. I'm always worried that I'll drown my car or hit a submerged boulder. However, I still love to get the Forester dirty and roll through some mud pits. The deepest that I have had my car in mud is probably right below the tail pipe. The Open Country is an all-terrain tire, so it doesn't pull you out quite the same way that a mud terrain tire would. But I've been very impressed with how well they manage to perform even in soft wet mud. I think the deep tread pattern and aggressive sidewall really help them grab even in soggy conditions.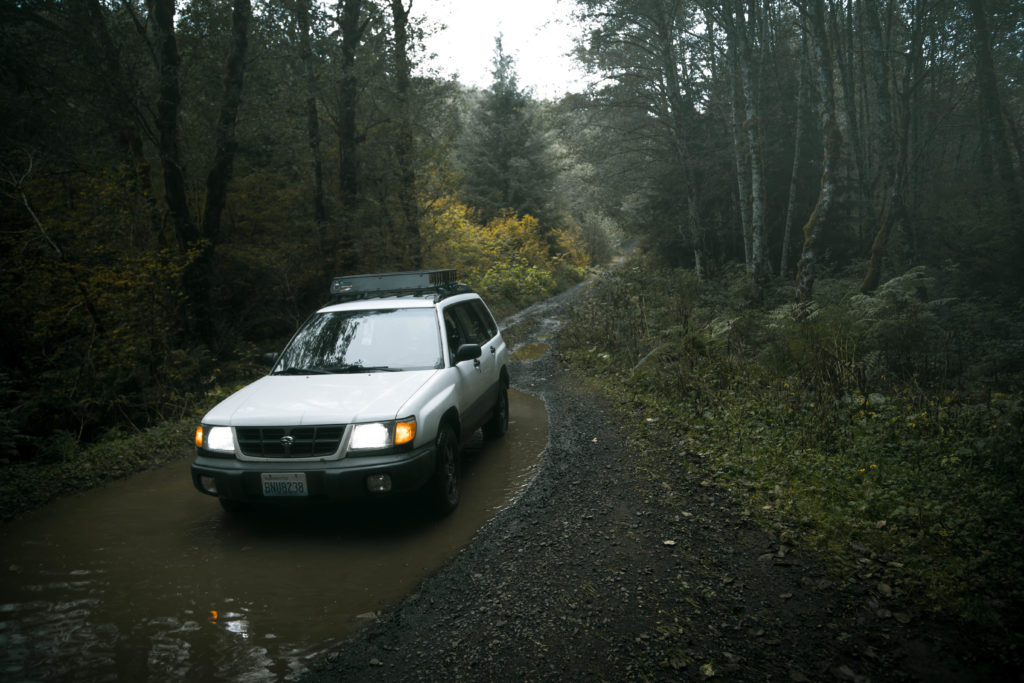 If you're strictly looking for a tire that does well in extreme conditions, I would recommend a dedicated mud tire such as the Open Country MT. But for anyone who doesn't want to sacrifice on-road performance, they still do really well.

Snow Traction And Performance (Updated for 2020):
I haven't taken these through nearly as much snow as I would like. The majority of the snow driving I have done on them has been on old, wet snow which is usually more challenging to drive in. But they do really well in it. I have been pretty impressed by the grip and ability to gain control even in deep ruts.
They definitely don't replace a good traction tire or a 3 peak mountain designated tire. So if you need to do freeway driving in the snow or you live in a place that requires traction tires in the winter, you would want to keep a winter set on hand. These are not designed to be a dedicated snow tire.
UPDATE: This December I had the chance to take the Toyo's out on some fresh snow, and gosh dangit if I wasn't super impressed. They performed really well.
We started out up on some forest service roads in Washington and headed up in to the hills on Christmas day. As we kept climbing and ended up on the other side of the mountains, we ran in to fresh. I was excited to keep going and see how well they would do.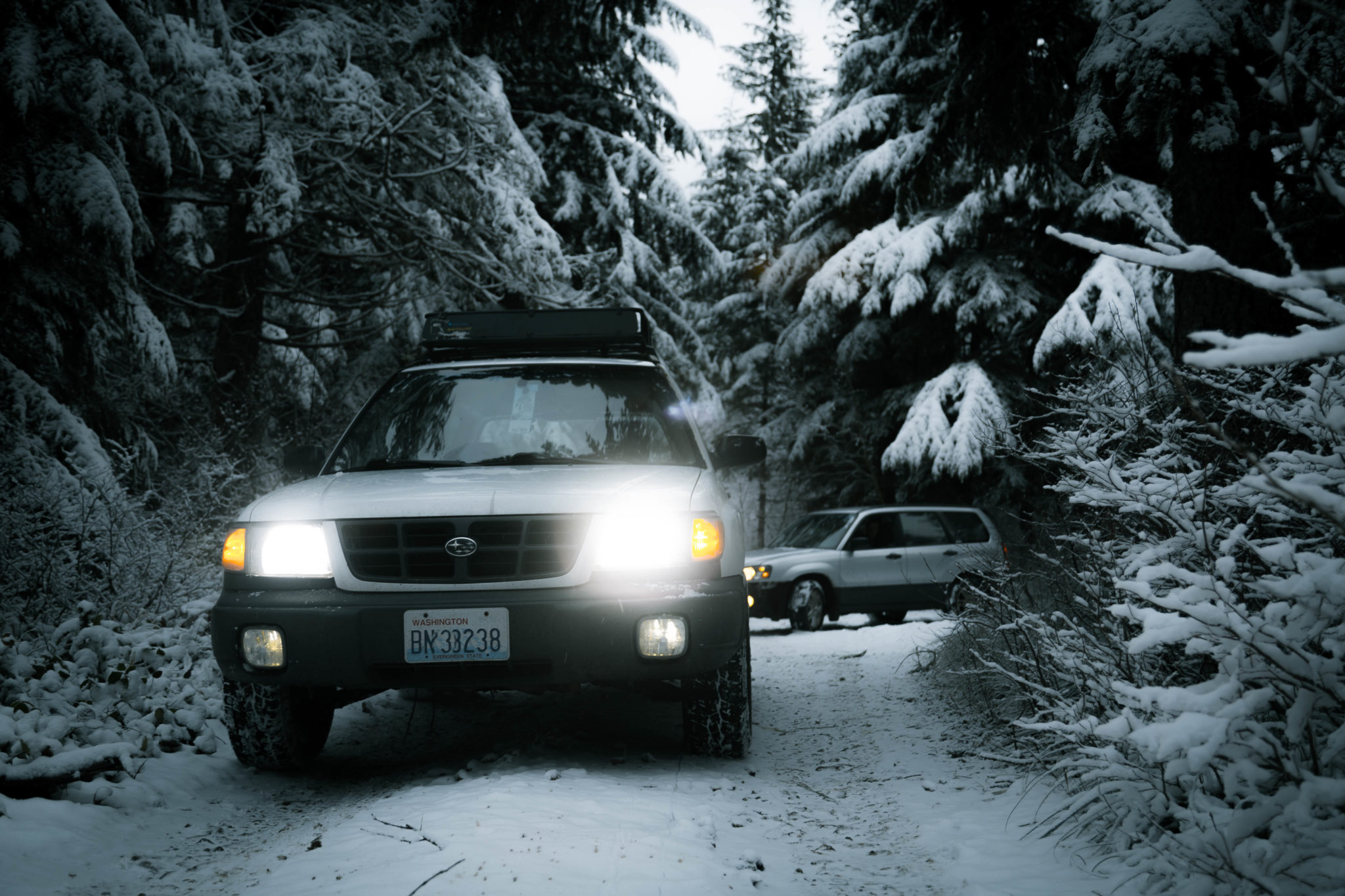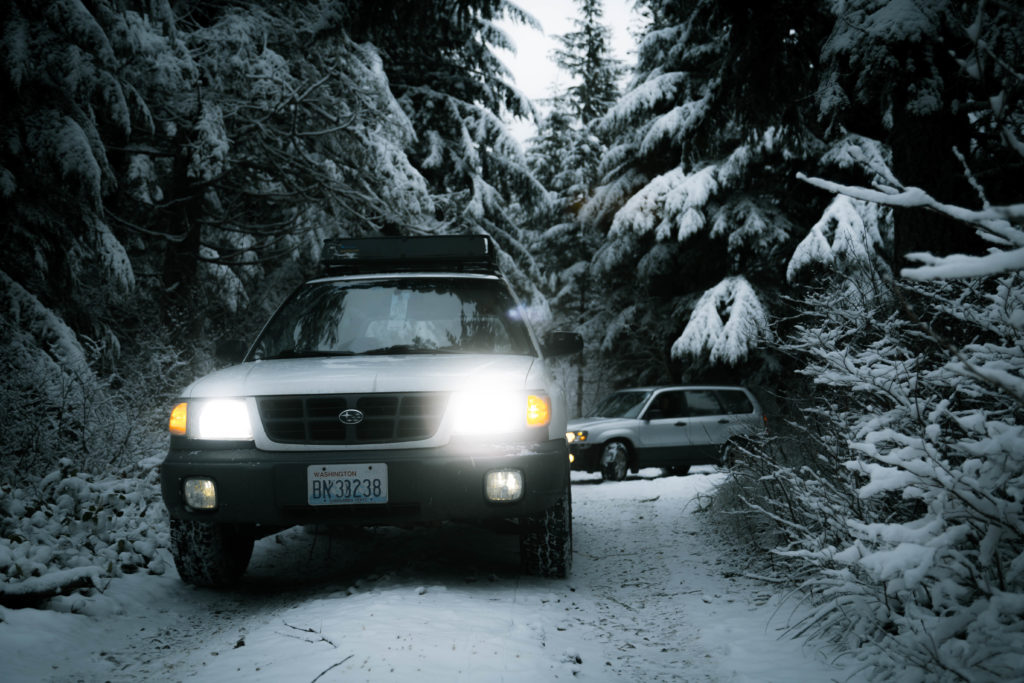 I was with one other vehicle – a stock 2004 Forester X with regular all season tires. So I wasn't sure how far we would get before needing to turn around. We ended up driving through a half-frozen mud pit and then continued up into even deeper snow.
My Open Country's handled the snow and ice pretty well. I experience very little wheel spin when trying to turn around in a tight space. They also cut through the snow relatively easily despite being a 215/75/15.
I have a newfound confidence for these on snowy trails and won't hesitate to get in to more of it with them.
My Thoughts:
So far, I have been extremely pleased with these tires. They have roughly 20k miles on them and the tread pattern is still looking strong. They continue to deliver great performance in a wide range of situations without being too cumbersome on the street.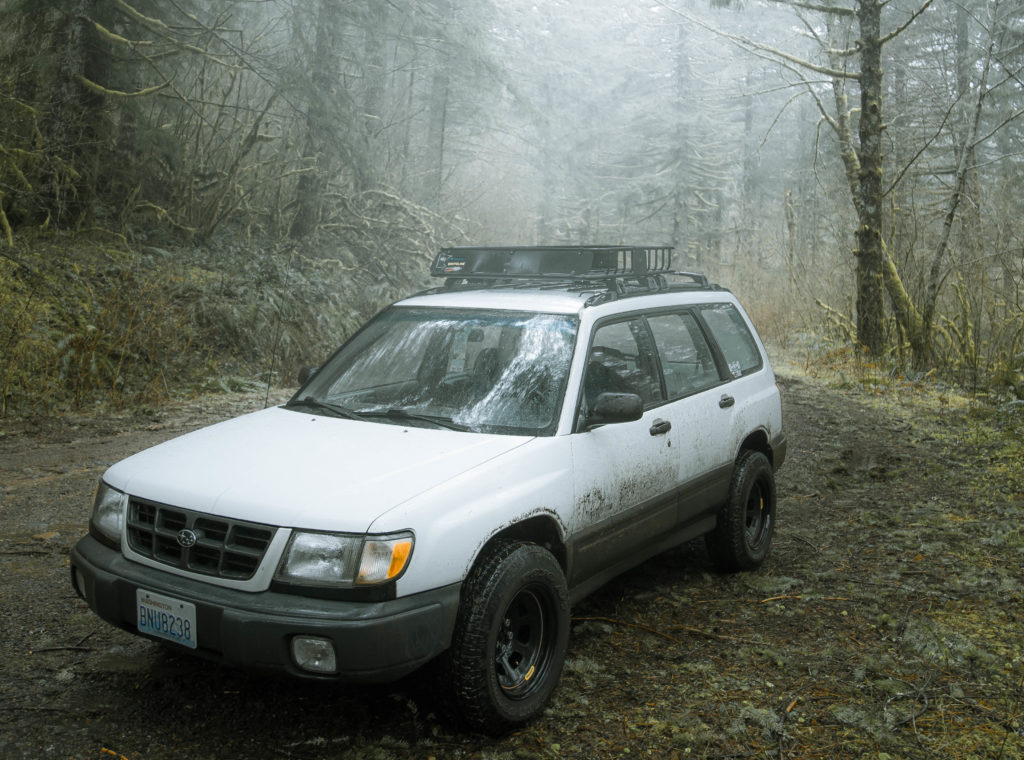 About The Open Country AT2:
The AT2 is a versatile tire that attempts to give all of the off-road benefits that enthusiasts need without sacrificing street performance or tread life. I would say they have done a pretty good job.
Benefits listed on the Toyo Website:
AGGRESSIVE SIDEWALL AND OPEN TREAD BLOCK DESIGN
Delivers tough looks and even tougher performance in dirt, mud, or snow, while maintaining a quiet ride.
WEAR-RESISTANT TREAD COMPOUND
Extends tread life and durability.
DEEP TREAD GROOVES WITH STONE-EJECTING BLOCKS
Enhances mud and snow traction.
Forces stones from grooves.
TIE BARS BETWEEN BLOCKS
Stabilizes tread blocks.
Improves dry braking.
Reduces irregular wear.
POLYGONAL BLOCKS AND ZIGZAG SIPES
Contributes to excellent snow performance.
As an Amazon Associate, we may earn from qualifying purchases