The Ultimate Tire Guide For 2014-2018 Subaru Foresters
Finding the right all-terrain tire for your Forester can seem overwhelming. However, we've compiled this list of some of the best off-road tires that will fit on your Subaru. We've included sizes for wheels 15″ to 18″ inches in diameter.
There are a couple of things to keep in mind before choosing what size you should go with. First, you'll want to decide how much work you want to do for fitment. Second, you'll want to keep in mind that only certain 15″ inch wheels will fit over brakes. We typically recommend the Method MR502 because even in 15″ inch, it's been shown to clear WRX brakes.
(If you have an XT, you may want to be cautious about using a 15 inch wheel as your brake kit is bigger than 2.5 models. Do this at your own risk.)
Stock Tire Size On 4th Generation Foresters:
225/60R17 (27.6″) on 2.5i, Premium, Limited
P225/55r18 (27.7″) on XT & Touring models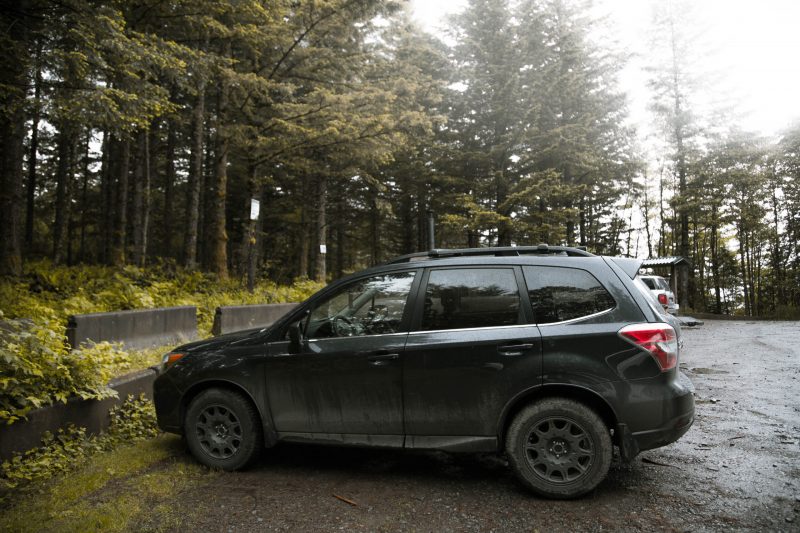 Biggest Tire You Can Fit On Your Forester:
Biggest fit without trimming – 29"
Biggest fit with trimming – 29.5"
The 29 inch tires are a tight fit, but they can be put on a stock Forester even without a lift kit. If you want to size up even further to a 29.5 inch tire, you'll need to be ready to trim or remove front mud-flaps, make small cuts to the body trim, and use a heat gun on fender liners.
Here are the most common sizes and brands that will fit 4th gen Foresters:
*Is a 15″ tire too small? We recommend 15's for anyone who is planning to seriously abuse their tires off-road. The more sidewall you have, the less likely you are to blow out a tire on the trails. The taller sidewall also helps offset road noise a small amount. As mentioned before, just keep in mind that you may have some brake fitment issues when trying to use a 15 inch wheel. XT models may not be able to accommodate a wheel that small.
How the 225/65R17 looks on a Forester with Motegi MR139's: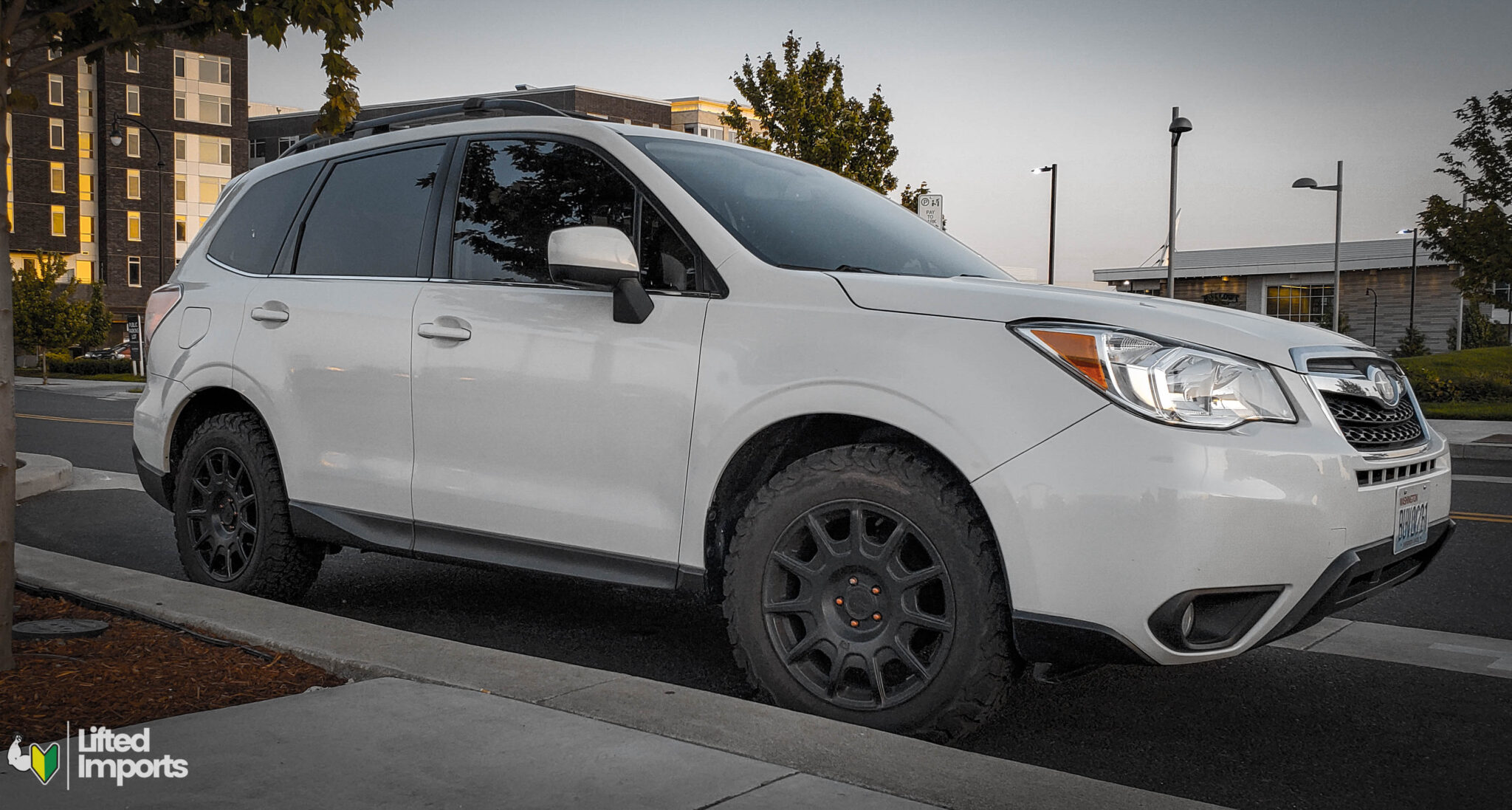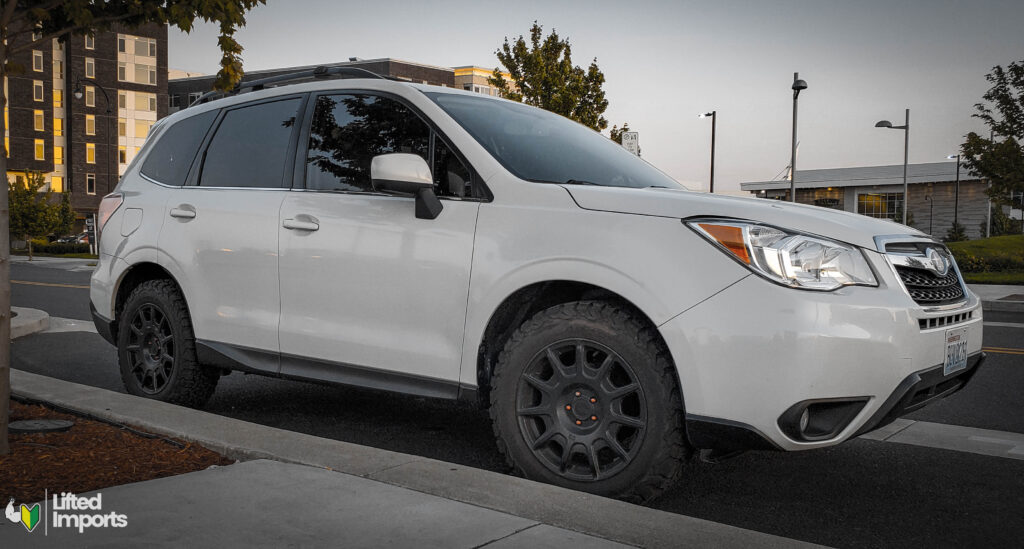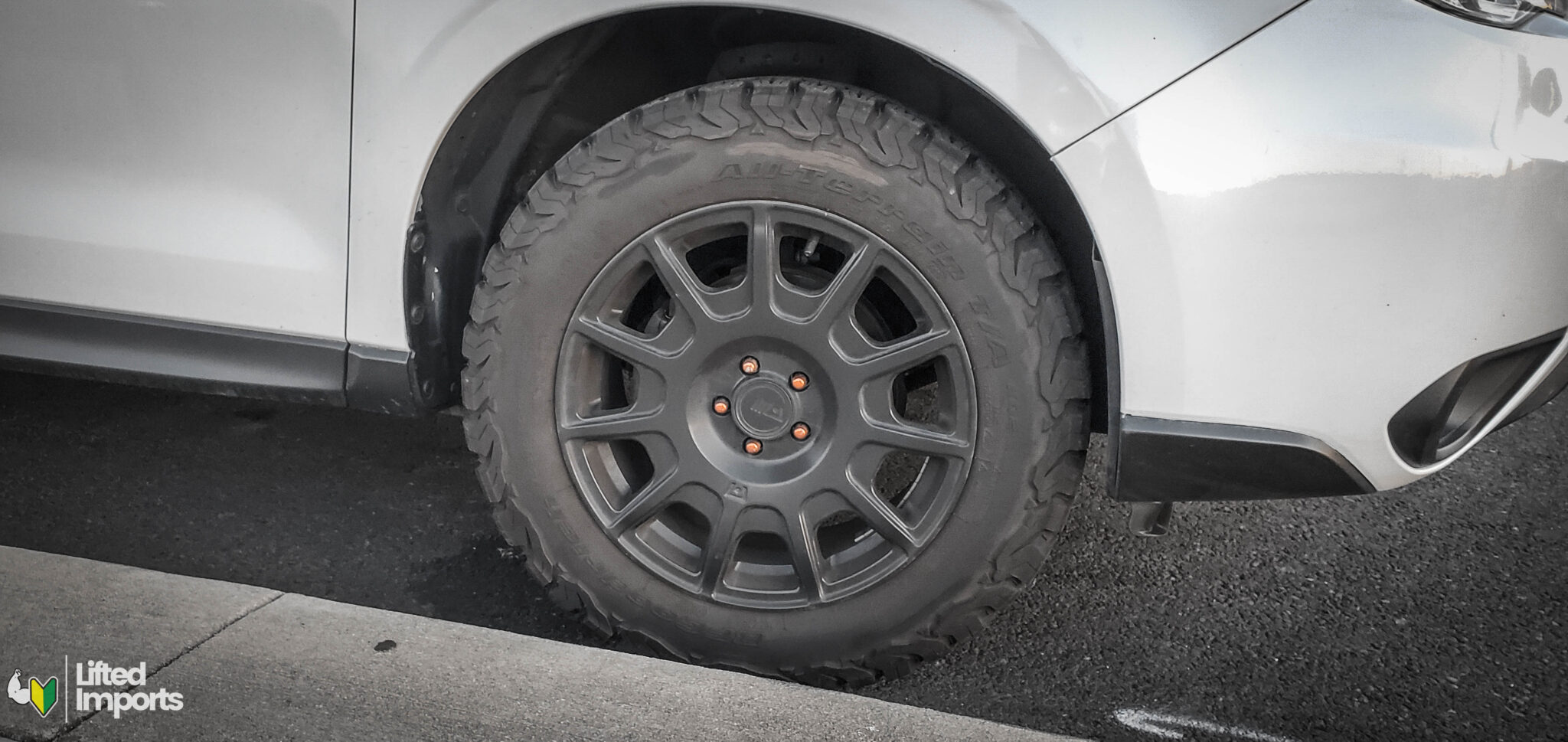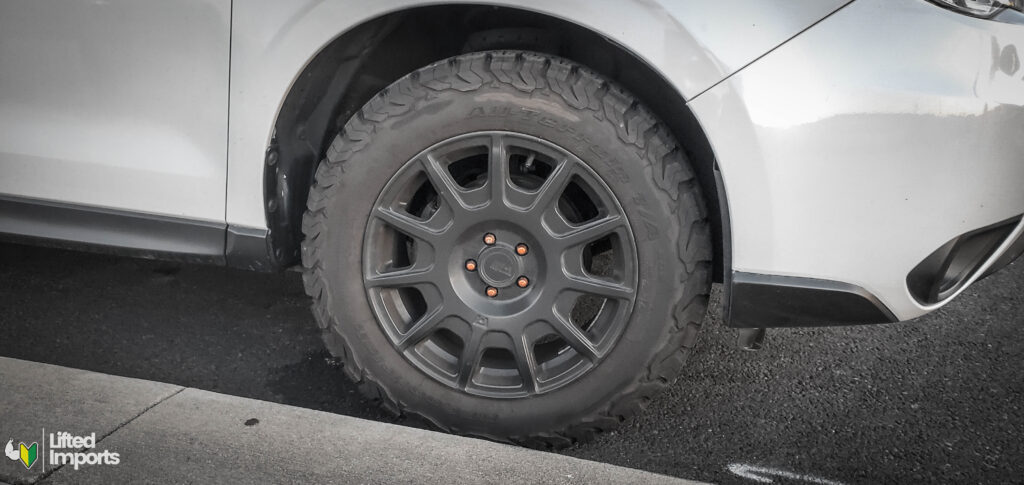 Please keep in mind that although this is only a 29 inch tire in diameter, it has a 255mm section width. So it will be the widest tire size on this list. This is great for people who are wanting to do more aggressive trails due to the wider contact patch. You will just want to be ready to make modifications if you run this tire. The added width may require more cutting and trimming.
Disclaimer: Lifted Imports cannot be held responsible for any modifications made to your vehicle or any negative outcomes you may experience. Please consult with a professional before installing any aftermarket parts on your car and before making any modifications.
As an Amazon Associate, we may earn from qualifying purchases
Articles You May Find Helpful: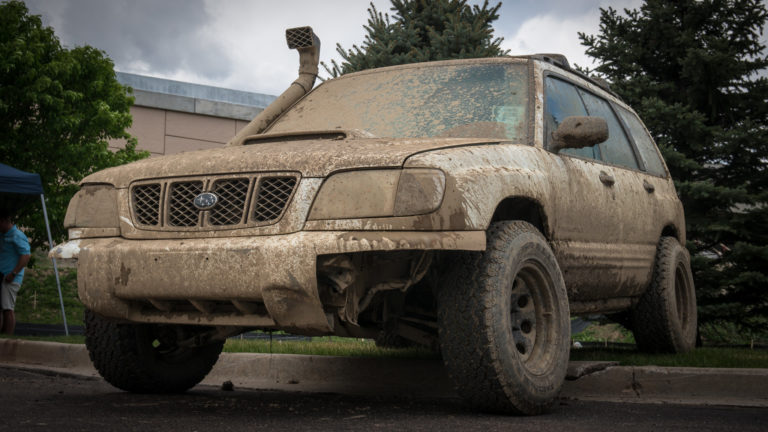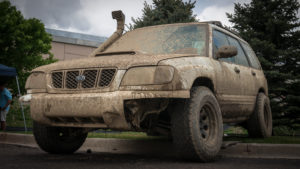 Uncategorized
Best Tires for Your Off Road Subaru: A Helpful Guide
Whether you have a brand new Outback, Ascent, Forester, or maybe an older Impreza that needs a little extra grip and off-road capability, there are some good all terrain tire options that many Subaru drivers trust. We've tested our fair share of tires and scoured countless reviews online to bring you a list of our favorite all-terrain tires for your Subaru.