Finding the right all-terrain tire for your Forester can seem overwhelming. However, we've compiled this list of some of the best off-road tires that will fit on your Subaru. We've included sizes for wheels 15″ to 18″ inches in diameter.
There are a couple of things to keep in mind before choosing what size you should go with. First, you'll want to decide how much work you want to do for fitment. Second, you'll want to keep in mind that only certain 15″ inch wheels will fit over brakes. We typically recommend the Method MR502 because even in 15″ inch, it's been shown to clear WRX brakes.
(If you have an XT, you may want to be cautious about using a 15 inch wheel as your brake kit is bigger than 2.5 models. Do this at your own risk and talk with your preferred wheel manufacturer prior to purchase.)
Stock Tire Size On 4th Generation Foresters:
225/60R17 (27.6″) on 2.5i, Premium, Limited
P225/55r18 (27.7″) on XT & Touring models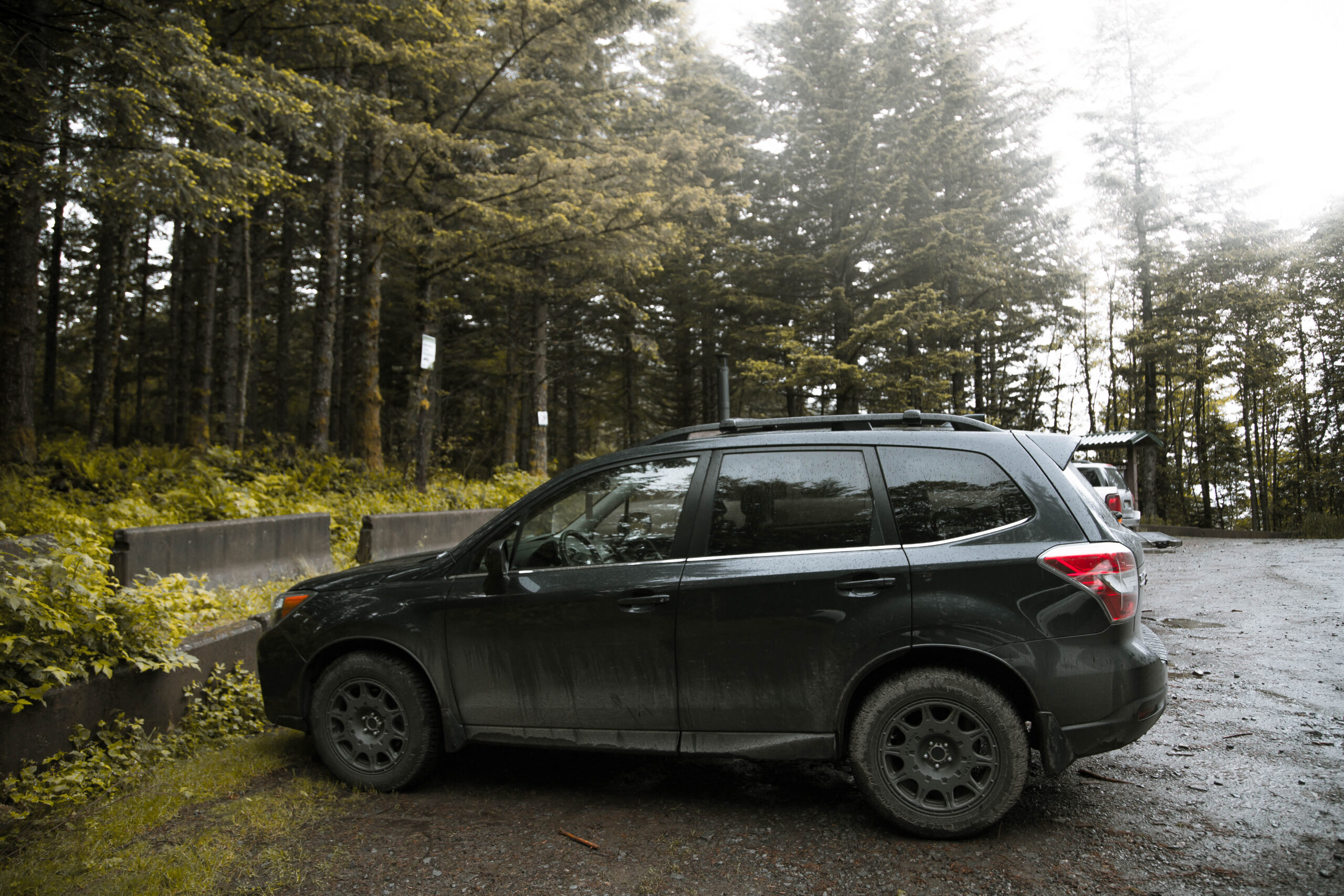 Biggest Tire You Can Fit On Your Forester:
Biggest fit without trimming – 29"
Biggest fit with trimming – 29.5"
The 29 inch tires are a tight fit, but they can be put on a stock Forester even without a lift kit. If you want to size up even further to a 29.5 inch tire, you'll need to be ready to trim or remove front mud-flaps, make small cuts to the body trim, and use a heat gun on fender liners.
Please note that you with additional work, you may be able to physical fit something bigger than a 29.5 inch tire. However, we've found anything bigger than that to be counterproductive. It's simply too much rotational mass for the engine and transmission to effectively handle. Sticking around 2″ larger than stock has been a great rule of thumb for us when building off-road Subarus.
Things To Consider Before Installing Bigger Tires:
When installing a new over sized tire on your Forester, there are a few basic tips that can help you do it optimally. Since we have AWD instead of 4 wheel drive, we have to approach the task a bit differently than most off-roaders.
First, shop for the lightest tire that will still do the job. Look for tires that do not have the "LT" rating in front of the size. LT tires are heavy duty and great for trucks. However, we've found that LT tires are just a bit too much for most all wheel drive vehicles. If you can find a tire with a "P" in front of the size, or just the numerical size, that's usually going to be the lightest version and should be more than strong enough to handle what you throw at it. An example of a tire size that you may want to consider is "P235/75R15" or simply "235/75R15." Either of these should not be the heavier LT version. LT rated tires are okay for folks who truly intend to do more hardcore trails in their Subaru. But they are heavier and cause more strain on the drivetrain.
Second, purchase a lightweight aftermarket wheel to help offset the added weight of a larger tire. installing a more aggressive tire can add 10-20 lbs. of weight. Replacing the heavy stock Subaru wheels with a rally wheel can help keep your fuel economy from tanking, preserve braking capability, and relieve some of the stress to your suspension and steering components. They also look great and are extremely strong.
As we mentioned, when installing your bigger tires you may need to trim your fender liners, side skirts, remove mud flaps, and make other small modifications. If that seems daunting, it may be best to stick with a tire that's no bigger than 29 inches. If not, we recommend taking measurements and being 100% sure prior to purchasing a bigger tire.
Once everything is installed, you might notice a few differences in the way your car handles and its overall performance even if you followed our two tips – and this is okay. It's just part of the experience of driving an off-road vehicle. You might noticed that the car is a bit slower off the line. Your Forester might also take corners with less agility, and you will have less powerful braking capability. Please keep these changes in mind and adjust your driving accordingly. 
Here are the most common sizes and brands that will fit 4th gen Foresters:
*Is a 15″ tire too small? We recommend 15's for anyone who is planning to seriously abuse their tires off-road. The more sidewall you have, the less likely you are to blow out a tire on the trails. The taller sidewall also helps offset road noise a small amount and allows the tire to be aired down more aggressively. As mentioned before, just keep in mind that you may have some brake fitment issues when trying to use a 15 inch wheel. XT models are not able to accommodate a wheel that small. Only rally style wheels like Method, Black Rhino, Motegi etc. are recommended when sizing down to 15 inch tires. They are designed to clear modern brake calipers.
FORESTER PARTS DEAL ALERT: October 2022
Don't Get Stranded With A Dead Battery. Use Code FALL22 At Checkout On meledesignfirm.com
We're always looking for deals to share with our readers – especially deals on products that we've had great experience with. If you own a Forester, MeLe Design Firm is currently running a sale for October 2022 on their battery kits. The kits provide tons of power, and can help shed weight in the engine bay. They also protect your battery in the event of a collision, and add a custom visual touch under the hood. MeLe stocks the top performance batteries that last for years. We run MeLe battery kits in all of our cars and we never worry about having a dead battery out on the trails.
How the 225/65R17 looks on a Forester with Motegi MR139's: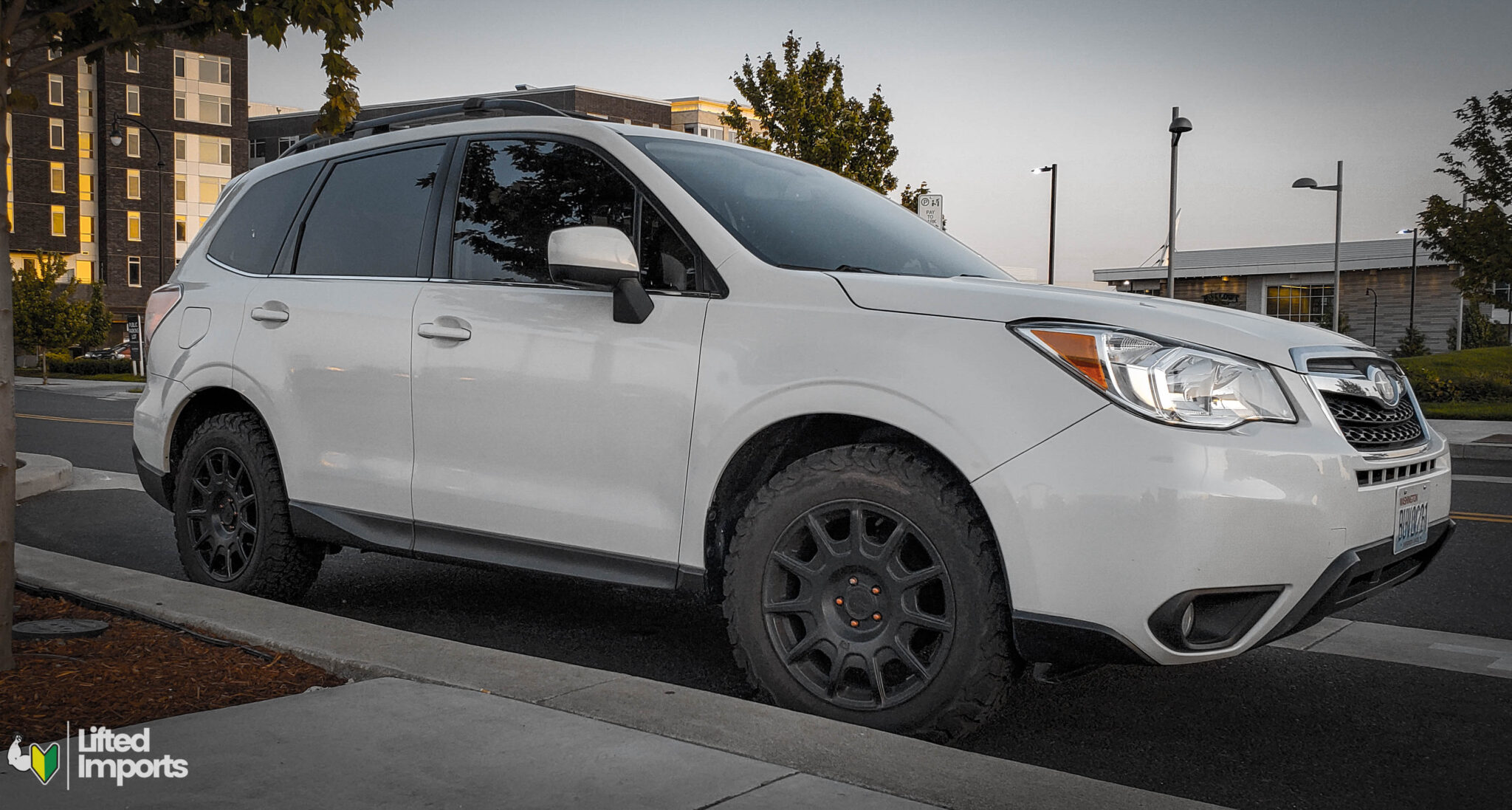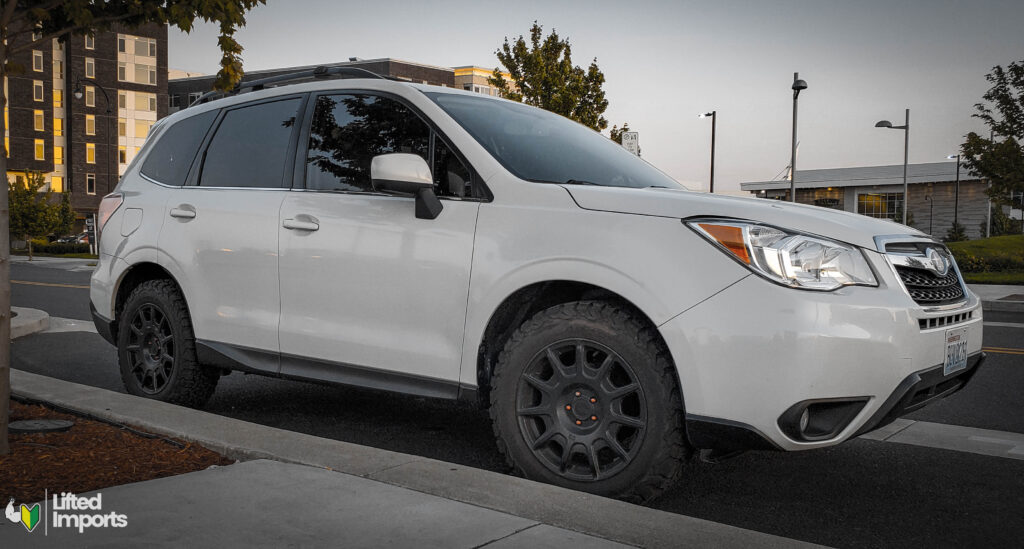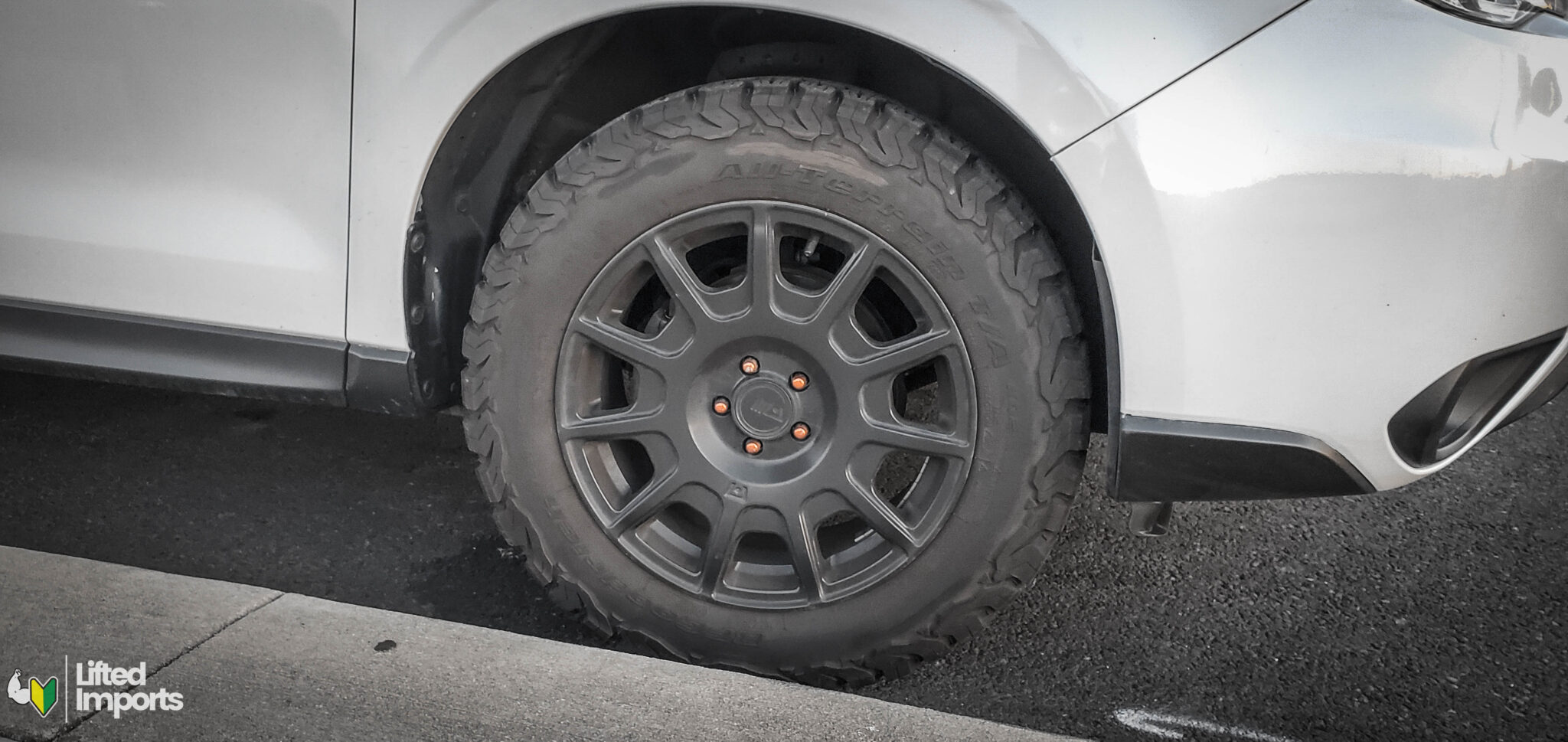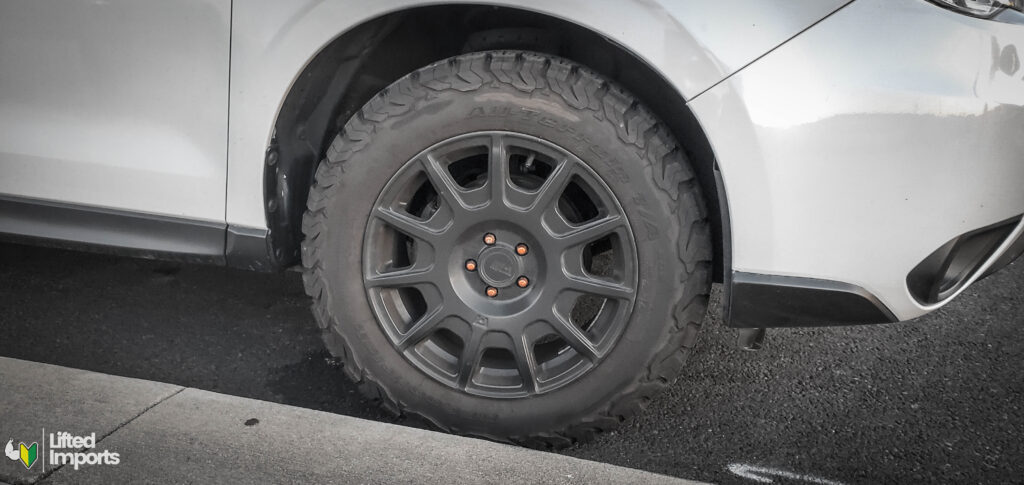 Please keep in mind that although this is only a 29 inch tire in diameter, it has a 255mm section width. So it will be the widest tire size on this list. This is great for people who are wanting to do more aggressive trails due to the wider contact patch. You will just want to be ready to make modifications if you run this tire. The added width may require more cutting and trimming.
Disclaimer: Lifted Imports cannot be held responsible for any modifications made to your vehicle or any negative outcomes you may experience. Please consult with a professional before installing any aftermarket parts on your car and before making any modifications.
As an Amazon Associate, we may earn from qualifying purchases
Articles You May Find Helpful: