Whether you just want a more aggressive look for your Outback, or you are planning to build it into an off-road machine, we've compiled a list of the best wheels for it. We've asked our readers, combed through forum discussions and reviews, and even tried some ourselves. Hopefully this guide will have a wheel that meets your technical and aesthetic needs.
Although each of these wheels are available is a wide range of sizes, this article will be focusing on 17 inch wheels. 17 inch wheels will usually fit perfectly over Outback brakes and still allow for a large amount of sidewall on the tire. However, many off-road enthusiasts that own Outbacks also use 15 and 16 inch wheels. If you want to do this, check with each manufacturer to ensure that their wheel will clear your specific Outback's brake calipers.
Our Top picks for the best off-road wheels for Subaru Outback:
A couple of things to remember when purchasing wheels for your Outback:
If your Outback is 2015 or newer, you will want a wheel with a 5×114.3 bolt pattern.
You will also want aftermarket lug nuts. Please do NOT try using your stock lug nuts on aftermarket wheels. In our experience, they rarely fit non OEM wheels.
Don't forget to check the hub bore size on your new wheels. You will likely want a 56.1 hub bore. If it's not available, remember to get hub-centric rings that fit the wheel you are purchasing and bring the bore down to 56.1mm.
Strong Wheel With Aggressive Looks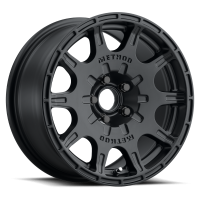 Check Current Prices Online:
Please note that Tire Rack's website will say the wheel is not available for your vehicle because it's not identical to the OEM specs. Simply message them and explain that you'd like to order them for your car.
Performance & Aesthetics For Serious Drivers
Affordable, Light, and Highly Underrated
(Best Budget Option)
Sturdy Wheel With Strong Styling Features
Born Out Of Decades Of Rally Experience
Before you select a new wheel for your offroad Outback build, make sure you double check fitment and ask a professional for help if you have questions. We always recommend purchasing your wheels from a local or online authorized dealer such as Tire Rack, Discount Tire, or from the manufacturer via Amazon. This will ensure that you're always getting a premium product and good customer service. Lifted Imports cannot be held responsible for any mods or action taken by the user.
Why We Recommend TireRack.com
In many of our posts you will see links to products on tirerack.com. There are a few reasons why we usually purchase not only tires from them, but tools and suspension parts as well.
Articles You May Find Helpful:
As an Amazon Affiliate, we may earn from qualifying purchases.