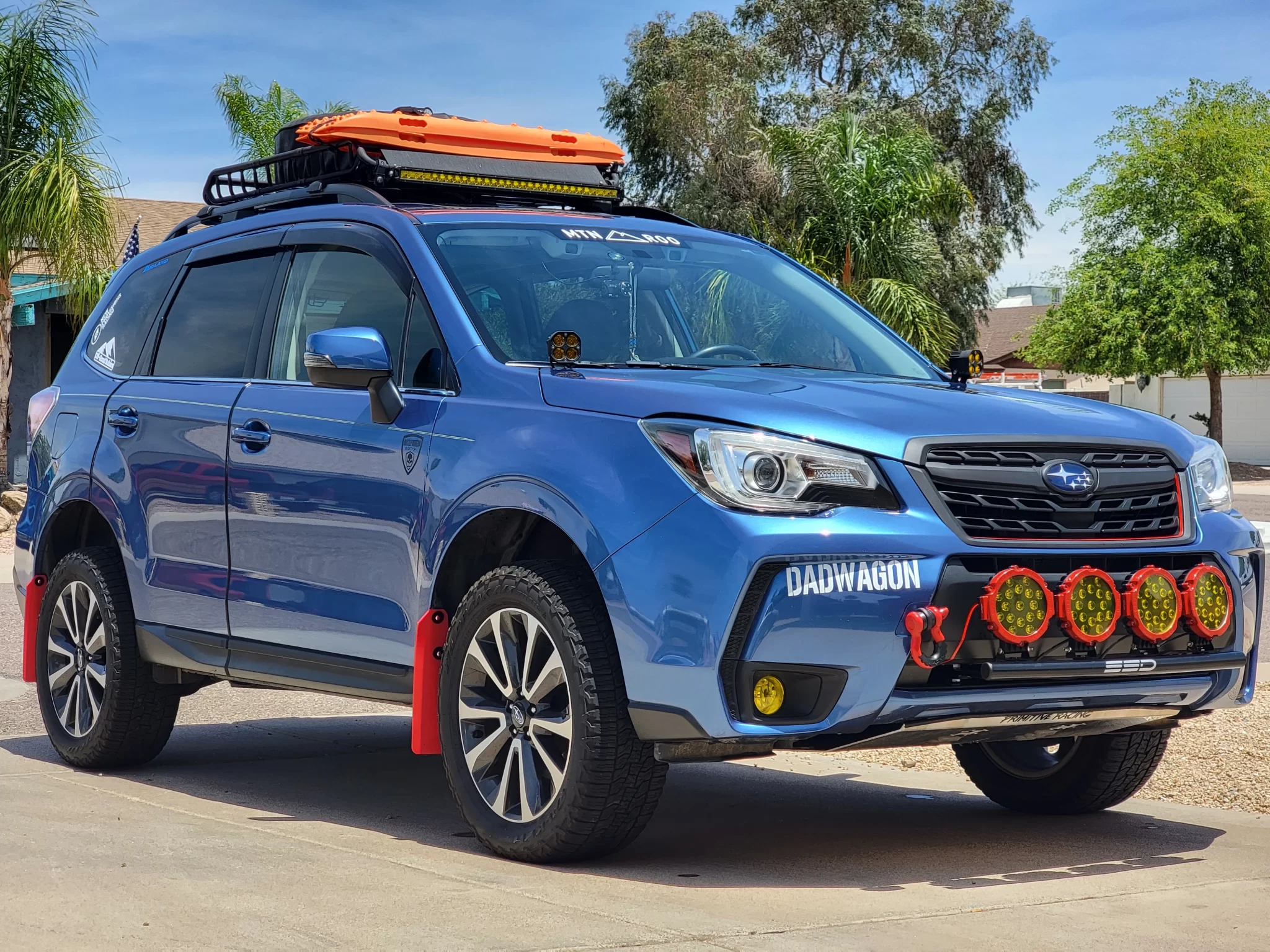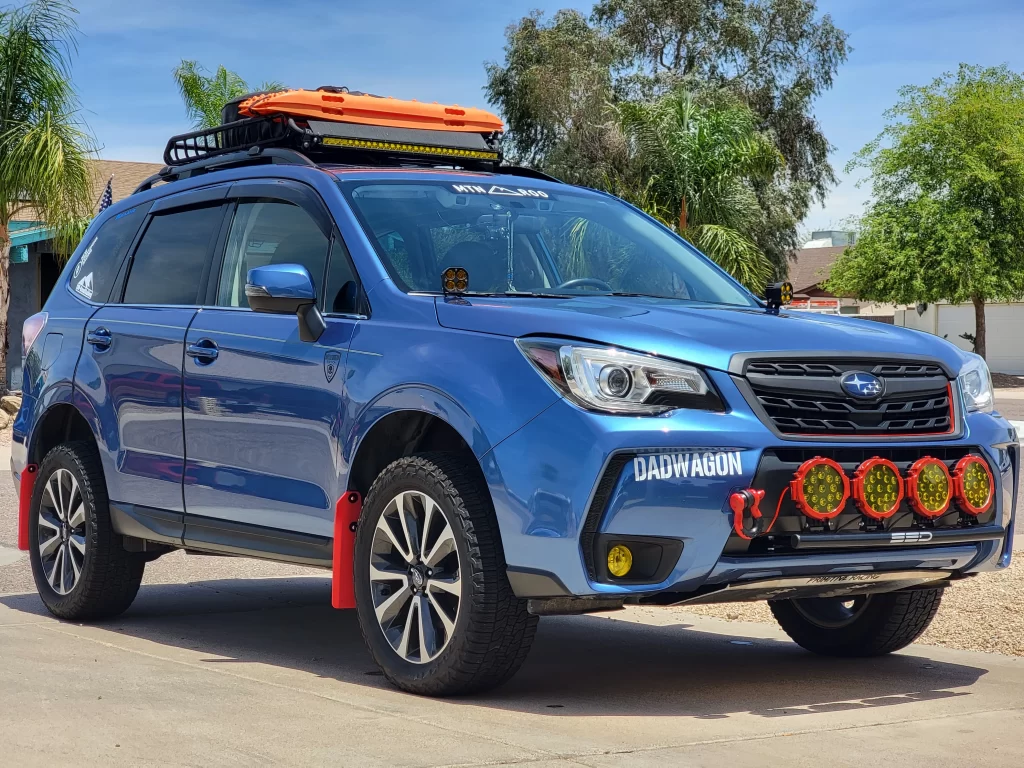 Off-Road Trails Are No Problem For This Lifted Forester XT
I met Eric when he purchased some decals from me for his Forester. I realized that we had mutual friends and once I saw his XT, I knew I wanted to put his build progress on the site. It's capable, functional, and practical.
I hope you enjoy this build thread and take some inspiration from it as you contemplate your next upgrades.
Quartz Blue Pearl 2017 Forester XT 2.0 Turbo with a CVT transmission
Four 7 inch round led lights on bar

Two 3 inch led pod lights on hood
32 inch led on roof rack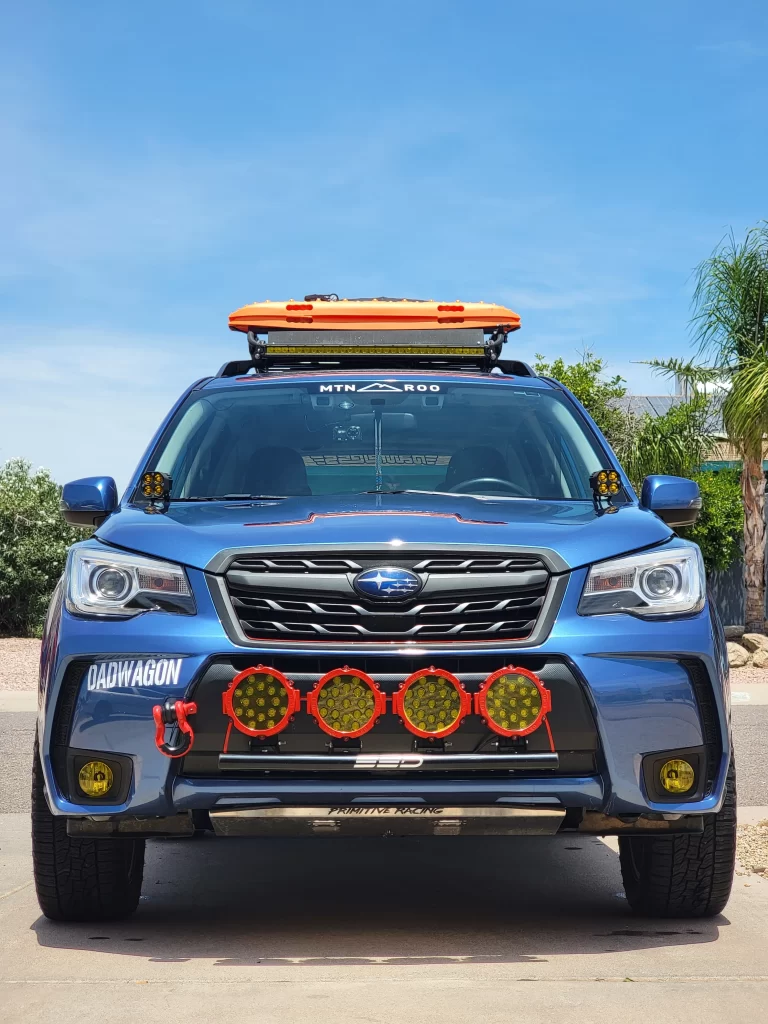 How long have you owned your Forester and what made you want to lift it?
I have owned my Forester for almost 3 years now. I decided to lift it because extra clearance would have been helpful on a few outings I had been on. Before lifting, I gouged up the skid plates a little bit. Now with the lift I have not had any issues (knock on wood.)
I went with the ADF (Anderson Designs Fabrication) 2 inch lift. I am still on stock shocks and springs.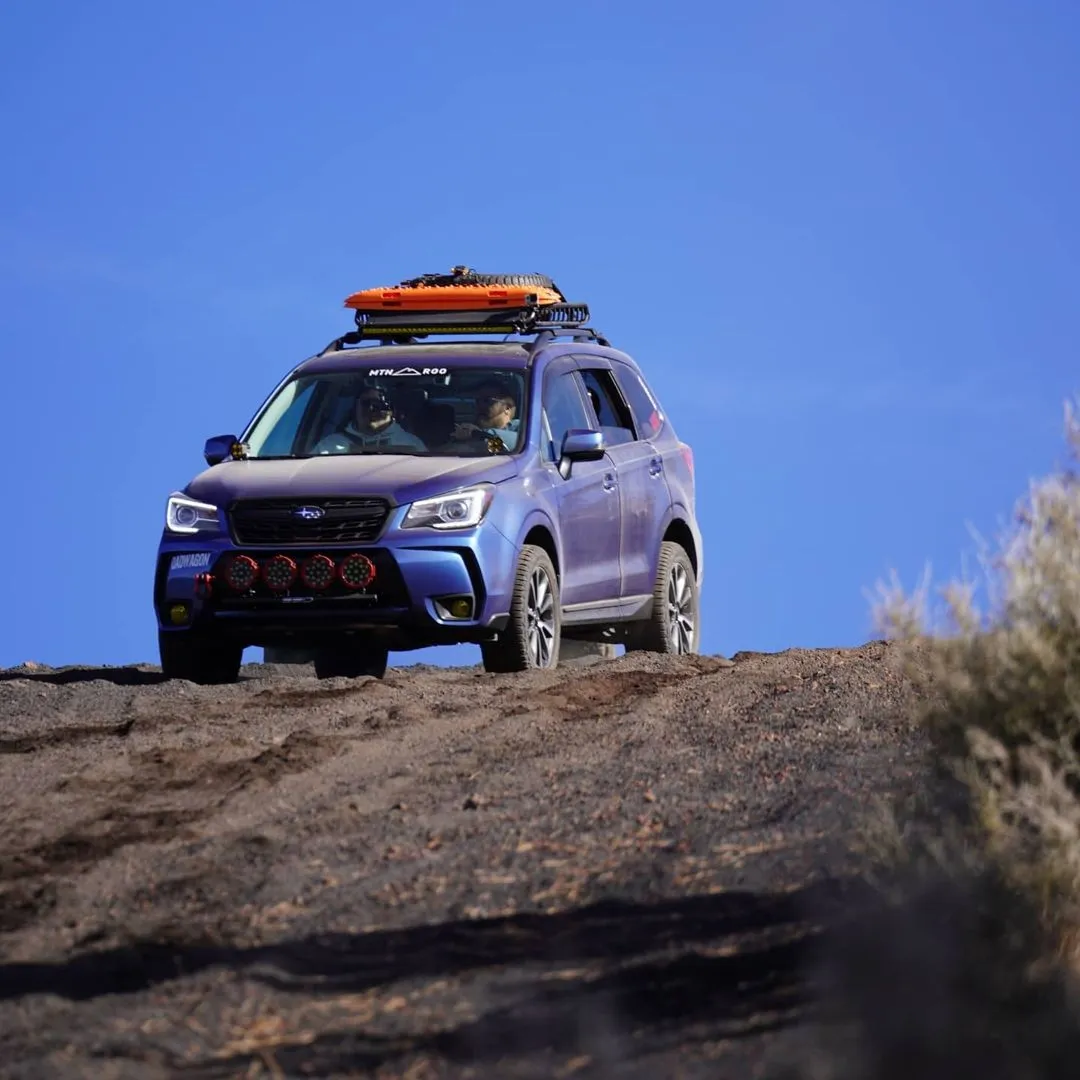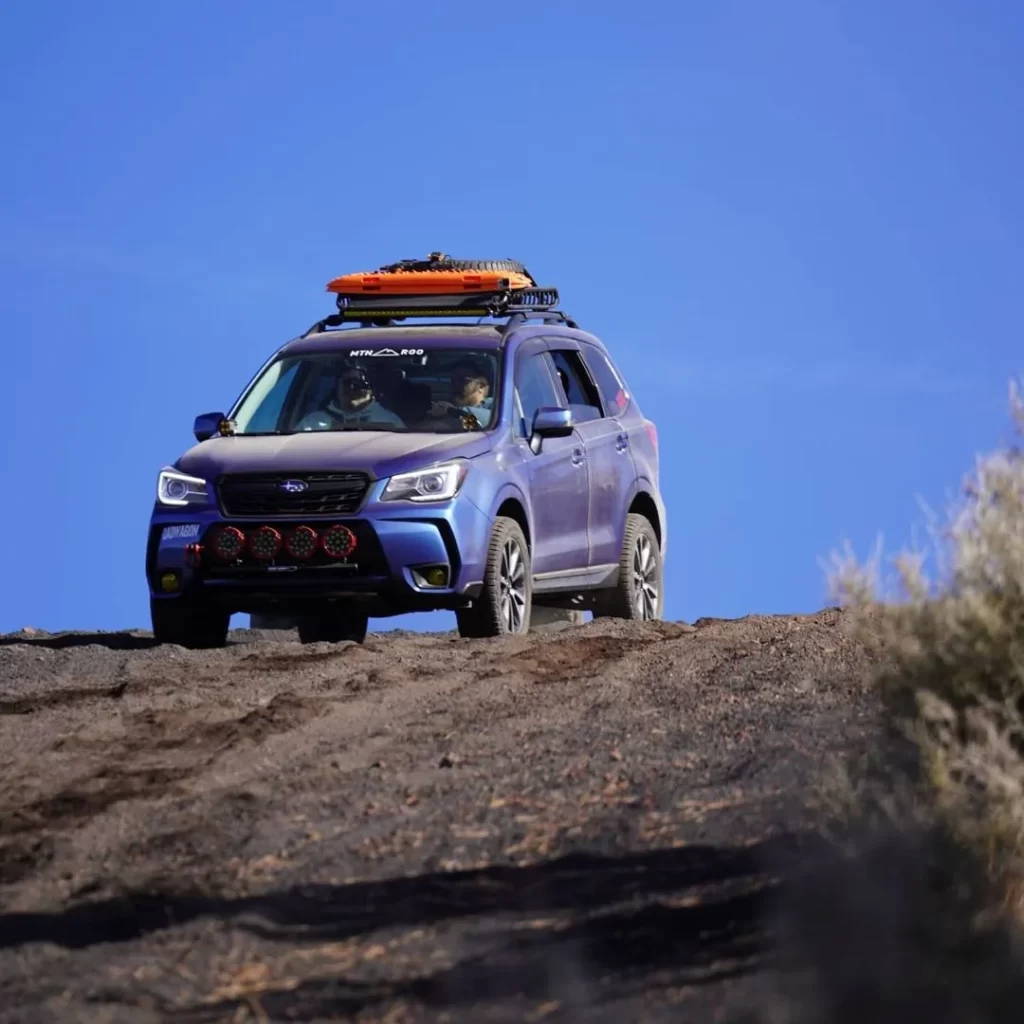 How hard was it to install the lift kit?
The lift was not too difficult to install, I did have help from a member of the MTNROOAZ group (Matt Maloy, Slo_Foz on IG) He has done a few before and couldn't have asked for better help.
Can you tell us about your wheel/tire specs and any spacers or adapters that you needed to use?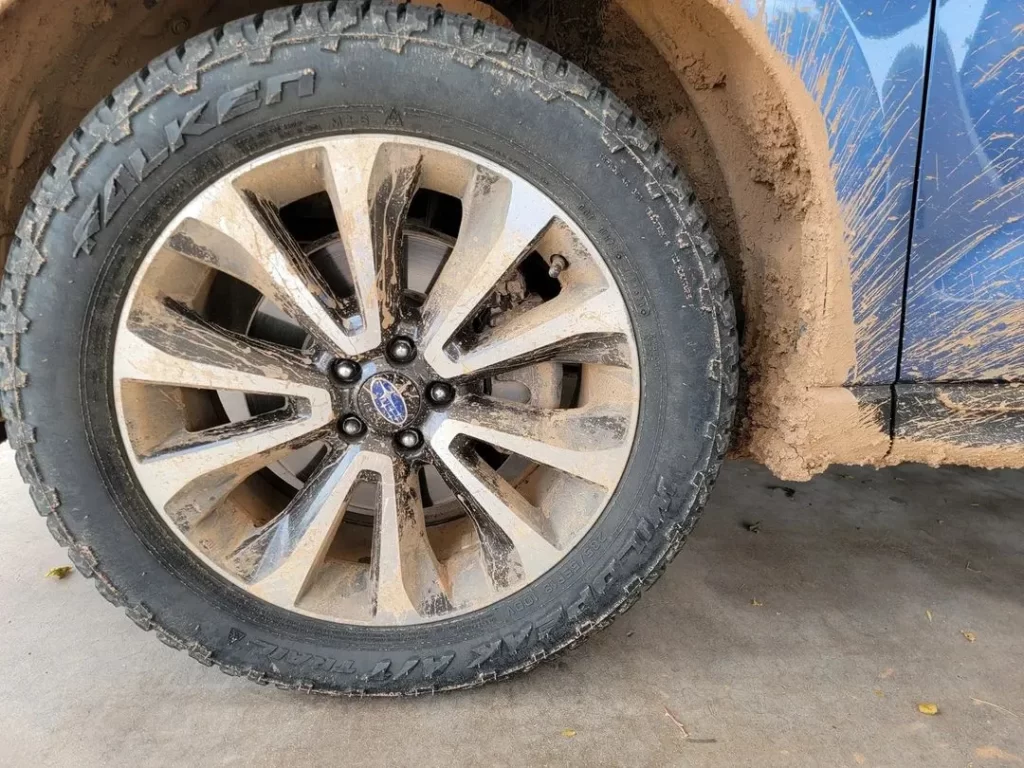 I am running Falken Wildpeak AT Trails on stock 18 inch rims 235/55r18. I am running 25mm wheels spacers (not needed, just like a little more poke out the wheel wells.)
Fitting the tires was not hard at all, they are the same size as stock and handle great!
What kind of exhaust system do you have?
I have the Nameless dual 5inch muffler axelback with an sti midpipe. I thought about the muffler deletes but after looking at some sound clips, I liked the tone of the muffled ones. I don't have a tune or anything to add power, the turbo is enough for me and watching some videos and looking on the forums, when you start to do that you run into more issues. The turbo is enough power to get me over some obstacles an n/a has issues with.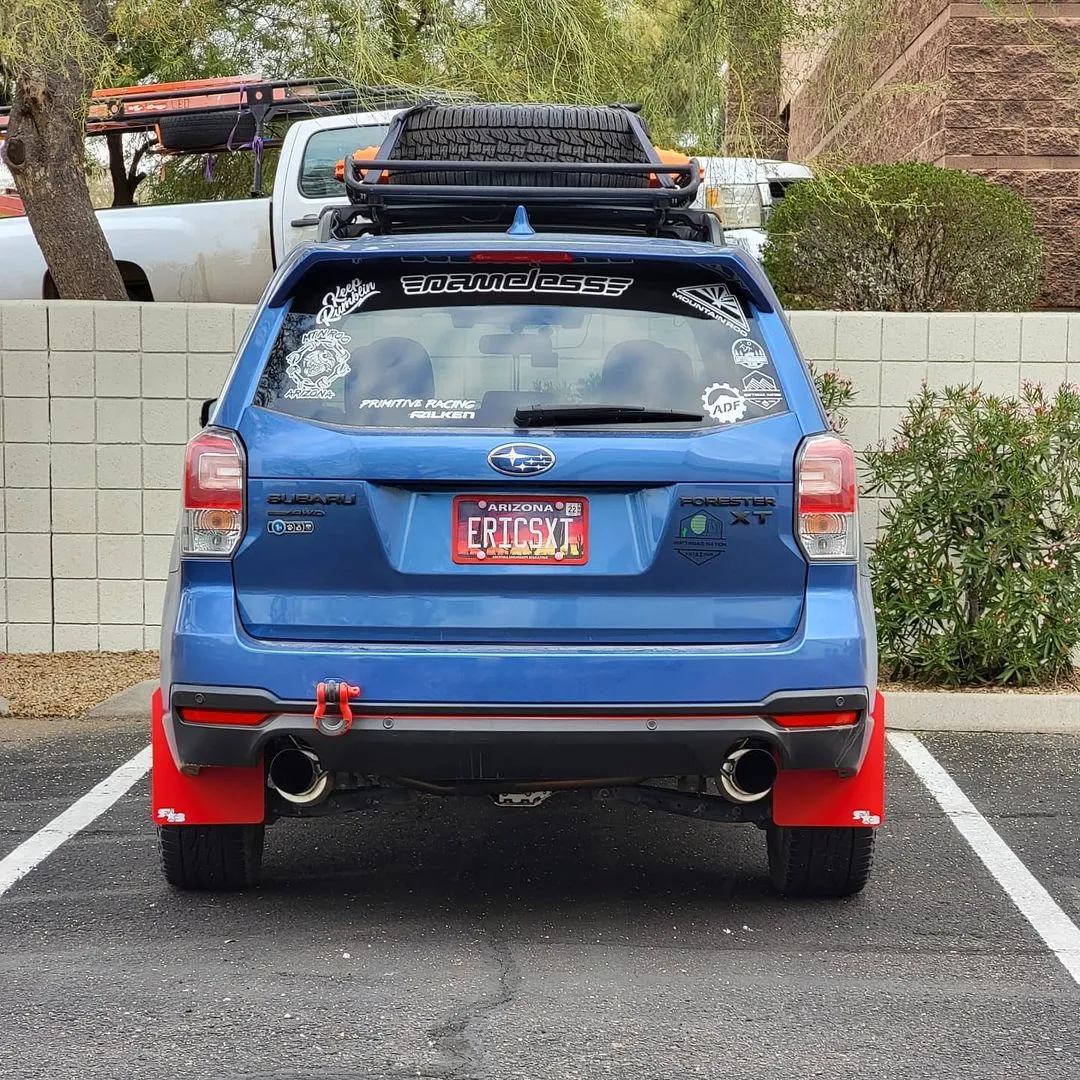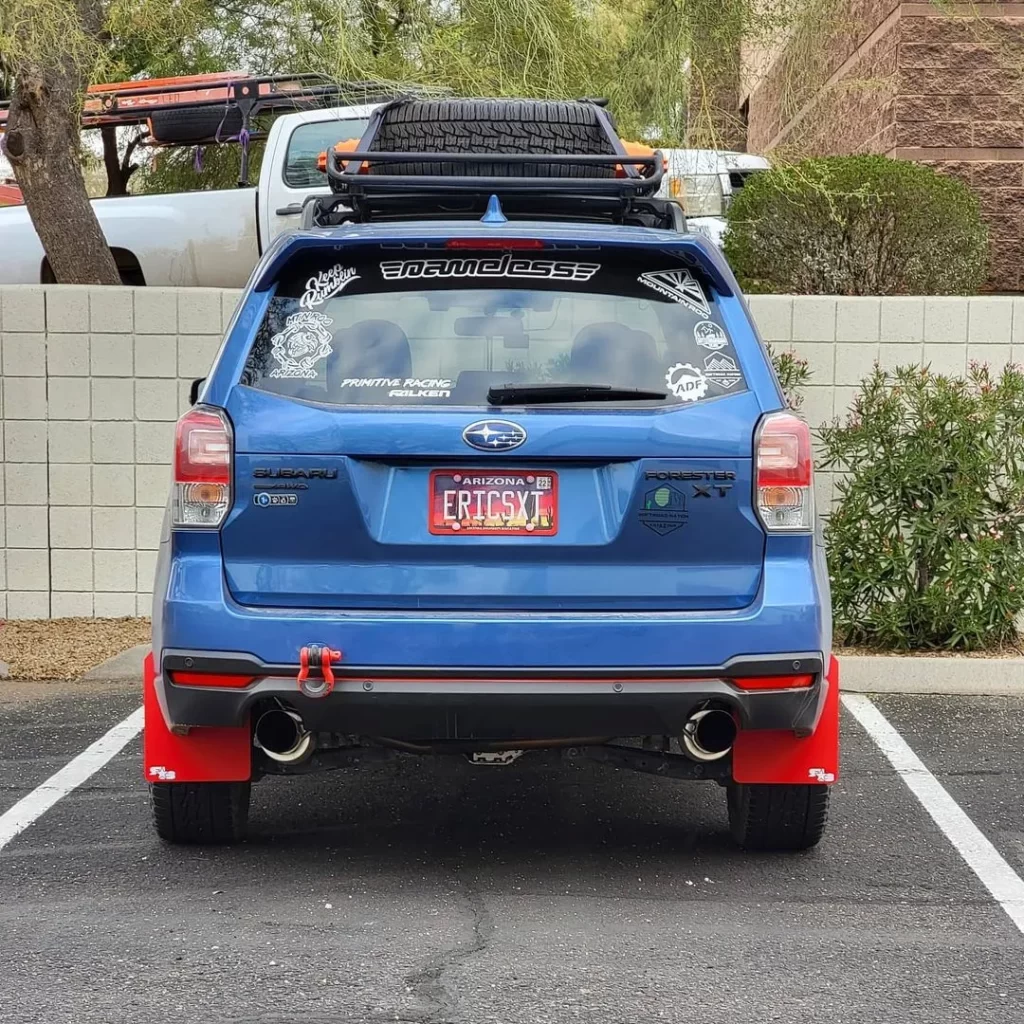 What's some of the craziest/coolest things you've done in the Forester so far?
Exploring a lot of Arizona with the MTNROO crew and the SoftraodNation AZ crew. Craziest was doing a hill climb in the Cinders OHV area in Flagstaff (was a pretty steep hill.)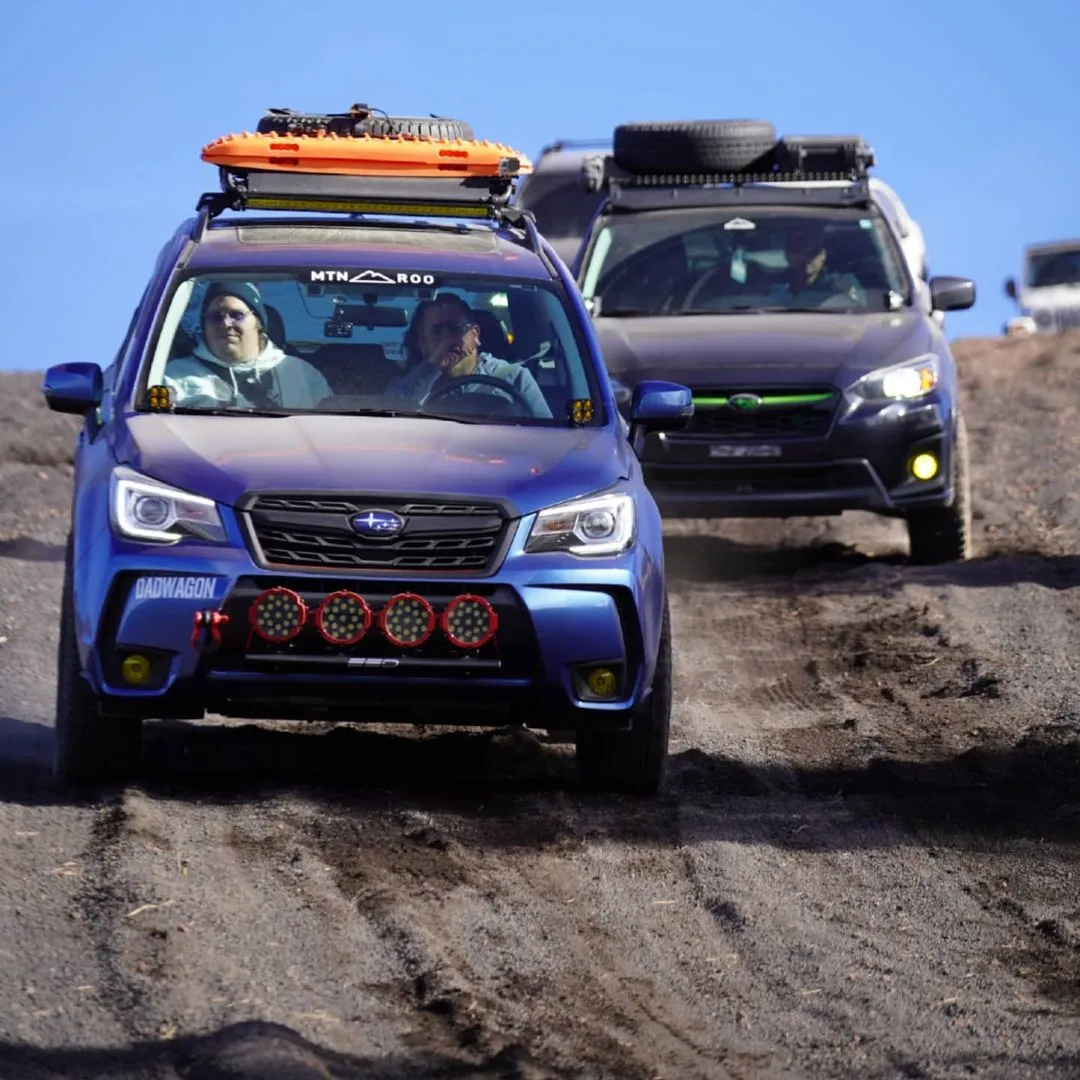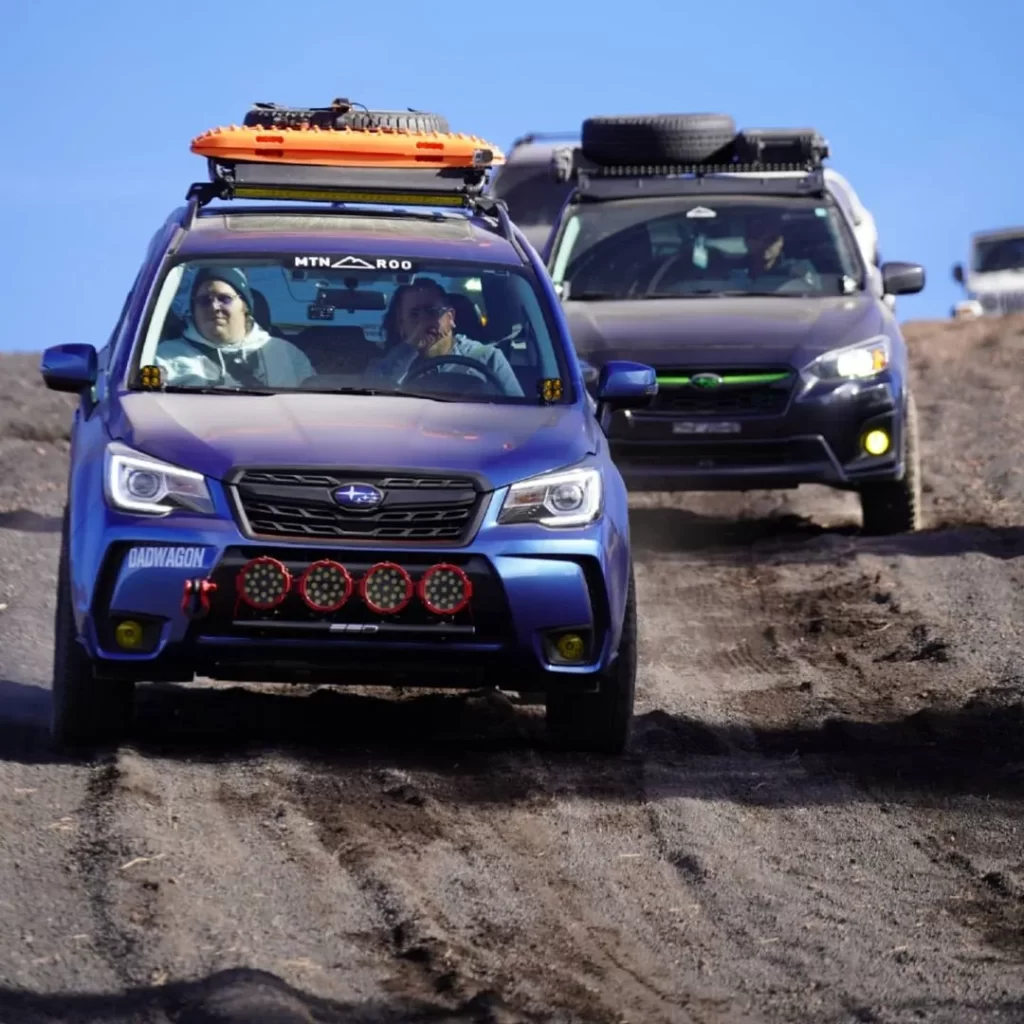 Have you experienced any maintenance issues from having the lift/bigger tires?
I have not seen any issues with my lift whatsoever. My Forester only has 35k miles so it's not to say I won't have those issues.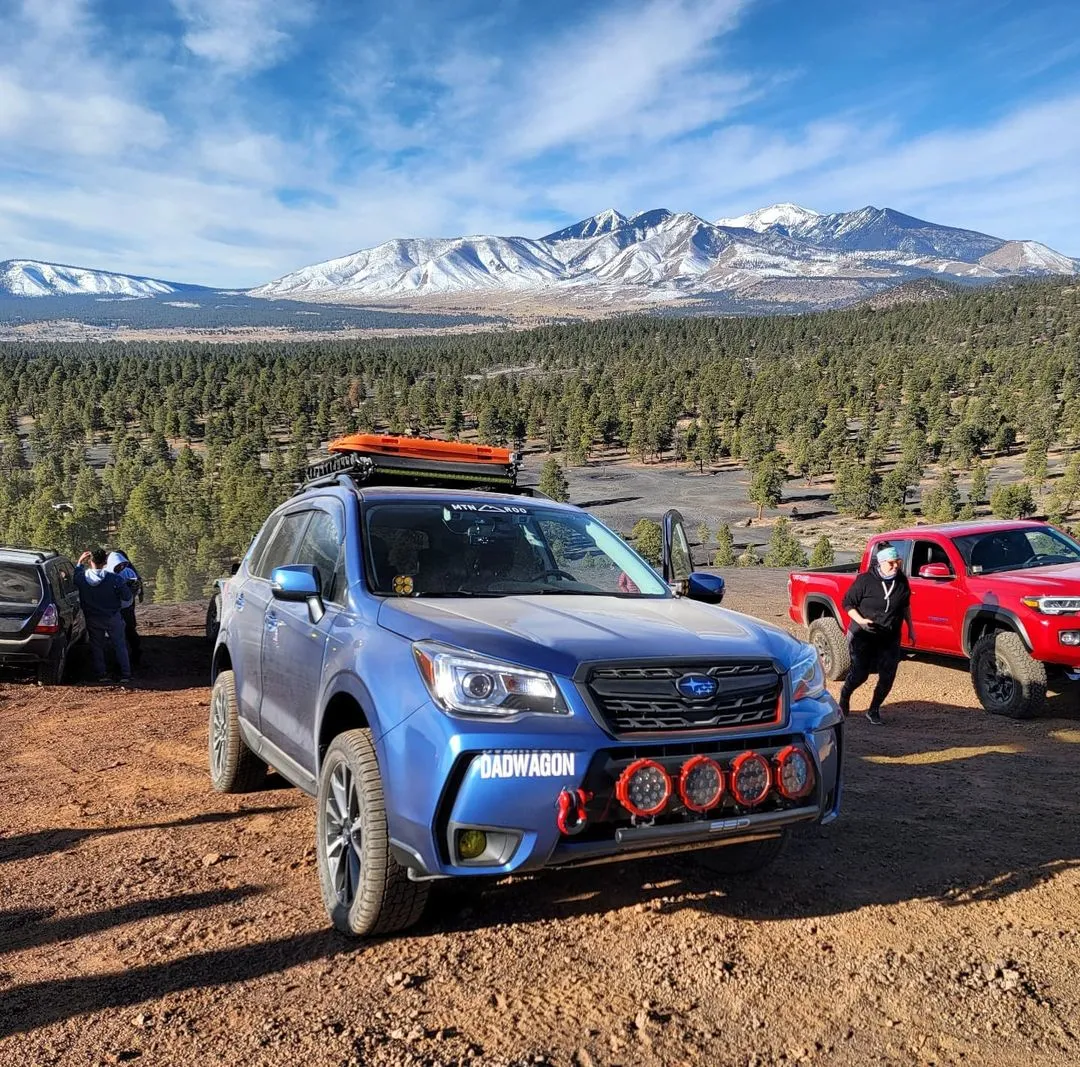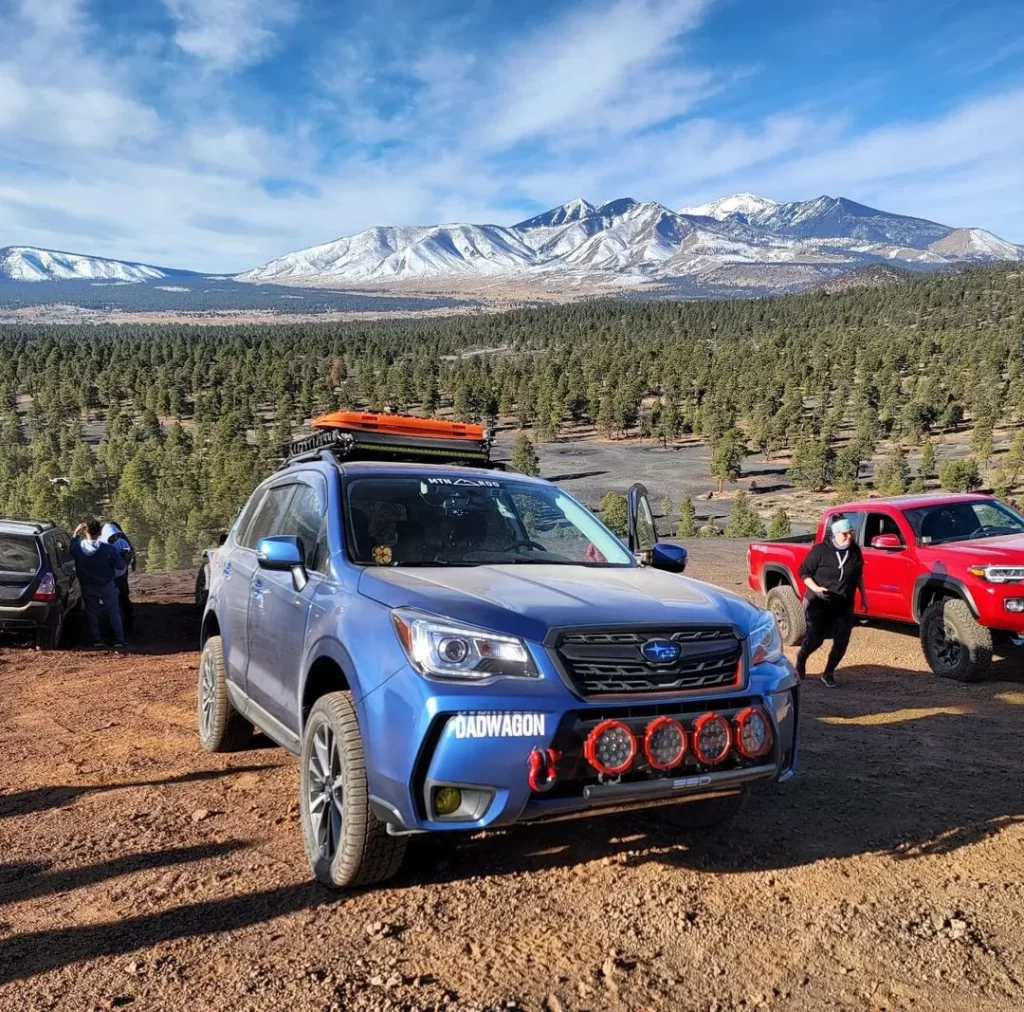 Do you have any future plans for the Forester?
There are always so many plans and mods, it comes down to wallet size lol. I would like to get a hitch put on, rear ladder, new shocks and springs (haven't decided what I wanna go with yet) Looking at different wheels and tires also, going back and forth with either going to 17's or doing the front caliper swap to get 15's or 16's. I have been eyeballing the Yokohama Geolandar M/T G003. 
We couldn't be happier that Eric was willing to sit down with us and share the details of his Forester build. This is the first 4th gen FXT that we've had on the site and we're really thankful for the insight into his mods.
Got more questions you want to ask? Go follow Eric on Instagram and show him some love.
Check out the build on Instagram @bearded_pixel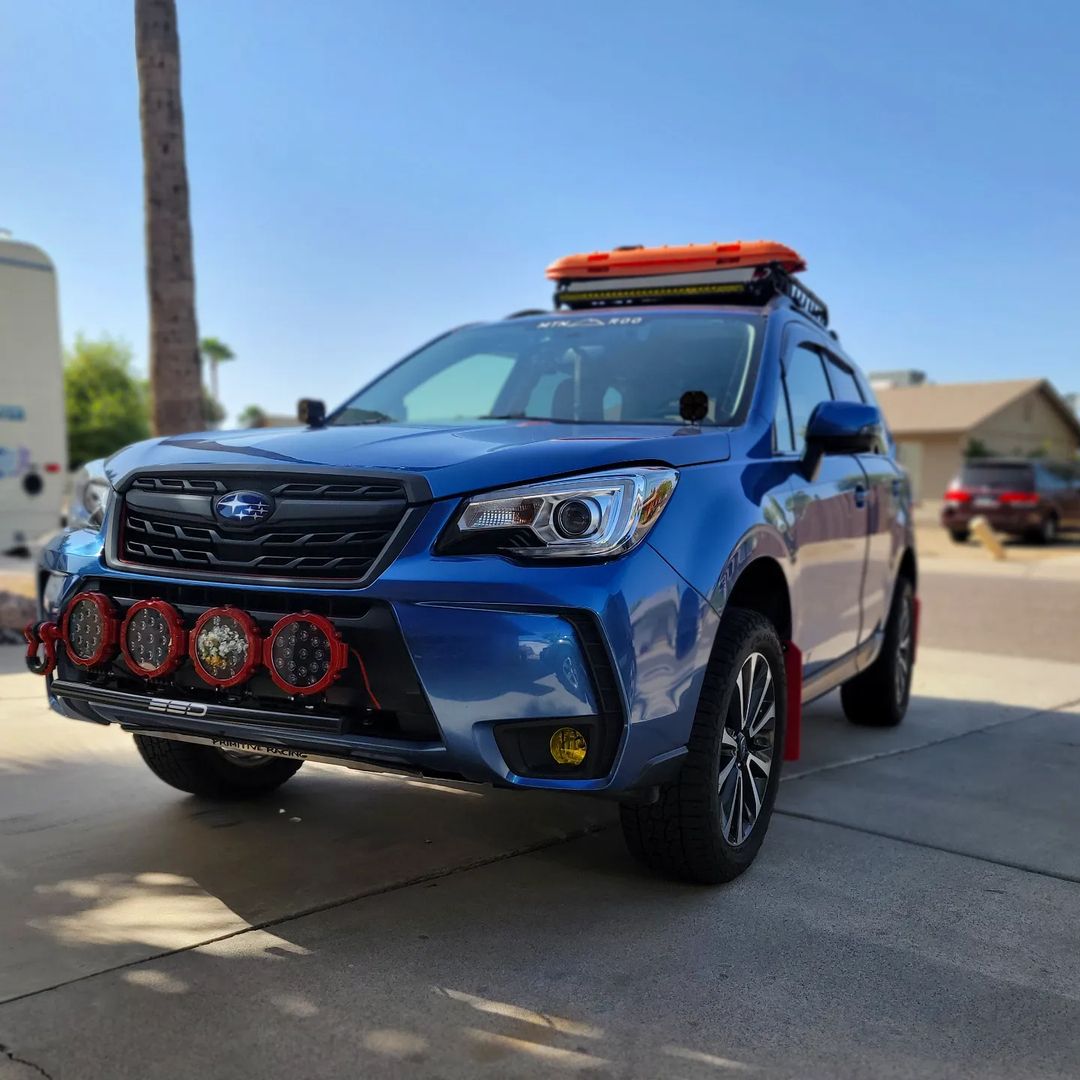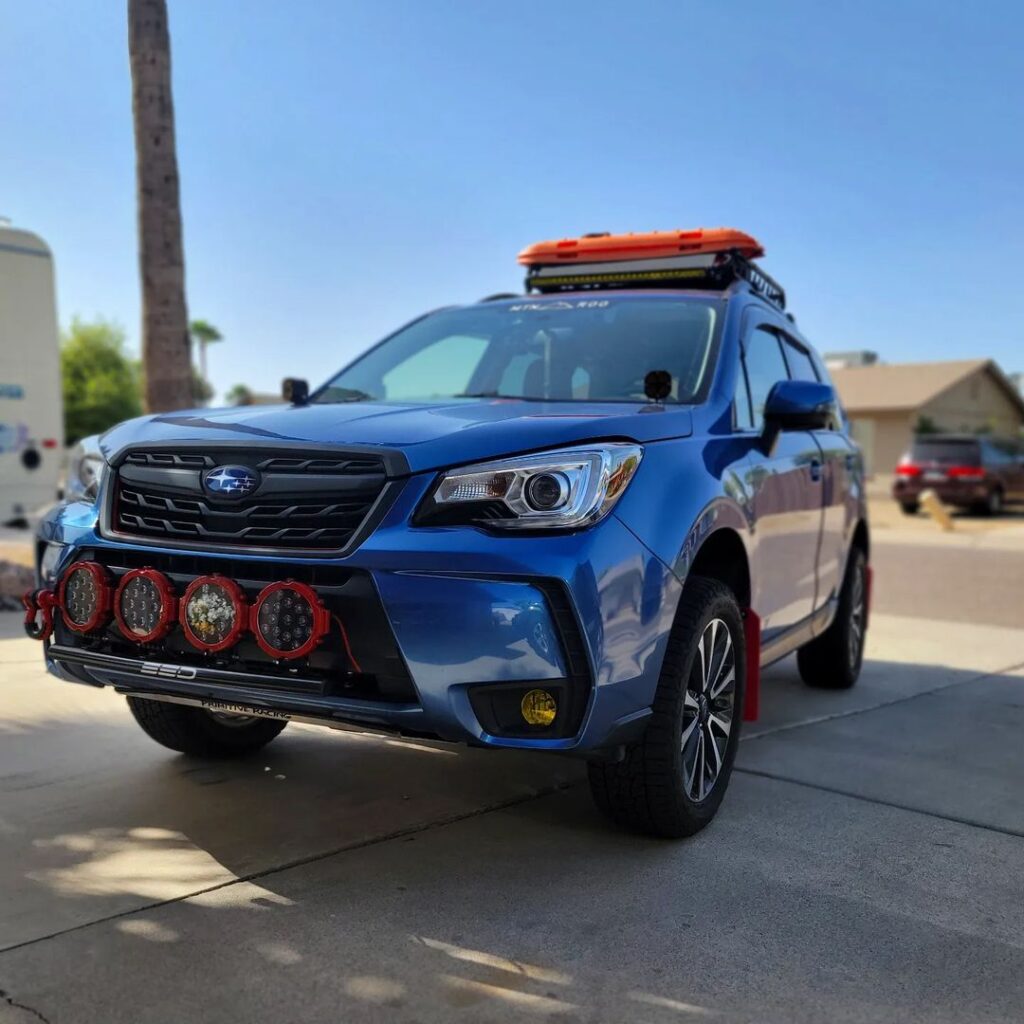 Articles You May Find Helpful: