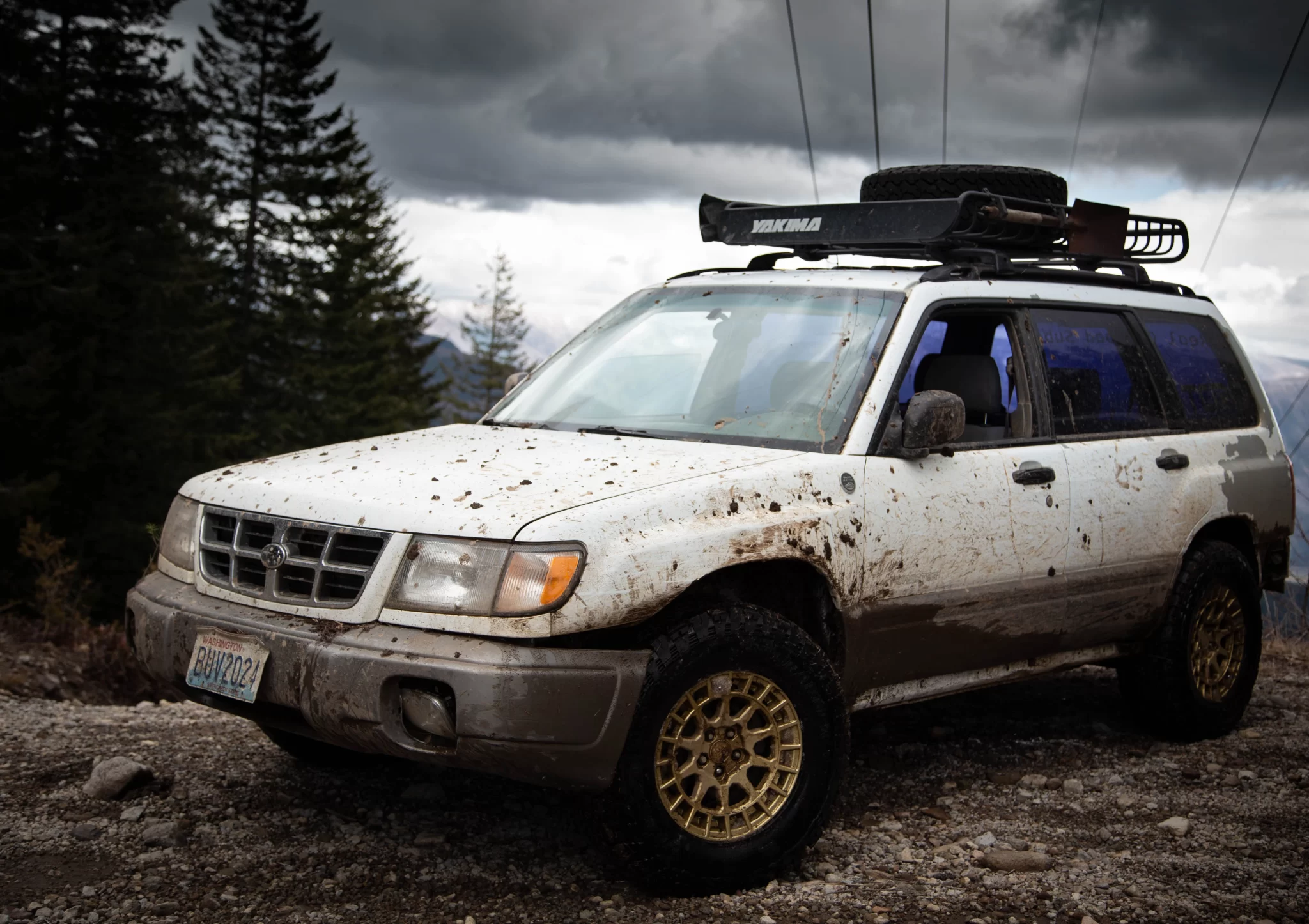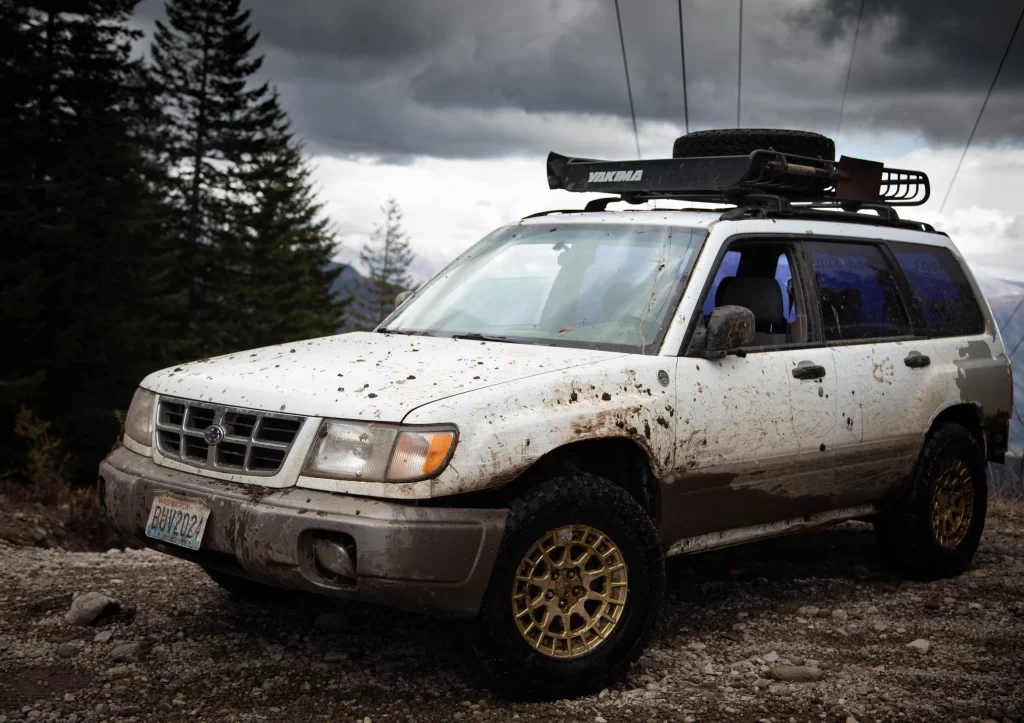 This is the best way to have fun in a lifted Subaru.
Justins 99 Forester hits trails with 4Runners, Jeeps, and full size trucks.
I've known Justin for over a decade and we became really good friends after we reconnected to take our Subarus on some trails at the local mountain. After seeing him conquer hill climbs, rock gardens, and mud holes that most Jeep owners would back away from, my respect for him as a driver and a trail-mechanic has continued to increase.
I finally got the chance to talk with him about the build and wanted to share his Forester with you. Hopefully it will inspire you to take your off-road trips to the next level.
Lift Kit & Off-Road Parts List
Anderson Design & Fab 2/2.5 inch lift kit
General Grabber ATX tires 235/75R15 

Black Rhino Boxer Wheels 15×7 5×100

Swapped EJ22 engine

CVT roof side awning

Yakima Load Warrior roof rack

Torq Masters rear diff Torq Locker

Center diff lock mod

Relocated ECU

Primitive Racing 4EAT transmission pan skid plate

Customized Wilco rear tire carrier

Sway bar delete

Curt trailer hitch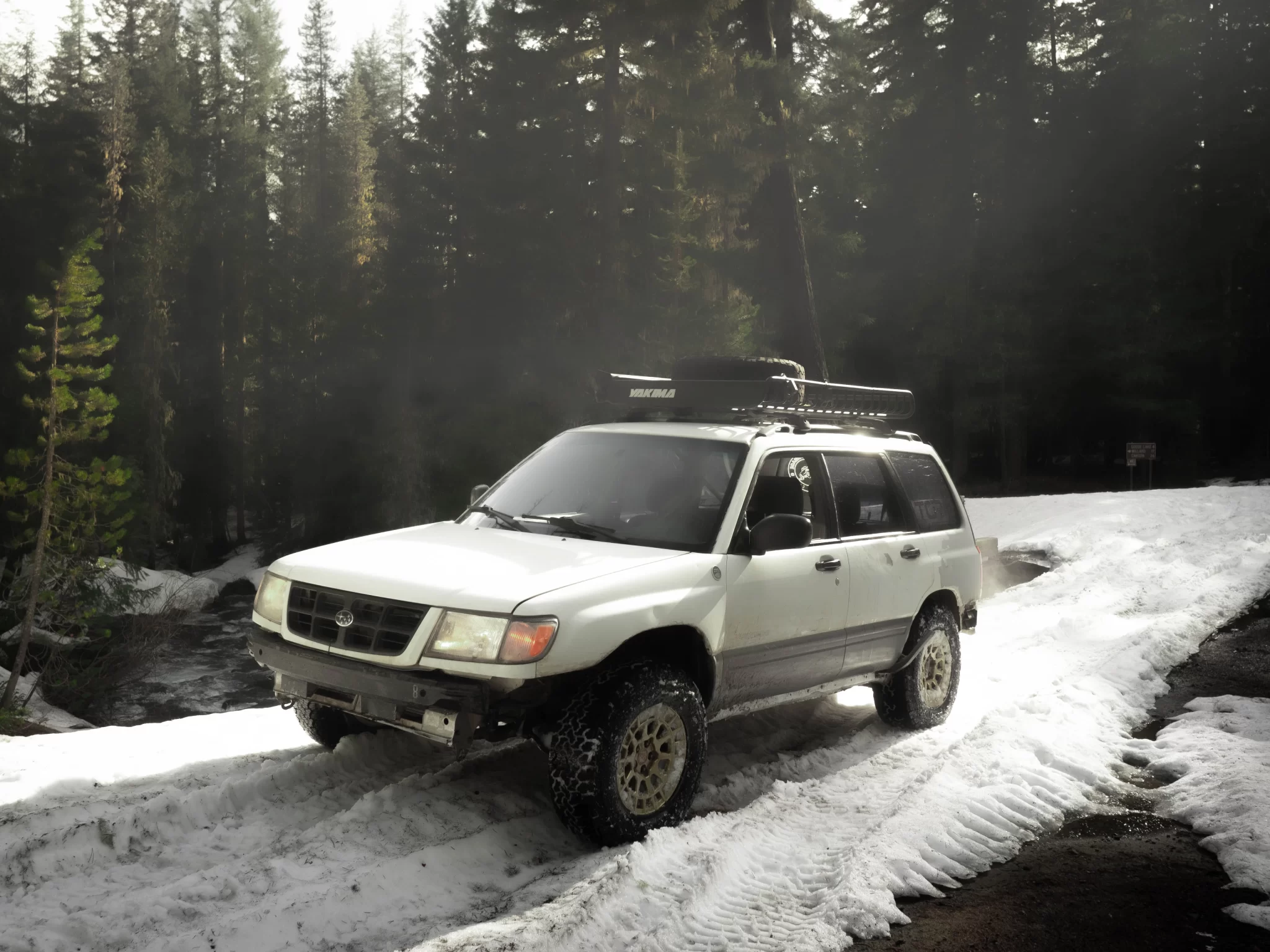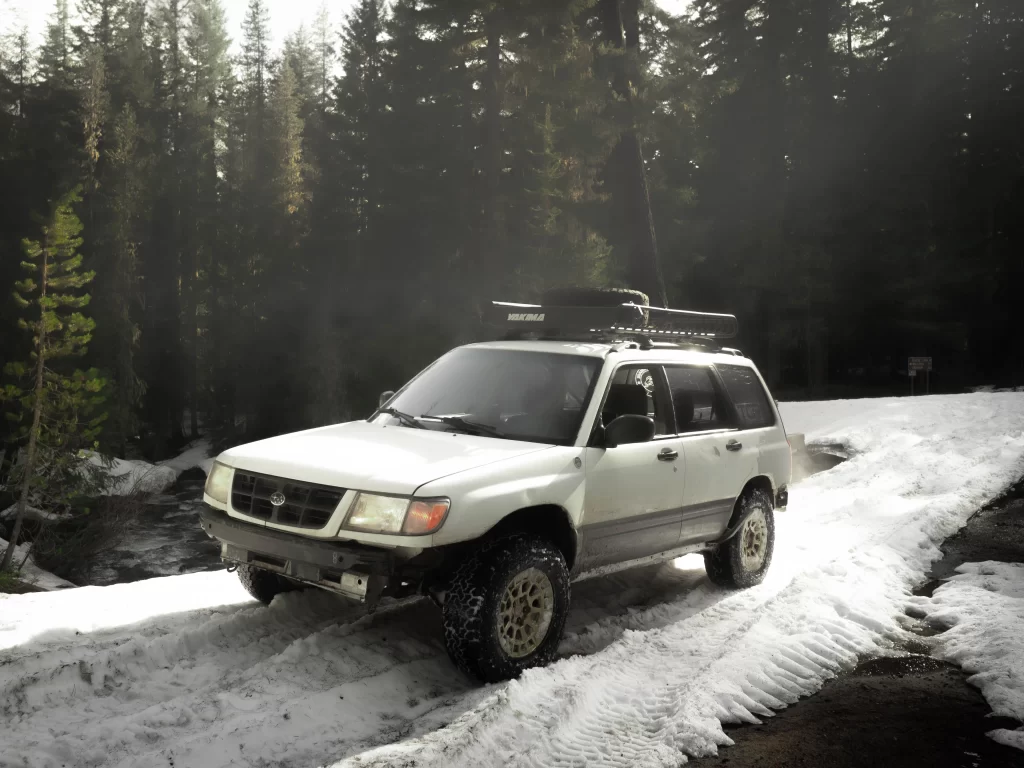 How Capable Is A Lifted Forester?
I have to admit, I have been blown away on multiple occasions by the various obstacles that this Forester has been through. I've watched Justin drive it through a ditch during a snow storm and plow through snow up to the doors. I've seen him climb rutted out steep inclines with 2 foot deep holes on the way up.
I think the main reason this Forester performs so well is due to 4 major mods: the lift kit, the tires, the Torq Locker, and the center diff lock. Aside from the build itself, Justin's ability to pick strategic lines and to control the throttle properly is a huge factor in him being able to take it on serious 4×4 trails. He knows when to approach with speed, and he knows when to slowly crawl up an obstacle.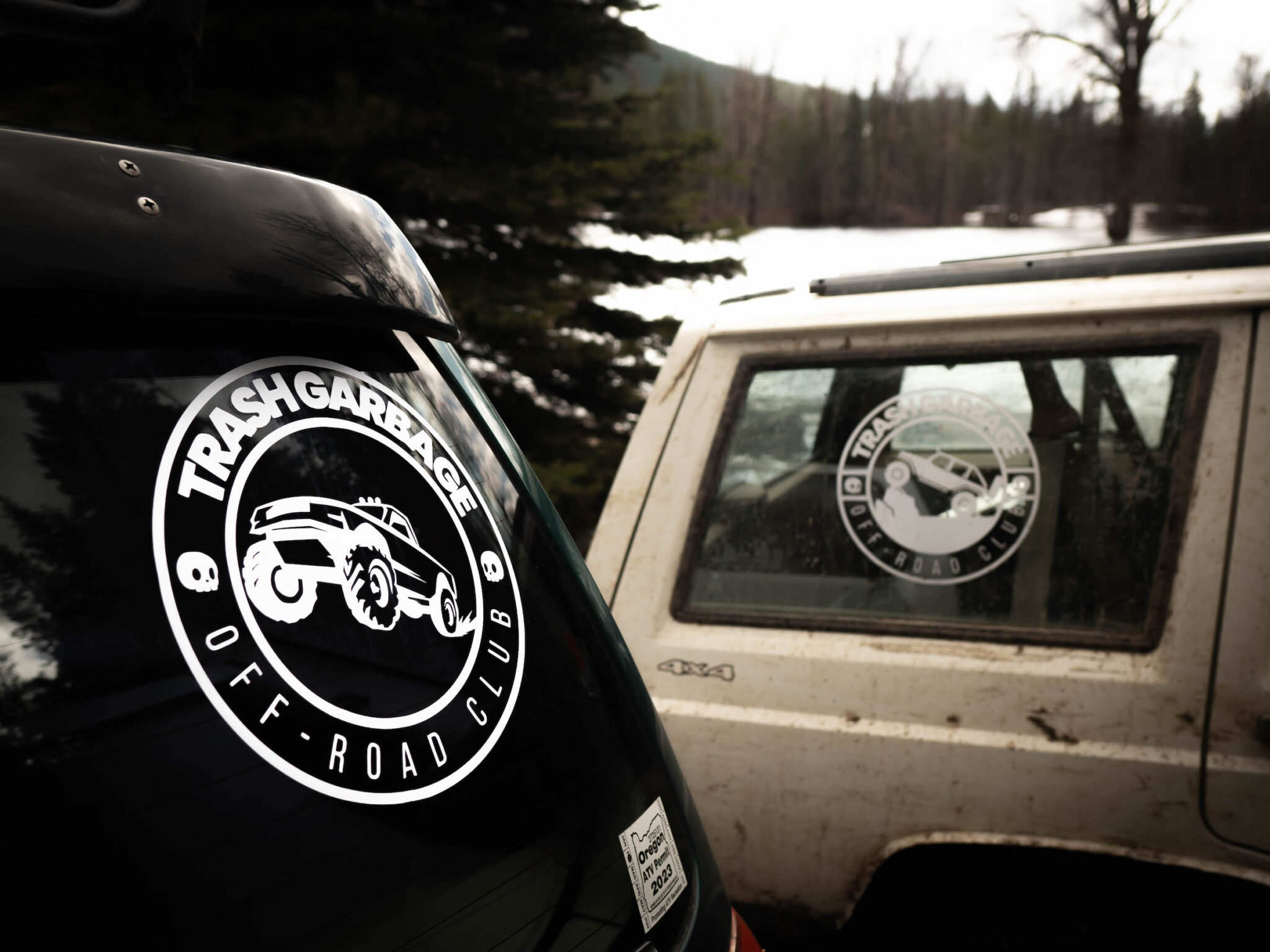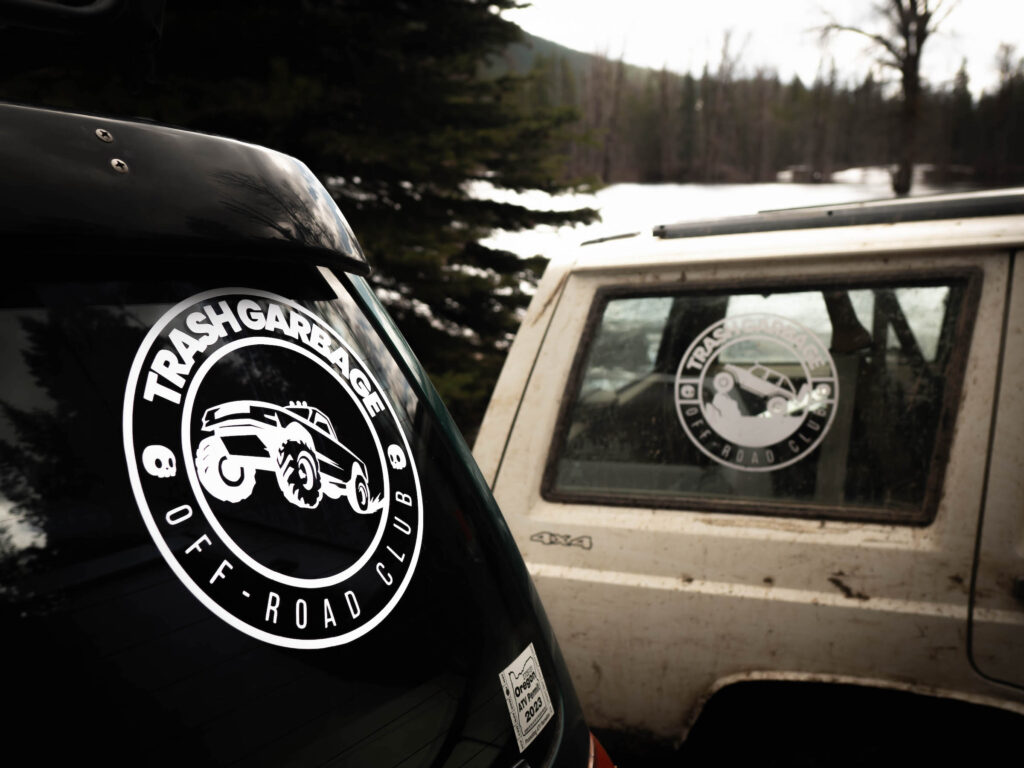 You can see in the video below how he climbed up a loose dirt/rock hill that a lifted and locked Jeep XJ had a hard time climbing. He had to back up and get speed, but without a low gear I was extremely impressed. I watched a lifted Toyota struggle up that same spot. It doesn't look steep in the video, but in person it is far steeper than it appears.
In order to fit a larger tire on this Forester, the side skirts, and mudflaps needed to be removed. He then had to trim his bumper slightly and hammered his pinch welds in the front wheel wells to allow for the additional sidewall. The 235/75R15 General Grabber ATX tires measure out at right around 29 inches in diameter. The stock tires that came on the 1999 Forester from the factory were 26.3 inches in diameter. So Justin was able to fit over 2.5 extra inches of tire on the Subaru.
The 235/75 is a fantastic tire if you plan to actually wheel hard in your Forester. But for folks who want something a little more mild and easier to accommodate, the 215/75R15 is a slightly smaller option that still does really well off-road.
Pro tip: if you still want mudflaps after installing off-road tires, a lower profile rally option like Rokblokz, Rally Armor, or Rek Gen are slim enough to fit. You may want to consider this if local laws in your area require mud flaps. Especially if you select a wheel that sticks out past the fenders. It's safer for your paint (as if we actually care) and for other drivers around you on the road.
Locking your differentials on a Subaru won't be quite as effective as on a full size 4×4. However, it makes a huge difference in giving you the ability to climb steep uneven terrain and to climb out of deep mud more easily.
The Subaru AWD system is fantastic but it has its limitations in stock form. With a stock open differential, the vehicle will give power to the wheel that is able to freely spin. This seems good right? But if you have one wheel off the ground and the opposite wheel stuck, the wheel in the air will be given all the power. You'll continue to sit there completely motionless as you give it full throttle. This is where a "locker" comes in. The rear differential locker made by Torq Masters will lock up both rear axles so that no matter how much wheel lift you have, you'll still be able to get power to the wheel that's on the ground and pull right through whatever is in your way – and this is why Justin installed this mod on his Forester.
But what about the locking center diff? While the rear diff distributes power between left and right, the center diff controls the power split between front and back. When your Subaru is driving under normal conditions, the majority of the power is sent to the front wheels. Then when wheel spin is detected, the center diff locks up and more power is sent to the rear axles. The center diff "lock" mod that Justin installed allows him to lock that differential up preemptively. This eliminates any delay in traction and makes for a much more capable approach.
The center diff lock requires a little bit of splicing and wiring work. We don't recommend performing this mod if you're not 100% comfortable with automotive wiring. But if you can get some help with it, it can be extremely useful off-road.
Check out this video for a visual explanation of the center diff lock and a brief tutorial on installation: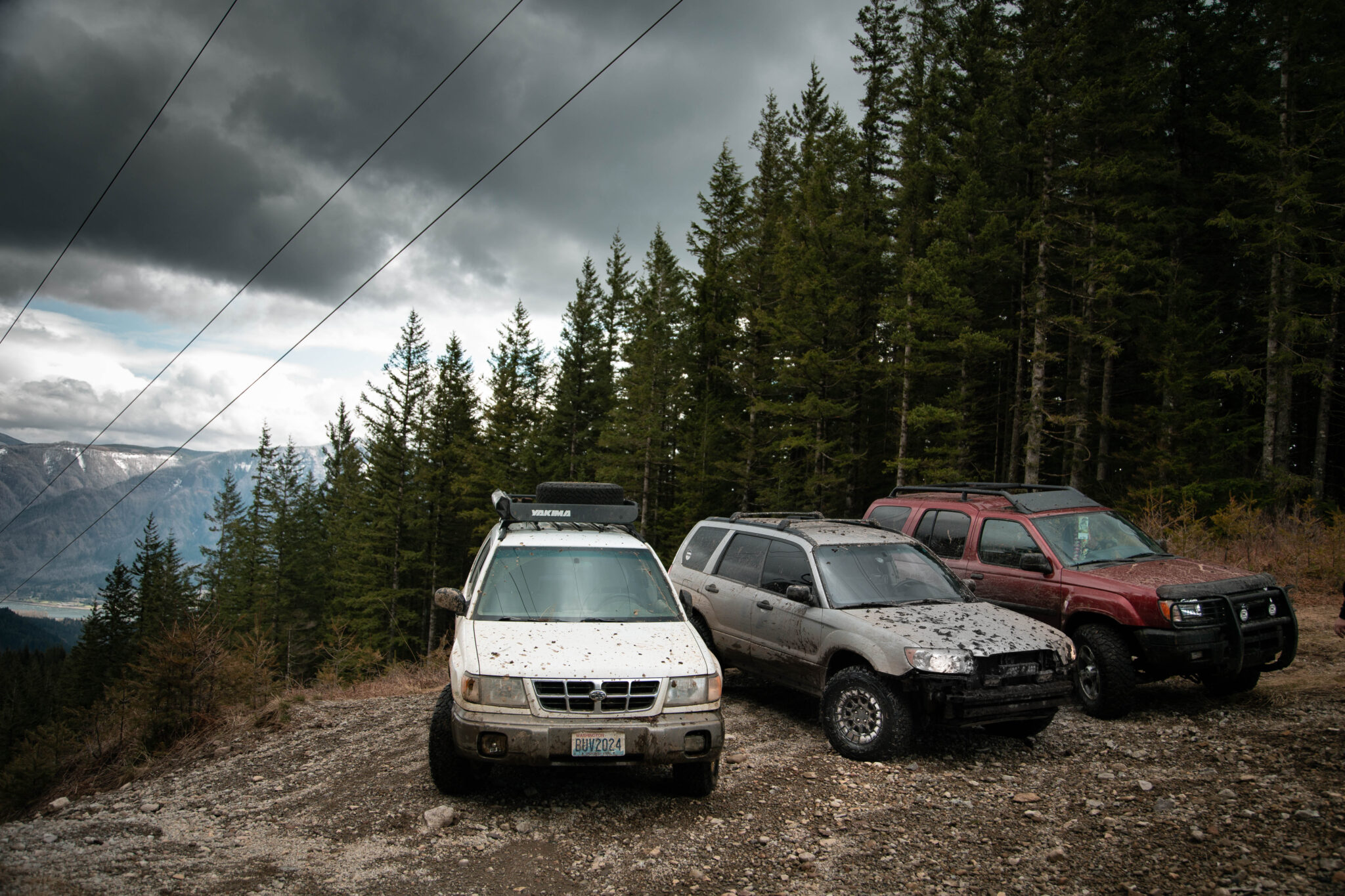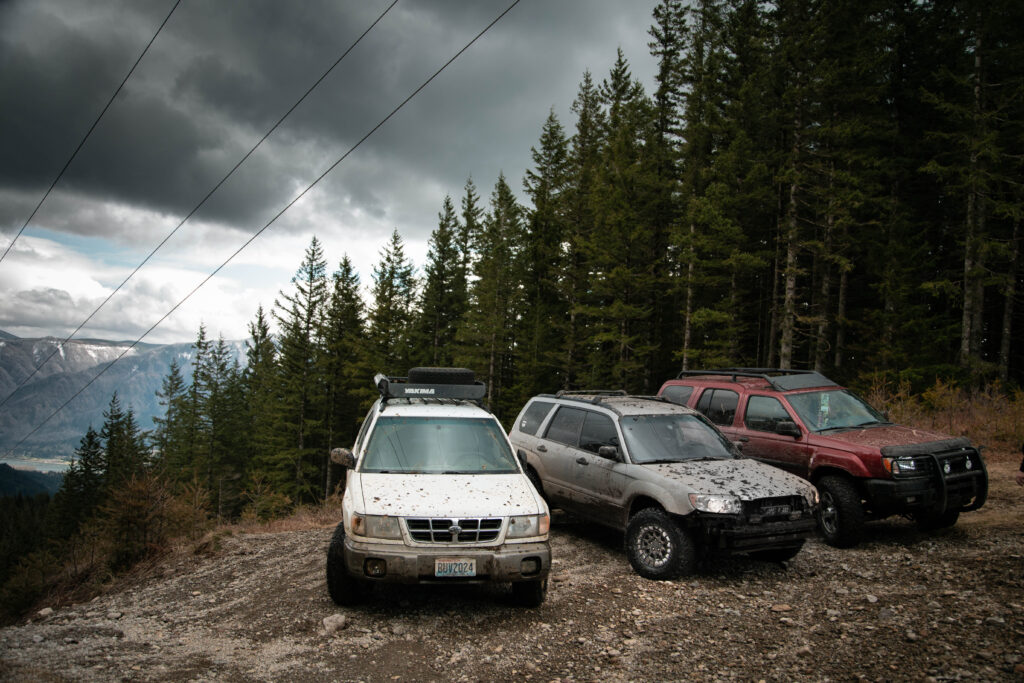 Justin has been a huge proponent of the General Grabber ATX – and I'm beginning to catch on. It performs extremely well in situations where a mud terrain would usually be needed but still handles like a traditional all-terrain.
This tire does really well in snow. Justin has plowed through snow up to his doors and pushed through fresh powder for miles with them. But that's not the only place where they shine. He's used them in loose dirt, mud, and rocky obstacles. We've even aired them down to 6psi to use on old heavy snow. They held onto the wheel bead with no issue and got him all the way through the snowy trail.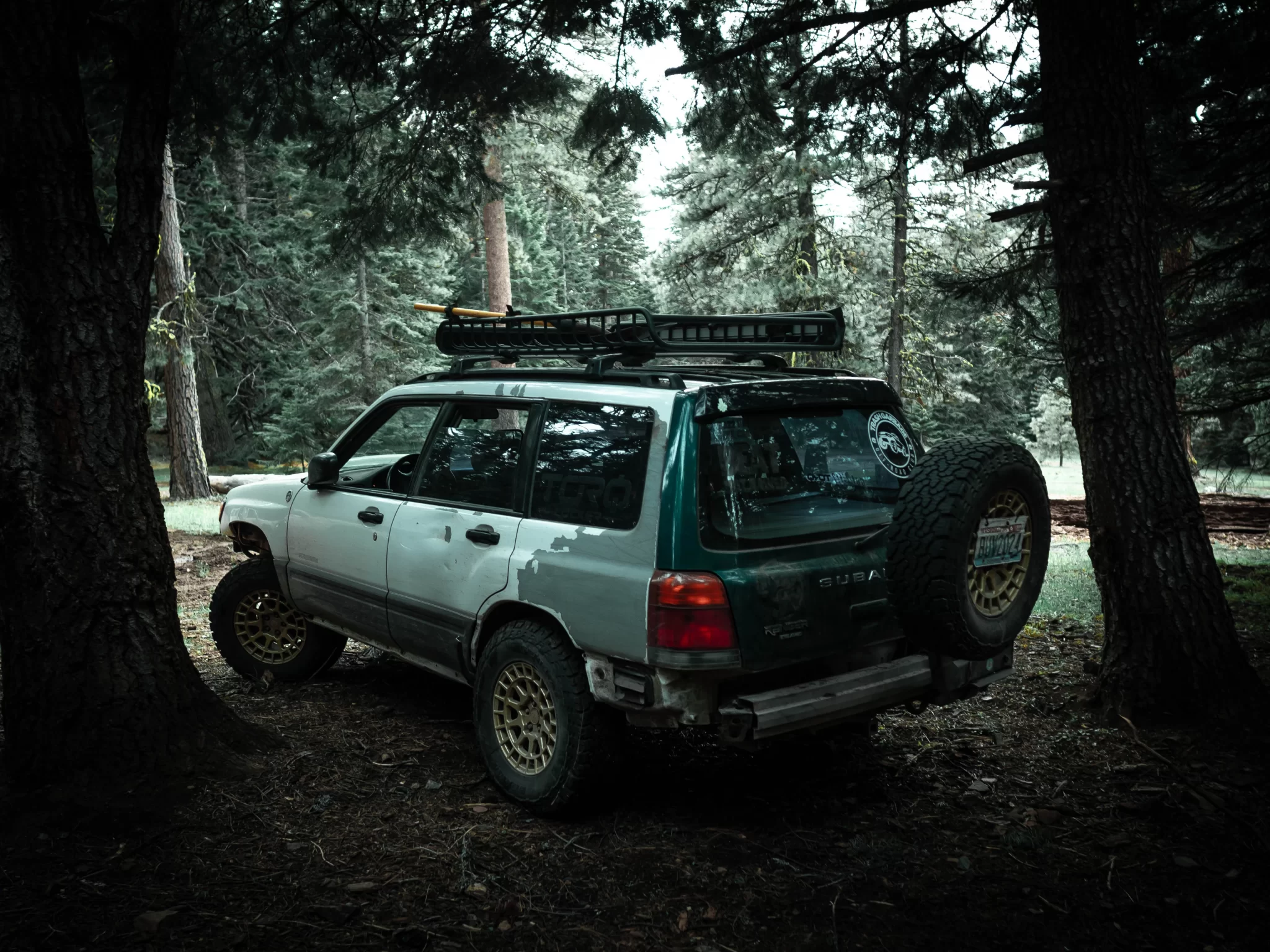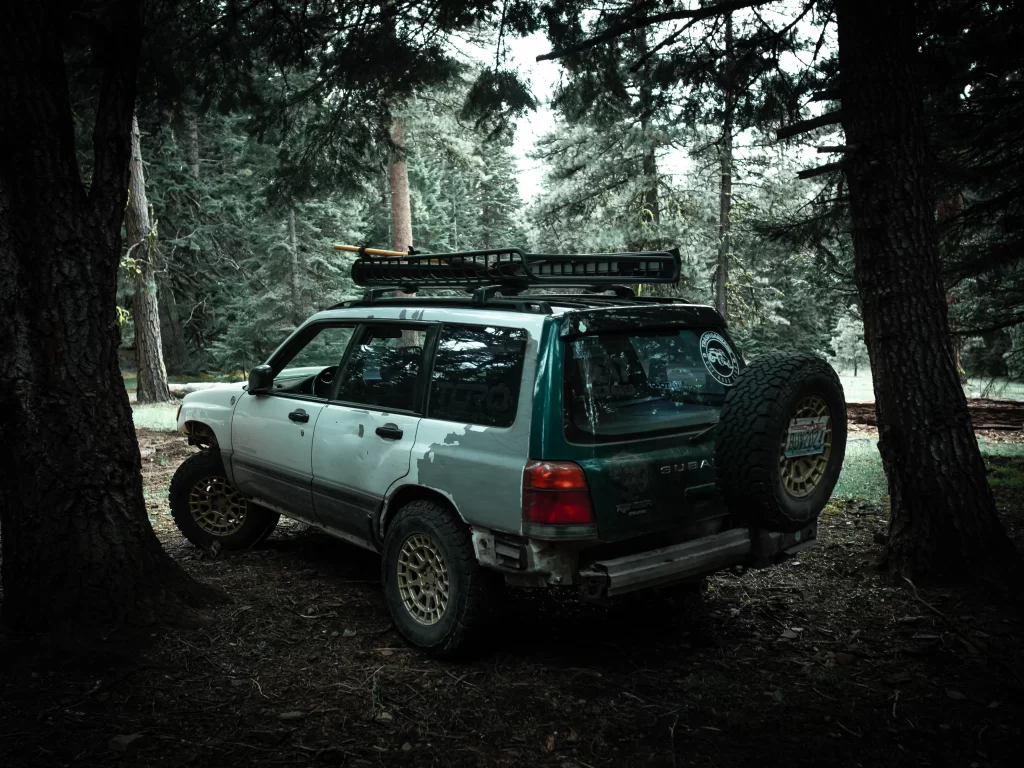 The rear tire mount on this Forester was originally custom made for a 2003-2007 Forester but Justin was able to install the correct bumper beam to mount it to his car. It was originally a Wilco Hitchgate carrier but it had been modified to fit the Subaru and was integrated into a trailer hitch.
The mount itself weighs under 65 lbs and helps keep that heavy tire off the roof for a better center of gravity. These carriers can also be useful places to mount extra items like camp tables, fuel cans, and a wide range of other accessories.
Durability: Blowing Up & Replacing Engines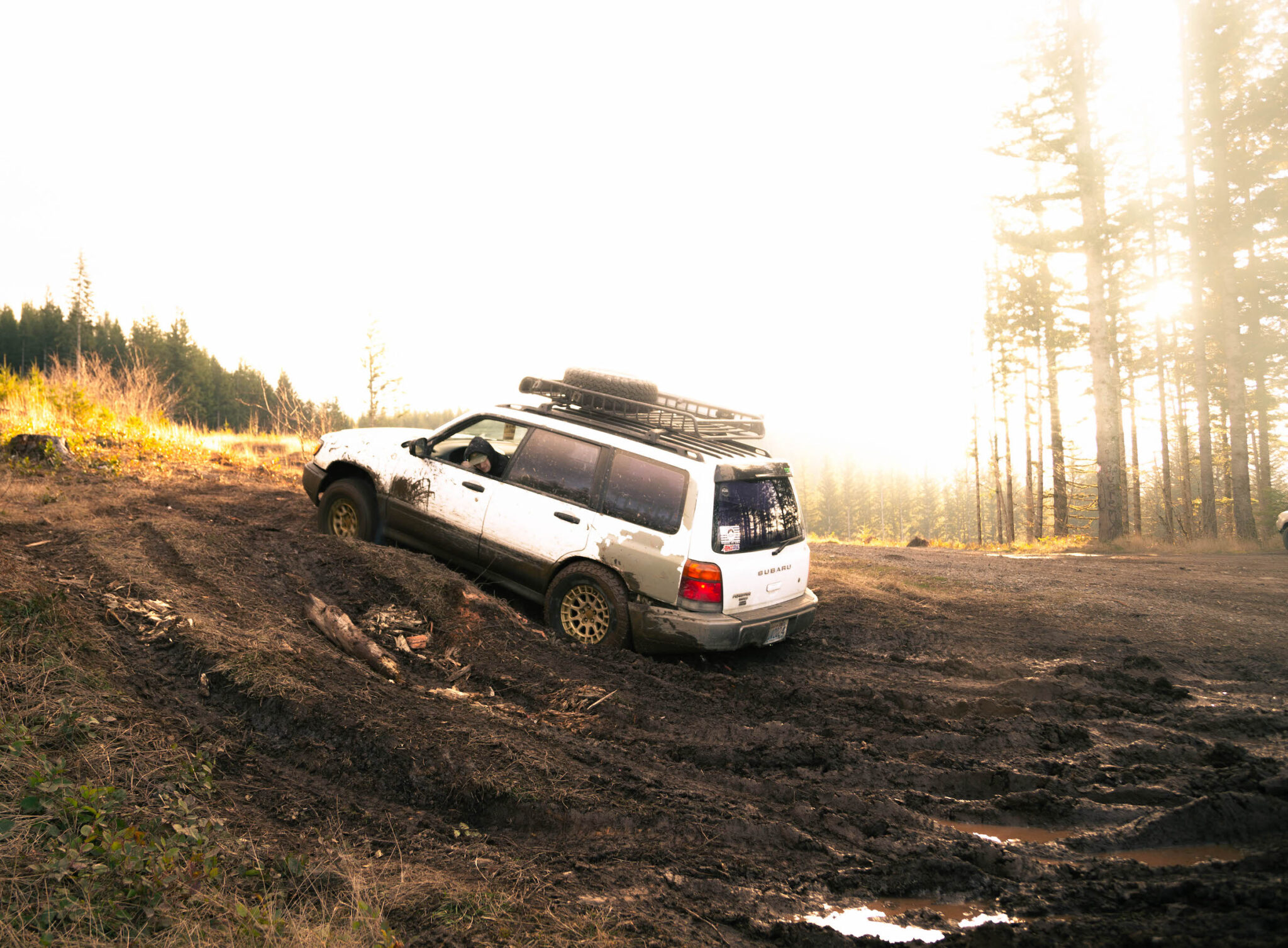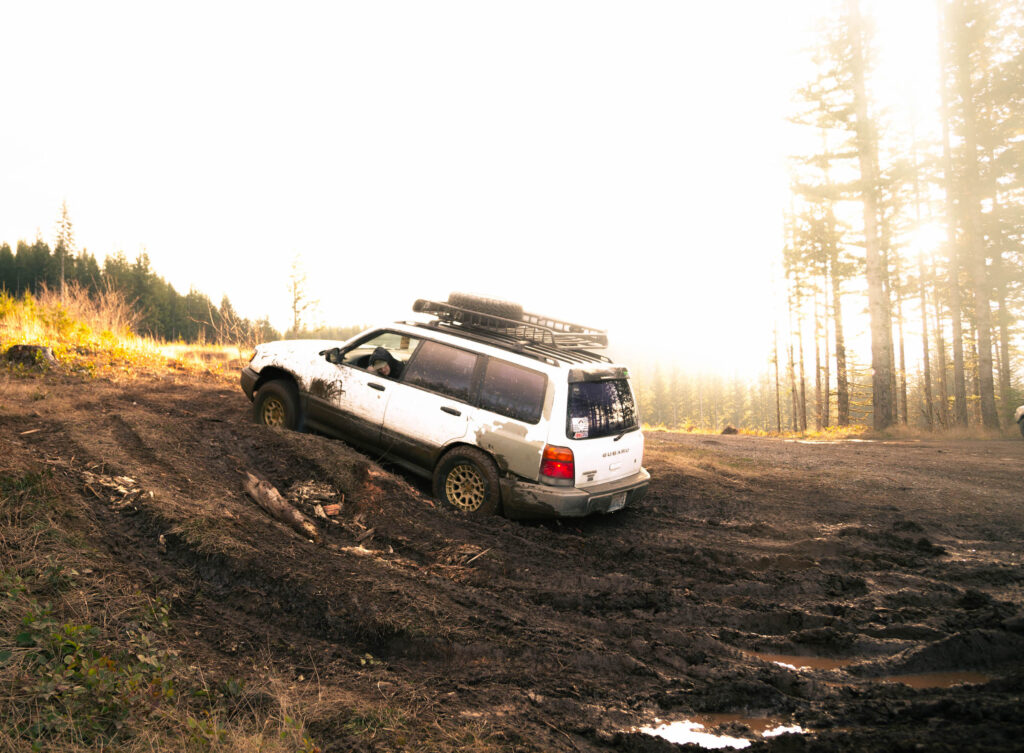 If there's one thing that surprises me most about this Forester it's that up until a couple weeks ago it had an engine with about 400k miles on it that had been hydrolocked multiple times. Justin is the first person to point his rig into a mud hole and open the throttle. Because of this, he's become pretty familiar with the cylinder purge process of expelling water out of the engine after sinking a car. In fact, Justin was with me when I sank my 2006 Forester into a pond. He helped me pull the spark plugs and get the water out of the motor before cranking it over.
But finally after 400,000 miles, the engine in this Forester finally died. He pulled the motor and it was full of rust from the years of abuse and water crossings. One of the bearings finally gave out and the engine died on him.
He was able to track down a lower mileage, well-built EJ22 from a local guy who races rally cars. After making the drive out to pick it up, he installed it in a few hours and it fired right up with no problems.
Although this car came with 2.5 liter EJ25 motor, Justin explained that there was no noticeable difference in power between the two. The EJ22 is also more reliable and won't bend valves in the event of a timing belt failure. It was the perfect choice for his trail rig.
All that to say, this Forester has outlasted the engine that was in it despite taking constant abuse. After all these years it's still on the road and still being taken on trails with no issues at all.
The Mismatched Green Hatch - A Recovery Nightmare
One of the first things you may notice about this car is the green hatch paired with the white body. The green hatch was pulled off of a clean junk yard car. The original hatch was damaged during a recovery accident.
A couple of years ago, Justin and I were wheeling with another group of people. The two of us had been breaking trail through a large patch of old snow when we both finally got completely stuck and gave up. At this point, we both needed to be pulled out. Justin was behind me and needed to get recovered first.
We asked one of the other rigs to give him a pull and they agreed. However, they were not fully familiar with their vehicle yet and simply placed the D-ring shackle on their open tie down hooks. It may have seemed like a fine idea to them at the time. But when they reversed to yank the Forester out, the D-ring slipped right off the hook and sent it like a missile right through the rear hatch. It landed right behind Justin in the back seat…
As soon as it happened, we were all really thankful that it didn't end worse. But we became very adamant about checking our own recoveries from that point forward. You can't always trust someone else to set up your recovery.
Needless to say, this is why his original white hatch is no longer on the vehicle.
Why You Really Need A Roof Basket
A lot of people will buy a roof rack because it looks "cool" without any real need for it. But there are some great practical uses for them that Justin has taken advantage of on his Forester.
Justin carries a lot of helpful items on his roof. There's always a shovel strapped to the rack. It comes in really handy during certain recoveries and is easily accessible right on the side of the roof. Before his tire carrier was installed, his spare would usually be right up on top of the rack just in case he needed to replace a tire on the trails.
The roof basket also turned out to be the perfect spot to install the awning. It's great for hot days or for taking cover while doing trail repairs in the elements. He installed his right on the passenger side of the vehicle.
If you own an off-road vehicle, a roof basket offer some utility aside from just looking cool. It can give you an extra place to store fuel, recovery straps, and if you're like me, a spot to throw trash bags of collected garbage (I usually try to pick up any litter that I find if I can manage it.) Roof baskets also offer a really good mounting space for additional lighting. If you want to run some light pods or a small light bar, this can be a great place to install them.
On one of our recent wheeling trips, Justin agreed to do a walk-around video of his Forester. Check it out below:
If you are thinking about lifting your Forester, it can be a really good way to enjoy more scenery and explore new places. You don't have to beat on it as hard as Justin hammers his. But if you do, build it right!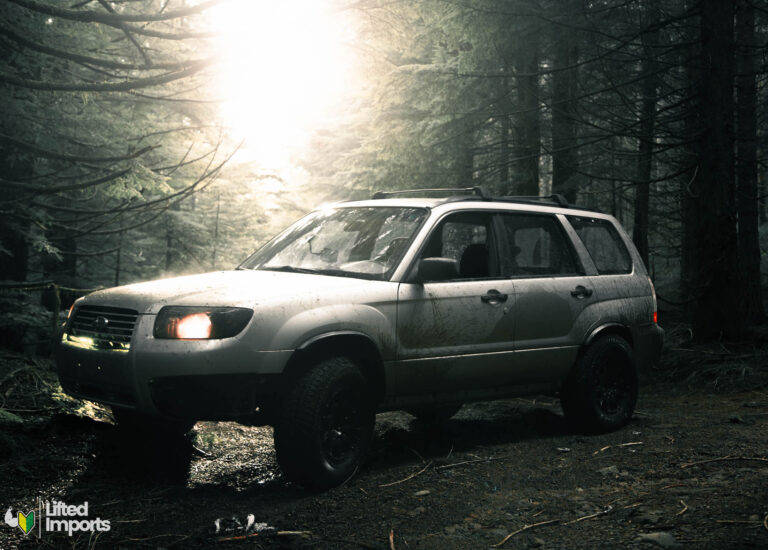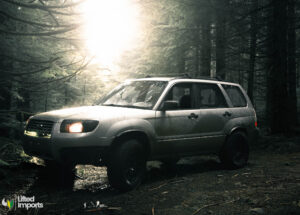 Lift Kits
As an Amazon Associate, we may earn from qualifying purchases at no cost to you.
All modifications should be performed by a trained individual. Lifted Imports cannot be held liable for any damages resulting from the use of off-road mods.