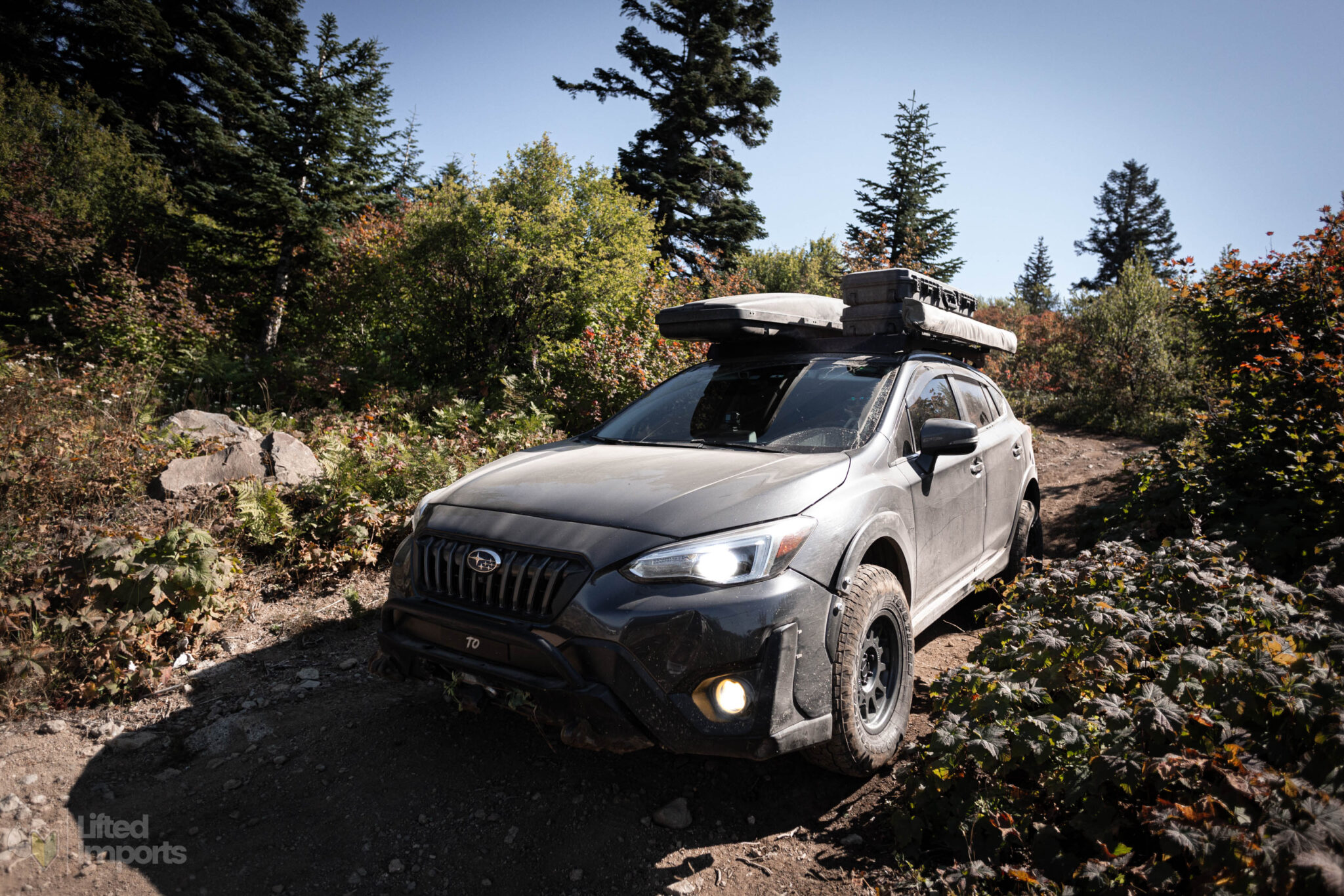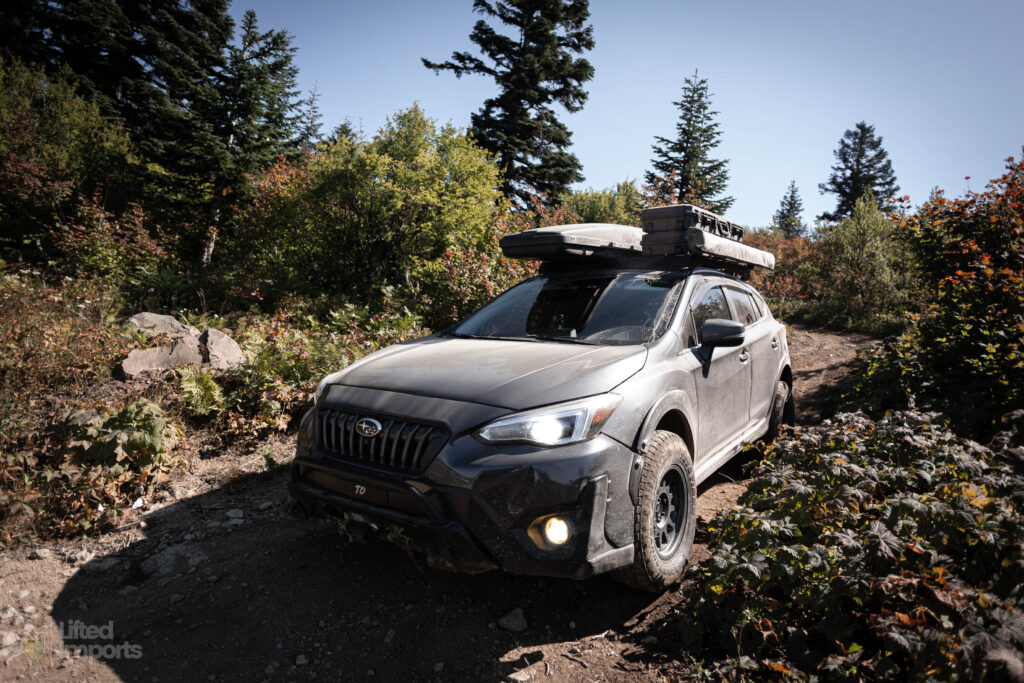 Subaru Lift Kits: the best brands For off-roading & where to get them
Last updated on December 4th, 2023
Lifting your Subaru can be just what your car needs to take you to new places. If you're just starting your research, this guide will point you in the right direction as you plan to lift your car. Regardless of if you want to spend $350 or $2000 on a lift kit, there's something here to fit everyone's budget and needs.
In this article, we're going to explore three different lift kit types and what makes each one unique. Then we will look at eight lift kit options that are produced by reliable and respected manufacturers. Whether you own a Forester, Crosstrek, Outback, Impreza, or Legacy, one of these companies will have what you need.
In a hurry? Jump to the desired section using the table of contents:
Ways To Increase Ground Clearance:
There are a few ways to get extra inches under your car. Some are simple, and some are a little more involved. But here's the 3 most common ways to do it:
Bigger tires
Strut spacer lift kits 
Lift springs and extended suspension assemblies
Bigger Tires: One of the simplest and quickest methods to enhance your car's appearance and off-road capabilities is by upgrading to larger all-terrain tires. Even if you're not planning to install a lift kit, larger tires can allow you to tackle more challenging trails with ease. However, it's important to note that there's a limit to how much you can enlarge your tires without further modifications to your Subaru.
You might also consider lift springs or lift spacers. Lift spacers simply attach to the top of the struts or shocks to add length to the suspension assembly while lift springs replace the stock suspension springs. Some people even do a combination of both spacers and springs. A spacer lift is the most affordable way to lift a Subaru and involves no moving parts. It's a very straightforward process and can usually be done at home by DIY mechanics. For most Subaru enthusiasts, a spacer lift is a great choice. 
Spring lifts are typically installed in conjunction with a small spacer lift. A big advantage to using a spring lift is the improvement in handling that springs provide and the ability to tow or carry heavy gear without the rear of the vehicle sagging. They can be purchased in different spring rates to suit everyone's unique needs and are especially useful for those with rooftop tents or rear tire carriers.
Additionally, there are now a growing selection of advanced suspension lift options available for Subarus, such as longer strut and spring assemblies and long-travel coilovers. While these choices come at a higher cost, they provide enhanced off-road capabilities and can refresh your vehicle's handling. They're particularly suitable for those looking to invest in their Subaru's off-road proficiency and on-road driving manners.
Additional Reading
Here are some other great articles that I would recommend you check out to help in the process of lifting your Subaru:
Vehicle-specific lift kit articles:
Tire related articles:
Now that we've covered the different types of lift kits and what sets each one apart, let's get right into it and take a closer look at eight well-respected and high-quality lift kit manufacturers.
Primitive Racing kits has designed a fantastic lift kit for almost all subies out there. Rather than just a simple strut spacer, the crew over at Primitive has built one of the most functional collections of hardware for taking a Subaru off-road.
It's not uncommon for us to hear "I installed a lift kit but now the rear of my car sags when I load it with my camping gear" or even "I lifted my car, but now it handles horribly." The lift kits from Primitive Racing are designed to eliminate these issues and to set your Subaru up for the best possible performance.
They have multiple options available, but most will arrive with brake line extensions, subframe spacers, and even sway bar link spacers. Their kits are designed to help reduce the accelerated wear that comes with lifting Subarus.
Check out their site and begin building your kit today.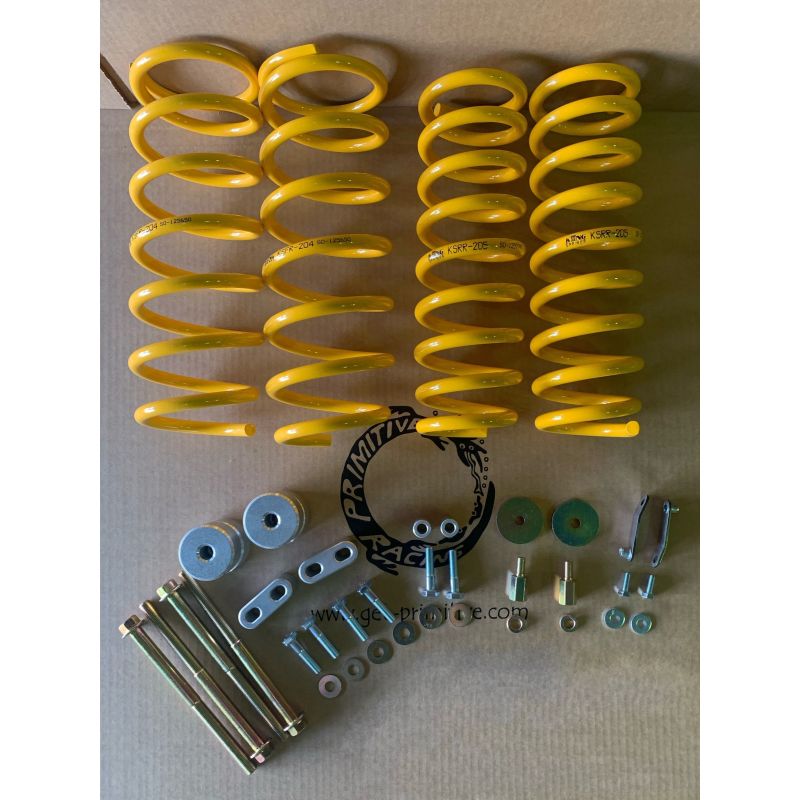 If you own a newer Subaru, the LP Aventure kits are very comprehensive and have a good reputation for being well-built. They have multiple fit and finish options for each each model. Whether you want a minimal lift or a full 2 inch kit with every piece of geometry correction possible, these are awesome setups.
LP Aventure is a company out of Canada that has years of authority in the off-road and over-landing industry. They pride themselves on NHTSA and FMVSS126 motor vehicle safety standards, meaning that their kits allow your Crosstrek to retain full factory safety features while providing extra all terrain capabilities.
Their extensive R&D means your Subaru will handle as closely to stock as possible!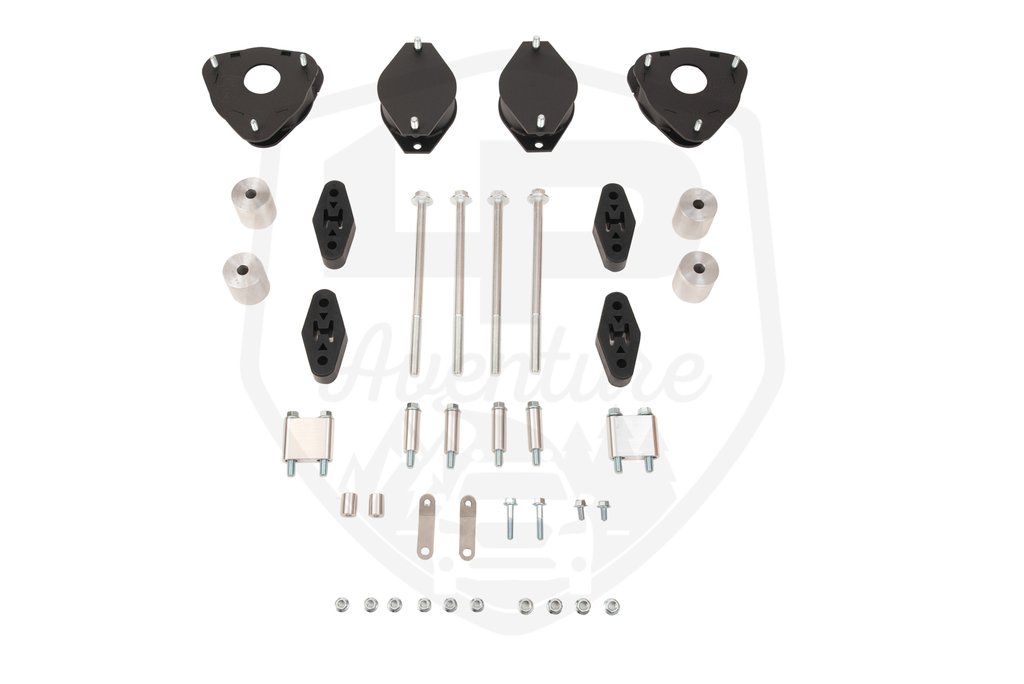 Ready Lift has been making lift kits for trucks of all sorts for well over a decade, and now they are working to provide excellent options for SUV and crossover owners. Their kits are bolt-on and are extremely affordable for anyone looking to get that additional off-road capability without breaking the bank.
If you want an affordable, easily installed lift kit, ReadyLift is definitely a brand that you need to check out. If you own a Crosstrek, a new Outback, an Ascent, or a newer Forester, they are worth adding to your list. Typically their kits run less than $400 and many DIY mechanics have installed them within about a day in their driveway.
We've asked our readers about their experience with ReadyLift kits and so far we have not heard anything negative. In fact, one thing that stands out is their customer service. We've been told by more than one person that they were extremely responsive to any questions they had and were quick to solve any issues during installation.
Ready Lift stands behind their products with a power train warranty; stating that any engine or transmission damage caused by lifting the vehicle is covered. This means you can rest easy with the peace of mind that your lift kit won't add unnecessary stress to the motor or drive line.
Anderson Design & Fabrication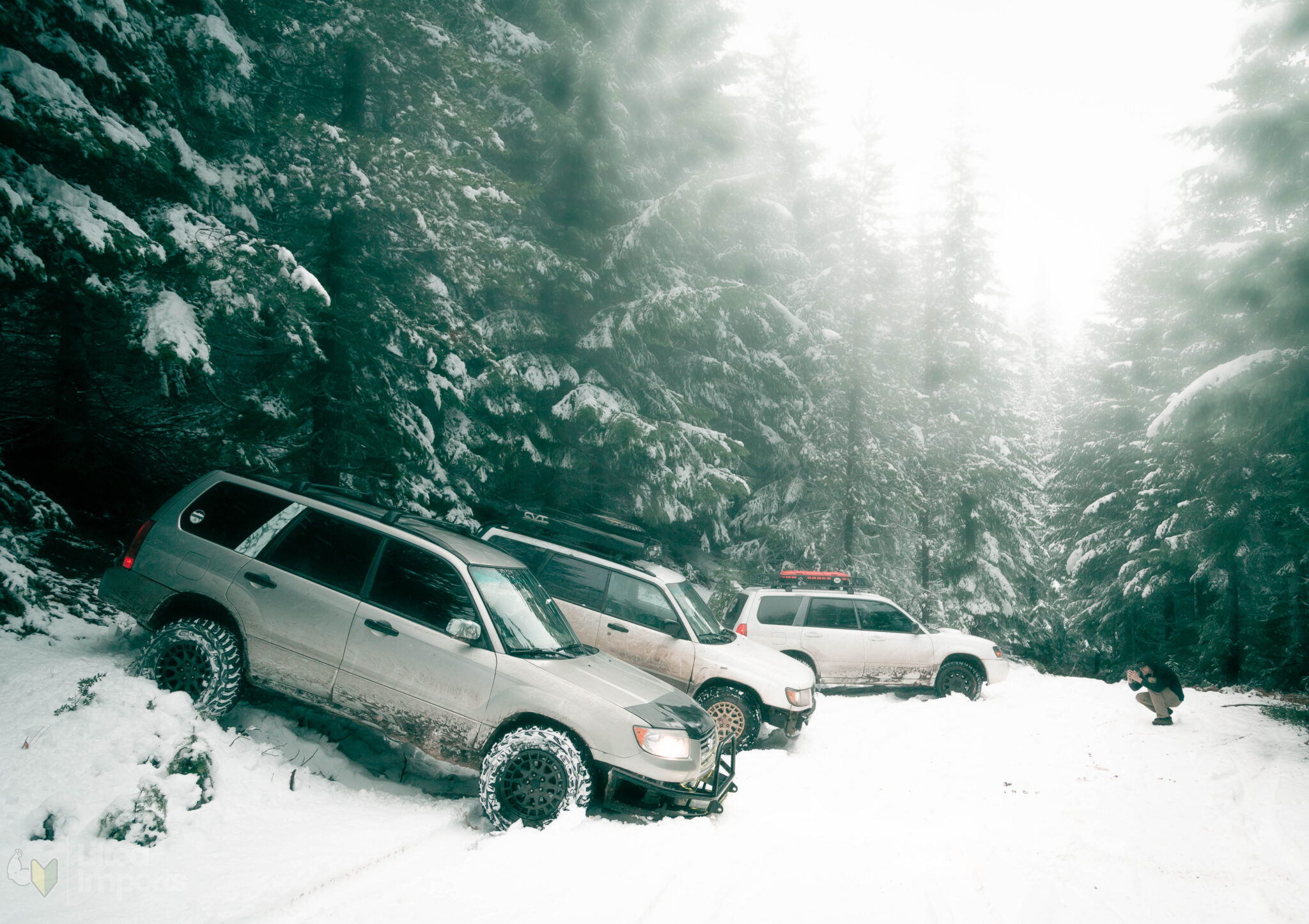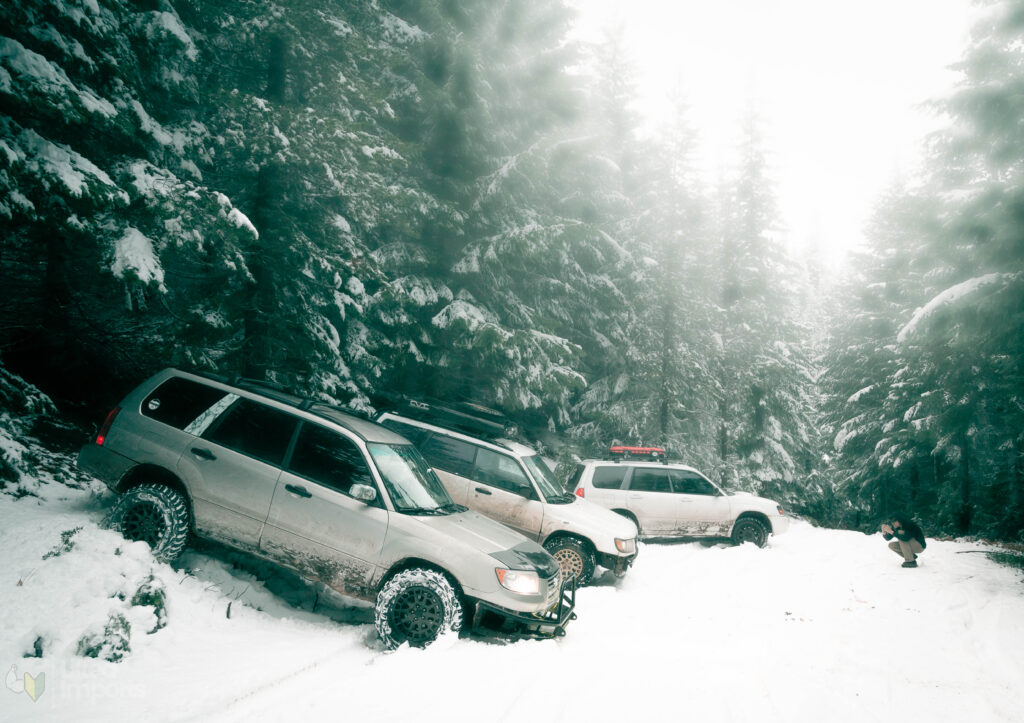 (We're currently running an ADF kit on our SG Forester and love it)
ADF offers kits for literally every Subaru on the road. They offer kits that are ready to go the day you order them, and they also custom build kits for people who want something made specifically for their needs.
They're a leader in the off-road Subaru industry. They have a reputation for designing and building some of the best lift kits in the market. When a new model is introduced, or a new need develops among off-road drivers, Anderson Design is usually the first to produce a solution. Their kits are known for being built with the best materials and have excellent workmanship.
I have personally called ADF when I've had a question. Patrick, the owner, usually answers and is always helpful. They truly love what they do, and love the Subaru community.
Located in the beautiful State of Oregon, Anderson Design is at the center of a growing community of Subaru drivers who want more out of their car. ADF is always pushing the limits and listening to the needs of the community.
Regardless of what you need, Anderson Design will have something that fits your Subaru.
ADF even offers some awesome Economy Kits right on Amazon HERE.
These are a great deal (they sell out quick, so if it's in stock grab one!)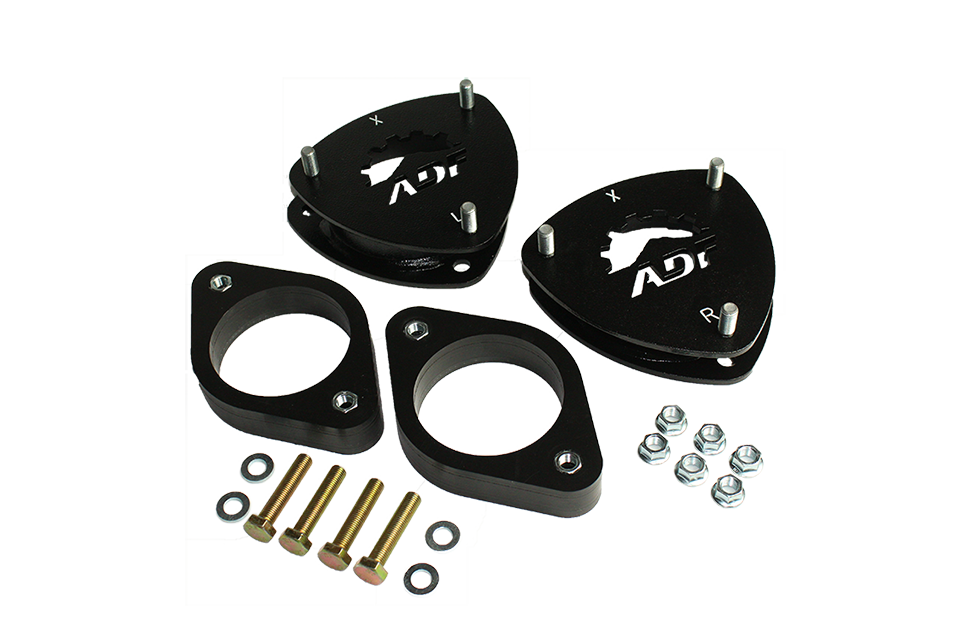 What else can we say? 2 inches of lift for around $250 bucks? That's almost unheard of. It's perfect for anyone who wants to get a little extra clearance without spending a lot of money.
Rough Country produces off-road accessories geared mainly towards trucks and Jeeps. However, lucky for us Subaru owners, they have developed kits for many newer Subaru models. People have raised concerns with their quality control on some items. But we've also seen positive feedback about their lifts. The kits seem pretty basic and bare bones. It might be best for people on a strict budget, or someone who's planning to use their car on the trail only.
Highlights:
Easy installation
Affordable
Maintains factory ride quality

Lifetime warranty
TIP:
We found that the prices on Amazon are usually most competitive compared to everywhere else we looked. They do sell out quickly though. So if there is one in stock, grab it.
Iron Man 4x4 Suspension Lifts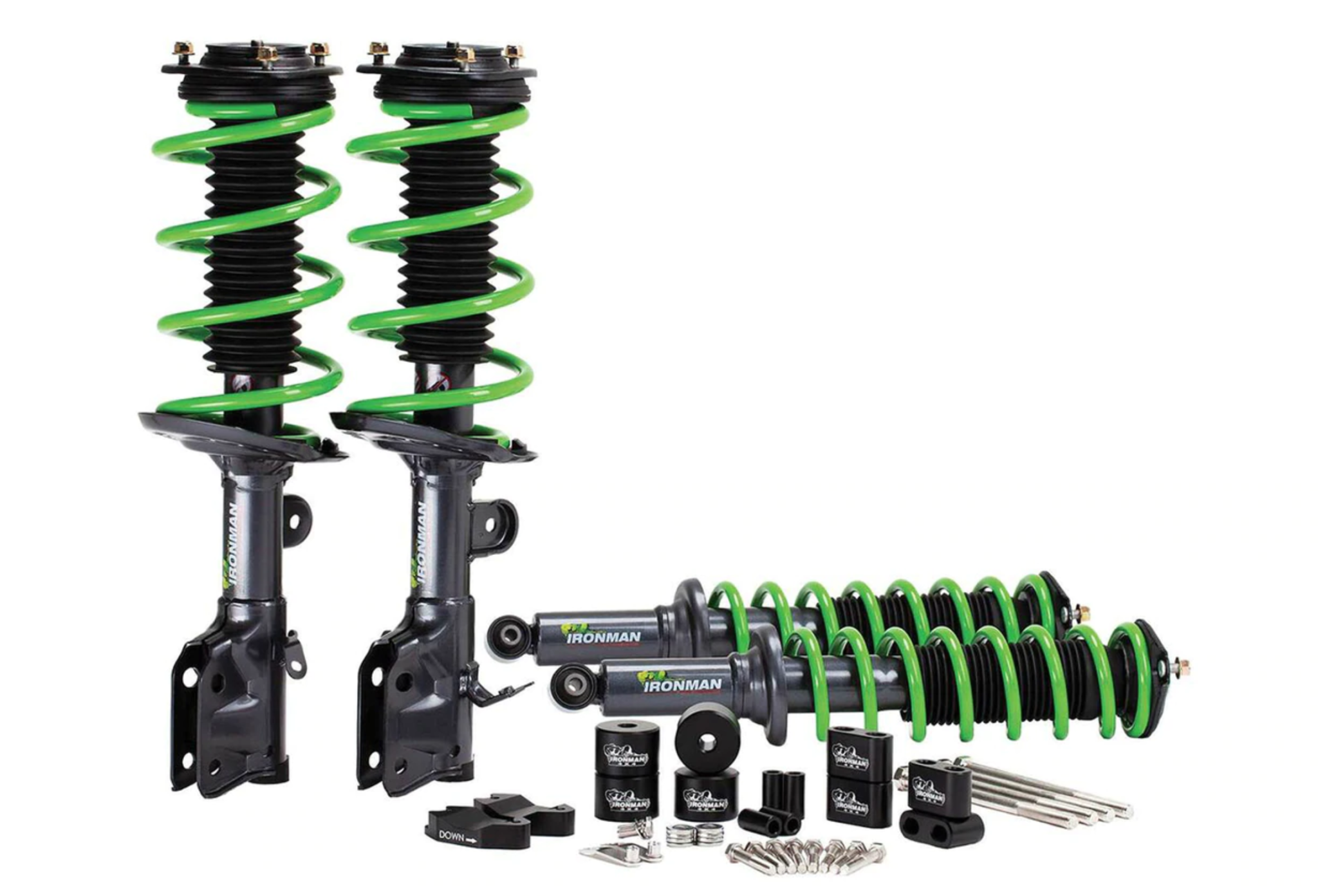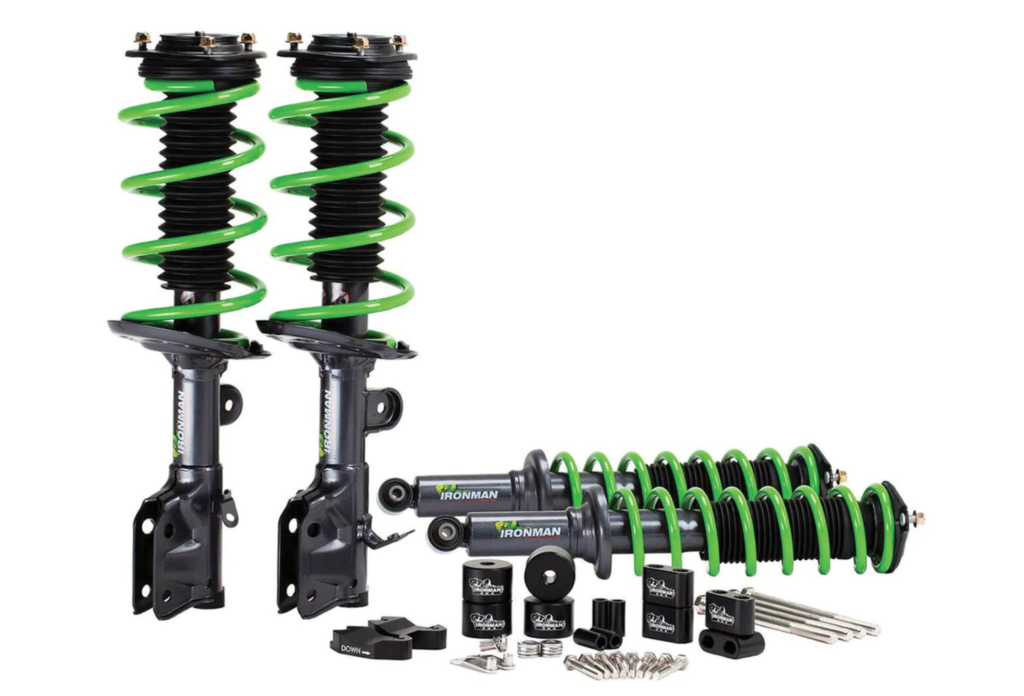 4×4 shops in Oregon seems to be a common theme in this article and Ironman is no exception. Located in Wilsonville, OR they have quickly taken the Subaru market by storm. 
Up until now, most of the lifts we've mentioned have been spacer kits that add height with blocks on top of the struts without adding any additional length to the suspension itself. The Ironman kits actually provide an extended strut and spring setup. This allows for healthier suspension travel and a much better ride both on and off the trails.
They offer suspension kits for newer Foresters, Crosstreks, and Outbacks. But they do have springs available for older model Foresters as well. We would actually love to try a set of their springs out on one of our Subarus.
Their suspension lifts start at around $1399. So they are one of the more spendy options. However, if you are planning to lift a Subaru that has more than 60-70k miles, you may need to do struts while you're in there anyway. Installing these may actually save you money if that is your situation.
Subtle Solutions Lift Kits: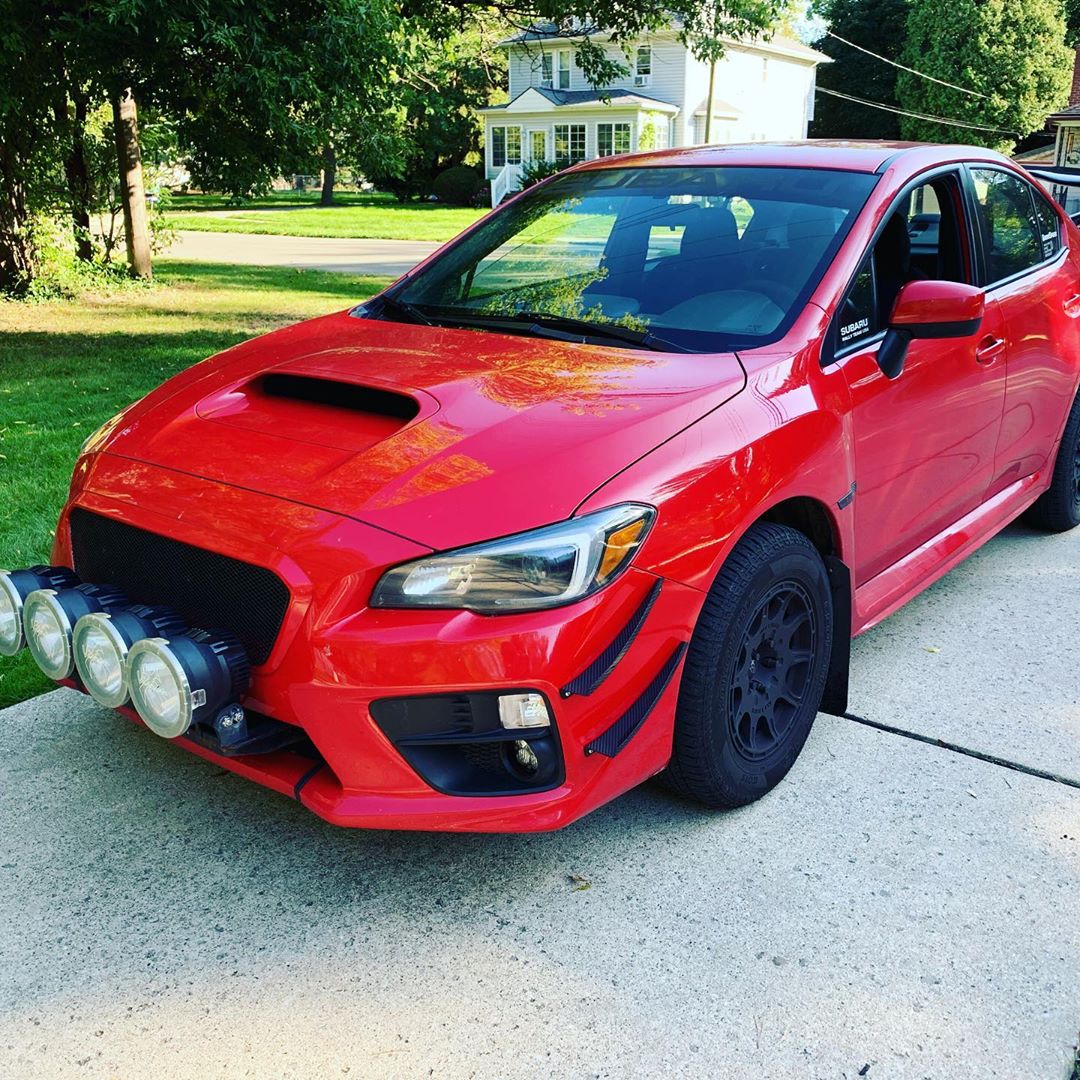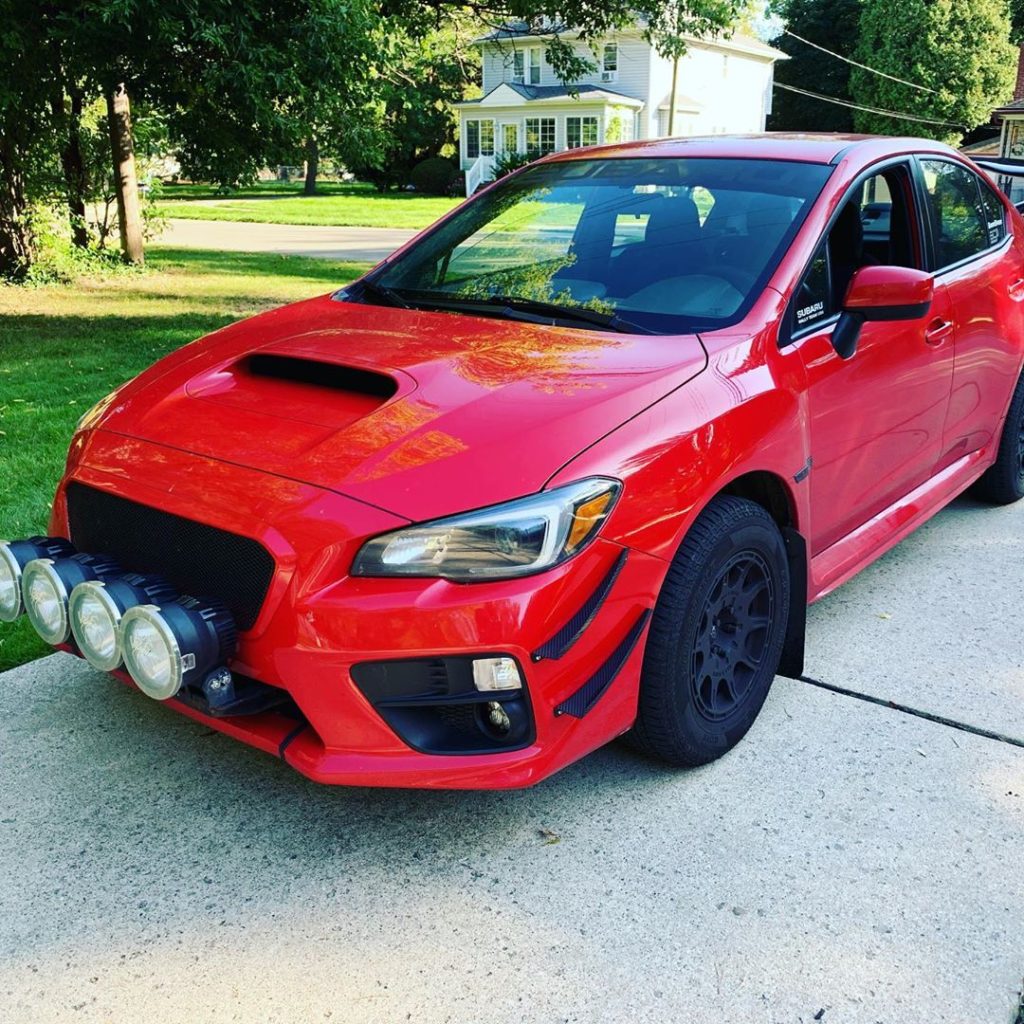 Founded in 2008 by an engineer with a desire to bring clean, quality mods to the growing Subaru community, Subtle Solutions is a great option if you're looking for a top quality Crosstrek lift kit. Their products are made right here in the USA and they have kits for 1st gen and 2nd gen Crosstreks. They have choices of all types that include springs, spacers, or an entire kit with everything needed.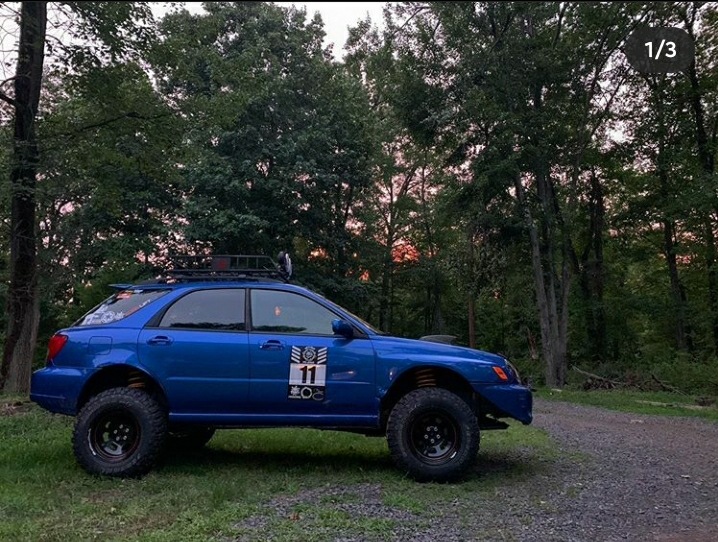 Matt Chaplin's company Subie Lift Oz offers some of the most comprehensive lift kits. A majority of the Subarus that are lifted above 2 inches were built by them.
If you are planning to wheel your Subaru hard, the SLO kits are a really solid option. Their bigger kits have subframe spacers, driveline spacers, extended steering linkage, and even extensions for the radiator hoses. This means that all of the weird issues that you run into when "over-lifting" a Subaru have already been thought out by Matt.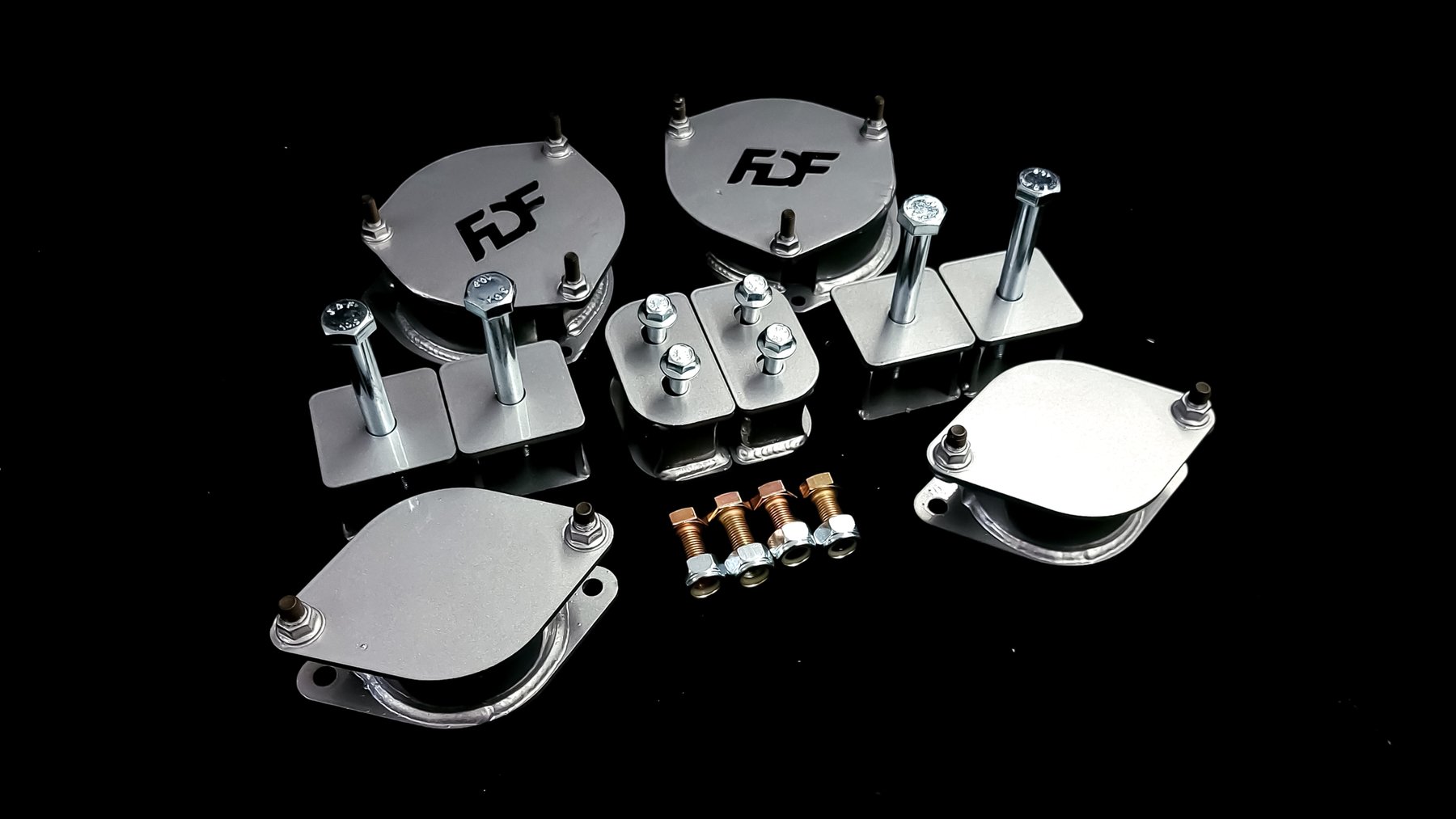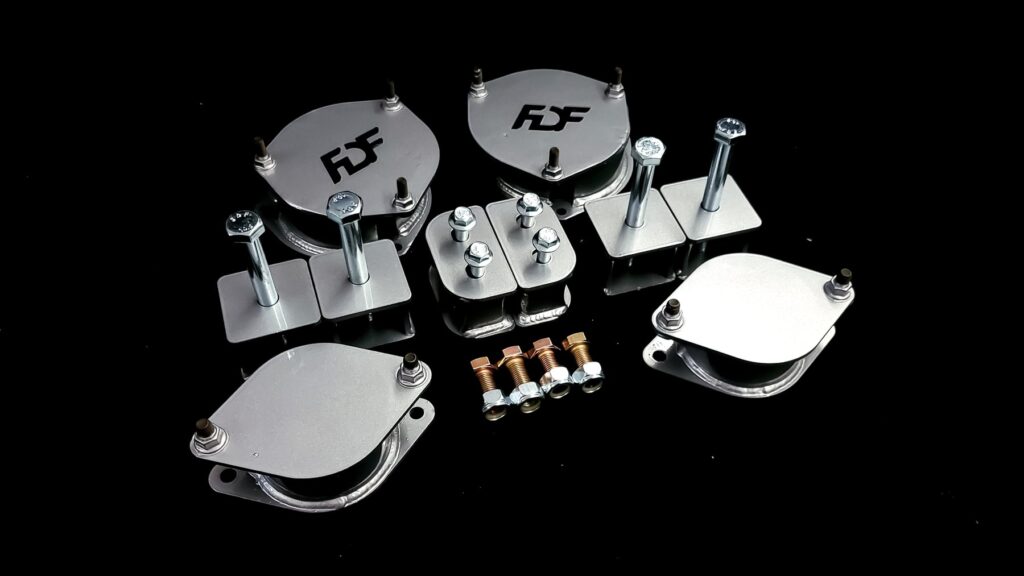 FDF is a newer company that has heavy roots in racing and drifting. The owner of FDF started building parts for his cars back in 2015 but was quickly encouraged to produce his creations for other people.
They recently began offering more than just "go fast" parts and added lift kits to their product line.
We've had our eye on the forums and Subaru groups to see what kind of experience people are having. So far, we've heard nothing but good things.
One thing that makes us REALLY happy – they offer a lift kit for the Subaru BRZ. Being RWD, the BRZ usually gets left out of the off-road game. But it's cool to see them lifted.
FDF currently offers kits for the Impreza, Forester, and BRZ. Their kits start at right around $399.
Commonly Asked Questions About Lifting Subarus:
"How much does it cost to lift a Subaru?"
The price for having a lift kit installed on your Subaru can vary widely. The lift kits start at a bare minimum of $250 for a basic strut spacer setup. Wheel and tire upgrades can add anywhere from $350-$1200 depending on where and how you purchase them. Then you have to consider installation. If you plan to have the installation done at a shop, many people have reported paying between $500-$800 for labor.
We do recommend having a professional do the installation. Remember to budget that cost into your build if you aren't confident in doing it yourself. Most lift installs will require an alignment as well. When you get quoted, be sure to ask if that is included in the price but many mechanics don't perform alignments on site.
"Can I Get a 3 or 4 Inch Lift Kit For My Subaru?"
Lifting a Subaru past 2.5 inches can cause serious problems with the drive-ability and safety of the car without supporting mods. According to Ignition Off-Road, a lift kit that is bigger than 2.5 inches without subframe drops will damage the CV axles. (Source) If this is something you want to do, additional parts need to be installed to correct the suspension and driveline geometry.
The folks and Anderson Design have a solid reputation for building custom lift kits much bigger than 2 inches. They offer 4 inch lift kits for many models and even bigger kits for some of the older Subarus. Just remember that this will cost a lot more money than a 2 or 2.5 inch lift.
Safety And Performance Are #1
As with any modifications, we highly recommend lengthy research and consulting with a trusted professional prior to installing a lift kit. Never cut corners or install something that you aren't comfortable with. Lifted Imports cannot be held liable for any negative outcomes that arise from modifying vehicles. The information on the site is strictly for educational purposes and not intended to take the place of advice from a professional.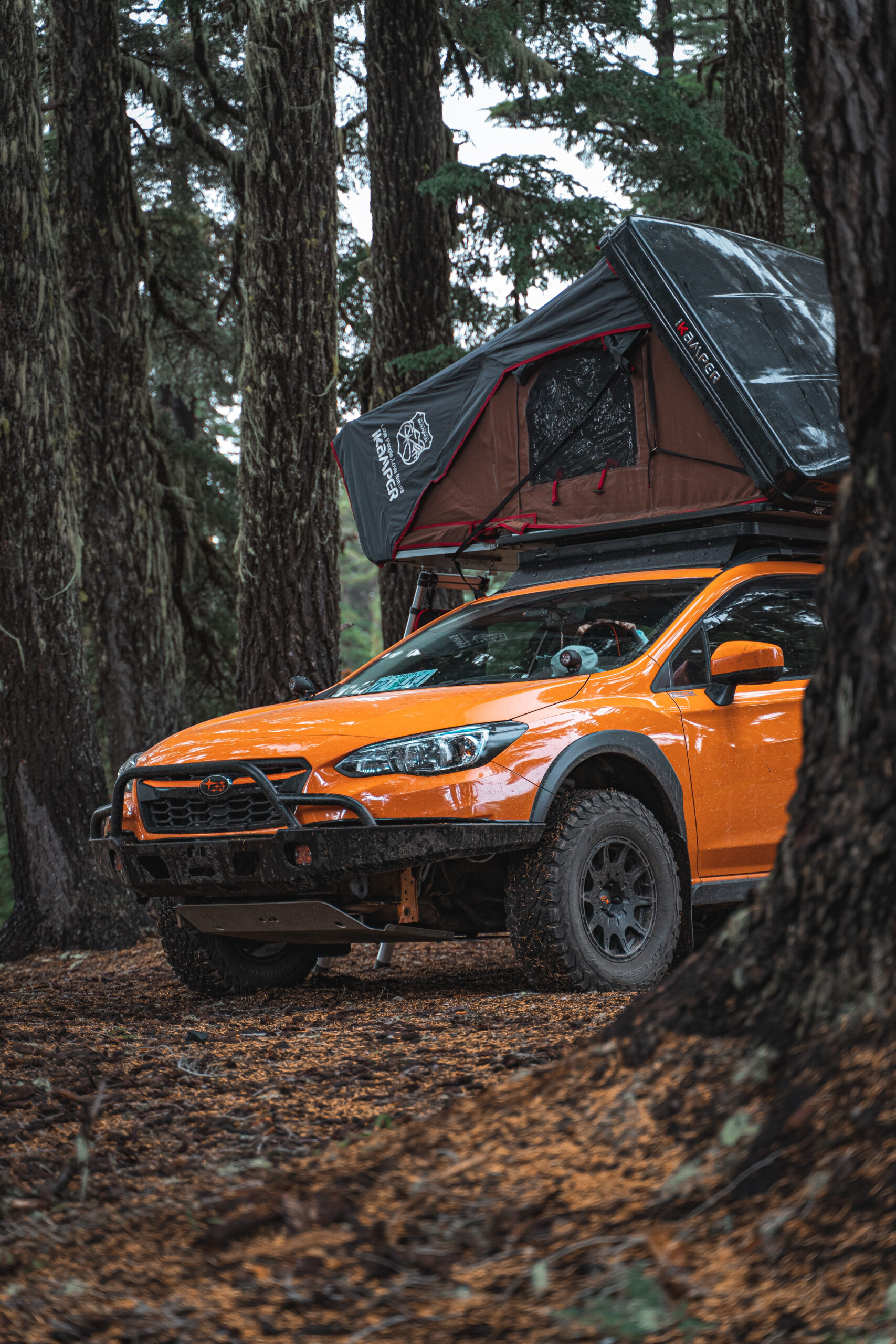 Check out these helpful articles for your Subaru:
As an Amazon Associate, we may earn a commission from qualifying sales