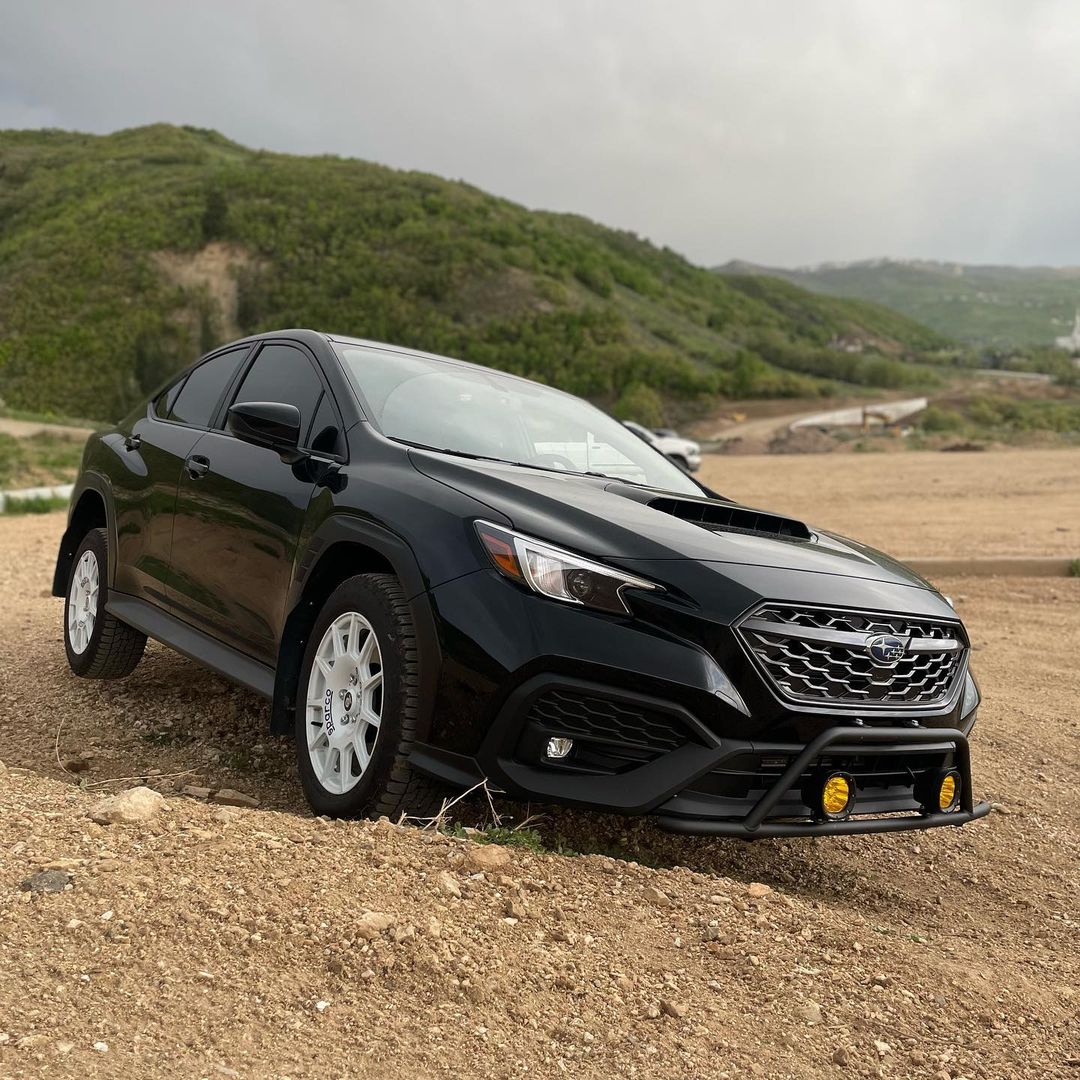 Josh turned his 2022 WRX into a trail machine using stock Subaru parts to give it more clearance
With legendary status held by such vehicles as the WRX, it's never surprising that any design overhauls are met with serious resistance – and sometimes even hatred. When Subaru released the new body style for the VB chassis WRX in 2021, enthusiasts from all over the world expressed their disapproval of the fender flares and tail lights. Unfortunately, this is similar to the reactions we saw in 2007 when the new 2008 STI hit showroom floors. People said things like "ewww the hatchback is ugly" "that doesn't even look like a Subaru" "it looks bloated." Now, the those exact same GR chassis WRX and STI Imprezas are one of the most sought after Subarus.
All that to say, first, I think we should take an objective look at redesigns and be slower to despise something just because we aren't used to it. Second, people have always hated what's new and different. But as people have modified and customized the newer models as they come out, we begin to slowly adopt them as "cool" and acceptable platforms to build on. Seeing versions of cars that showcase their true potential allows us to see them for what they are and can be.
This particular 2022 WRX is one of those vehicles that we'll look back on and think "that was the WRX that made me want a VB!" This 6 speed manual WRX is owned by a gentleman named Josh whose passion for the outdoors and off-road exploration ultimately led him to purchase a brand new Subaru and lift it. In fact, Josh didn't care for the brand at all and was a self-proclaimed "naysayer." But now that he's owned and customized the WRX, it's become one of his favorited driving experiences. And once you see how he's modified and used this car, you'll likely consider purchasing one too.
In this article, we're going to go over how Josh lifted a 2022 WRX using Crosstrek suspension, and how the car performs after the modifications. Josh also covers some of the various drivability nuances of owning an off-road Subaru. Before we go any further, follow @further_motion on Instagram to keep tabs on Josh's build. Let's jump in and get started!
2022 Subaru WRX Premium with a 6 speed manual transmission
Perrin performance intake
Perrin pitch stop mount
Perrin strut bar
Rally Innovations light bar
Rokblokz mud-flaps
17X7.5 et45 Sparco Terra wheels wrapped in 215/60r17 Falken Wildpeak AT Trail tires
Custom rear bumper and skid plate
2nd gen CrossTrek struts
Rear subframe spacer
Custom turn down exhaust
Why lift a brand new WRX?
Many of us have owned a large number of Subarus before ever deciding to lift one. However, the popularity of Subaru's reputation for off-road capability has proven effective in bringing new people to the brand. This WRX met Josh's requirements of being able to get out on the trails while still providing a spirited driving experience on the streets.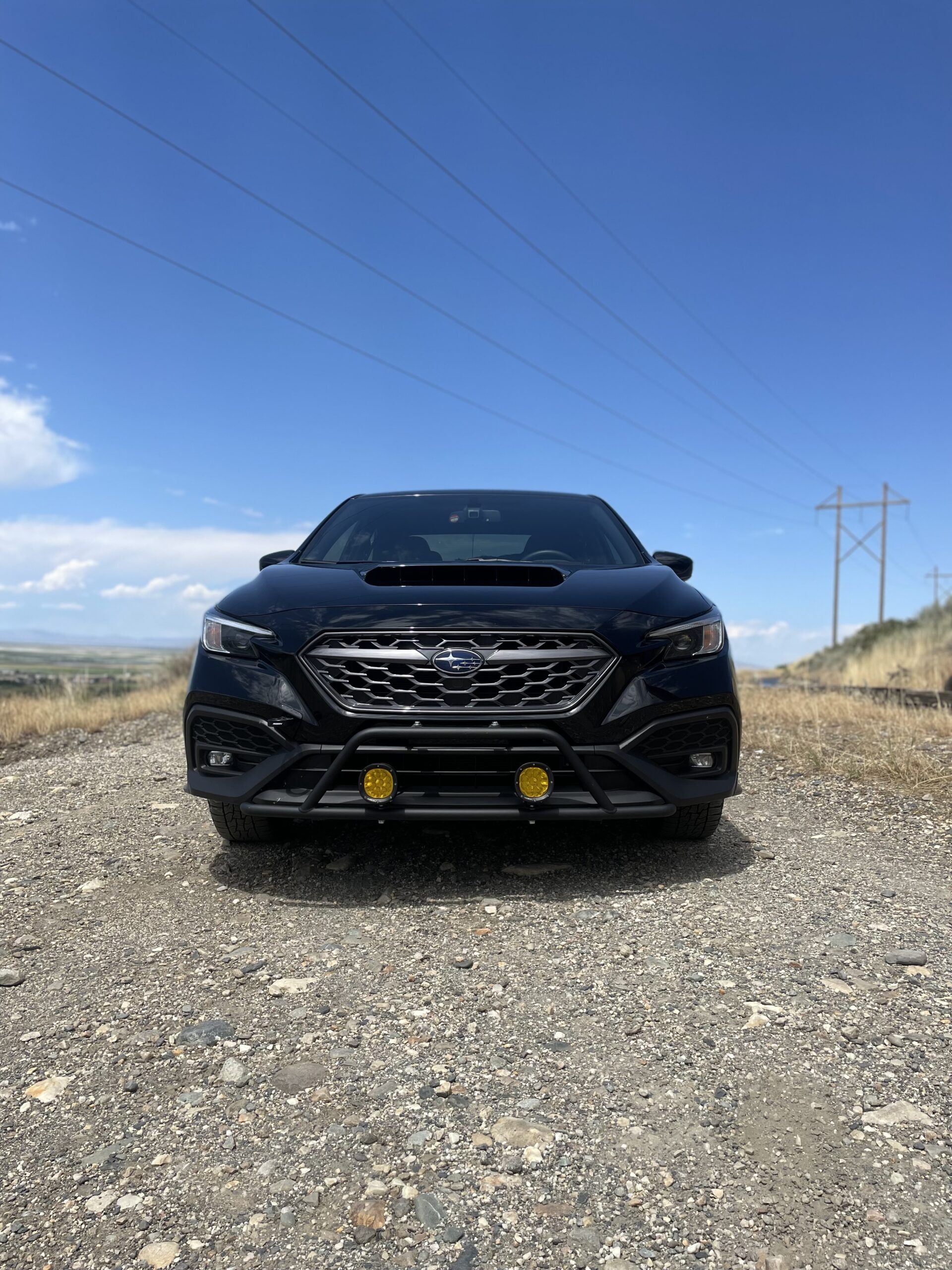 "This is my first Subaru. Prior to this car, there is a 1991 Jeep Wrangler that I still own today, a Ranger, a Focus ST, and two Tacoma's. I have always been an off-road guy minus the Focus which I absolutely loved. I came to the lifted WRX conclusion ultimately because I didn't want to lose the ability to explore, but wanted something spicy and reminiscent of the ST.
Honestly, I was a consistent Subaru naysayer until I drove my WRX. There is something that is immensely entertaining about a Subaru. All models have a charm that cannot be explained. My personal favorite attribute is that they can be lifted, lowered, camped in, camped on, they fit every task well. "
Using Crosstrek suspension to lift the WRX
Being the first to purchase a new platform and modify it can be challenging. There's no ability to just look at other people's approach and learn from them. You have to figure it out as you go. There are now a good selection of vehicle-specific lift kits available for the new 2022-2023 Subaru WRX with heights ranging from 1-2 inches. But Josh opted to lift his Subie a different way.
I asked Josh about his decision making process when choosing a lift kit and his answer might surprise some people. Fortunately, most Subarus have some level of cross-compatibility and he was able to put together a Crosstrek suspension setup for his WRX. He explains why he chose this method and the parts needed to do a lift this way.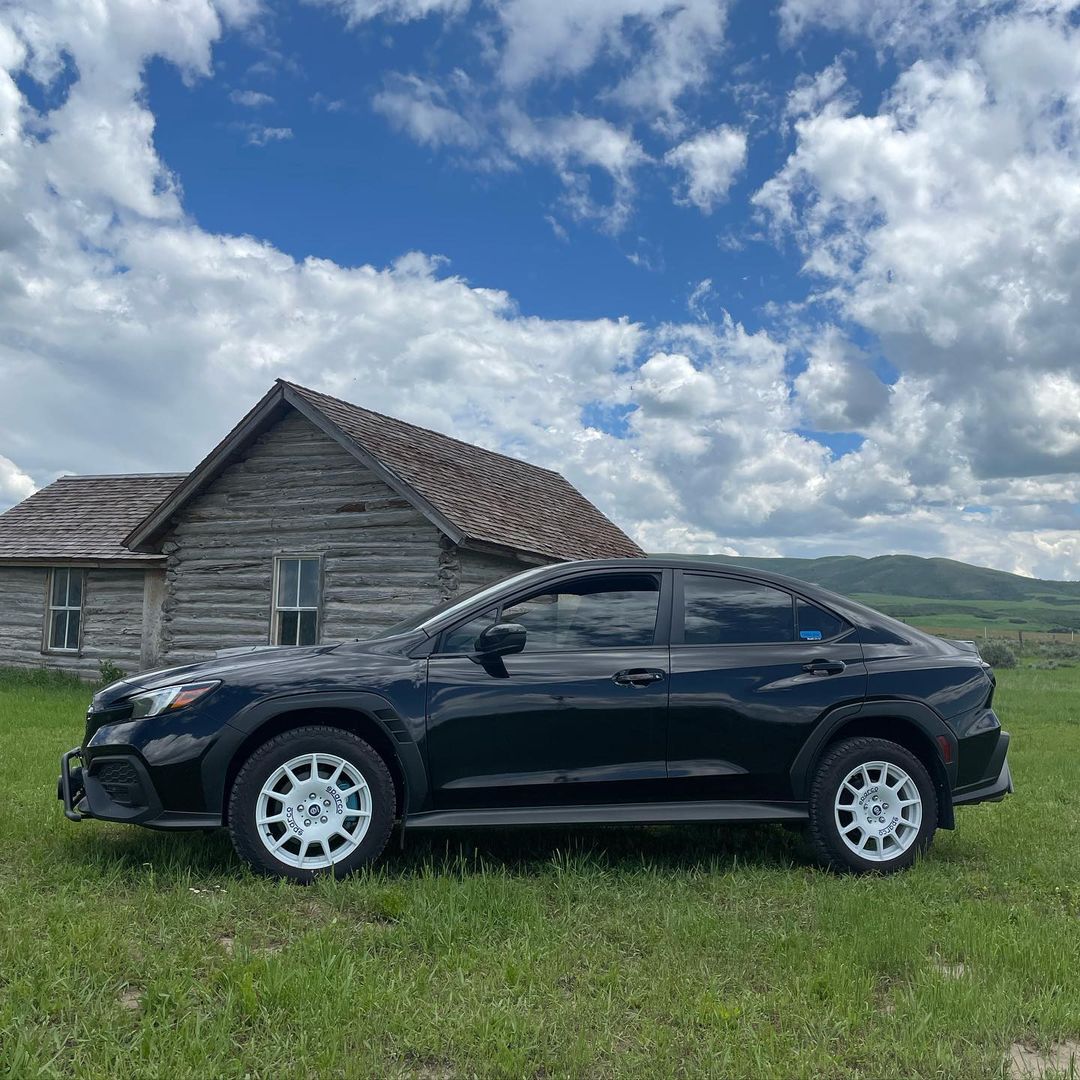 "Another benefit to Subaru is the ability to parts share. There has always been a group of Subaru Enthusiasts who are swapping parts from one model to the next. My VB is no different, I was able to bolt in 2nd generation(Global platform) CrossTrek Struts with 0 modification to the parts. I did have to add a 1.5 inch rear subframe spacer, due to the 2.5 inches of lift in the rear from the new suspension.
The subframe spacer was essential to center the wheel in the wheel arch with the multi-link suspension design. The spacer also maintains the control arm travel. Up front, the new strut was the only requirement to achieve the 2 inches of lift. The factory front lower control arm has enough travel from factory to support the 2 inches of lift from the strut.
At the time, there was not much variety in aftermarket lift solutions for the VB. There were coil-overs, spacers, and springs. I ran a spacer for a few months but I didn't have the lift I wanted, or the added travel. I decided against coil-overs due to cost and the need to add grease and protect them from corrosion consistently.
Finally, I chose against springs because I would still have factory strut travel. I started to research struts from other Global Platform models of Subaru and compared them against stock. I chose the Crosstrek strut because the Trek is close in vehicle weight to the WRX."
How does a 2022 WRX perform after being lifted?
There are always trade offs between two polar opposite suspension types. Josh explains that while there is a noticeable loss in aggressive pavement driving manners, the Crosstrek suspension added a new level of off-road performance to his WRX. Not only did he gain ground clearance, but the suspension travel has been increased.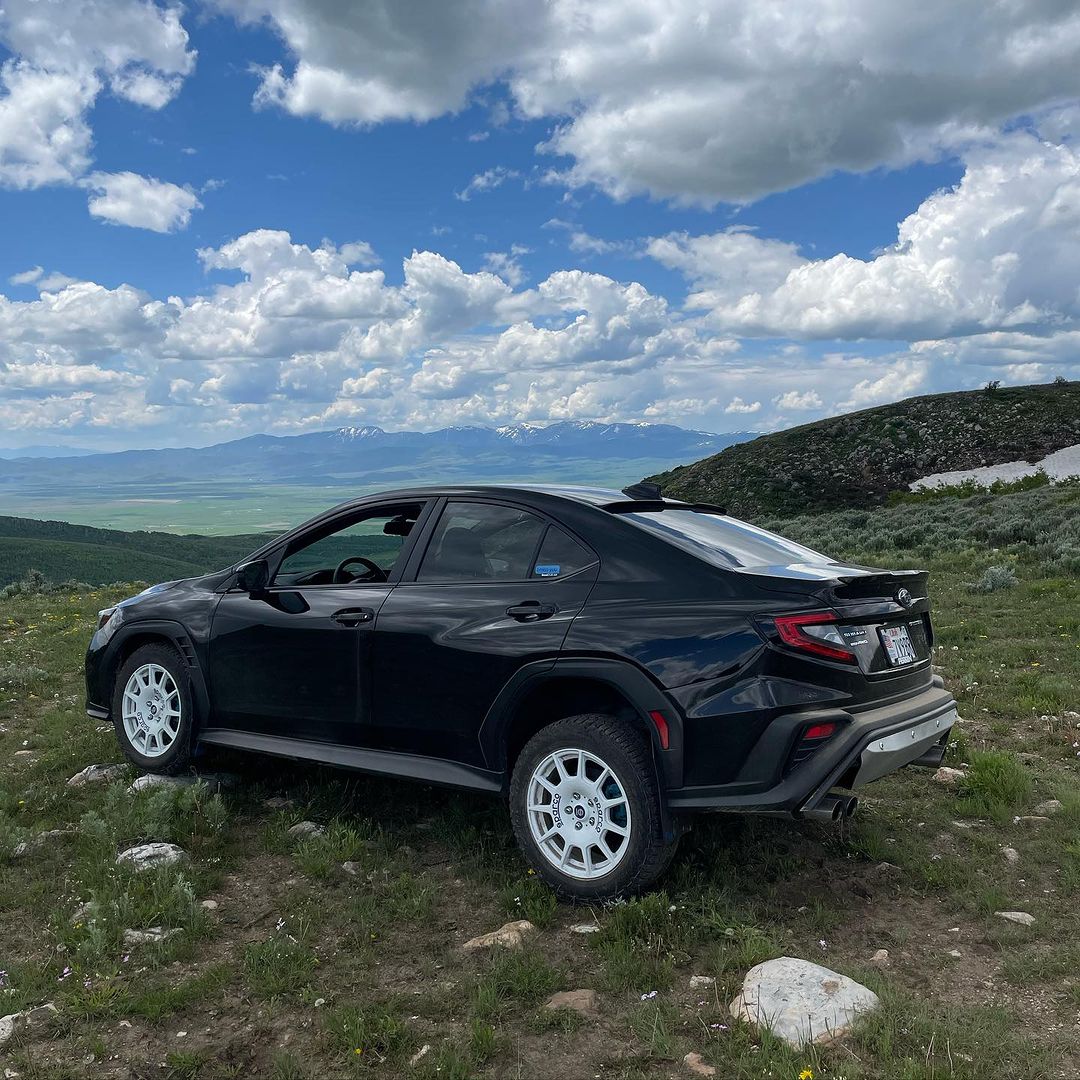 "The first thing I noticed about the CrossTrek suspension is how soft it is compared to stock, less aggressive damping, and softer spring rates cause the vehicle to move around more. Under hard acceleration, you noticeably see the headlight beams rise up at night. Although somewhat compromised on the road, I no longer 3-wheel through steep driveways. In addition, the off-road performance in the sand or on fire roads is improved."
How tire selection helped preserve handling and performance
After lifting a Subaru, one of the first things people notice is that the car handles much more different that at stock height. When you also factor in offroad tires and a new wheel setup, the overall feel of the vehicle can change dramatically. However, Josh explains how the car handles pretty well even after installing his modifications. His wheel and tire choice allows for more offroad capability without being too heavy or wide.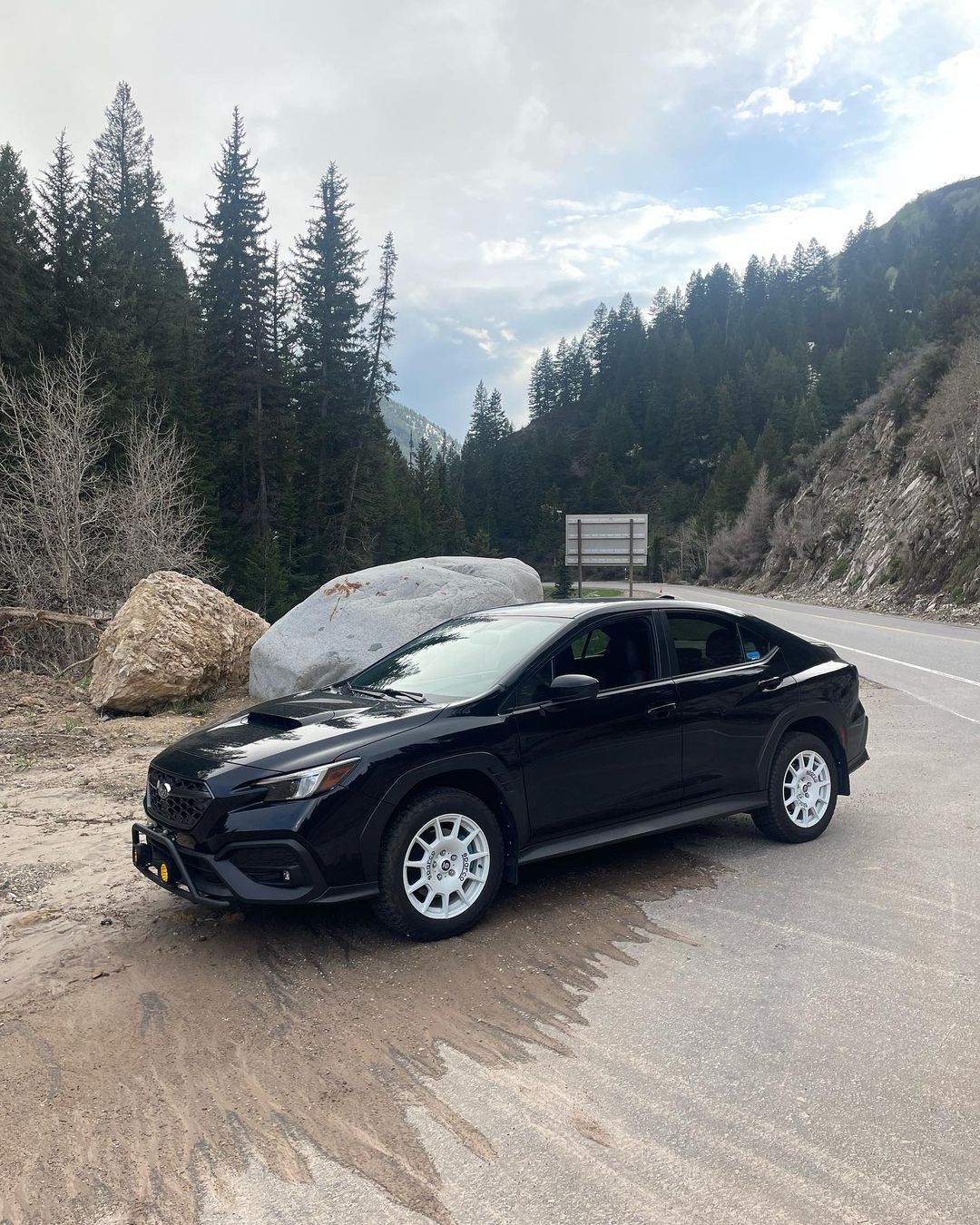 "I have not noticed my driving habits changing much. Yes, there is more body roll, less grip with the all terrain tires, and a higher center of gravity. That being said, the car still turns, brakes, and accelerates hard to remind me I'm still in a sports sedan. The fuel economy change is not noticeable, I went with a 215 section width tire and 17 inch wheels to keep the unsprung weight down. The tires I went with are designed for CUVs too, they are not heavy with lots of plys like a more traditional off-road tire. I truly have the best of both worlds with this car in regards to on-road and off-road manners."
Function over form? How about both...
I wanted to showcase some of Josh's mods on the WRX that I think add a very unique touch to the appearance and capability of the car. The Perrin cold air intake and heat shield allow the engine to breathe more efficiently and produce more horsepower. And as the folks at Donut would say, "more horsepower is more better" – especially when ripping around dirt roads and sand dunes. The heat shield around the intake not only creates an environment of consistent air temperature, but blocks debris and moisture from easily entering the engine.
The rear tube bumper and custom skid plate on the WRX is one of the first mods that jumped out at me when I saw this car. I love how it adds more departure angle and an aggressive look. The custom single exit exhaust sits high for more clearance and fits the new appearance after the bumper cut much better than any out of the box options.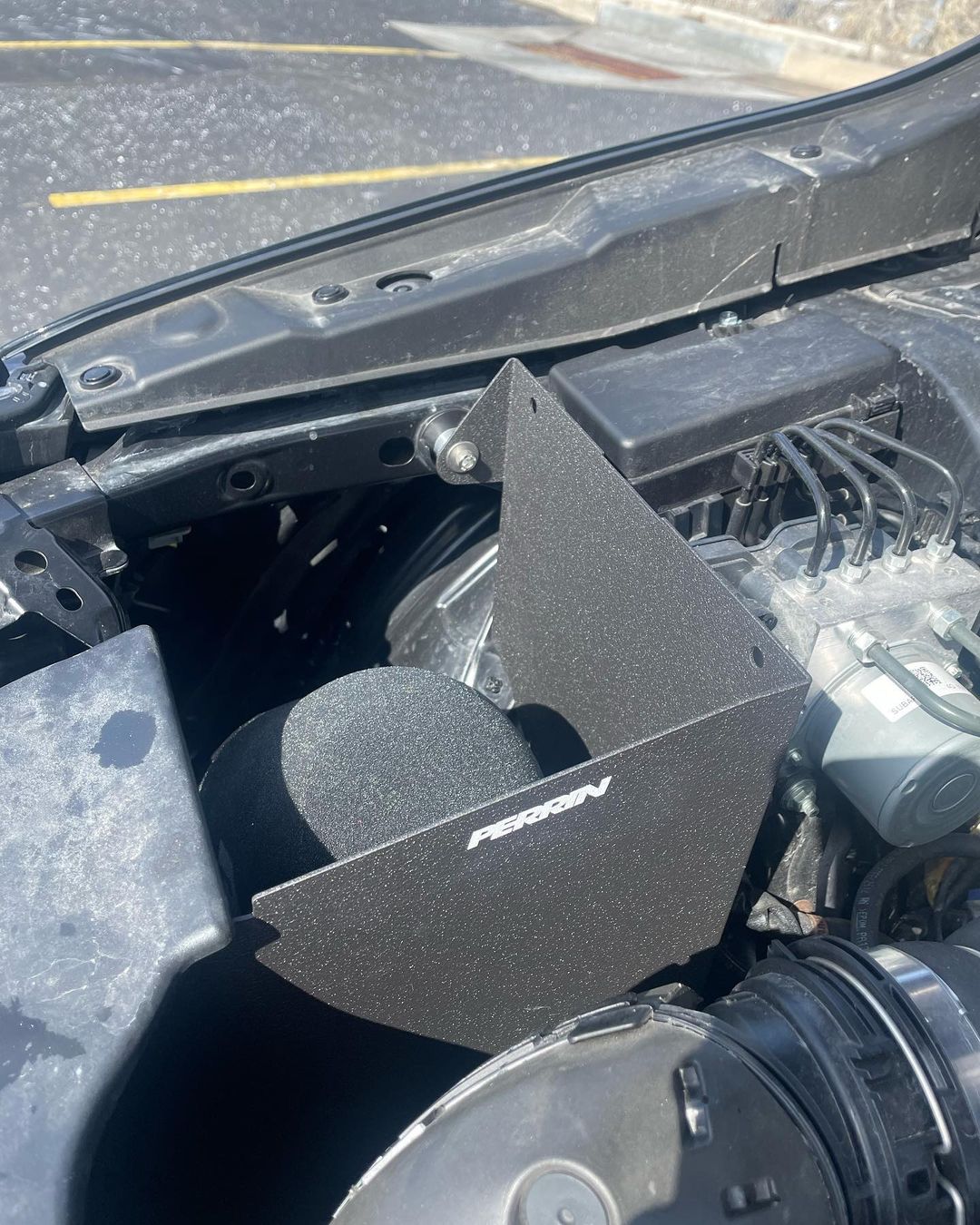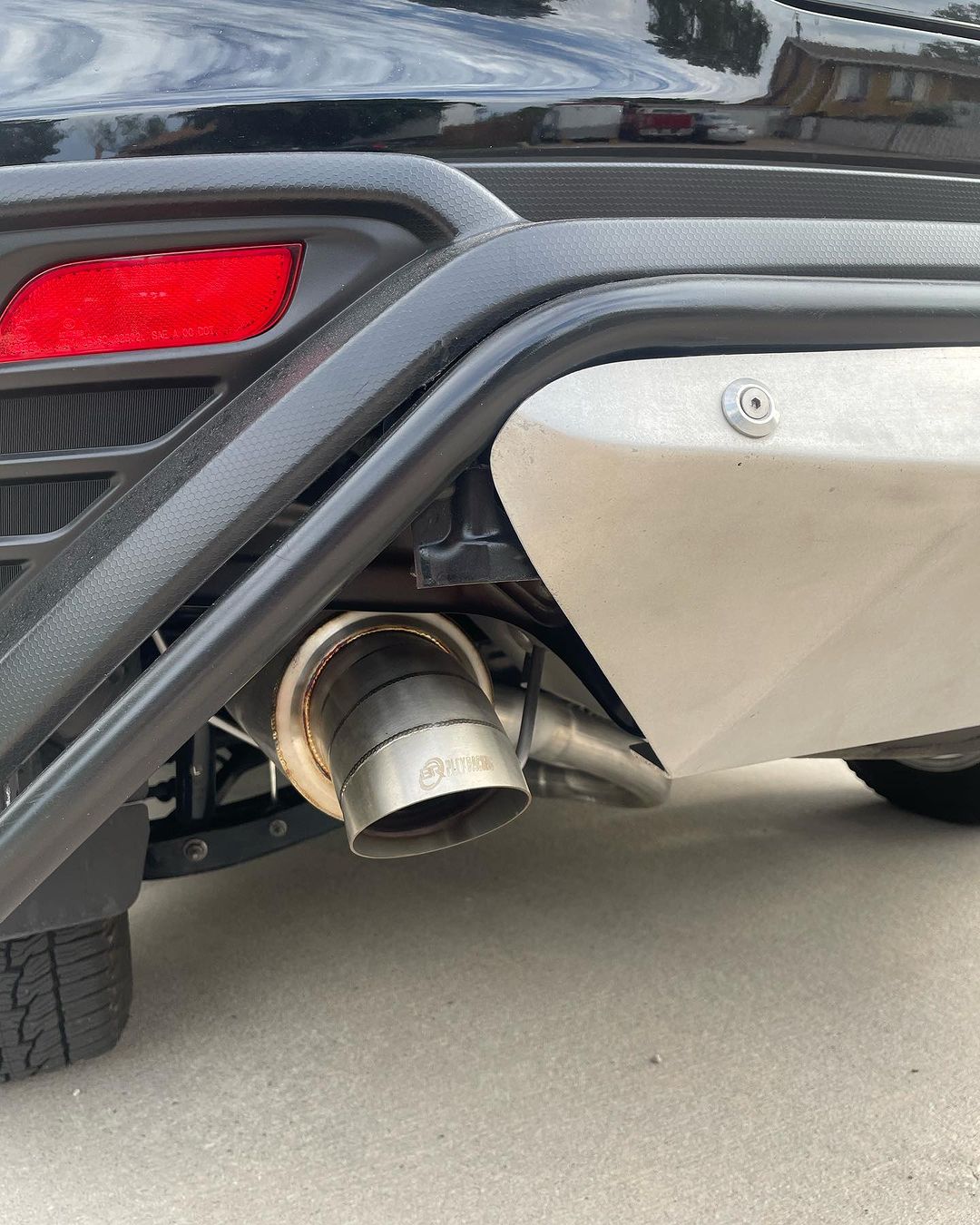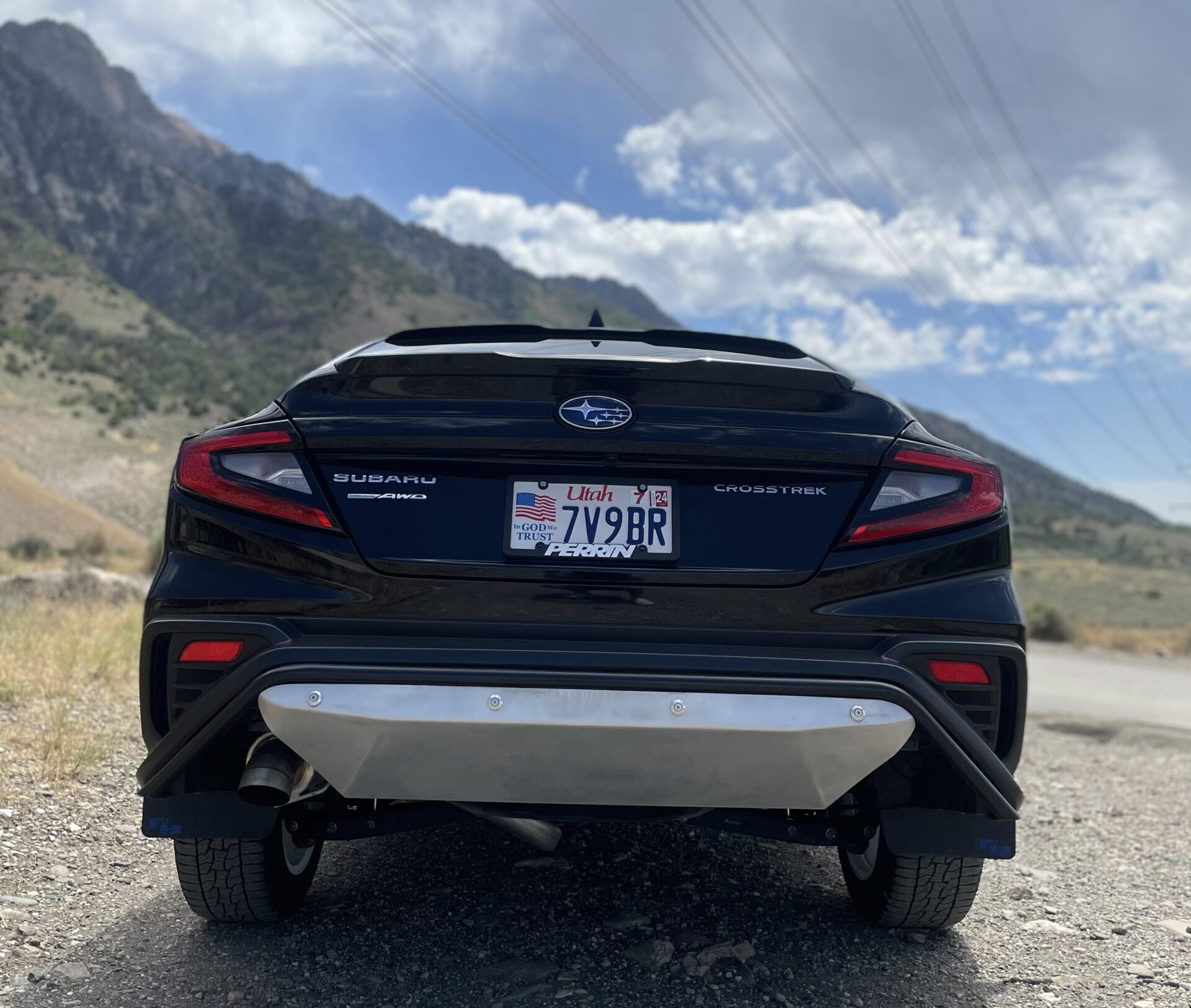 This WRX really makes me want to get another one and build it like this. Everything done to the car is with a specific intent and doesn't take away from the car's appearance. You'll notice that the car has Rokblokz mud flaps installed but they aren't loud and colorful like some of the Subarus you may see. They look great in my opinion and help cut down on debris being kicked in to the windows or backwards at other drivers on the road. A majority of the videos I see on Josh's instagram are of the WRX ripping around in sand. If you've ever had sand kicked up into your window while driving with the window down, it's not pleasant.
The Rally Innovations light bar with the Auxbeam lights is very well suited to the overall design of the front end. It adds a bit of protection, doesn't look bulky, and provides a place to install additional lighting for safety. I wouldn't be surprised if we begin to see even street oriented WRX's running this mod. It looks absolutely perfect on the car.
I think the wheel and tire combo is also one of the best possible options for this car. Not only are they aesthetically pleasing, but they're light enough to allow the car to handle great on the pavement.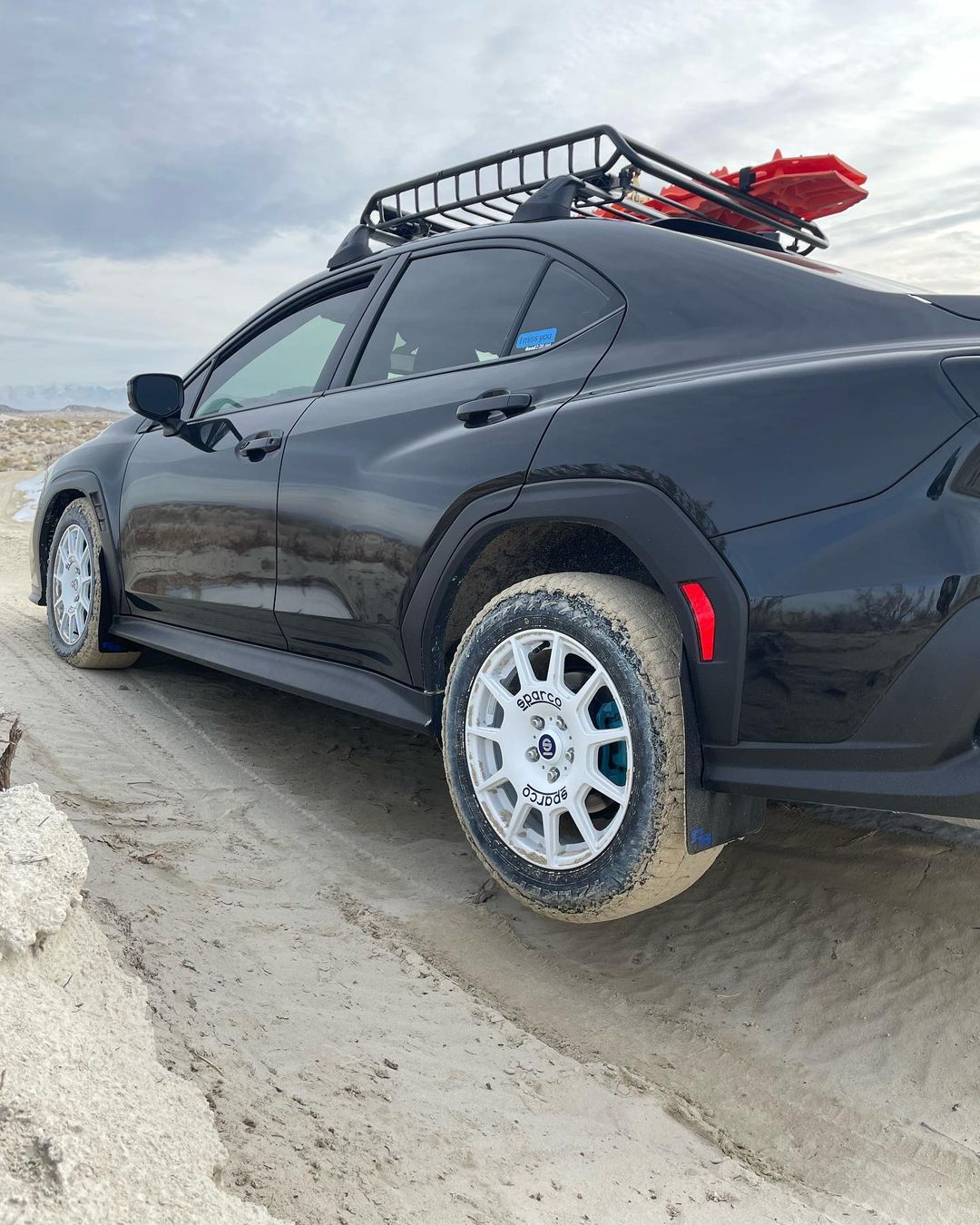 Inspiration for building the car and future plans for the lifted WRX
Most of us have  a few sources of inspiration for our style of modifying cars. Some of us pull from cars on the same platform while others might take inspiration from an entirely different group of enthusiasts.  Some folks take an approach that's based entirely on a specific function they need their vehicle to perform. Josh talks a little about where his motivation for the WRX came from and where he hopes to see it go in the future.
"I take a lot of my inspiration from the Safari style Porsches and other lifted Subarus on Instagram. I would style my car as a safari car, with the custom bar work, as opposed to a rally car. I plan to add more bar work and underbody protection. The rear bumper was built for me, but I plan to learn the fabrication process for the next steps in the build. I love to off-road the car and go on group drives into the desert. In the future want to plan organized events to help clean up and maintain BLM land.
The whole point of the car and the instagram is to get out into nature and to share in experiences with likeminded people. I want to show people how easy it is to get out there and explore for oneself. I'm very lucky that I have been able to connect with people in the Utah community and I'm excited for more opportunities to interact and share.
I think too much emphasis is placed on the car you drive, not what the car does for you. Drive the car you want, let it take you on adventures, let it help you connect with people. Don't let the opinions of people define who you are or what you want to be. If you want to be different, do it."
Being able to discuss the WRX build with Josh has been a real pleasure. This is one of the first lifted VB chassis Subarus out there and I think he's experimented with enough parts to give a ton of insight to anyone considering a similar build. I want to extend a genuine thank you to him and I'd like to ask that if you enjoyed learning about his build that you'd head over to Instagram and follow him: @WRXROSSTREK
Share this article with your friends and show some love!