Subarus are well known for their off-road capabilities and versatility, making them a popular choice among outdoor enthusiasts, adventure seekers, and off-roaders. When leaving pavement to escape the beaten path, having a full-sized spare tire is essential for safety and peace of mind. However, finding the best way to store a large spare tire in your Subaru can be a challenge. In this article, we'll explore various spare tire storage solutions that will keep your Subaru trail-ready and your spare tire in a secure place.
I'm going to talk about some ways that I've used to store an oversize spare tire and the pros and cons of each method. The three easiest ways to store a full size spare are on the roof, in the cabin, or on the back using a rear mounted tire carrier. We'll talk about each of these methods and the pros and cons of them.
Why Carry a Full Sized Spare?
When you're driving in the woods or out in the wilderness far away from any cell service or tire shops, carrying a full size spare will allow you to have fun and know that you won't end up stranded. It's worrisome that so many newer vehicles do not come with spare tires. Even while on pavement, it is possible to find yourself stuck in a dangerous situation on a secluded stretch of road with no way to get help if you are not equipped with a spare. This is even more important with those of use who want to do 4×4 trails and long back road trips in our Subarus.
Carrying a tire repair kit in addition to a full-size spare tire is also a wise choice for off-road trips. While a full-size spare tire is a valuable backup for more significant tire damage, a repair kit offers a quick and efficient solution for addressing minor punctures and leaks. And in the unlikely chance that you damage two tires, a few repair supplies can be a life saver. These kits typically include essential tools like tire plugs, a reaming tool, and a pressure gauge, allowing you to mend small tire issues on the spot. Having a compact air compressor, a repair kit and a spare tire in your Subaru's arsenal not only enhances your self-sufficiency on the trail but also ensures you're prepared to handle a variety of tire-related challenges, minimizing downtime and keeping your trip rolling smoothly.
Fitting a Spare Tire Inside The Vehicle Cabin
For Subaru owners who have installed oversized tires, the spare tire compartment typically doesn't have enough room to accommodate the larger diameter. However, there is a simple work around for those of use who have off-road tires that are only slightly bigger than stock. Sometimes you can simply deflate the tire to allow for it to fit in the spare tire well in the back of the trunk area. This doesn't always work, but I've used this method in the past when I was using a smaller all-terrain tire.
There are a few things to keep in mind if you choose to use this method. Leaving a deflated tire in a deformed position for too long can damage the tire and weaken the sidewall. When using this trick, I remove the tire promptly after returning from a trip. Also, if you plan to do this make sure you have access to compressed air. I own a Viair portable compressor and I have it in my vehicle at all times. This will allow you to re-inflate the spare tire in the event that you need to install it.
If your spare tire doesn't fit under the trunk area, you can store it in the regular portion of the trunk. But it's not advisable to simply set the spare tire on the floor of your cargo area. The proper way to do this is to use ratchet straps or bungee cords at minimum to safely secure it to the floor. It's unsafe to travel with a 45-65lb tire and wheel in the vehicle without it behind held down somehow. In the event of a traffic accident it can come straight through the cabin and cause serious injury.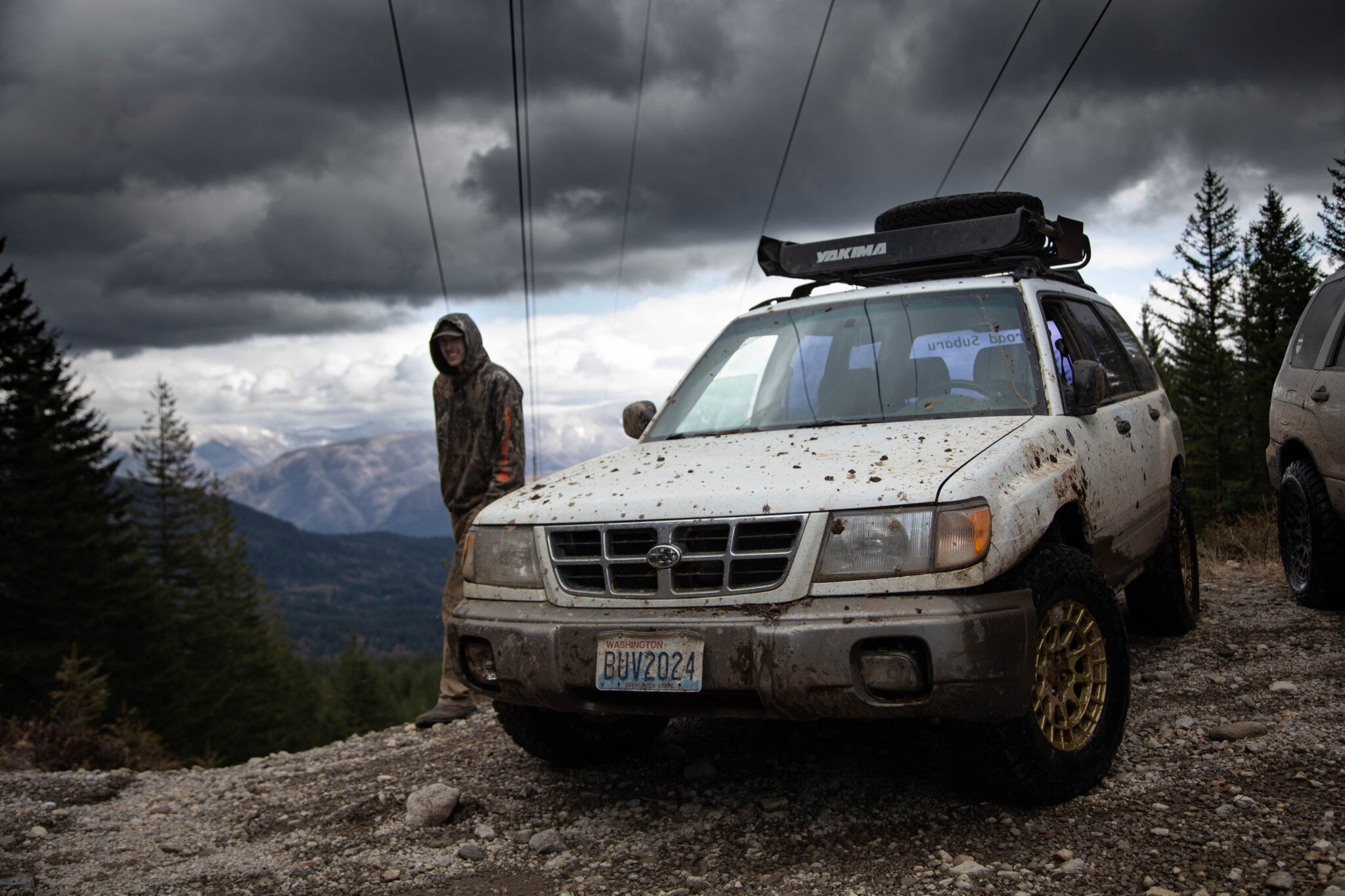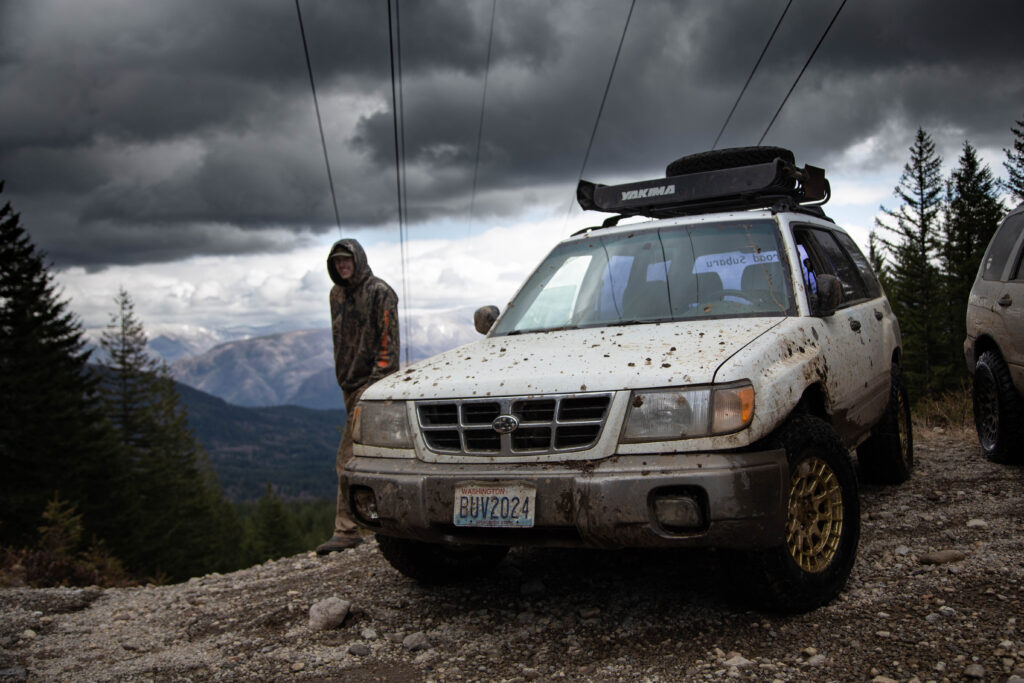 One of the most popular ways to carry a full-sized spare tire among Subaru owners for off-road adventures is by using a roof-mounted cargo carrier. Many people will refer to these as roof baskets and here's why this option is worth considering:
Maximizes interior space: By placing the spare tire on the roof, you free up valuable space inside your Subaru for other gear and passengers.
Accessibility: Roof-mounted carriers are easy to access, and you won't have to remove any gear from the interior to get to your spare tire.
Versatility: You can use the roof carrier for other gear, such as camping equipment or tools, making it a versatile storage solution that can be used year round.
Affordability: Many off-roaders already own a roof basket and can easily afford either ratchet straps or a special wheel tie down to carry their full-size spare.
While carrying a spare tire on the roof is convenient, there are a few things to consider before going this route.
Increased wind resistance: When loaded with a tire, roof-mounted carriers can affect your vehicle's aerodynamics, potentially reducing fuel efficiency.
Height clearance:  Roof mounted tires require extra mindfulness of low clearance when entering garages or passing through tight spaces.
Not accessible for everyone: Some people with back and neck injuries may find this to be a painful place to have to retrieve a tire from.
Vehicle handling: In some situations, a heavy tire on the roof can cause the car's center of gravity to be altered.
Rear Mounted Tire Carrier: Our Favorite Method To Safely Store Your Full Size Spare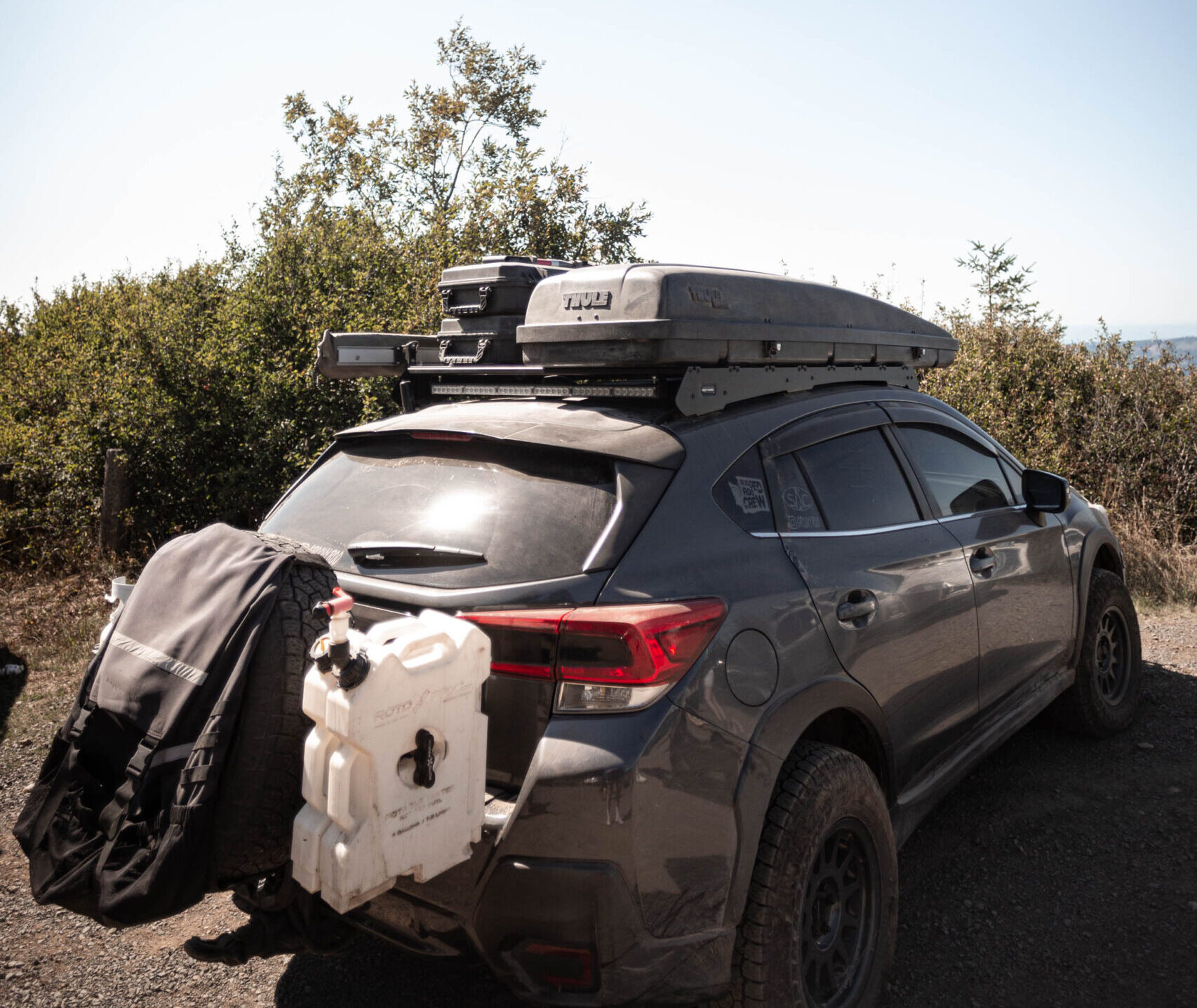 A rear bumper tire carrier is a safe, durable, and convenient option for storing a full size spare tire on your Subaru. This type of setup attaches to a rear trailer hitch receiver and holds the spare tire securely. There are some really cool options that are custom fabricated bumpers with a swing out carrier integrated. But all you need to install one of these on your car is a trailer hitch receiver. 
There are two types: fixed carriers, and swing out carriers. While a fixed carrier is cheaper and more simple, they aren't always as stable and some people might find them to be clunky. A swing out carrier is usually the best way to go. Swing outs are built better and hold the tire much more securely. They also allow you to access the rear hatch in a matter of seconds without having to pull your tire off.
If you can afford a rear tire carrier, we think it is the most convenient and safest way to carry a full size spare. In addition to being able to store a tire, they often allow for transportation of other accessories that can be extremely handy. They can also be removed from your car easily and transferred to a new vehicle if you're planning to sell your current car.
If you're curious about some of the best rear tire carrier options, check out this article where we go over our favorite choices: Our Top Picks For Rear Tire Carriers
Off-pavement and off-road adventures in your Subaru can be made safer and more enjoyable when you have a full-sized spare tire on hand. The choice of how to store your spare tire largely depends on your specific Subaru model and your personal preferences. Whether you opt for a roof-mounted cargo carrier, a rear tire carrier, or an interior solution, make sure it suits your off-road needs and allows for easy access to the spare tire in case of emergencies. Enjoy your off-road adventures with peace of mind, knowing that you're well-prepared for any unexpected challenges that may arise on your journey.