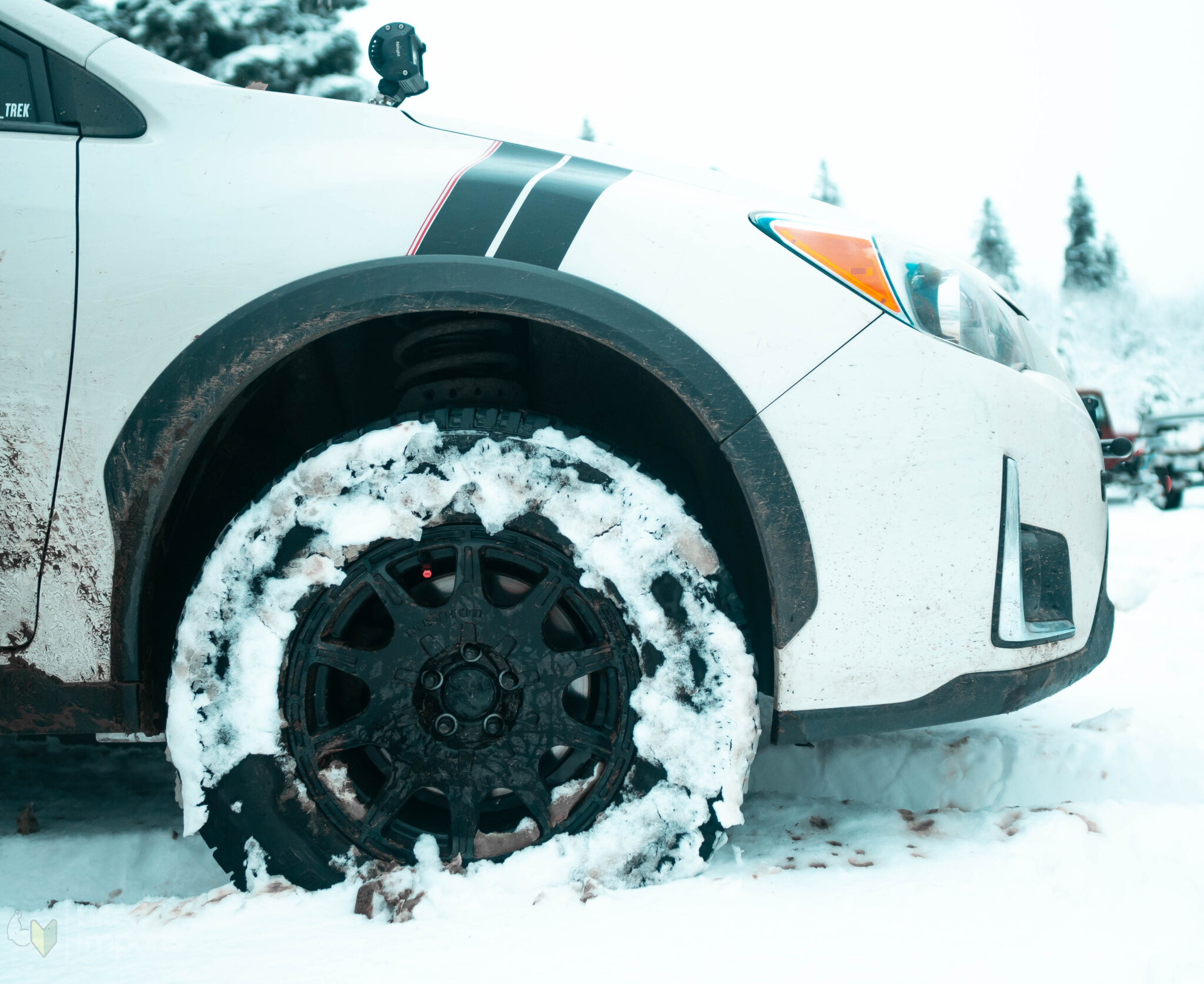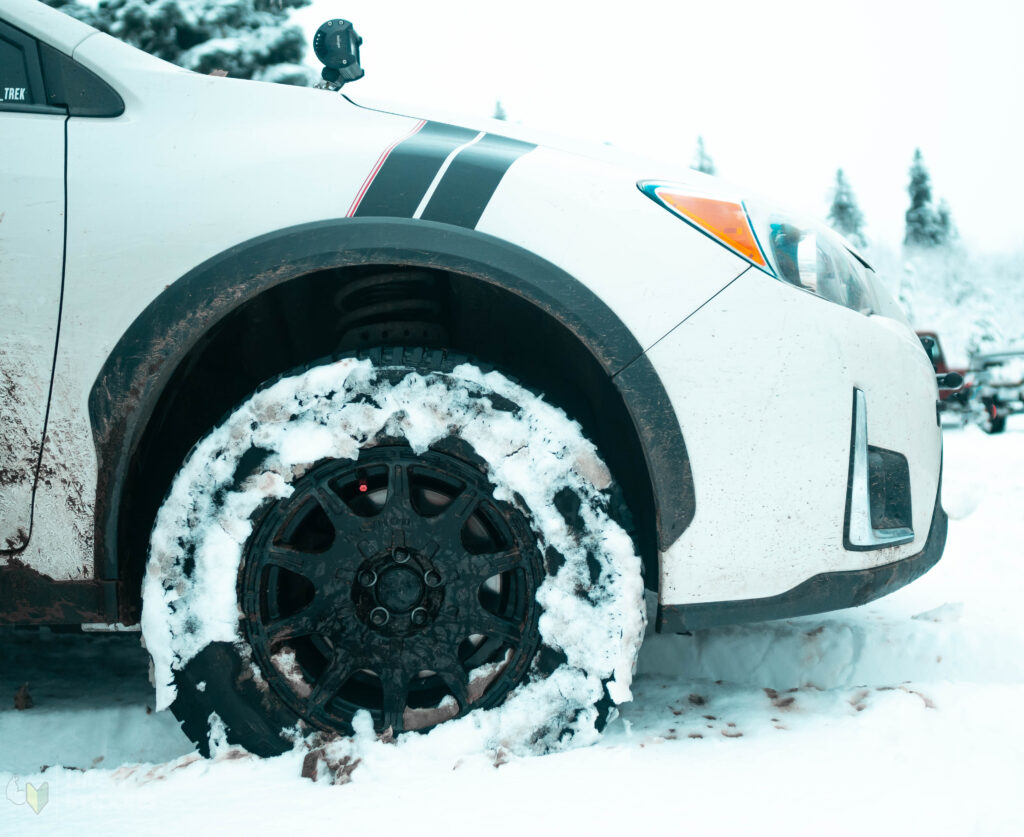 2023 Top Picks | Best Snow Tires For Subaru (Fits All Budgets)
While some models may come standard with a great tire, many vehicles come with tires that do not perform well in the snow. As the weather begins to cool off and snow is beginning become more of a not so distant reality, setting your car up with proper tires is important to do before the tire shops are booked out for weeks.
Selecting the right snow tire for the next 3-5 winters, is a choice that should be taken seriously as it is a bit of an investment. You want to purchase a set that not only fits your budget, but that will perform well on your car.
As you begin shopping, use this simple guide to give you some great ideas for what's available for the Subaru line up.
Should You Just Use Tire Chains On Your Subaru Instead Buying Snow Tires?
Some older Subarus are cleared for chain use by the manufacturer. However, the current models are not designed to accommodate them. Subaru warns of vehicle damage due to a low amount of clearance. Brake lines are also at risk of being compromised and causing deadly accidents when tire chains are used. We suggest avoiding tire chains on a Subaru altogether. Some people have argued that prolonged chain use can even damage the AWD system. Instead, a studded or studless snow tire will be much more convenient, comfortable, and equally safe.
You may also want to consider the added benefit of not having to exit the vehicle in cold, dangerous conditions to install chains. People have been killed by other drivers while putting on tire chains. Running a dedicated snow tire is not only much warmer for the user, but can keep you out of harms way.
Do You Need Snow Tires Even Though Your Subaru Is All Wheel Drive?
Even all wheel drive equipped cars can benefit from using a dedicated winter tire in the snow. I commonly hear people talk about how their Subaru has all wheel drive and can go anywhere. Some people may think that because their vehicle has an AWD system, they don't need to invest in snow tires. After all, Subarus can get unstuck in almost any slippery situation. But what about stopping? It doesn't matter how good your AWD is, if you don't have good tires you will not be able to slow your car to a stop. This is the biggest cause of accidents in the snow. Remember, all wheel DRIVE does not mean all wheel STOP.
Please don't take the risk of hurting yourself and/or others on the road. If you plan to drive in the snow you need to select a tire that will safely get you around.
Purchase A Second Set Of Wheels For Ease Of Installation Every Year
Purchasing a dedicated set of wheels for your snow tires offers convenience and cost savings in the long run. When winter weather arrives, you can easily swap your regular tires for the snow tires on the separate set of wheels. This eliminates the need for the time-consuming and sometimes costly process of tire mounting and balancing twice a year. Over time, this convenience can offset the initial investment in the extra set of wheels.
Additionally, owning a separate set of wheels for your snow tires can extend the lifespan of both sets of tires. The process of removing and remounting tires can cause wear and tear, potentially shortening the life of the tires and reducing their effectiveness. By having dedicated wheels for your snow tires, you reduce the frequency of tire removal and minimize the risk of damage during the tire changeover process.
Having a dedicated set of wheels simplifies the seasonal tire changeover process, which is crucial for safety. It encourages timely installation of snow tires as winter approaches and ensures that you are always driving on the most appropriate tires for the prevailing conditions. This, in turn, enhances your vehicle's traction and handling on snow and ice, ultimately contributing to safer winter driving.
I think it's also important to recognize that during the first snow of the year, the lines at tire shops can be hours long. Being able to simply swap your wheels over at home in your warm garage in under an hour is far more convenient than fighting the crowds every year.
At A Glance - Best Subaru Snow Tires
While there are nearly hundreds of different tire options out there, we've narrowed down our top picks to these six:
Bridgestone Blizzak
Michelin X-Ice
Continental VikingContact 7

Pirelli Scorpion Winter

Yokohama Iceguard G075



Arctic Claw WXI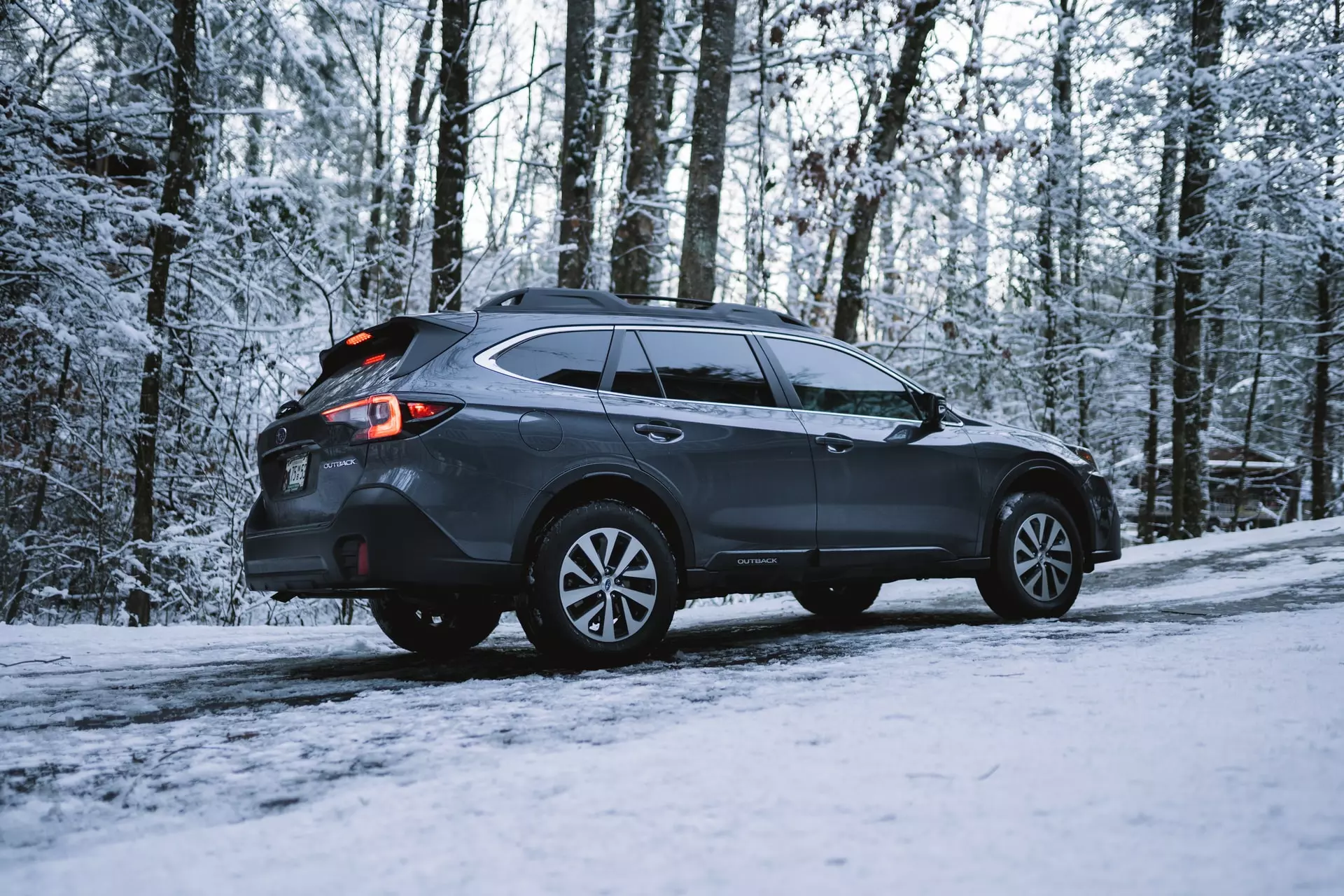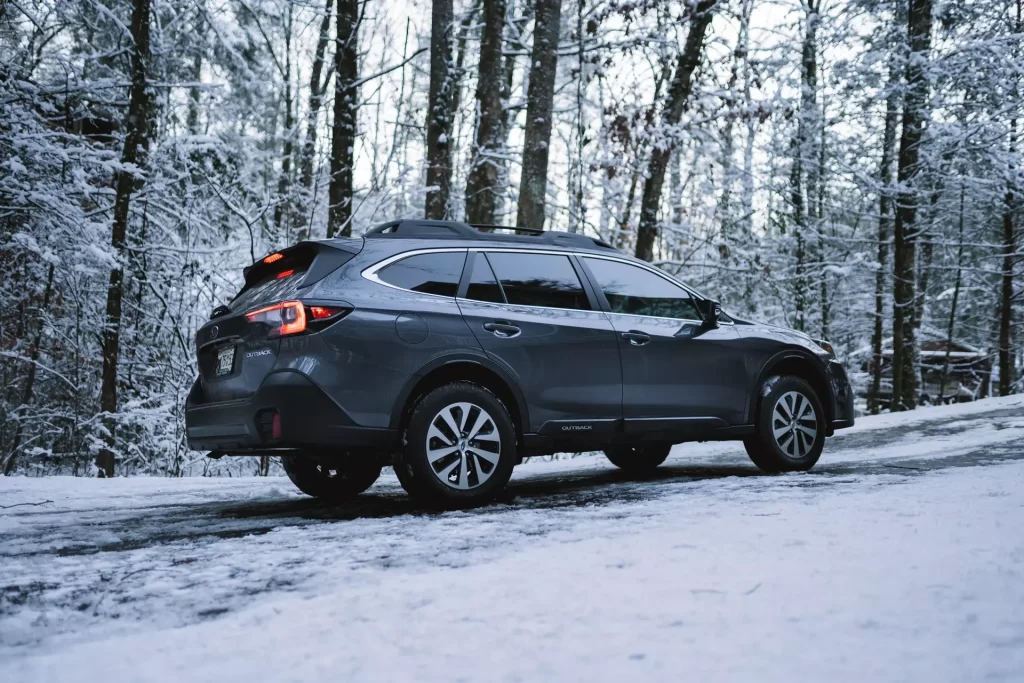 Bridgestone Blizzak (Best Overall Option)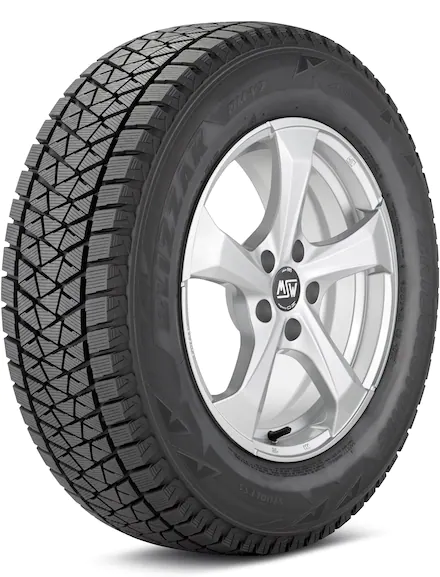 The Blizzak is arguably the most iconic snow tire available. It was originally released in the late 80's in Japan and slowly began gaining traction (see what I did there?) across the globe as a formidable alternative to studded snow tires.
By the time I was driving Subarus in the early-mid 2000's, the Bridgestone Blizzak was the snow tire that I purchased to get my Legacy GT up to Timberline Lodge for my weekly snowboarding addiction. Before purchasing these tires, I had been running a regular all season. It was a night and day difference. Using an all season tire in the snow was a foolish idea, but I was a young college student and figured I would just exercise extreme caution. It worked out okay for me, but I don't recommend you try it under any circumstances.
All that just to say that the Bridgestone Blizzak treated me extremely well almost two decades ago and has been my snow tire of choice ever since. The continual technological advances made by the company have only further cemented my confidence in them.
While this tire isn't a cheap "budget" tire, the Blizzak showcases a convergence of performance, availability, and affordability. If I needed a new set of snow tires at this very moment, I wouldn't hesitate to purchase Blizzaks and have them shipped straight to me.
One of the things I like about the Blizzak is that it is available in 225/65R17 which is about .9 inches bigger than the stock tires that come on most Subaru Crosstreks. Bumping up to this size will give just a tad bit more clearance in the snow without being too oversized.
However, if you're wanting to stay as close to stock as possible and you're planning to have a second set of wheels for the winter, sizing down to the 225/65R16 option is a fantastic choice.
Standout features:
Deep, interlocking sipes – allow for good control even as the tread begins to wear.
Best stopping performance among comparable tires (see Tire Rack's testing results here.)
Current generation features 15% more contact surface than previous versions.
3 Peak Mountain Snowflake rated (any good snow tire will have this designation.)
More rim protection than most studless snow tires.
Handles surprisingly well on pavement.
Highest ratings among real users (you can read the reviews on Tire Rack.)
Who should buy this tire:
Anyone looking for a the most affordable studless snow tire with premium quality and performance.
People looking for elite performance, and a comfortable ride on pavement.
Folks who need a large selection of unique sizes.
Compare prices and get a set online
Michelin X-Ice (Best "Money No Object" Option)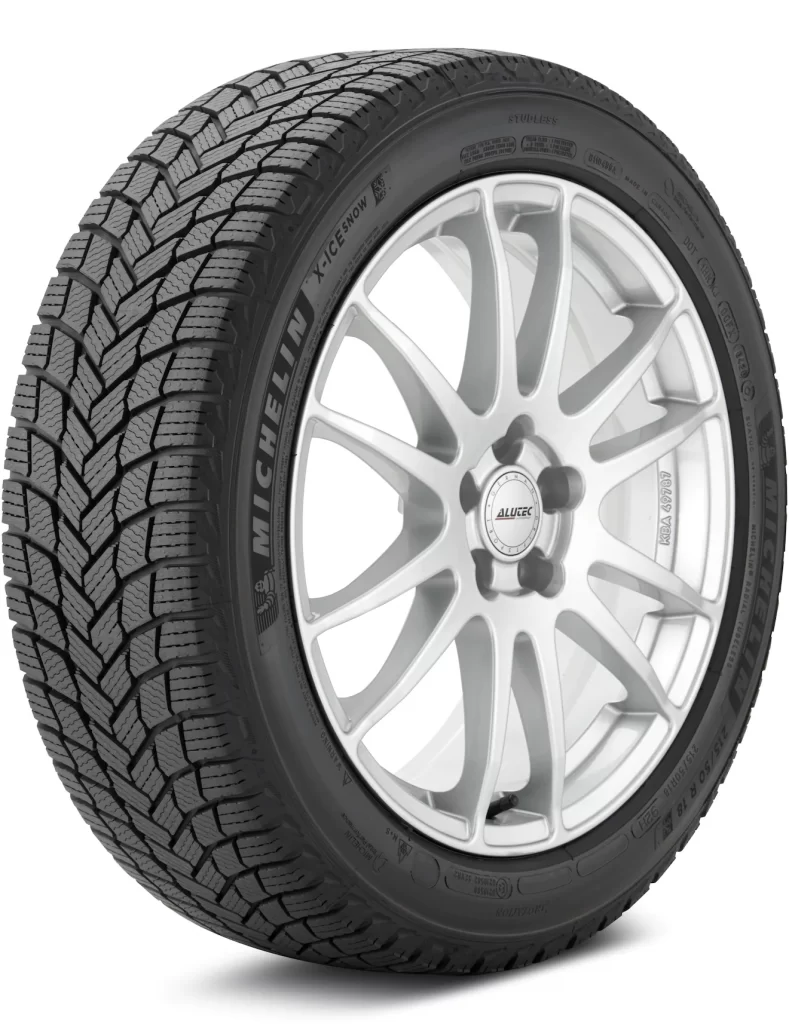 The only tire that we've seen come close to reaching the same levels of customer satisfaction for snow performance is the Michelin X-Ice. While this is a premium price option, Michelin's legendary performance is fully present with the X-Ice model.
In order to provide superlative winter traction, Michelin utilized the FleX-Ice™ 2.0 technology in this tire which allows the rubber compound to have biting edges at the microscopic level. The high silica content of this tire also gives it the ability to remain pliable even when the temperatures drop well below freezing. Michelin has spent years of R&D making sure they have the ultimate rubber formulas and the X-Ice is a great example of their innovation.
One of the resources we use to gauge our confidence in a tire before purchasing it is Tire Rack's testing reports section. They compare multiple tires on the same vehicle and measure various performance indicators. The X-Ice performed extremely well on the snow and ice during their testing process.
Standout features:
Wide, V-shaped voids that channel water properly to prevent hydroplaning issues.
Extremely aggressive siping throughout the tread blocks for excellent biting power.
Industry standard 3PMSF traction rating.
Clean styling and looks to maintain your vehicle's sleek appearance.
Comes with Michelin's fantastic workmanship and warranty.
Who should buy this tire:
People looking for a safe option in not only snow, but on the road.
Anyone who wants a well-handling tire for spirited driving should consider the X-Ice.
Compare prices and get a set online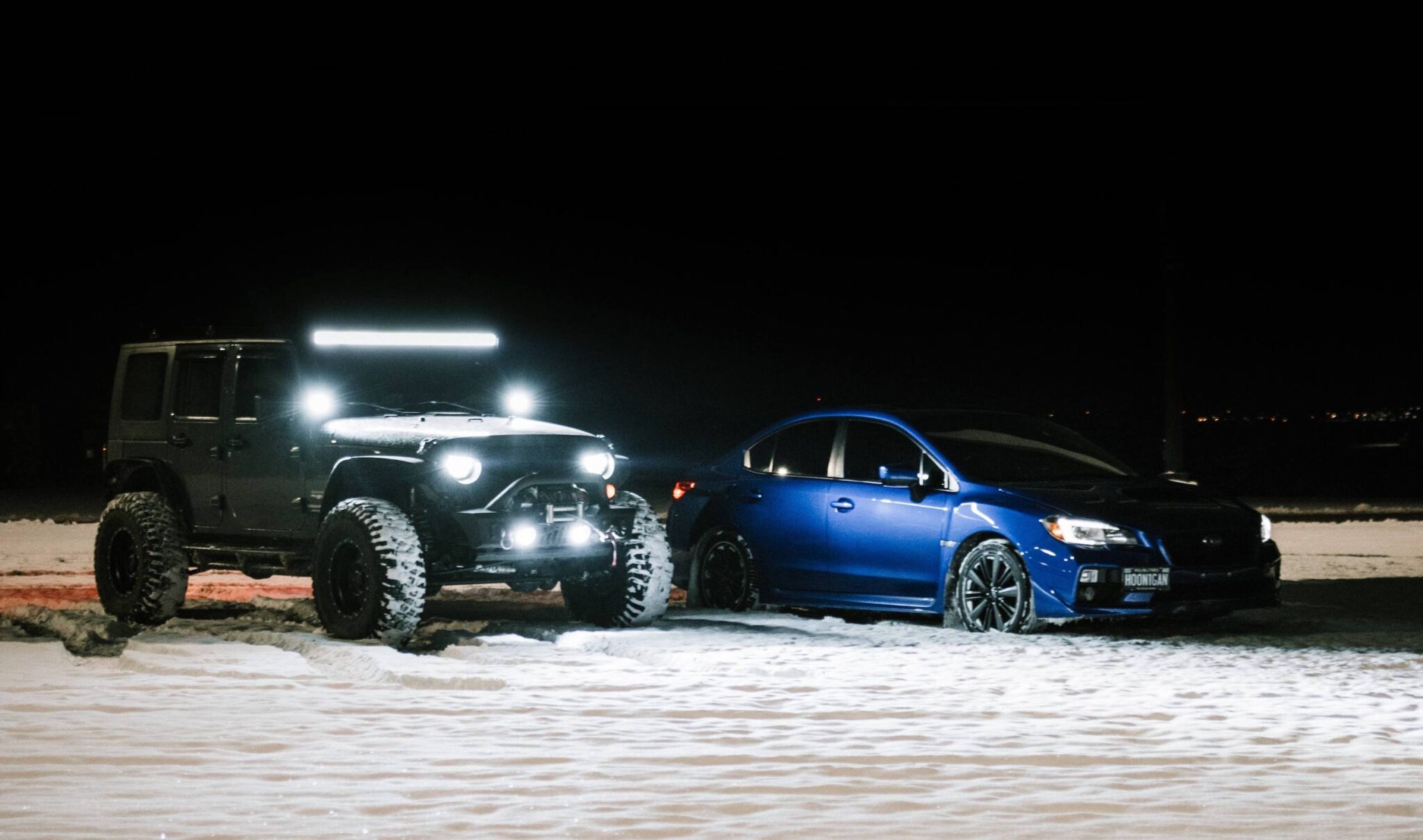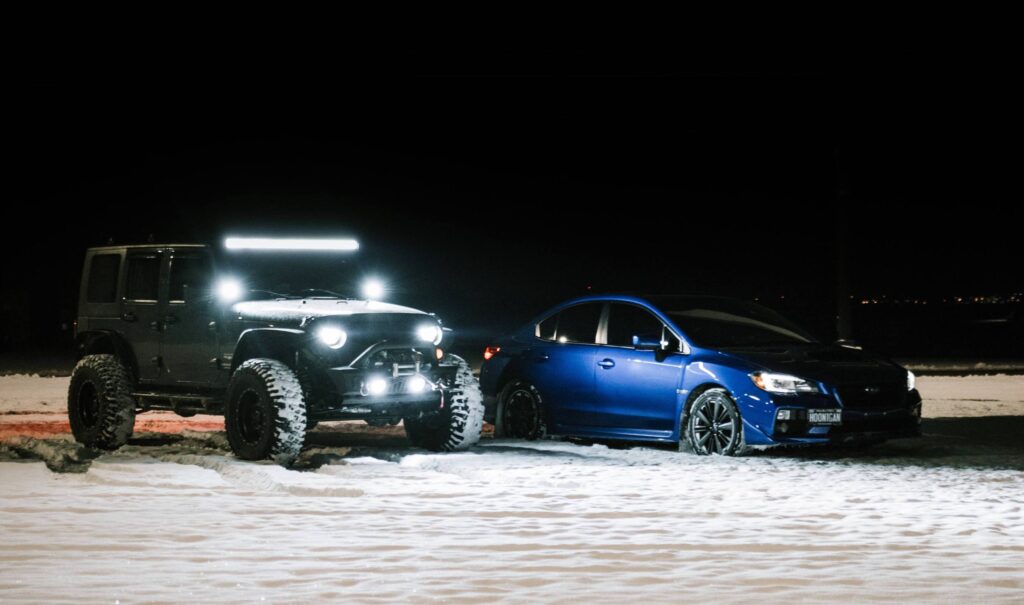 Continental Viking Contact 7 (Best Commuter Option)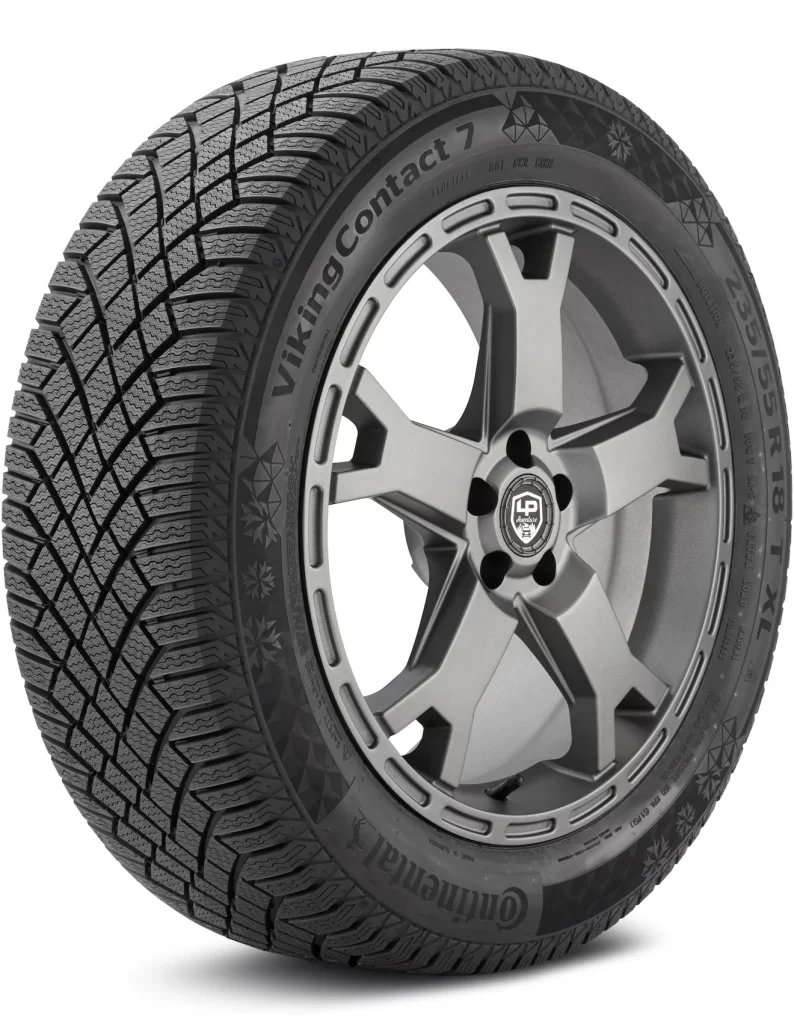 Continental's VikingContact was designed to be a high performing passenger car snow tire – perfect on sedans, crossovers, and other smaller vehicles that need excellent ice/snow grip without sacrificing dry pavement handling. The VikingContact is also offered in a wide variety of sizes that fit many of today's most popular cars. In fact, the VikingContact is offered in a 225/60R17 and a 225/55R18 which are two of Subaru's most common sizes.
Continental engineered this tire to provide excellent comfort and low cabin noise. For road trippers and long commuters, this tire is one of the best options for winter driving.
Standout features:
10/32″ tread depth for aggressive control and grip in slush, ice, and snow.

Strategically engineered grooves and tread block voids evacuate water and slush to maintain safe driving conditions.

Industry standard 3PMSF traction rating.

Excellent wet pavement performance.

Competitive pricing.

Wide range of size options to match most stock tire specs.
Who should buy this tire:
Folks with a long daily commute. 

Skiiers and snowboarders.

Urban residents who do a large amount of pavement driving but still need the reassurance of a snow tire.
Compare prices and get a set online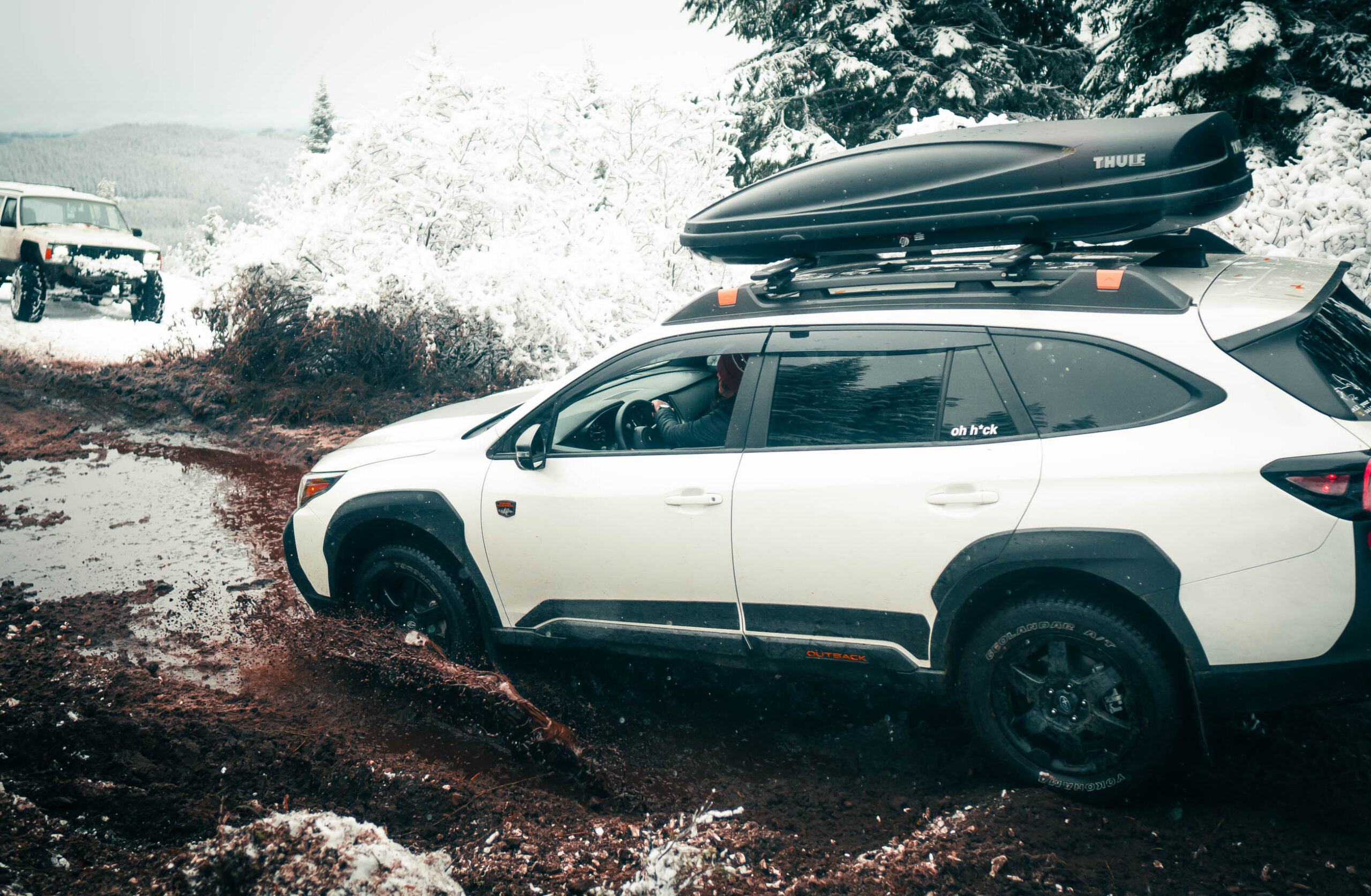 Pirelli Scorpion Winter (Best Option For Subaru Ascent)
The Pirelli Scorpion line has been emerging as a real contender in the off-road and winter performance market. The Scorpion Winter is Pirelli's offering to SUV and light truck owners. With its multi directional siping and snow ejection grooves, it is a great option for Ascent, RAV4, Passport, and Outback owners who need to make it to their destination regardless of the weather conditions.
Aside from the performance aspects of the Scorpion, the forethought that went into its accessibility is impressive. Pirelli produces this tire in 245/60R18 which is the perfect size for anyone looking to replace the stock tire on a Subaru Ascent for winter trips.
Standout features:
Polymer blend and silica compound retains pliability even in the harshest cold.

11/32″ tread depth on most sizes.

Highly rated wet pavement handling.

Multiple biting edges on each tread block.

Industry standard 3PMSF traction rating.
Who should buy this tire:
Subaru Ascent owners who are having a hard time finding the right size for their car.

Skiiers and snowboarders.

Urban residents who do a large amount of pavement driving but still need the reassurance of a snow tire.
Compare prices and get a set online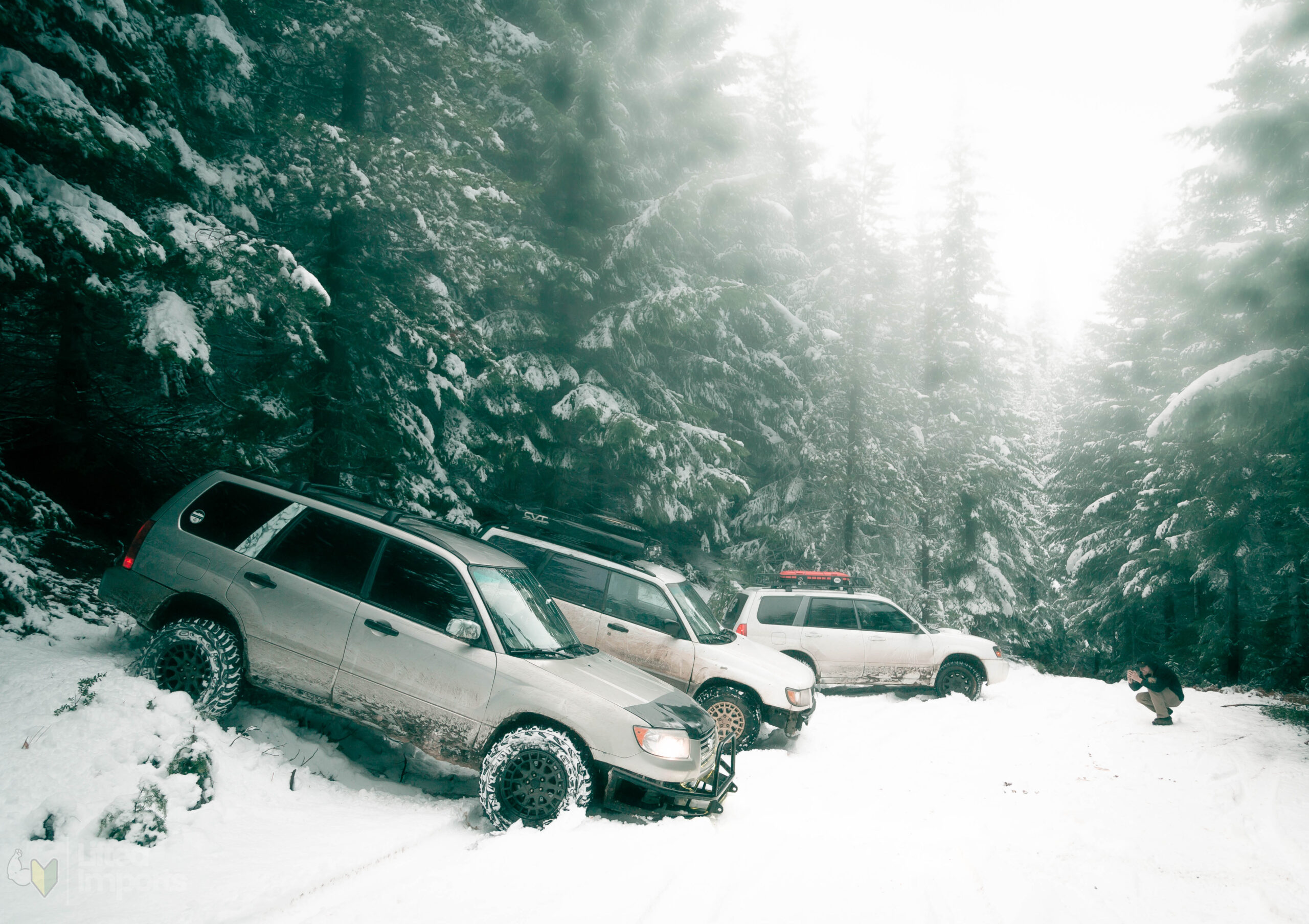 Yokohama Iceguard G075 (Great option for dry snow climates)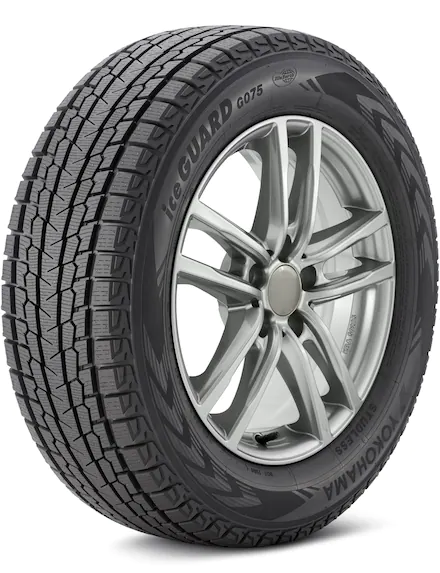 Yokohama has become one of my favorite tire manufacturers. After running multiple sets of Geolandar AT's and being blown away by the ride quality and traction, I've become a huge Yokohama fan. I genuinely think that anyone who wants a solid snow tire should check out their studless snow tire offering – the IceGuard.
In addition to the water shedding zig zag circumferential grooves and the 3D triple sipes that give insane snow grip, the IceGuard is well thought out in a structural sense. With twin steel belts on top of the 2 ply cord casing, it is a durable and comfortable snow tire that is capable of handling high-speed use.
Standout features:
Competitive price for a trusted brand name tire

Deep 13/32″ tread depth.

Unique micro diagonal sipes for aggressive grip in dry, slick snow.

Wide center contact patch for optimal control and grip in all conditions.

Industry standard 3PMSF traction rating.

Available in most new Subaru stock tire sizes for easy fitment.
Compare prices and get a set online
Arctic Claw Winter WXI (Best Affordable Quality Option)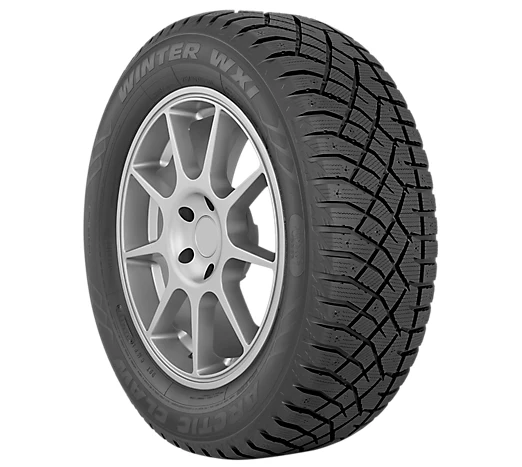 Arctic Claw may be a brand that you have not yet had a chance to try. However, they are producing some fantastic options for anyone who needs a quality tire without breaking the bank. We have yet to find any negative feedback about them.
The WXI is a straightforward snow tire with a low noise tread pattern. It's a studdable tire if you need extra traction on icy surfaces.
Standout features:
Best price point tire

Deep 13/32″ tread.

Countless sipes throughout the tread blocks.

Alternating tread pattern to cut down on road noise.

Ready to be studded.
Articles You May Find Helpful:
As an Amazon Associate we may earn from qualifying purchases